Before everyone started talking about the best and worst dressed celebrities at the MET Gala, there was the American Country Countdown Awards, which took place at the Forum on Sunday in Los Angeles.
Carrie Underwood was among the artists who performed, presented, and took home an award at the ACCA. What was worth noting, however, was not what Carrie did while she was onstage multiple times, but the outfits she put out for each appearance.
I never thought Carrie would be one to wear a naked dress to an awarding ceremony, but she did. She arrived on the ACCA red carpet in a sheer billowy frock from Gauri & Nainika. Not only did she go braless in the piece, but the see-through skirt showcased all of her legs too.
Fortunately, Carrie pulled off the naked attire with flying colors. She didn't look cheap nor did she look tacky. She complemented the number with bright yellow sandals, which matched the dress' printed panels. Altogether, it was a winning getup from the former American Idol winner.
Carrie Underwood dares to wear a sheer gown to the American Country Countdown Awards held in Los Angeles on May 1, 2016
Not content with the showstopping gown, Carrie switched into another dress when she sang onstage. She worea gold-detailed skater dress with gold knee-high gladiator sandals from Giuseppe Zanotti.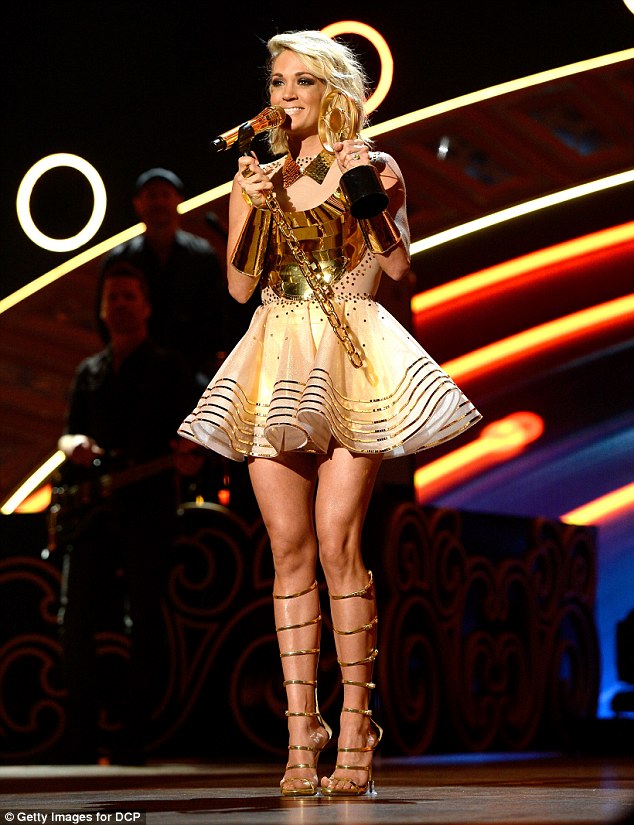 Carrie performs on stage in gold gladiator heels during the American Country Countdown Awards, May, 1, 2016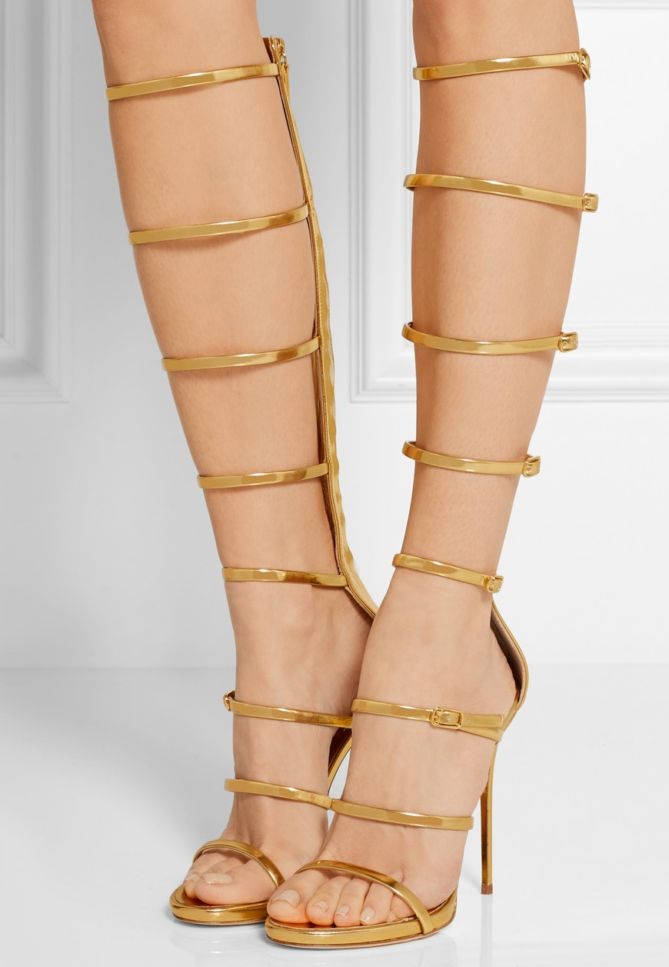 Giuseppe Zanotti Metallic Leather Sandals, $1300
When she presented the award for Male Vocalist of the Year, she slipped into a colorful Elie Madi dress and teamed the getup with another pair of heels from Giuseppe Zanotti, this time, in black. Below is a similar pair for you to peruse: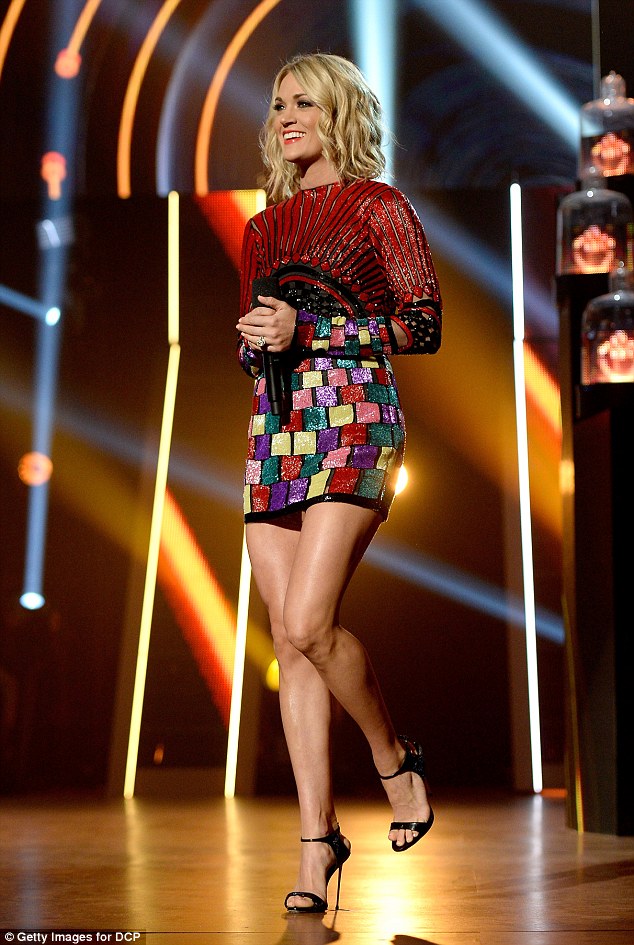 Carrie presents the Male Vocalist of the Year award in a colorful sequined dress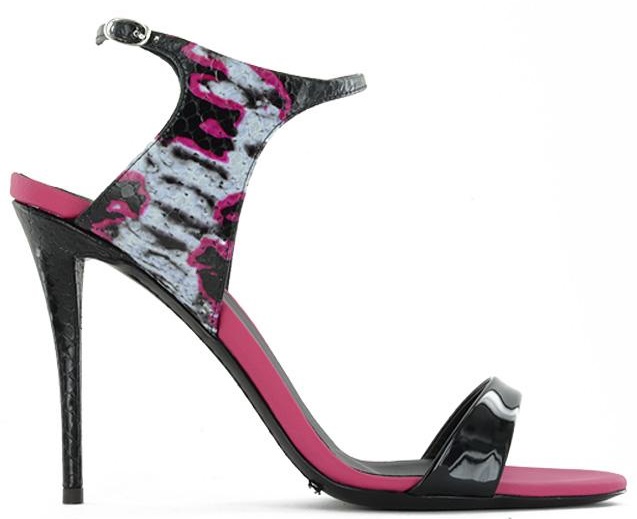 Giuseppe Zanotti Back Buckle Sandals, $950
And during the press room session, Carrie changed into another colorful work of art (from Elie Madi) that showcased her legs. She complemented it with hair styled to the side, and then capped off the piece with nude Jimmy Choo sandals.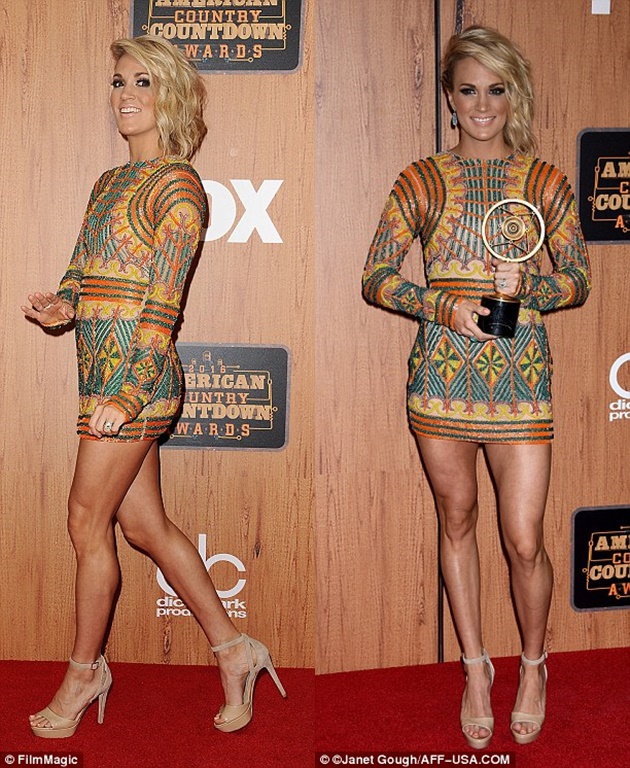 Carrie switches into a fourth outfit as she meets the press to showcase her win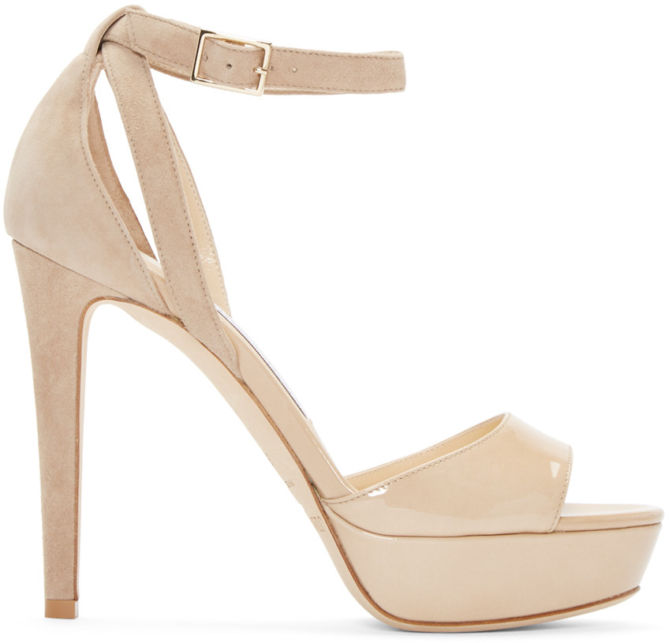 Jimmy Choo Kayden Sandals, $595
Wow! Right? Carrie pretty much used the ACCA as her runway. Of the four outfits, which do you like best? And in terms of footwear, which pair would you wear yourself?
I'm leaning towards the red sequined dress but I  do love the gladiator heels from Giuseppe Zanotti. What about you?