he has been forging a critically-acclaimed Hollywood career in recent years. Yet Cara Delevingne was returning to her model roots for the new Jimmy Choo Shimmer In The Dark campaign as she pulled off all her best modelling moves for a dazzling series of shots while sizzling in an array of scantily-clad ensembles. The 24-year-old supermodel looked incredible in the shots, with a standout being a smouldering shot in which she displayed her staggering legs as she turned her back on her recent buzzcut in favour of a soft long-bob.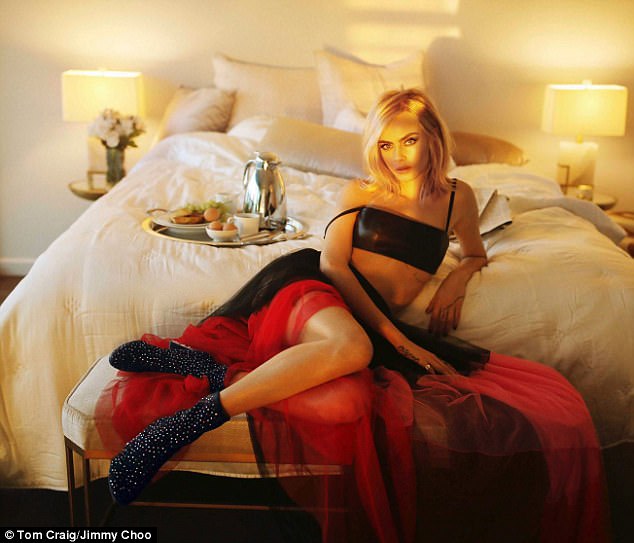 Cara looked incredible in the sexy ensemble, which made the most of her stunning figure while displaying the gold strappy sandals. She looked far more similar to her former self as she showed off a chic bouncy blow-dry while her make-up was coiffed to perfection to flaunt her dazzling good looks. The stunning star also flashed her abs in a leather crop top while rocking a voluminous black and red skirt with chic studded ankle boots.  As the shoot was out to promote shoes – her legs were the main focus yet she was also sure to show off her figure in all its glory.
As she knelt over in one of the shots, she pulled her most intense gaze while displaying her ribcage tattoo and a hint of sideboob. She went for her favoured androgynous style when she later transformed into a studded tuxedo paired fur loafers while getting up close with a male model.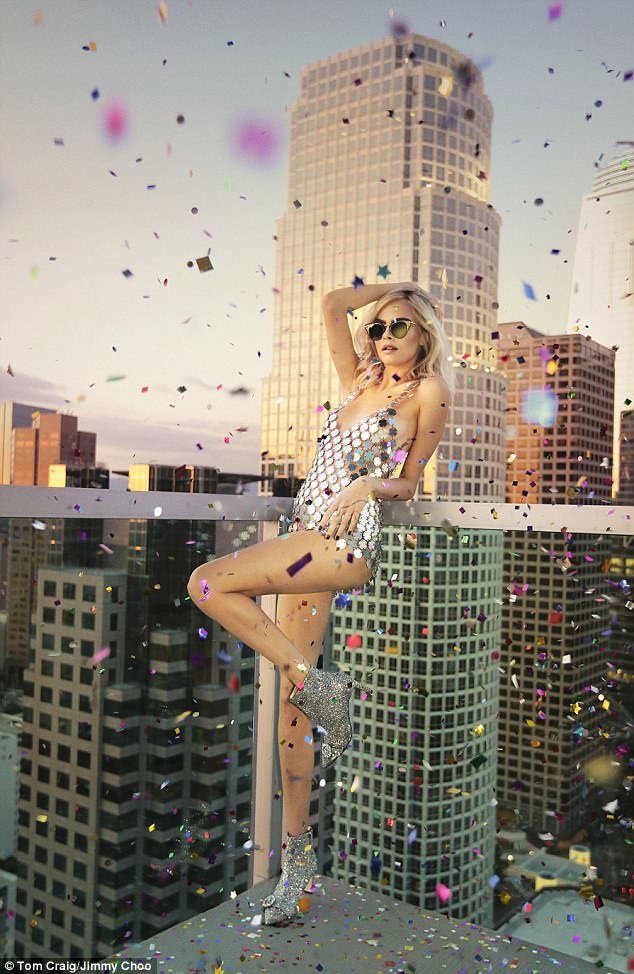 Using the New York skyline as her backdrop, she later posed on a window ledge while rocking a plunging mini with a high rise hemline and ankle boots.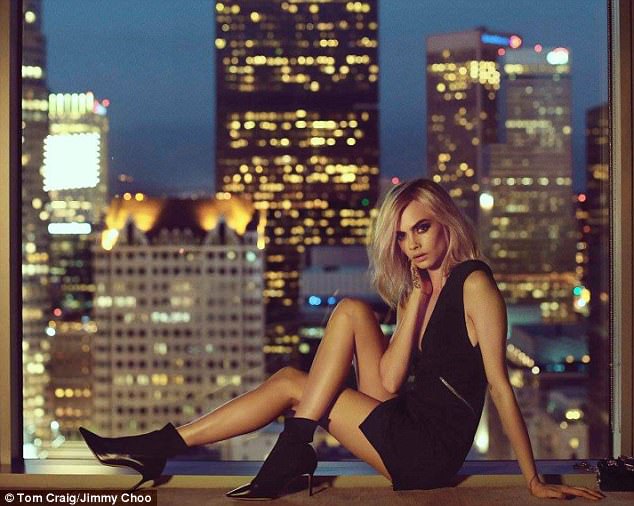 She held up a gold clutch bag with 'I want Choo' emblazoned across the front as she gazed downwards in an extremely moody yet arty image. While she certainly sizzled in the snaps, in a less glamorous turn Cara revealed days ago that she had to get a fan to buy her alcohol as she forgot ID.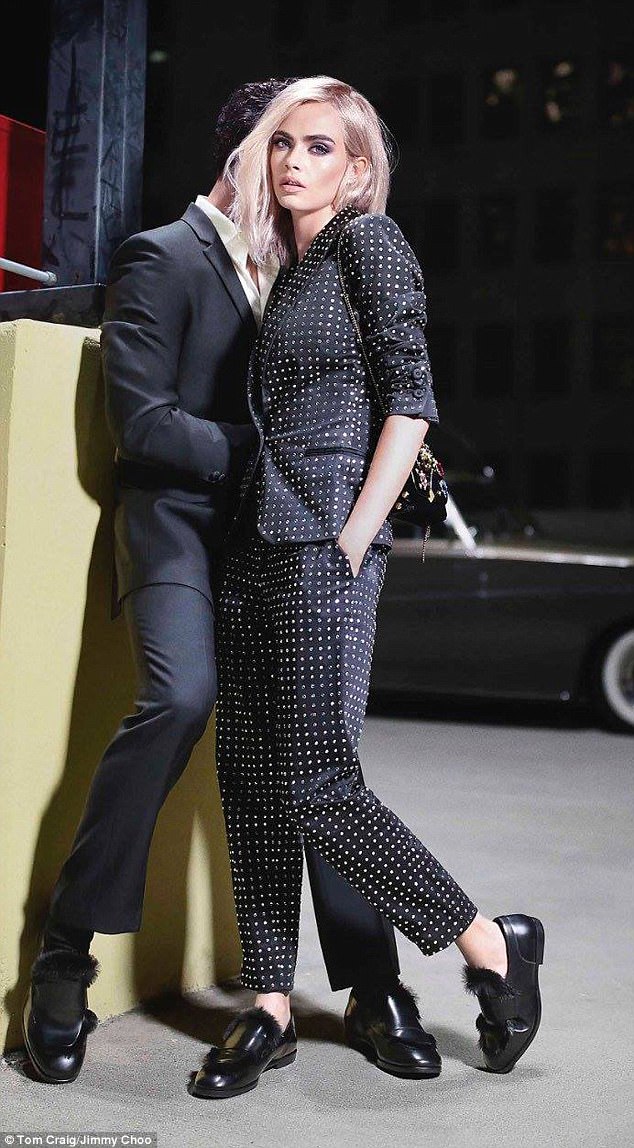 Cara said: 'The other day I went to the shop to buy a bottle of wine and I got ID'd because they said I looked 16. 'At the same time a fan in the queue asked for a picture – it was all so embarrassing and then I had to ask him to buy the wine for me! It was actually all very funny.'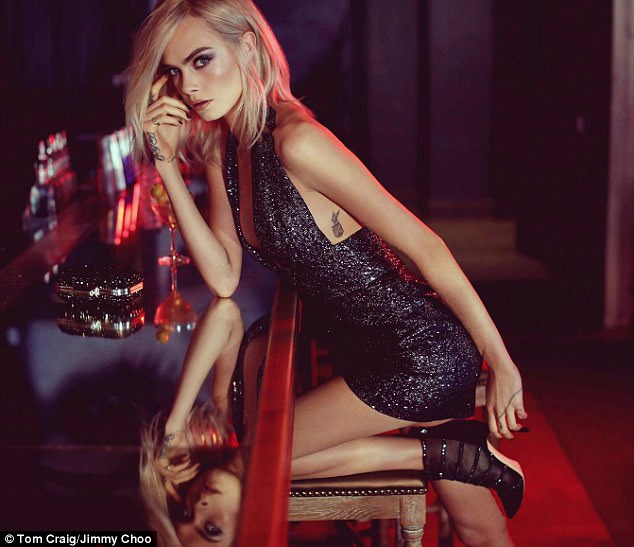 She held up a gold clutch bag with 'I want Choo' emblazoned across the front as she gazed downwards in an extremely moody yet arty image.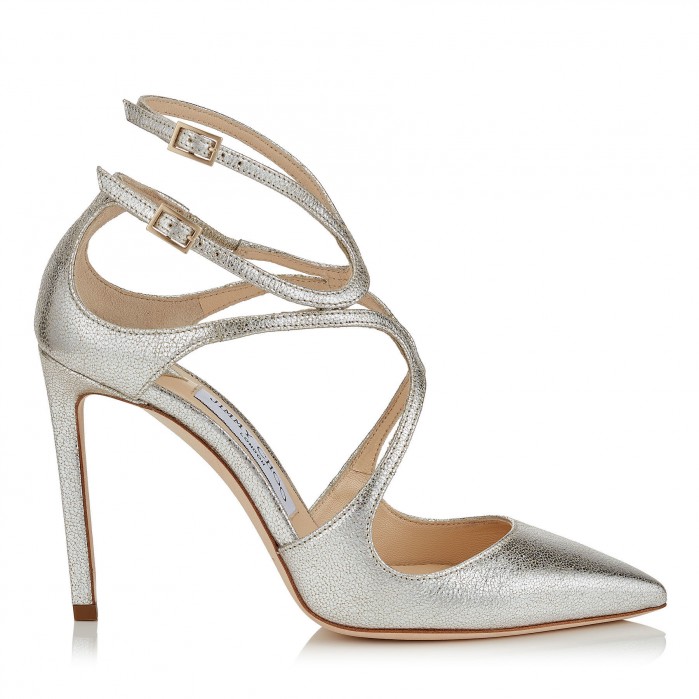 A sexy and sophisticated pointy toe pump, the Lancer in champagne glitter leather is your next go-to style. Designed in Italy, the delicate straps flatter the foot and give additional support. Turn heads with these elegant heels at your next dinner party.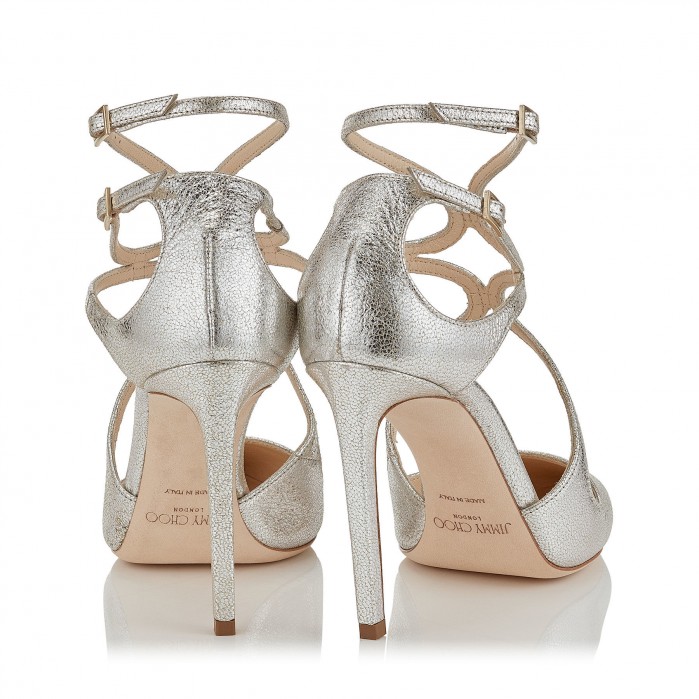 The dominant image sees Cara (presumable shot pre buzz cut) sitting cross-legged sporting a glimmering gold sheath dress and a dazzling pair of metallic, strappy court shoes. The brilliant thing about a brand like Jimmy Choo is that you can be sure you're buying into the highest quality footwear. They might be pricey, but if you're looking to invest in a truly immaculate shoe, there are few more reliable brands. Here, Cara models the Lancer 100 court shoe – ideal for upcoming Christmas parties, not to mention New Years Eve 'do's. A metallic heel is a wardrobe essential and Jimmy Choo isn't a bad place to start. Shop Cara's exact kicks below.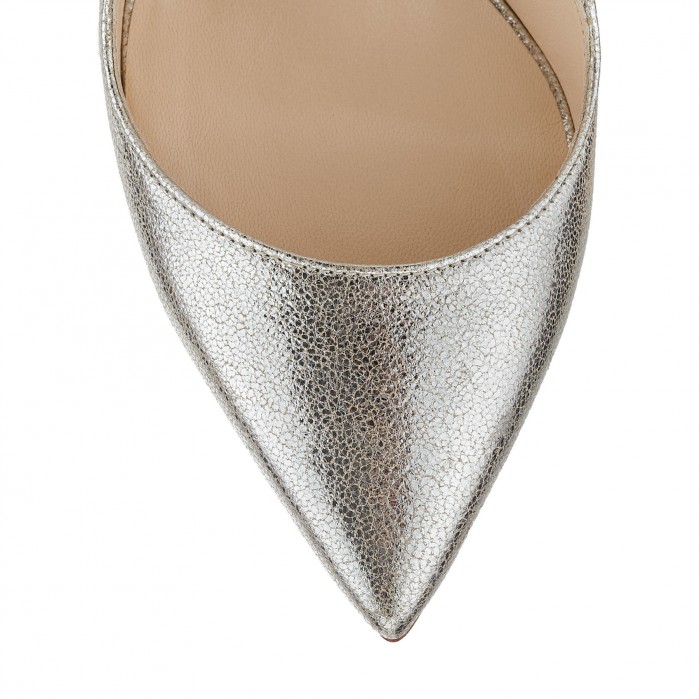 If you're on a slightly tighter budget, fear not. There are plenty of fabulous metallic heels around to buy right now: