Forget Paris and Nicky Hilton. These days, the "it" sisters are Gigi and Bella Hadid — models of the moment with huge social media following. Unlike Paris and Nicky, however, the two look different as night and day. Gigi is a blond beauty while Bella is a brunette bombshell. And when it comes to fashion, their choices are just as different. Gigi is more consistent with her athleisure way of dressing while Bella's sartorial preference is always sleek and sexy.
On Tuesday evening, the young ladies went for a girls' night out at a club in Los Angeles. For the occasion, Bella channeled grunge vixen with bondage-inspired lace-up skinnies, a low-cut top, and a leather jacket — all of which were in black. Capping off the look were a pair of bulky black sneakers — an unexpected choice that managed to tone down the sexiness of her getup.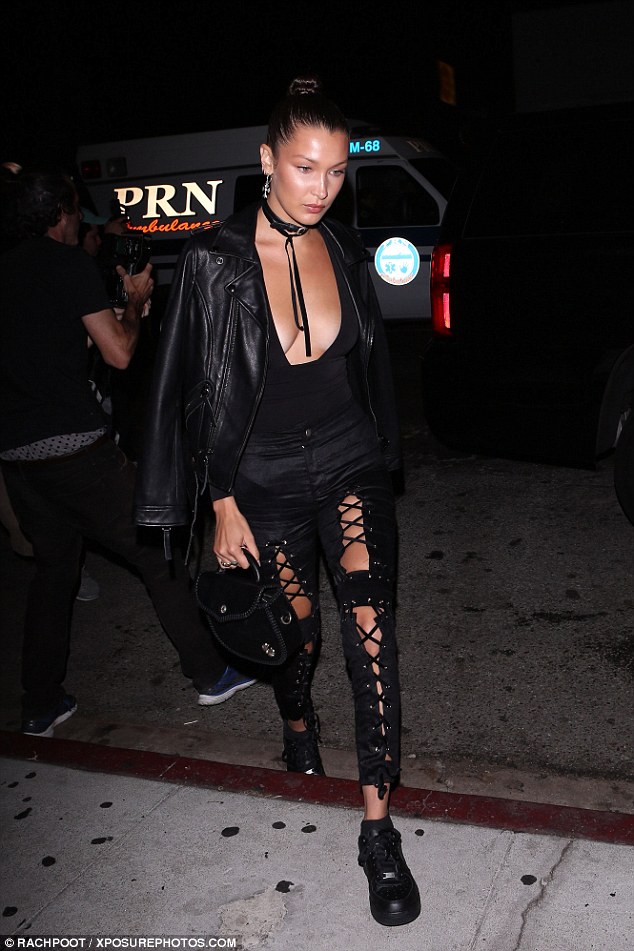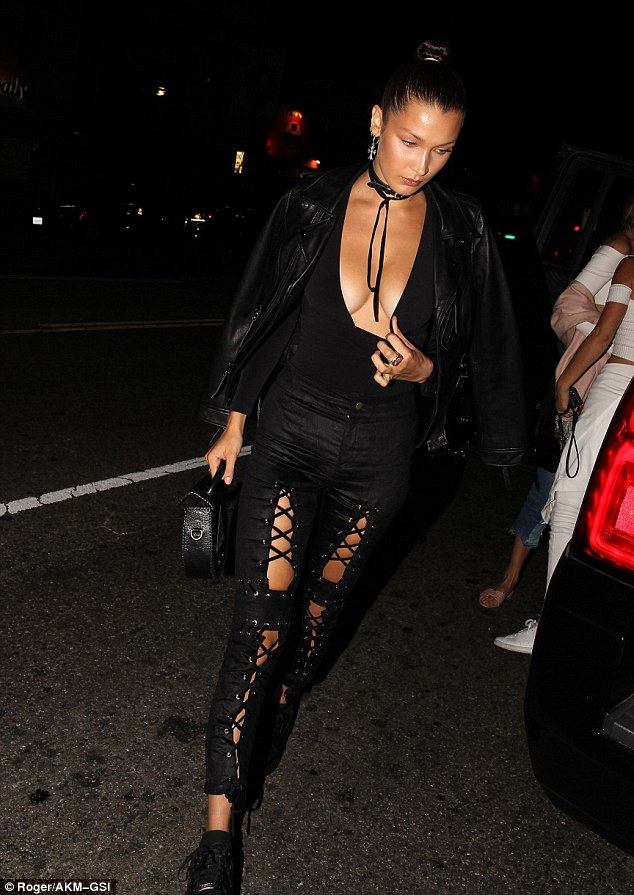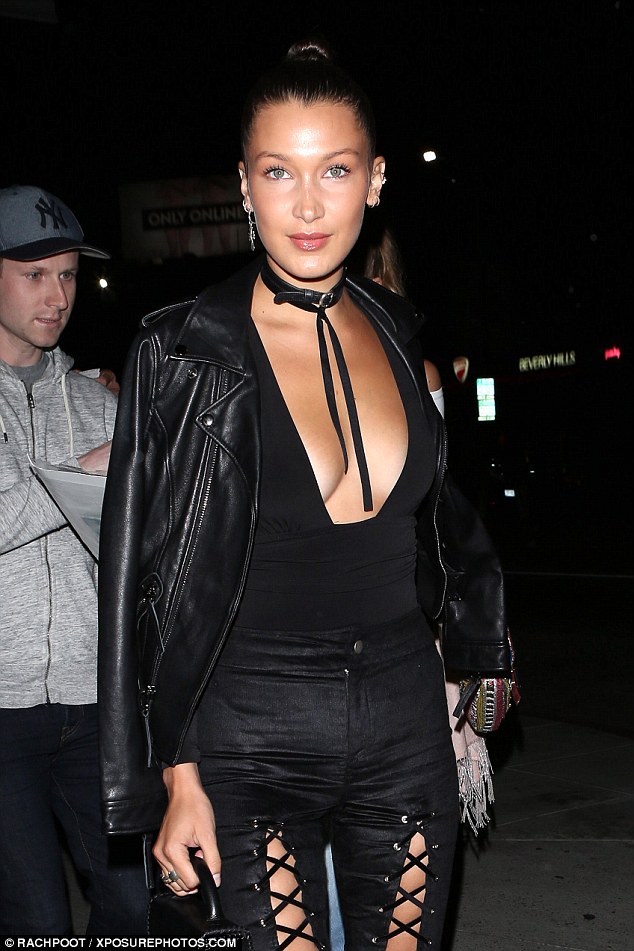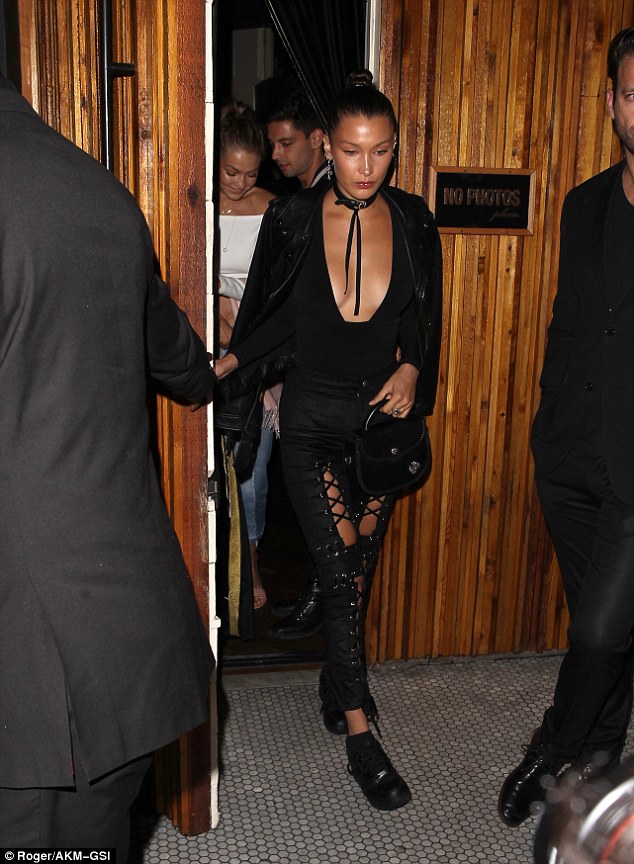 Bella Hadid goes for a vampy vixen getup as she parties with her sister in Los Angeles on August 24, 2016
Gigi's outfit for the evening, on the other hand, was casual yet sexy and sweet. She wore a white off-shoulder crop top that exposed her toned abs, and then teamed the number with crop blue skinnies, a pink choker, a shawl, and a pair of flat slides. The look was very "Brigitte Bardot". Check it out: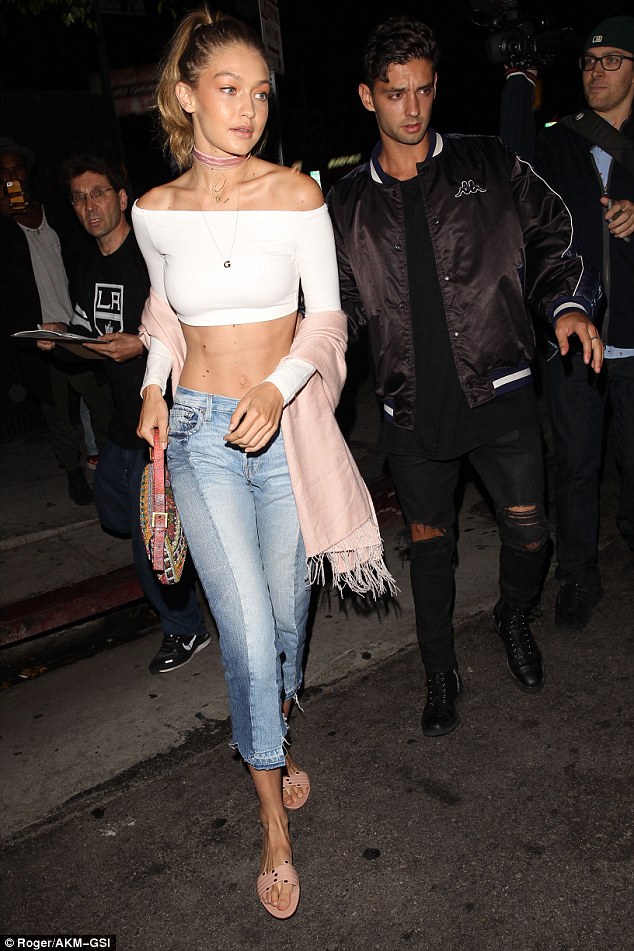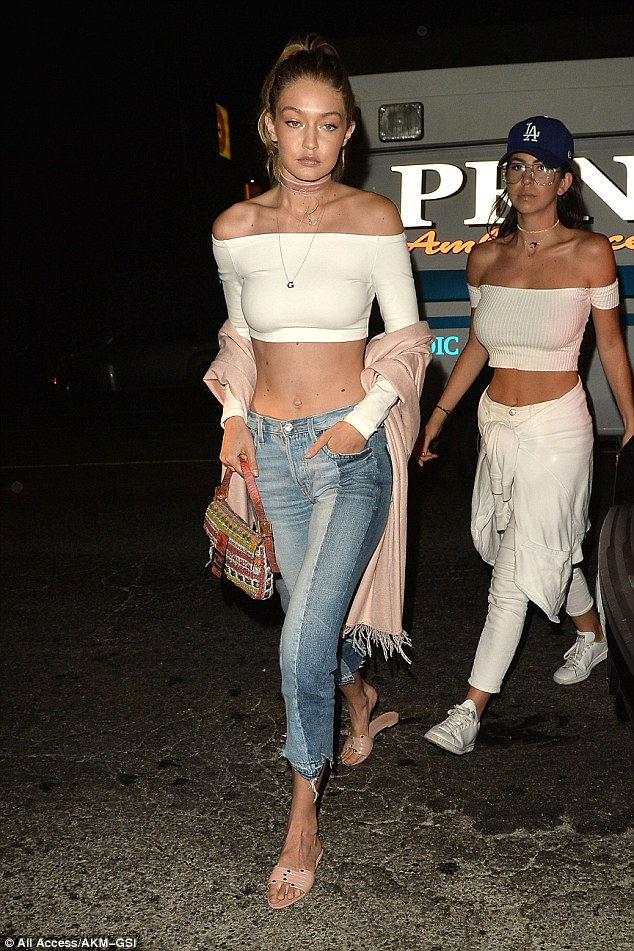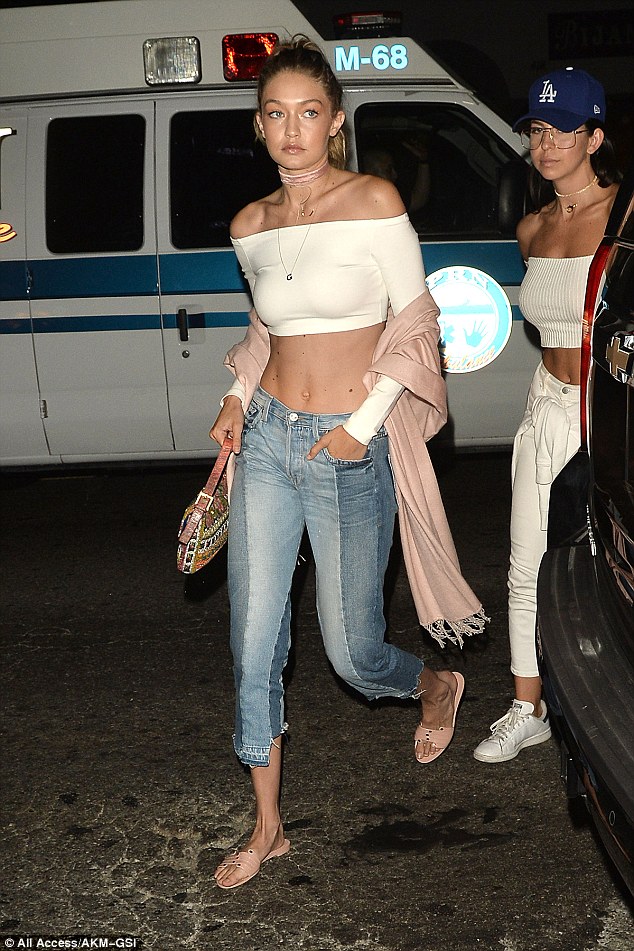 Gigi Hadid keeps it laid back in flat slides as she joins sister Bella for a girls' night out in Los Angeles on August 24, 2016
Between the two siblings, whose getup do you prefer, Bella's or Gigi's?
I actually like Gigi's style. It's effortless, comfortable, easy, and she doesn't look like she's trying too hard. For the ladies loving the ensemble, you can easily recreate it by grabbing an off-shoulder crop top and skinny jeans that fit your budget. Cap off the mix with a shawl, a choker, and flat slides, and you're all set!
By the way, Gigi's pair is by Charlotte Olympia — the ManiPedi, a style crafted from rubber and decorated with gems: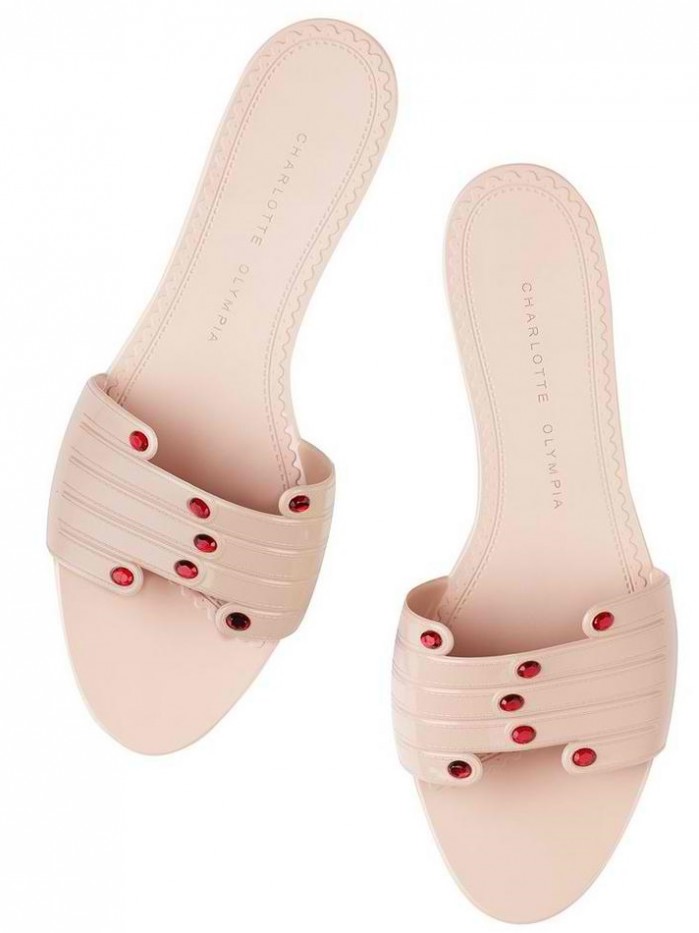 Charlotte Olympia ManiPedi Slides, $120
Gigi's crop top is by Bossa, and you can pre-order the piece on the label's website. Surprisingly, it retails at an affordable $59. As for her paneled jeans, they're from FRAME and you can find them over at Shopbop. Unlike the top, they are quite expensive at $449.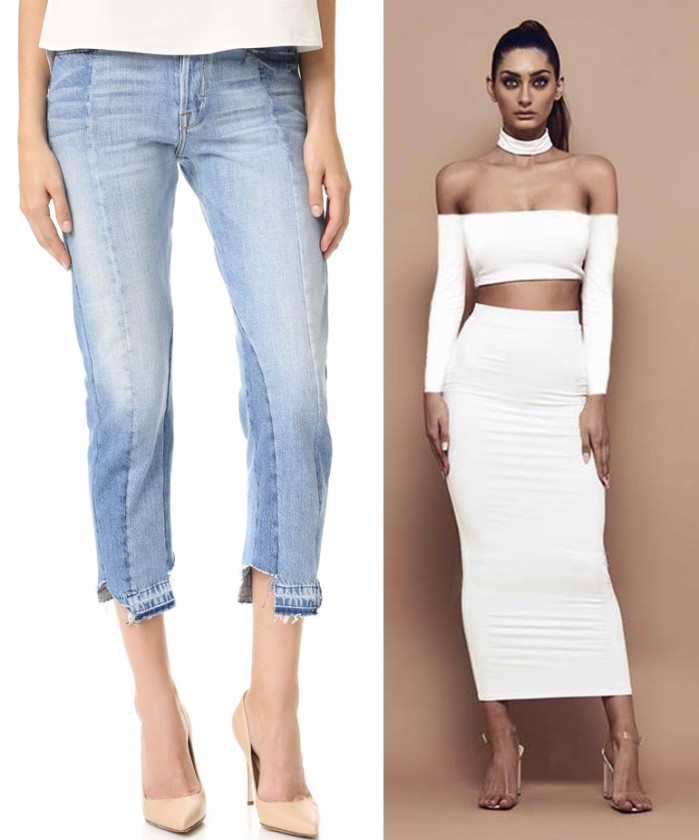 FRAME Le Mix Jeans, $449 / Bossa Edessa Crop Top, $59
If it's Bella's vampy grunge bondage-inspired outfit you favor, be sure to grab her Nike Air Force One Mid 07 leather sneakers. You can find them on the label's website for $95.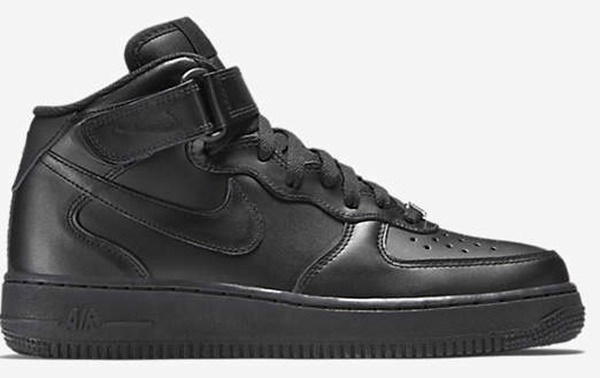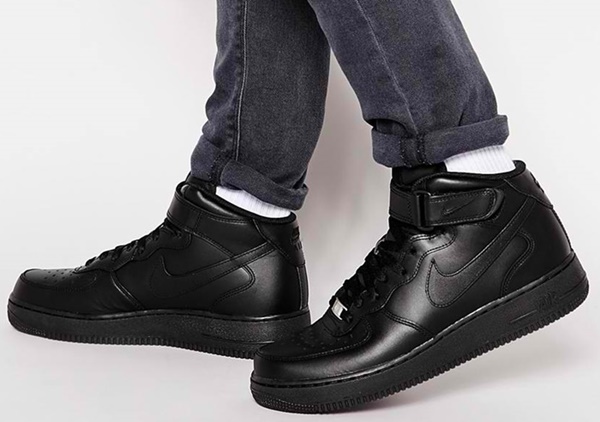 Nike Air Force 1 Mid 07 in Black Leather, $95
Wear the shoes with a low-cut top, ripped skinny jeans, and a black leather jacket to steal Bella's style. By the way, if you want the actual pieces, her pants are the Ray-Ray trousers from Hardware Ldn. Her low-cut top is actually a bodysuit by Nookie, while her jacket is from Saint Laurent. All three are available online.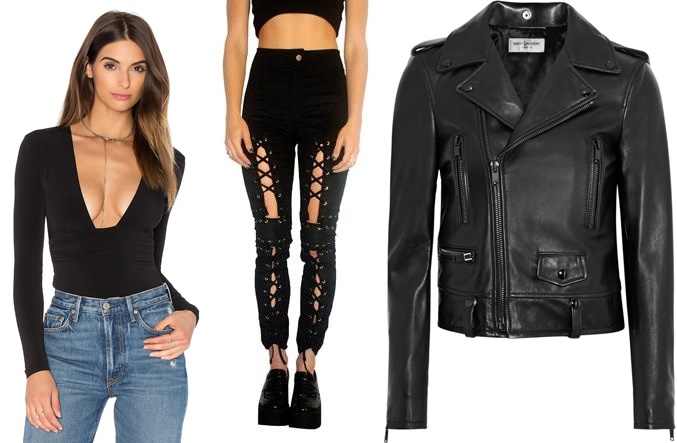 Nookie Cherish Bodysuit, $159 / Ray-Ray Trousers, £165 / Saint Laurent Leather Jacket, $5490