Ariana Grande was spotted arriving at LAX on Monday. The singer's plane-ride look was just as I expected — exactly the same as how she looks when she's onstage, on the red carpet, or off-duty.
No doubt about it, the former teen star is out to create a signature style by wearing the same kind of getup (and hair) day in and day it. But I honestly wish she would stop and take a break from the "packaging" for a second and just genuinely dress down.
For her flight to New York, the 21-year-old slipped into a pair of high-waist skinny jeans and a crop top that showcased her taut tummy. But sadly, in doing so, she revealed an unslightly and highly bronzed stomach. Turns out, Ariana prefers the tan that she gets from a bottle over, say, a professional tanning salon. Her tummy was patchy and much darker than her face and arms. I'm guessing she forgot to exfoliate before applying the lotion? Either that or she overdid the application.
Fake tan aside, kudos to the young lady for being able to pull off wearing high heels while traveling.  I guess we can now add her to that select group of celebs who love traveling in stilettos. For the plane ride, Ariana chose classic black peep toe platform pumps. She also teamed the shoes with a Chanel purse and a Louis Vuitton luggage.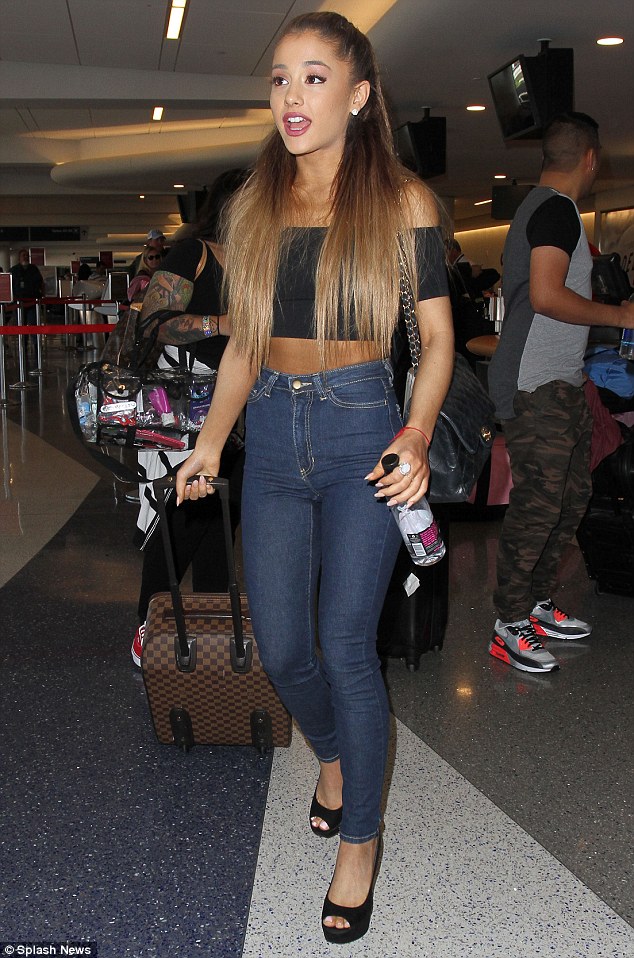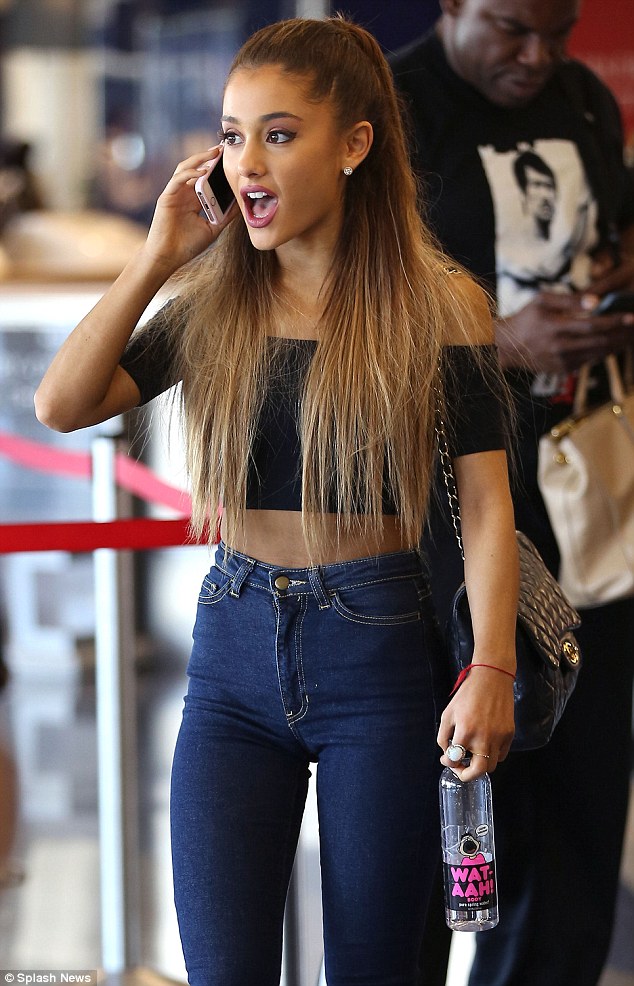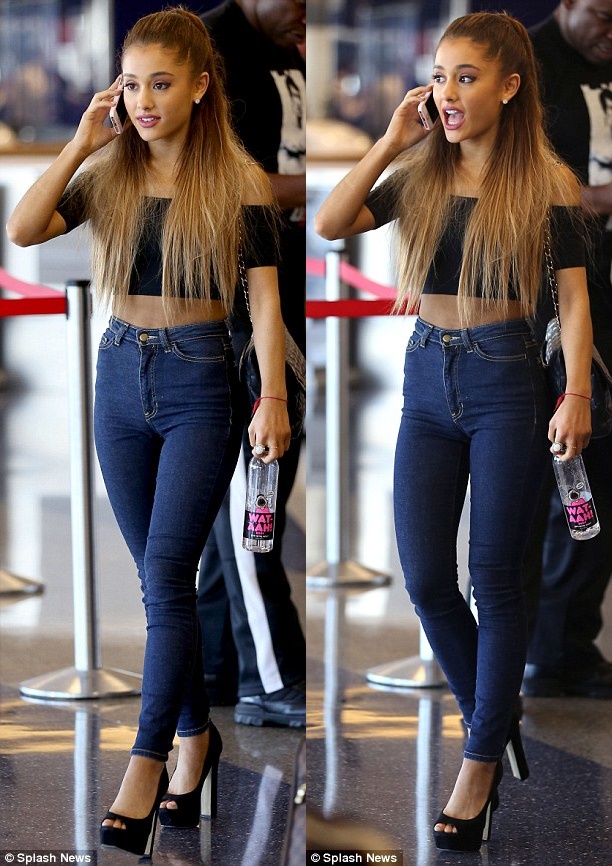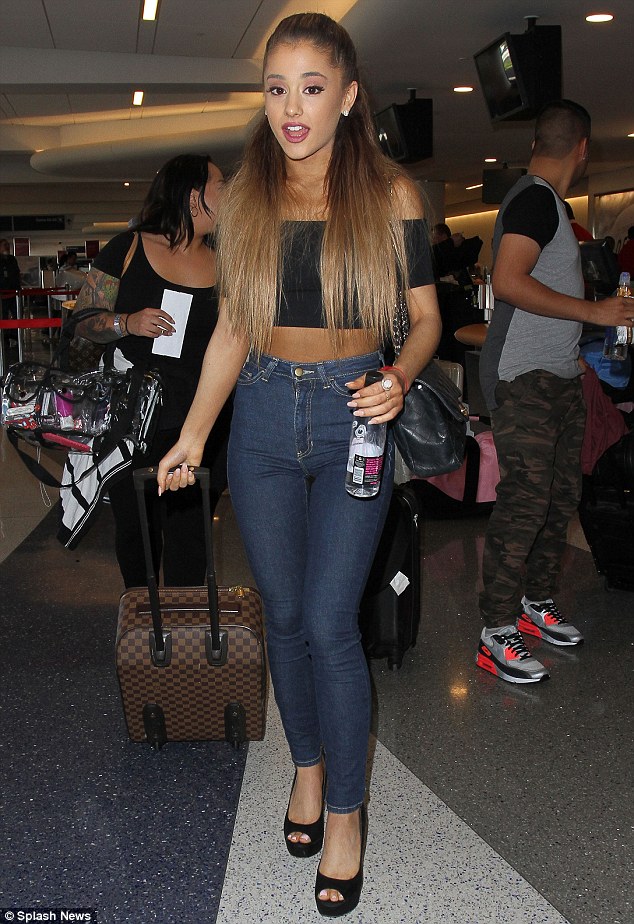 Ariana Grande flaunts her dark but toned tummy in a crop top while arriving at LAX to catch a flight, September 22, 2014
Quite a sexy outfit for a plane ride. Would you agree? Do you think you can wear her clothes and travel in heels?
I'm guessing her shoes are comfortable, judging from the block heels. They seem stable enough for the kind of stress you have to go through when you're making your way through a busy airport.
Speaking of, while I have yet to ID Ariana's shoes, my hunch is they're either from Miu Miu or Prada. Giuseppe Zanotti, Jimmy Choo, Manolo Blahnik, and even Brian Atwood rarely make shoes with heels that are chunky and square. Louboutin has his red soles, so I'm pretty sure those aren't Louboutins.
Just to prove my point, here are similar style shoes from Miu Miu and Prada, some of which are actually on sale at can-get prices. In fact, the first pair (nude) below looks very similar to Ariana's peep-toe pumps.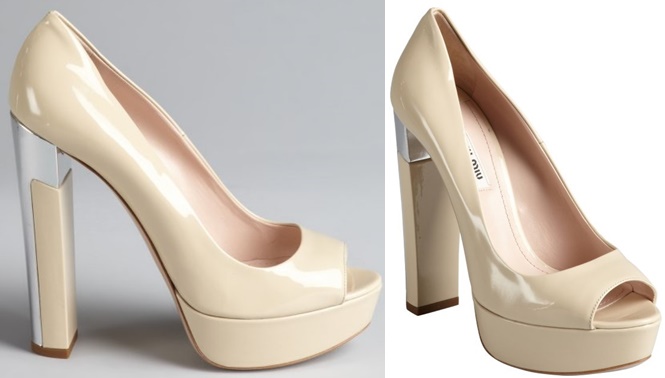 Miu Miu Peep Toe Platform Pumps in Nude and Silver, $449 (was $730)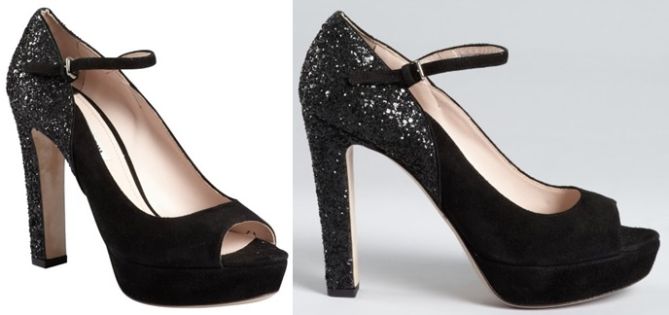 Miu Miu Glitter and Suede Peep Toe Platform Pumps, $382 (was $690)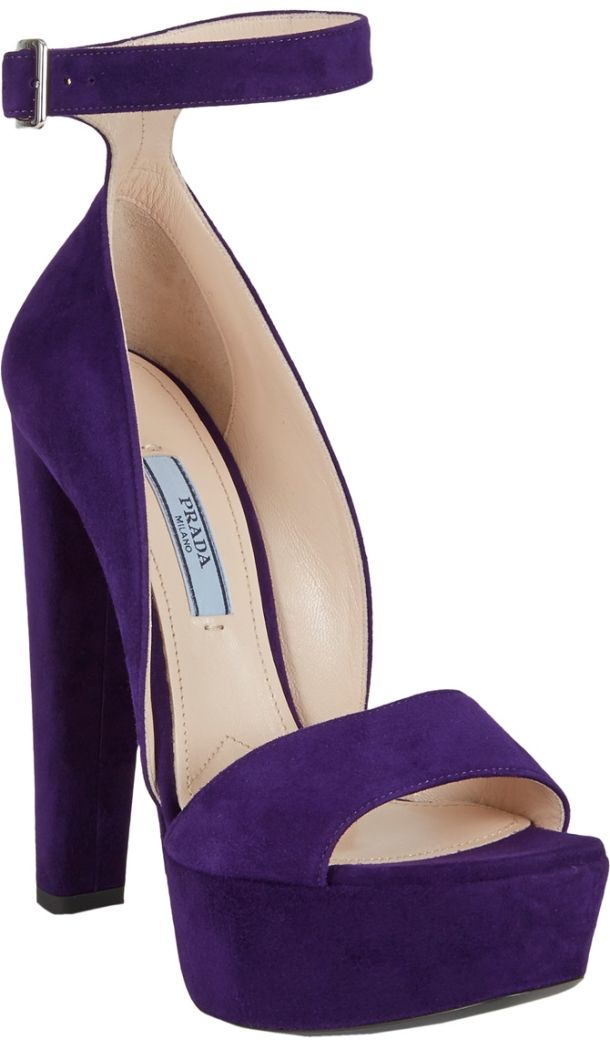 Prada Ankle Strap Platform Sandals, $895
Do you think my hunch is right on target?
If you'd like to channel your inner Ariana, Kim, Khloe, or LeAnn and give traveling in heels a try, but don't want to spend a whole lot of money on a pair of Miu Miu or Prada pumps, here are four chunky-heeled  open-toe platform options consider. Which will you grab?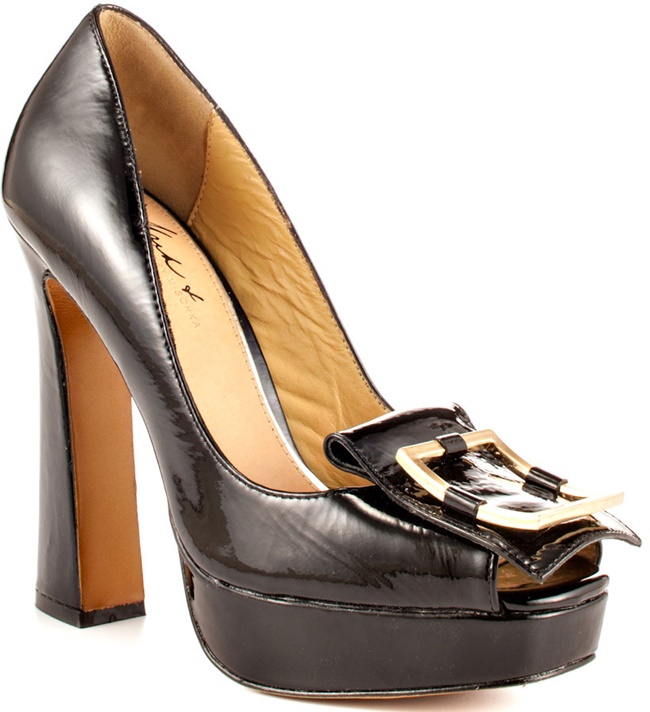 Mark & James by Badgley Mischka Keona Pumps, $268 (was $275)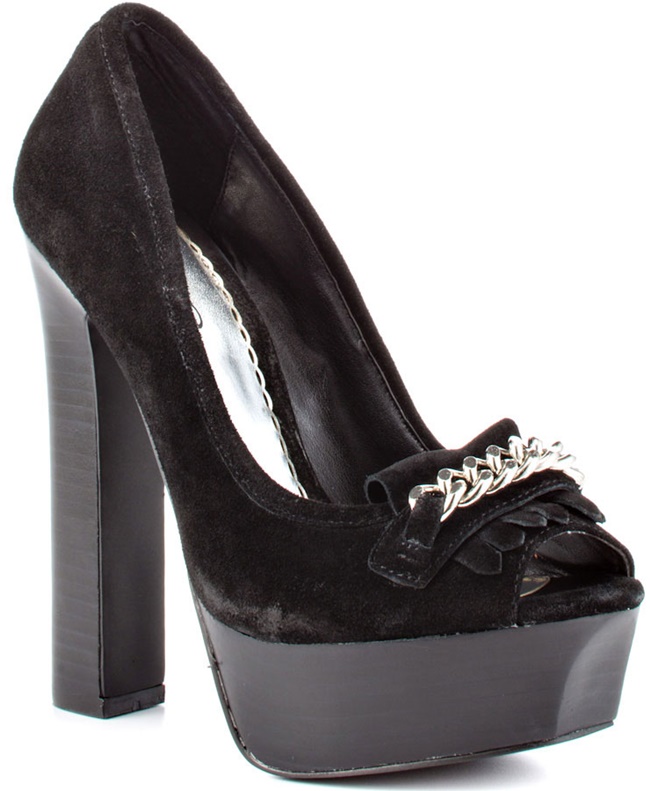 Bebe Lavender Peep Toe Pumps, $145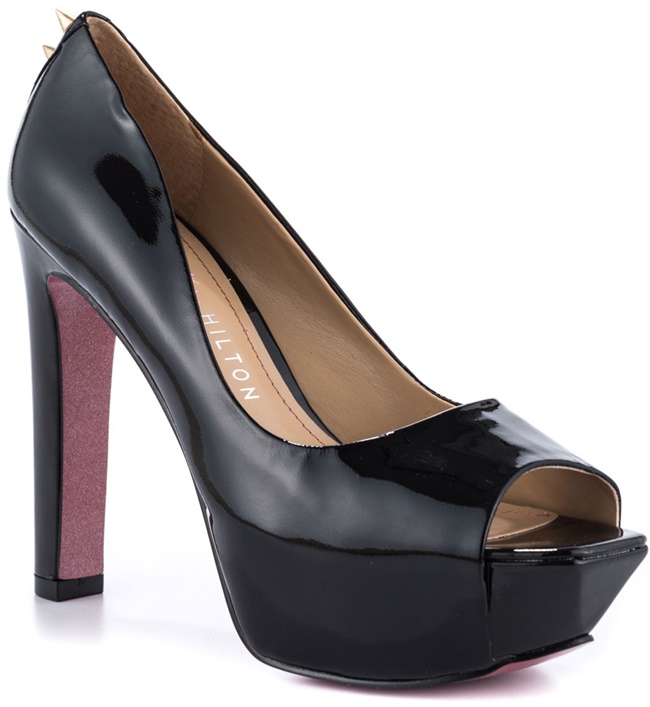 Paris Hilton Phoebe Pumps, $110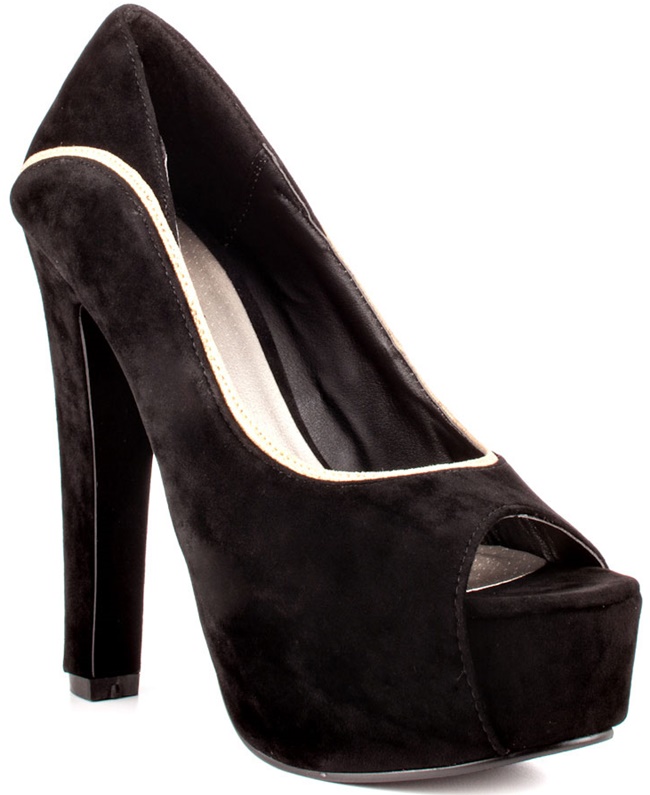 Michael Antonio Keona Pumps, $80