Kendall and Scott have been spotted hanging out (without Scott's partner, Kourtney) more than a couple of times now. Rumors are swirling that the two are having an affair. What do you think?
I bet it's just a figment of some reporter's imagination. Scott is like a big brother to Kendall, so I highly doubt she fancies him. Yes, they would look good together as a couple; and yes, a guy like him would probably fancy a pretty and leggy brunette like her. But seriously, she's far too young and he's much too old.
Speaking of which, the two were once again seen dining together with some distinguished men in Beverly Hills on Friday. I'm guessing Scott was most likely there to chaperone. What do you think?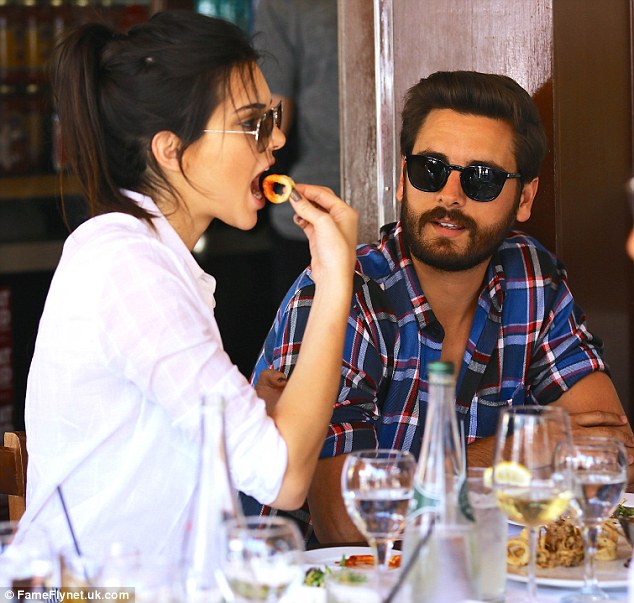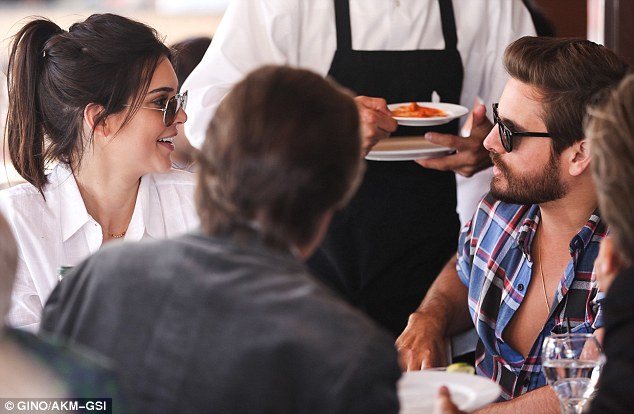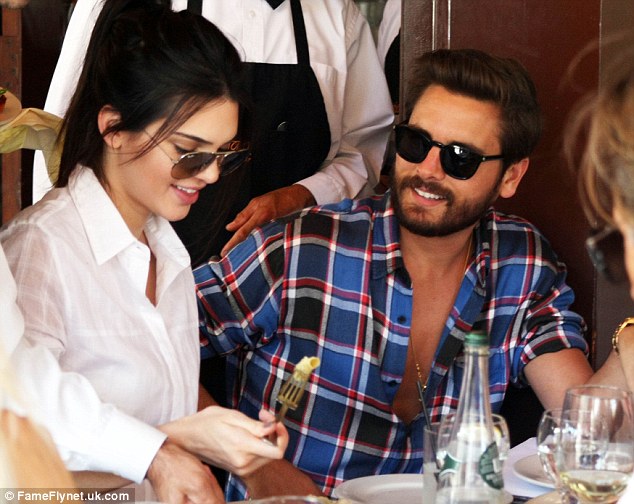 Kendall and Scott dine together with some distinguished men in Beverly Hills on May 1, 2015
For the occasion, Kendall kept to her usual boy-meets-girl style by donning a classic white collared shirt teamed with pinstriped cropped trousers. She then complemented the pairing with a loose ponytail, some dark eyewear, and a pair of white metal-tipped slip-on sneakers.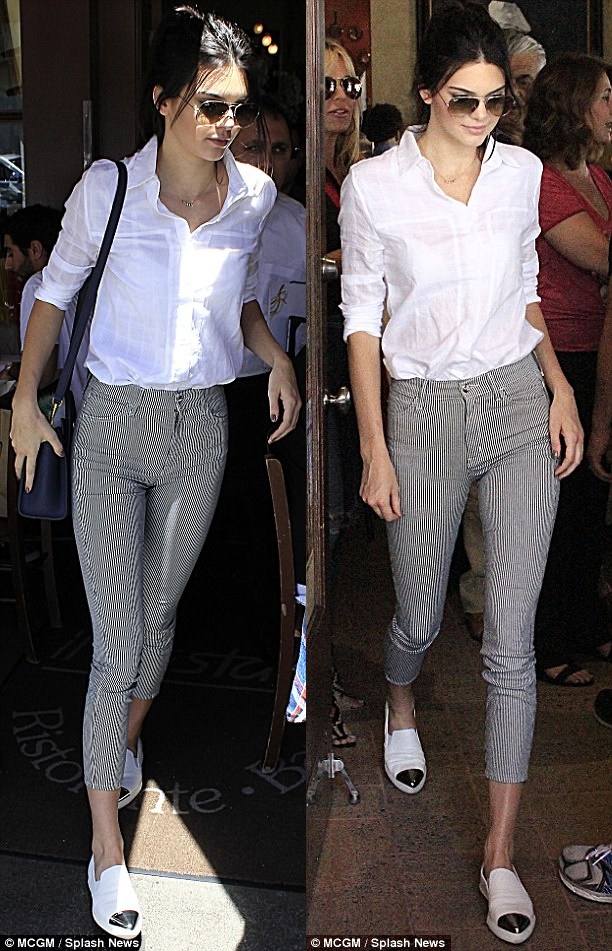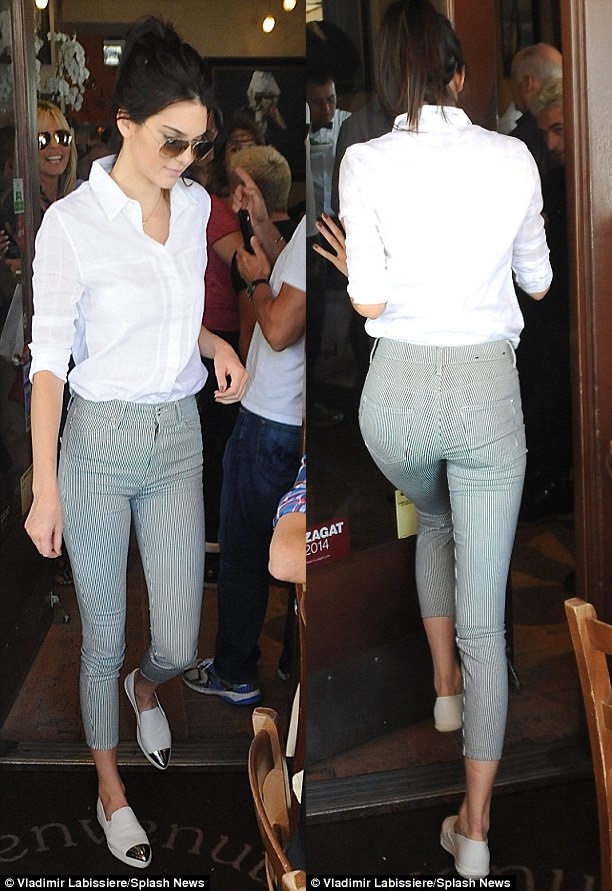 Kendall's boy-meets-girl style for the dinner date
How do you like Kendall's latest street style?
I love how classy and chic she looks. I'm a sucker for masculine-feminine outfits ∞ most especially if they involve pointed loafers, oxfords, and sneakers — so you could say I found this whole attire copy-worthy.
Kendall's aviator sunnies are from Ray-Ban, while her purse is from Celine. As for her white metal cap-toed sneakers, those are from Miu Miu. If I'm not mistaken, she has 'em in black too. I guess she loves how they look so much, so she decided to buy the white version as well.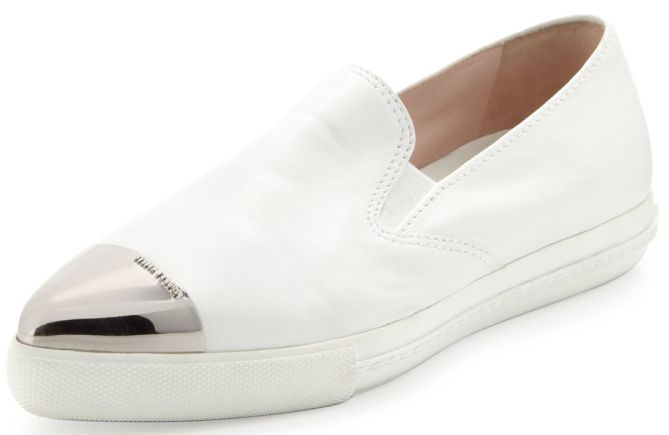 Miu Miu Metal Toe Leather Skate Shoes in White, $490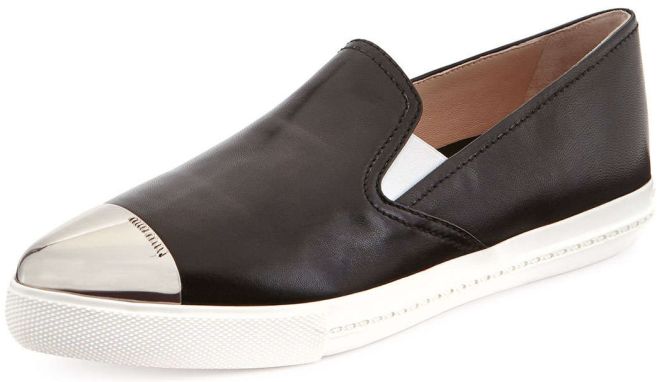 Miu Miu Leather Metal Toe Skate Shoes in Black, $490
You can score the shoes online if interested. They retail at $490 a pair. Team with a crisp white button-down shirt and a pair of cropped trousers to steal Kendall's style. Don't forget to put on your aviator sunnies for added drama.