We usually see Amal Clooney decked in feminine designer suits and dresses complete with expensive high heels and purses. But on Tuesday morning, George Clooney's wife decided to surprise everyone. She stepped out in London in a getup that was a huge deviation from her usual garb. The lawyer wore a checkered sleeveless coat over a black tank top and ripped skinny jeans. She then teamed the mix with peep-toe booties, dark eyewear, and a matching black bag. A pop of hot pink on her lips was the final touch.
It felt a little weird seeing Amal in such an edgy-casual attire. But it was also refreshing to see the she can actually rock such a look and make it happen.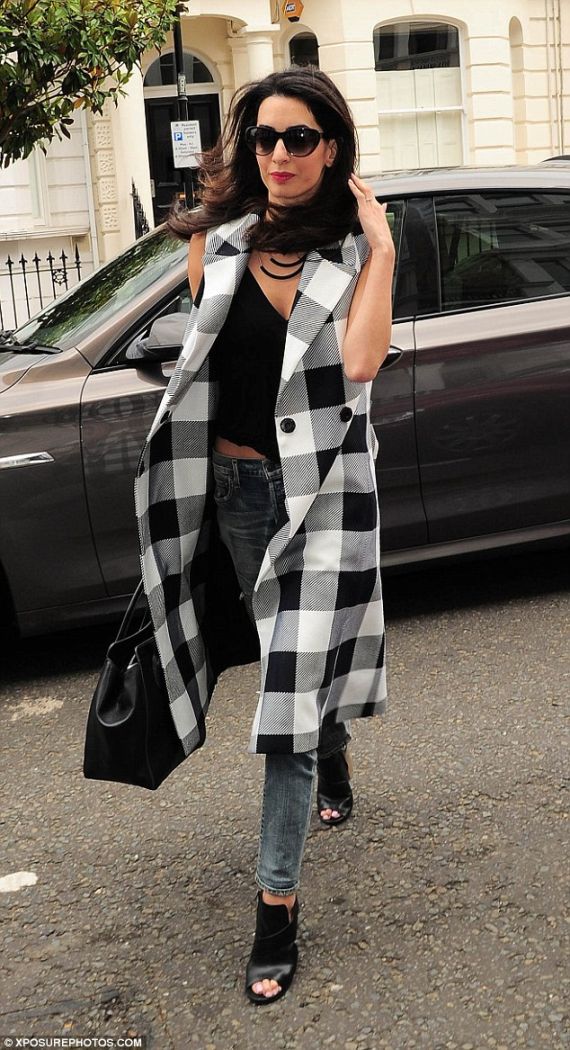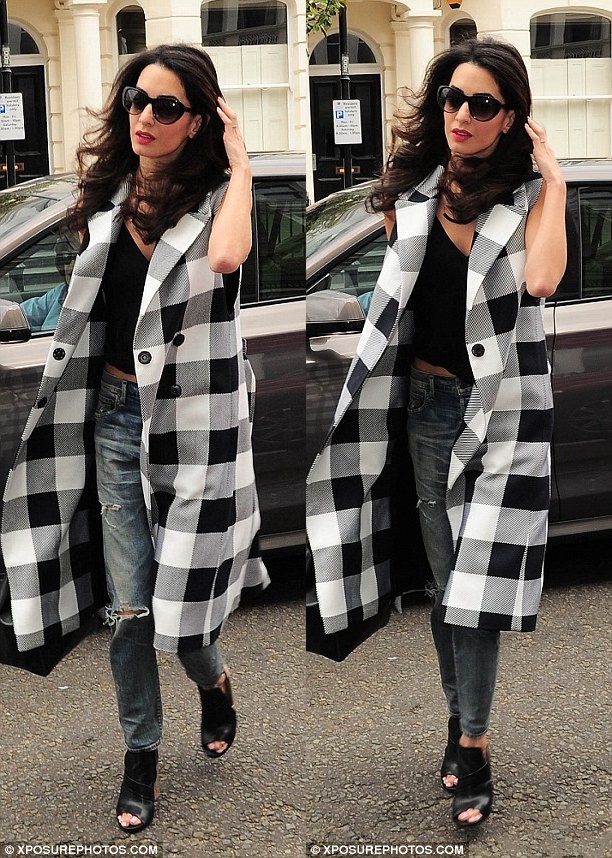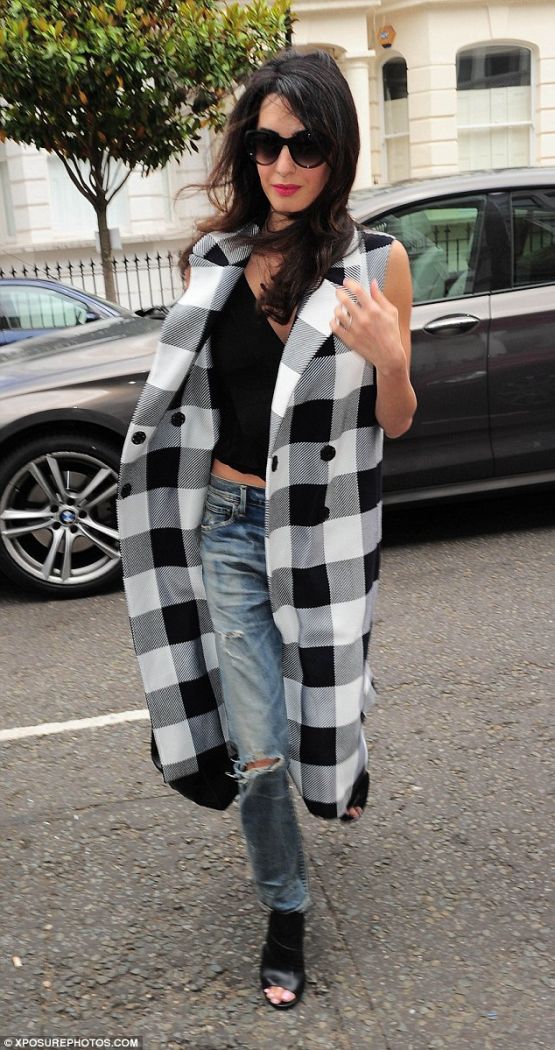 Amal Clooney dresses down in an edgy-casual attire while out and about in London on June 22, 2015
How do you like Amal's dressed-down attire, do you approve?
I like it. My favorites are the vest and the booties because they really elevated the outfit to a more polished level. I do, however, think she looks too thin. A few pounds will do her good. Don't you think?
Amal's checkered sleeveless coat is from a label called Tome. It's very expensive, though. A piece will cost you $1395, which is a huge amount of money. With that kind of cash, you can already buy loads of clothes, shoes, and bags.
Amal's distressed jeans are from Citizens of Humanity, while her sunnies are from Heidi London. Unfortunately, that's as far as I can go  with the details because I was not able to find anything on her purse and peep-toe booties. You can, however, still replicate the uber-cool getup using these buckled "Fruell" booties from Vince Camuto: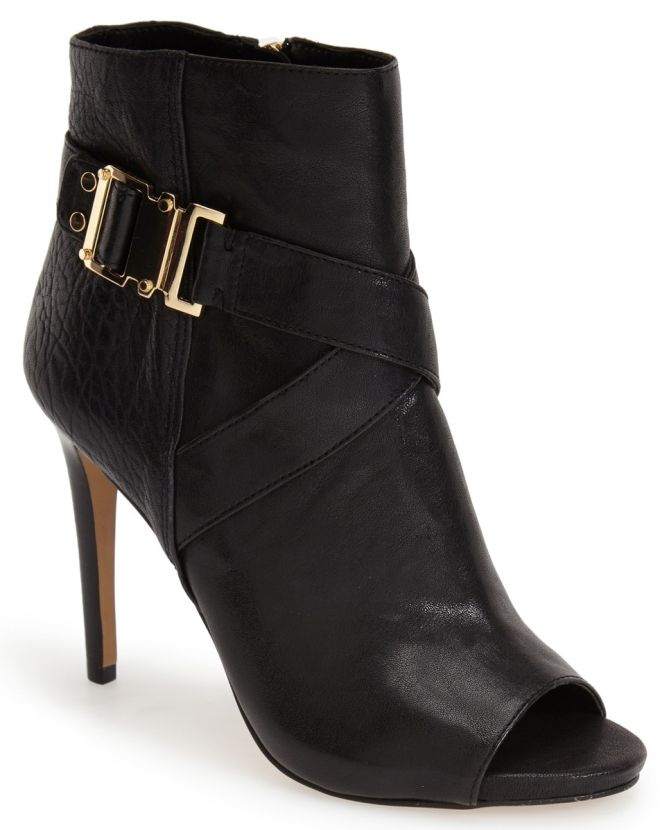 Vince Camuto Fruell Open Toe Booties, $169
The reason why I chose the Fruell is because they feature criss-cross straps on the vamps, much like Amal's designer pair. If you're not too keen to grab 'em, you can try the Anetta booties from Vince instead. They are pricier, though. Team with skinny jeans, a black tank top, then finish with a checkered sleeveless coat to steal Amal's style.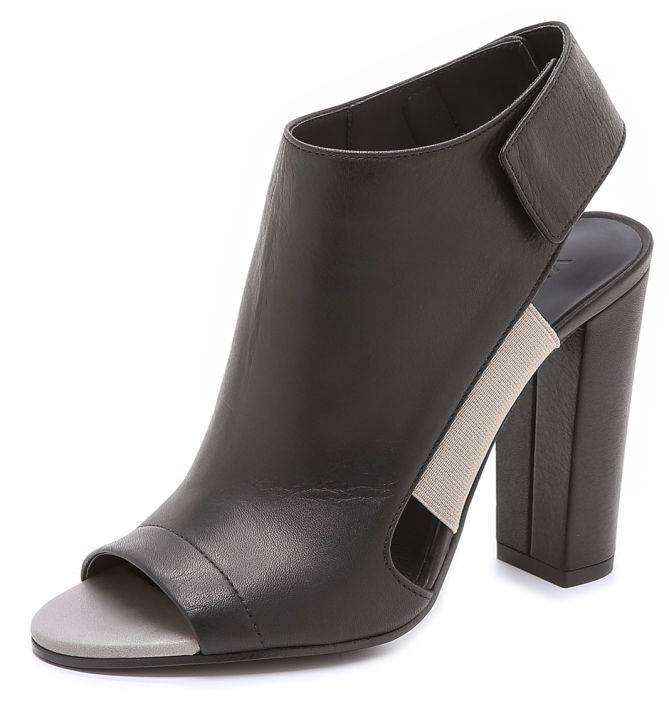 Vince Anetta Booties, $276.50