Black and brown boots are closet staples. Red and animal-print boots are statement-makers. But when it comes to white and cream-colored boots, let's just say not many people gravitate towards them because they're a little tricky to wear. But, if you're careful and you pick the right pieces to go with, you can actually rock a pair and look fabulous.
My recommendation is to take style notes from Alessandra Ambrosio, resident Victoria Secret angel and celebrity fashionista in her own right. The leggy brunette was spotted arriving at the Victoria Secret headquarters in New York early this week, and she wore a really chic outfit that I couldn't forget.
Ale slipped into white skinny jeans and a white t-shirt for the meeting, which was a simple no-fuss combo. But the "toppings" she used were what sealed the deal. She capped off the mix with a drapey fringed cardigan, a simple tote, and a pair of pointed lace-up ankle boots — all in shades of cream. Punctuating the monochromatic getup was a brown floppy hat, which polished and pulled everything together.
Alessandra looked effortlessly chic. I mean, she literally looked picture perfect — which is why we all should take a cue, sartorially speaking.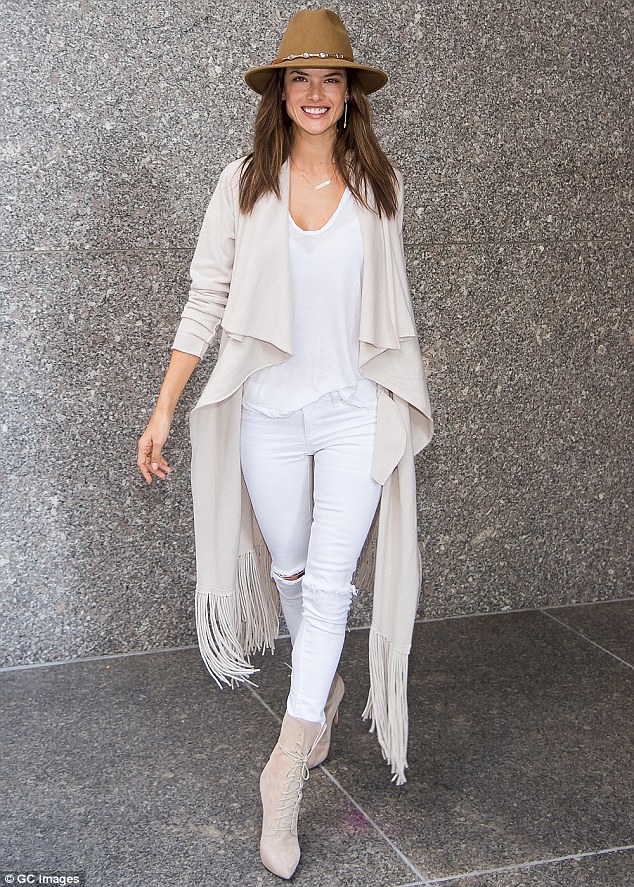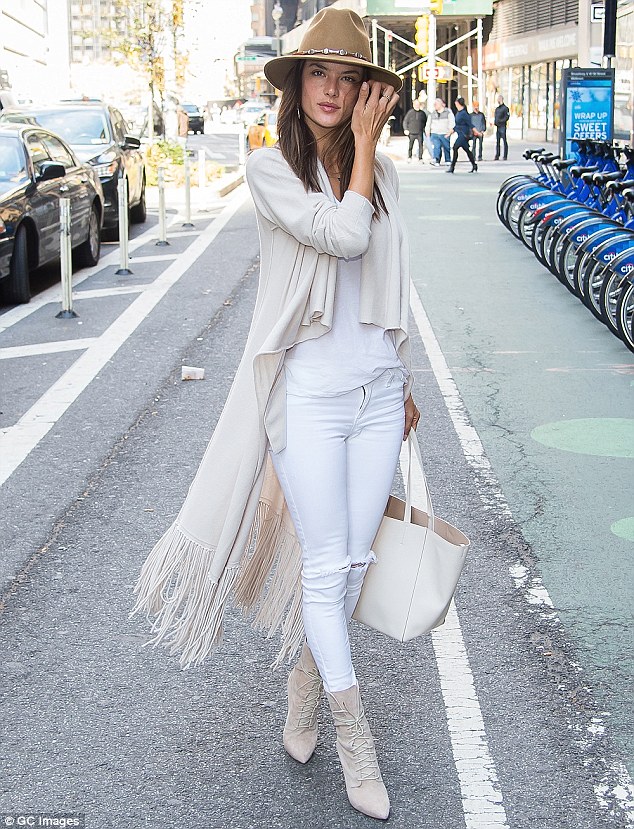 Alessandra Ambrosio arrives at the Victoria Secret headquarters in New York City on November 9, 2015
Doesn't she look amazing?
The trick lies in the color choice. To be able to look classy and sophisticated in a pair of white or cream colored boots, you need to go monochromatic a la Alessandra. That way, you won't create a stark or harsh contrast that will cut your body or legs in half (which happens when you team the boots with, say, dark jeans).
Alessandra's fancy cardigan is from a label called ThePerfext, while the t-shirt is from L'Agence. Her tote is from Celine, while the hat is from her own fashion line, Ale.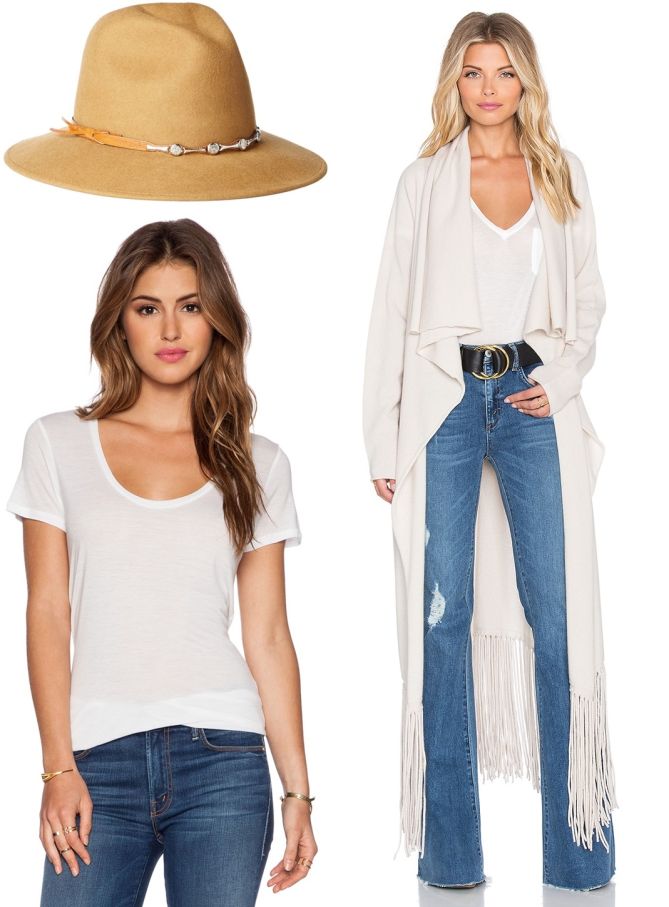 Ale by Alessandra Ambrosio La Concha Hat, $59 (was $99) / L'Agence Perfect Tee, $95 / ThePerfext Bushwick Fringe Cardigan, $895
As for Ale's cream-colored lace-up boots, I couldn't find any details on the pair. Searching for them online gave me no luck either. But you don't really need to grab the pieces she wore to be able to rock cream or white boots this fall. Simply substitute with items from your closet or items you can afford and you're all set!
In terms of footwear choice, here's a pair you can start with if you need some ideas. Team with white skinny jeans and a white shirt, then top off with a cream purse and long cardigan.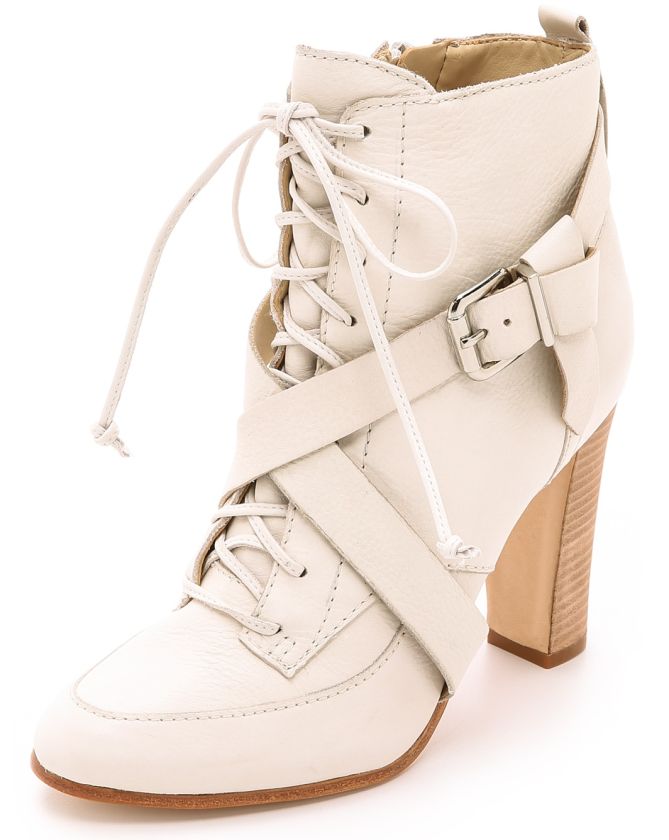 Schutz Eduardah Lace Up Boots, $280
By the way, later in the evening, Ale was spotted switching things up in favor of an all-black ensemble as she stepped out to enjoy New York City. She capped off the getup with another pair of lace-up boots. This time, from Giuseppe Zanotti. The boots were edgier too. They were detailed with chain straps and grommets all over.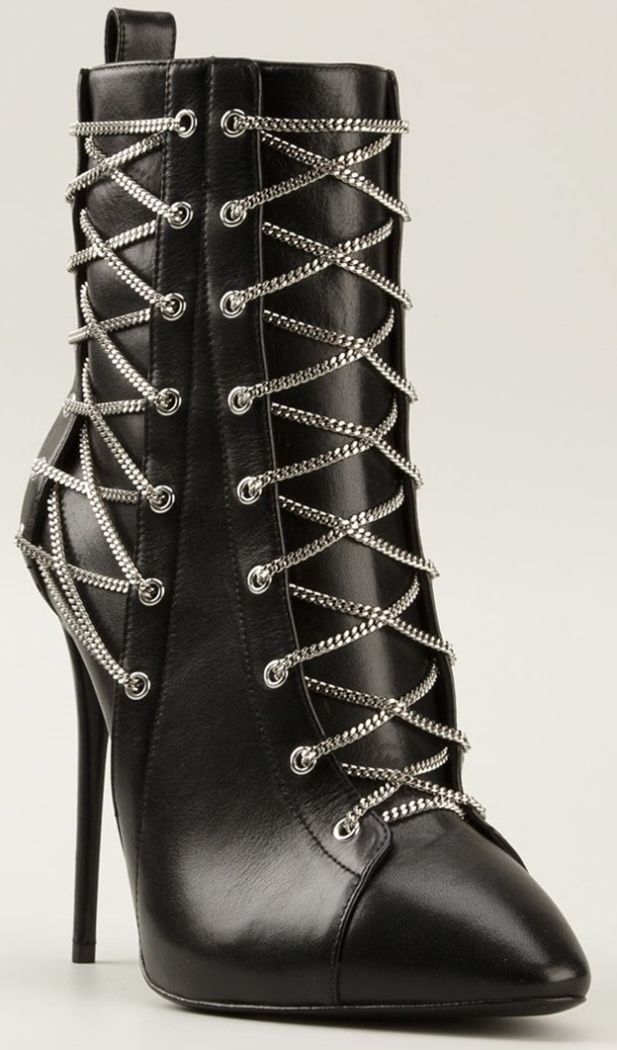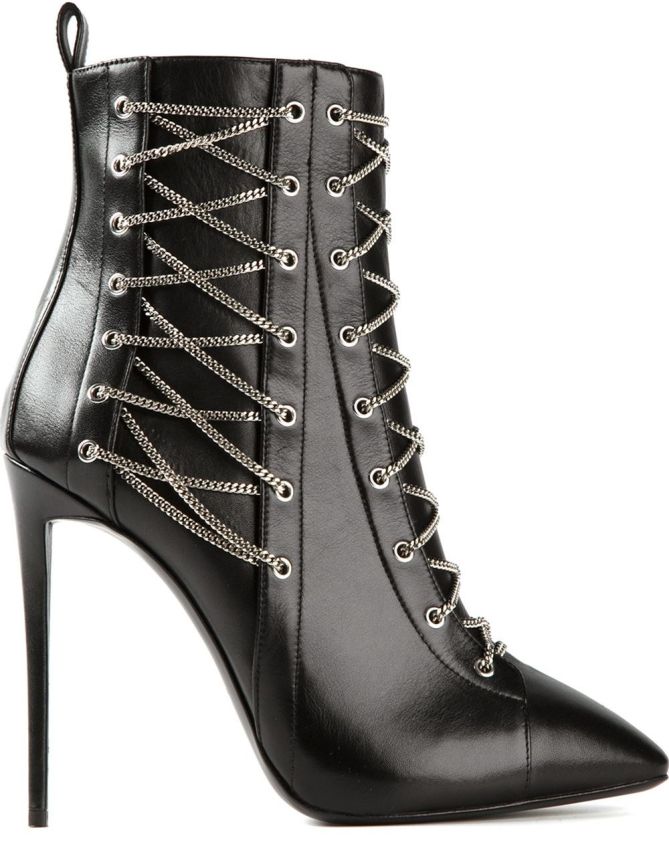 Giuseppe Zanotti Chain Embellished Boots, $680 (was $1595)