It's just nine days until the release of the eighth film in the blockbuster street car franchise. And Michelle Rodriguez, who reprises her role as Letty in The Fate Of The Furious, was on the promo trail when she was spotted leaving her hotel in New york on Wednesday.  But there were no muscle cars ready to whisk the 38-year-old away to her date on Late Night With Seth Meyers.
Michelle kept up her tough-chick creds in a black leather biker jacket decorated with studs, a black blouse and black skinny pants that she pushed up to her ankles to show off her eye-catching silver sparkly high heels. The beautiful brunette's wavy tresses cascaded over her shoulders, framing her face which was expertly made up in neutral tones.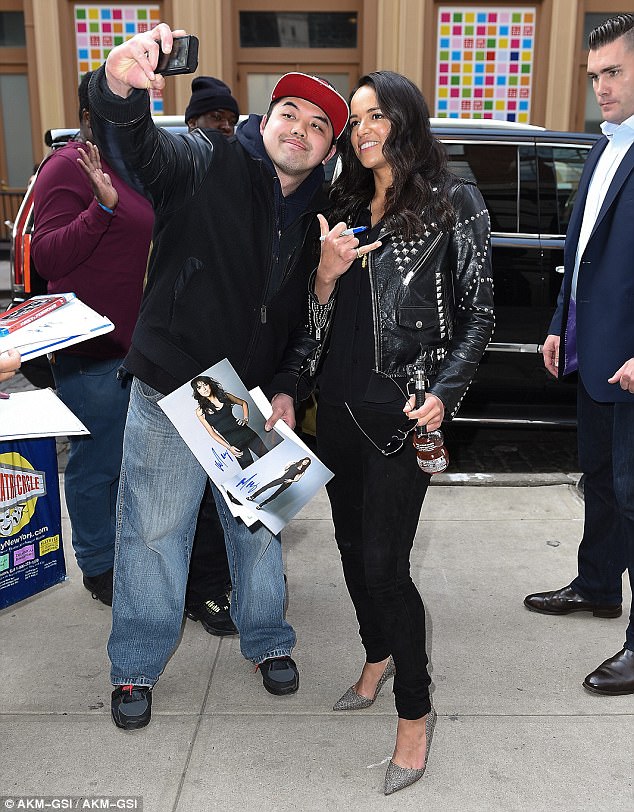 The 38-year-old greeted fans outside the hotel and stopped to sign autographs. The beautiful brunette also posed for a picture with a fan
She has co-starred with Vin Diesel in the action movies since The Fast And The Furious in 2001 and is set for the ninth and tenth movies in franchise set up for 2019 and 2021.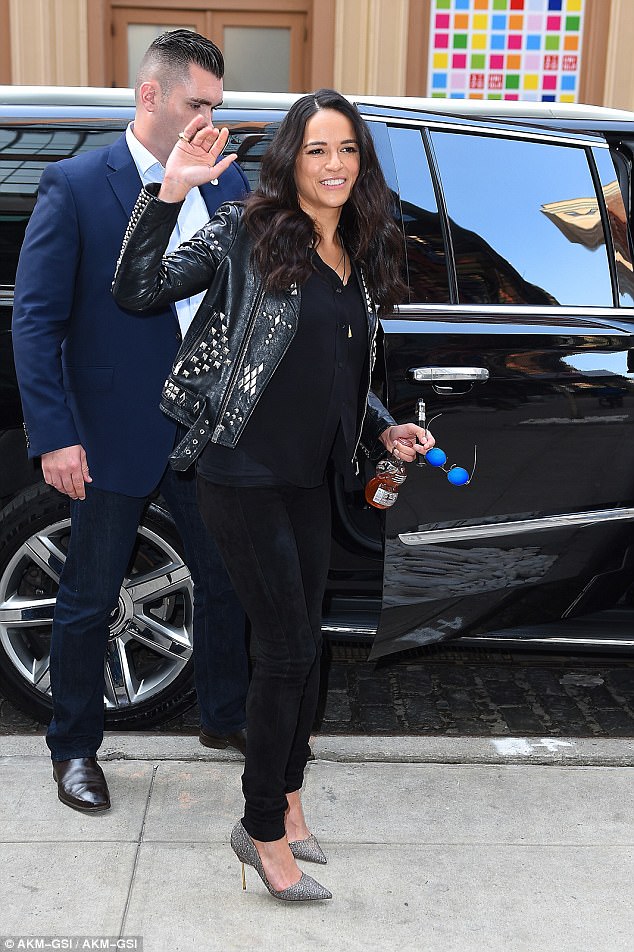 Meanwhile, Michelle brushed off criticism from the transgender community about her new film. The Assignment, with Sigourney Weaver, which debuted on Monday in New York. It concerns a surgeon who kidnaps the hitman who killed his brother and gives him gender reassignment surgery. She looked back over her shoulder before getting into the limo.
Michelle later swapped her ensemble for a white tracksuit and black T-shirt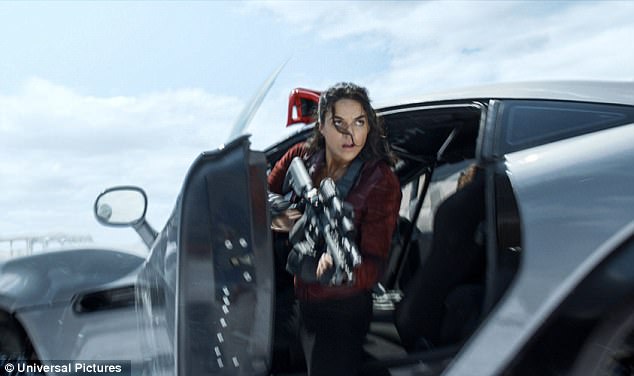 But Michelle – who plays the hitman in the film – was quick to defend her latest project when the first trailer was released in September. 'I'm bisexual. I do guys. I do girls. You can't really argue with me because I'm you,' she told Reuters. 'So if I do a movie, I'd never do a movie with the intention of offending anybody in the LGBT community because I'm a part of it.'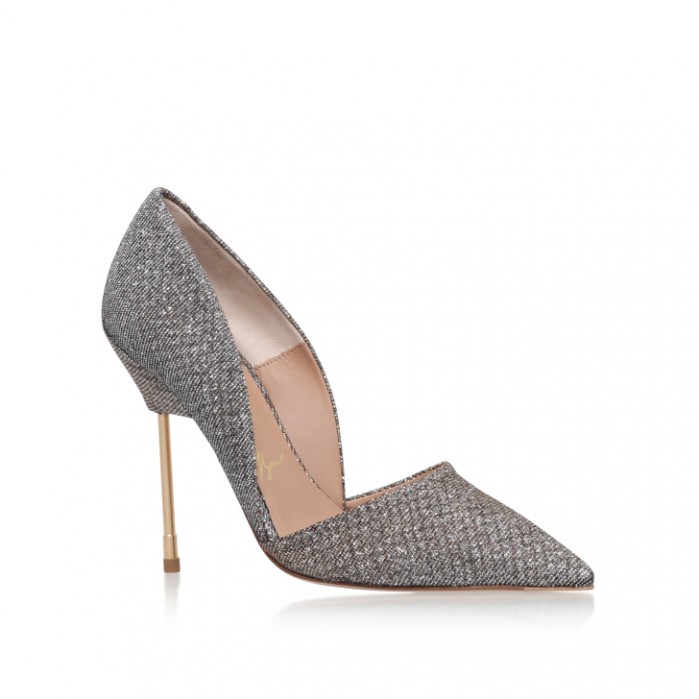 Part of the Geiger London 'B' Series, Bond combines our signature pointed toe and metal cigarette heel with a new D'orsay upper pattern. The gunmetal shimmer is a new addition to the season. The shimmering gunmetal finish combined with the signature heel creates a stand out evening shoe.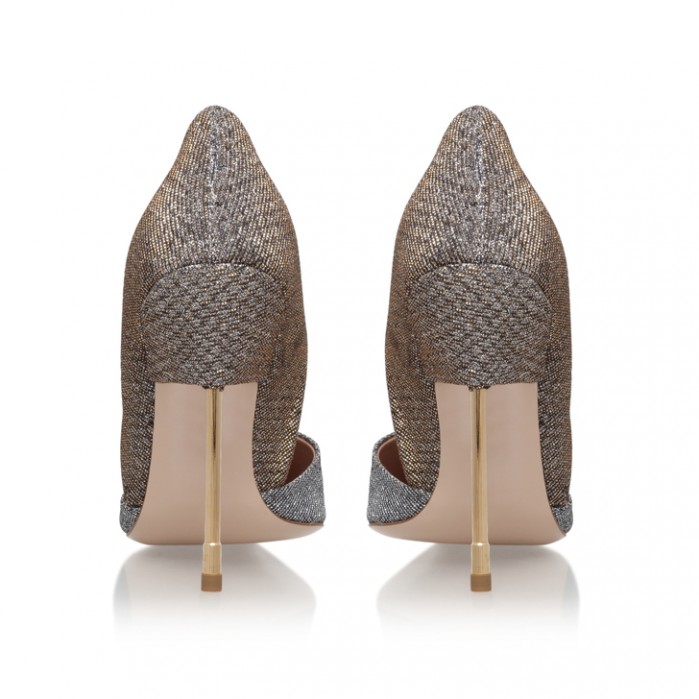 These pair of luxe-looking metallic stilettos feature a statement gold pin heel by Kurt Geiger. Kurt Geiger's iconic 'Bond' stilettos have been spotted on a whole host of celebs including Vanessa Hudgens, Sandra Bullock, Jennifer Lawrence and Nicole Scherzinger but we particularly love Michelle's stylish silver pair.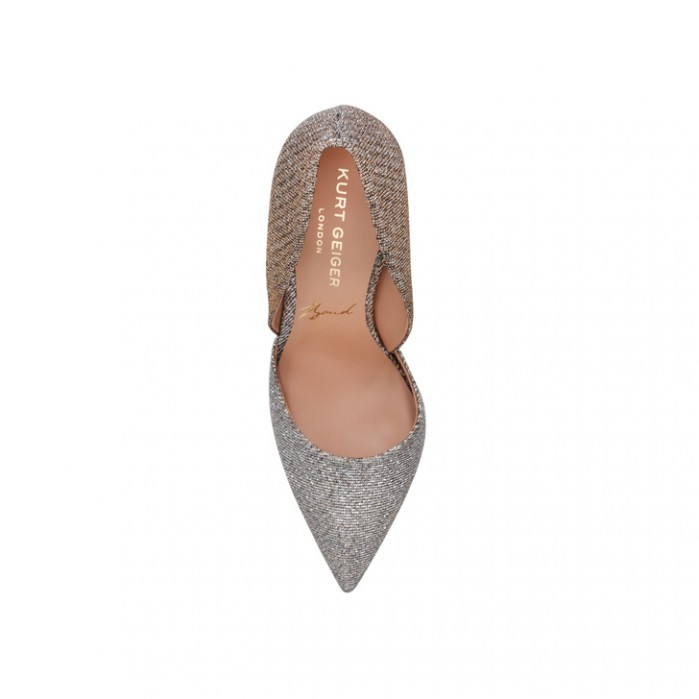 A pair of metallic heels can do wonders when you need to complete an outfit with a touch of glamour. So why not invest in Michelle's trusty Kurt Geiger court shoes to complete any evening look this summer? Or have a look at our more pocket friendly options below: