Ever since she made her appearance on the Victoria Secret Fashion Show runway last November, Taylor Swift has found herself a new BFF — one of the lingerie label's angels, Karlie Kloss.
Who would have thought the two would strike a friendship, right?
If you check Taylor's Instagram, you'll see loads of pictures of the singer and her newfound supermodel friend. Some even think Taylor cut her wavy locks for a side-swept bob because of Karlie.
I have to say the speculation could be true. I also think that one of the other reasons why Taylor likes to hang around Karlie is because they can both relate to each other on so many levels. They're both tall and extremely slender — you can even mistake them for twins if you didn't know it. They're both in their early 20s, thus with similar likes and dislikes (and hormone levels). And obviously, they both love fashion.
During a recent party held for celebrity hair stylist Harry Josh, Karlie and Taylor were spotted hanging out with stylish celeb Kate Bosworth. It was a little weird looking at the three because Kate, who posed with the two, looked extremely short. Check out this pic: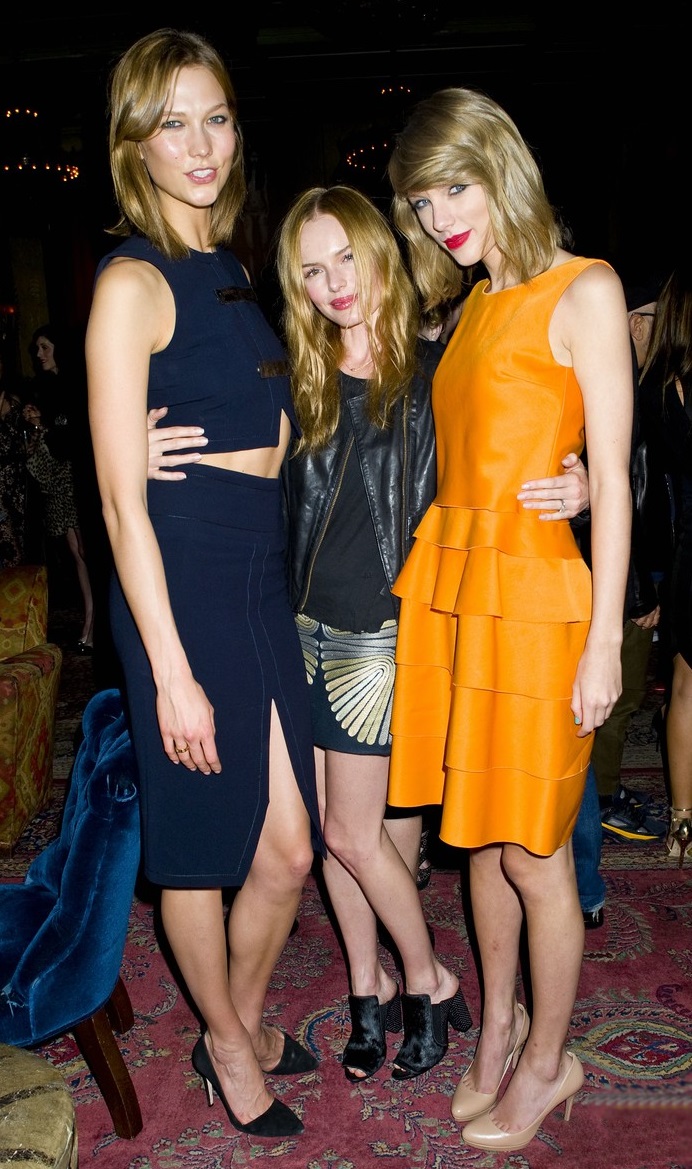 Taylor Swift and Karlie Kloss sandwich Kate Bosworth at Harry Josh's star studded party, May 3, 2014
See. Kate usually commands attention, especially since she is quite the icon herself. But in this photo, she definitely got overshadowed by Karlie and Taylor.
By the way, I think Taylor looks fabulous in her bright orange dress. I love the poppy color, and the silhouette really suits her. She also made the right choice by pairing the frock with classic nude pumps. A dress as bright as that needs no extra decorations.
You may have already seen Taylor's pumps before. The country cutie's round toe heels are from Prada. If I'm not mistaken, they're the same pair we spotted on the singer a few weeks ago. You can score them in your size via Nordstrom.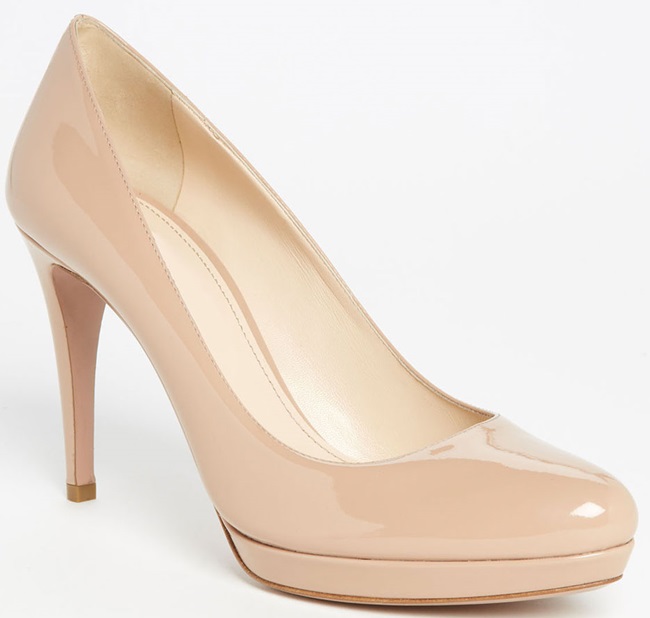 Prada Round Toe Platform Pumps, $670
Personally, however, between the three ladies and their shoes, I'm actually more interested in Kate's slip-ons. If I'm not mistaken, the open-toe mules seem to be crafted from some type of animal hair. They look very exotic and fancy, and suffice it to say, I'm quite intrigued.
Kate's heels are from 3.1 Phillip Lim. I checked them out online but couldn't find them. My hunch is they're from the current collection, but will only probably be released this coming summer. If you like Kate's exotic slides, you can grab something similar instead. Here's a great option to try from 10 Crosby by Derek Lam. These "Jiles" mules are just as striking and will really turn heads. Will you grab?
10 Crosby by Derek Lam Jiles Mules, $375