I can't help it. I like style stalking Taylor Swift. I'm fascinated by how she manages to look flawless day in and day out. It's like she wakes up that way and makes little effort to look good, yet still does. I wonder how long it takes for her to put together a look. Maybe 30 minutes? An hour? What do you think?
Speaking of the country cutie, Taylor was spotted out and about in New York over the weekend. She was dressed in her signature striped tee, but unexpectedly paired the piece with denim cutoffs. The look was sexy and casual, but she made it even more unusual by capping off the combo with a pair of retro-looking perforated brogues.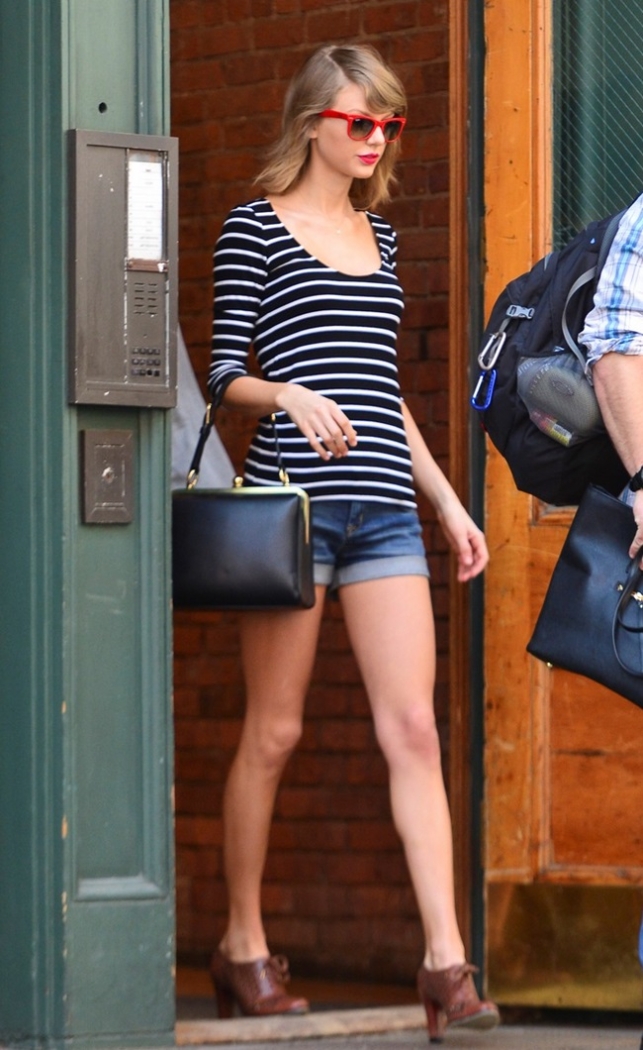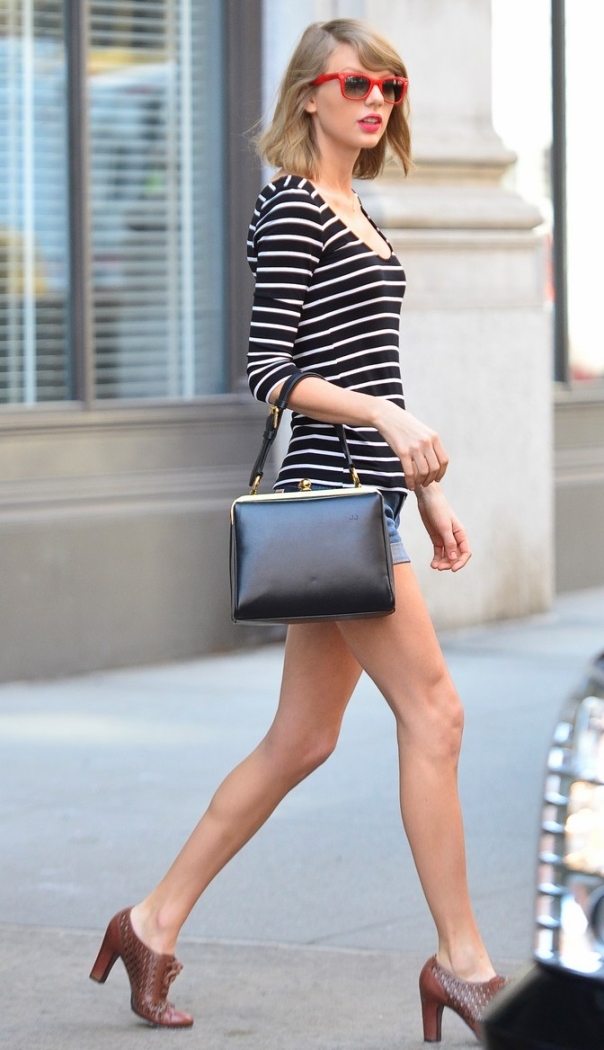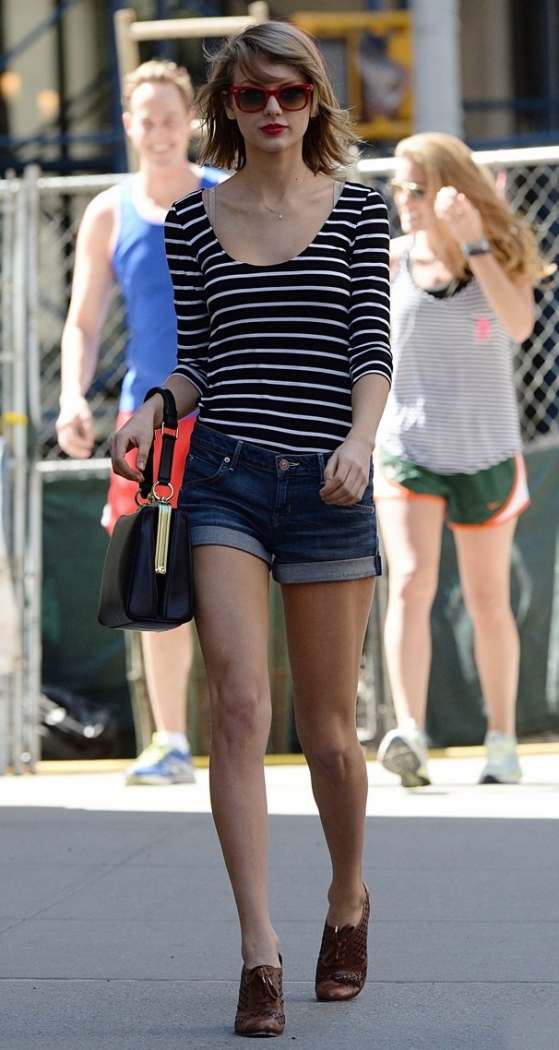 Taylor Swift walks around the streets of New York while decked in a striped tee, denim cutoffs, and a pair of perforated brogues, April 12, 2014
I have to be honest with you, I am not a fan of the combination, but Taylor has that enviable talent of getting away with whatever she's wearing — even if it's a granny-looking pair of shoes — so she basically managed to pull off this one with no issues. Do you like her look?
Just so you know, Taylor's cute red-framed sunnies are from Ray-Ban while her jeans are from Hudson. The bag is a piece from Dolce & Gabbana while the perforated lace-ups are from Sam Edelman.
Yes, Sam Edelman. I was just as surprised. These brogues feature cutouts all over and 3.5-inch tall square heels. They're not glamorous at all, but if you dig the retro trend like Taylor here, these shoes may work for you. I couldn't find them in brown online, but here's  a black version for you to peruse: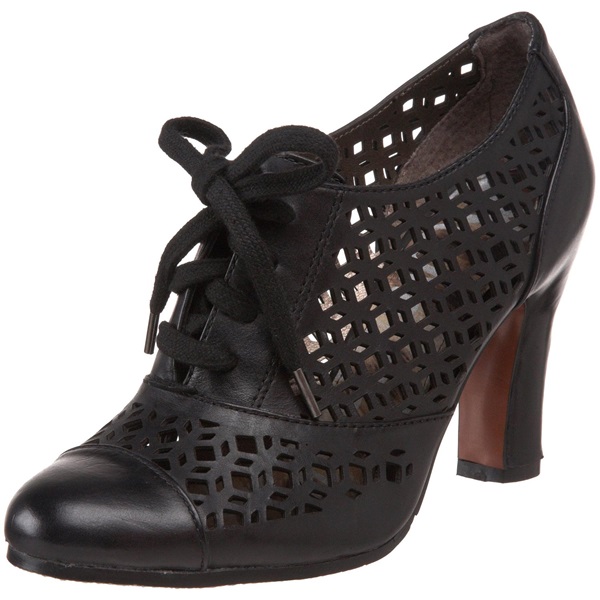 Sam Edelman Sawyer Lace Up Oxfords, sold out 
Based on my research, the songbird has had these shoes for quite some time now. They are no longer available for purchase, but you can try your luck at outlet stores.
Personally, I wish Taylor wore a different pair with her outfit — shoes with a hint of Western vibe to them like these Circus by Sam Edelman Hayden boots. These would have been perfect with the look she put on. Would you agree? Or would you rather see Taylor in some flats or Keds with her striped shirt and denim shorts?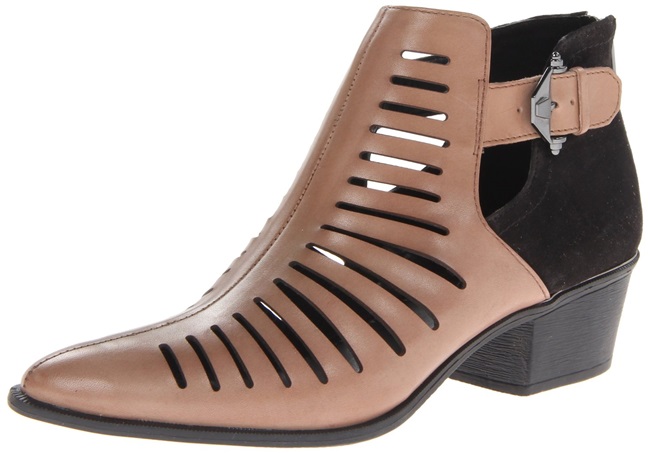 Circus by Sam Edelman Hayden Boots, $100
The Hayden boots feature cutouts all over, two-inch tall heels, and angular buckles for that wild-wild-west feel. They're also crafted from leather and come in a beautiful neutral color that will match with practically any spring outfit you will pull out from your closet. Priced reasonably at $100, I say these shoes are worth grabbing this season. What do you think?