Sometimes, I forget that Taylor Swift is all grown up. Yesterday, the popstar flaunted more than just a pair of mile-long legs while arriving at her apartment in New York. Taylor wore matching separates consisting of a short skater skirt and a cropped sleeveless top that showed off her toned tummy. There was a lot of skin exposure involved, so I'm willing to bet all the guys who saw her probably couldn't stop staring. She looked drop-dead amazing — like supermodel perfect.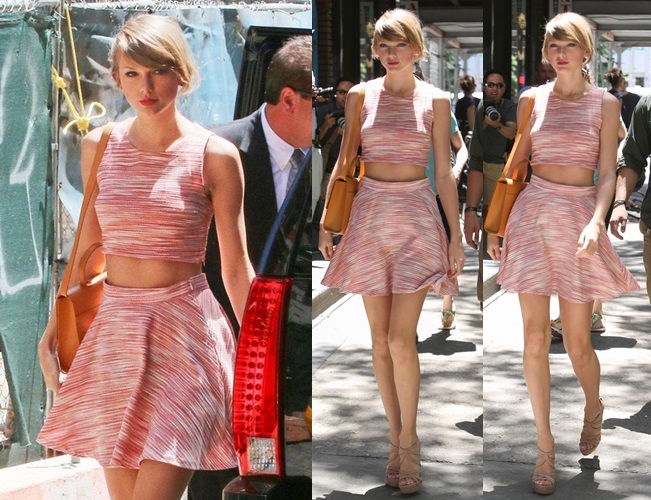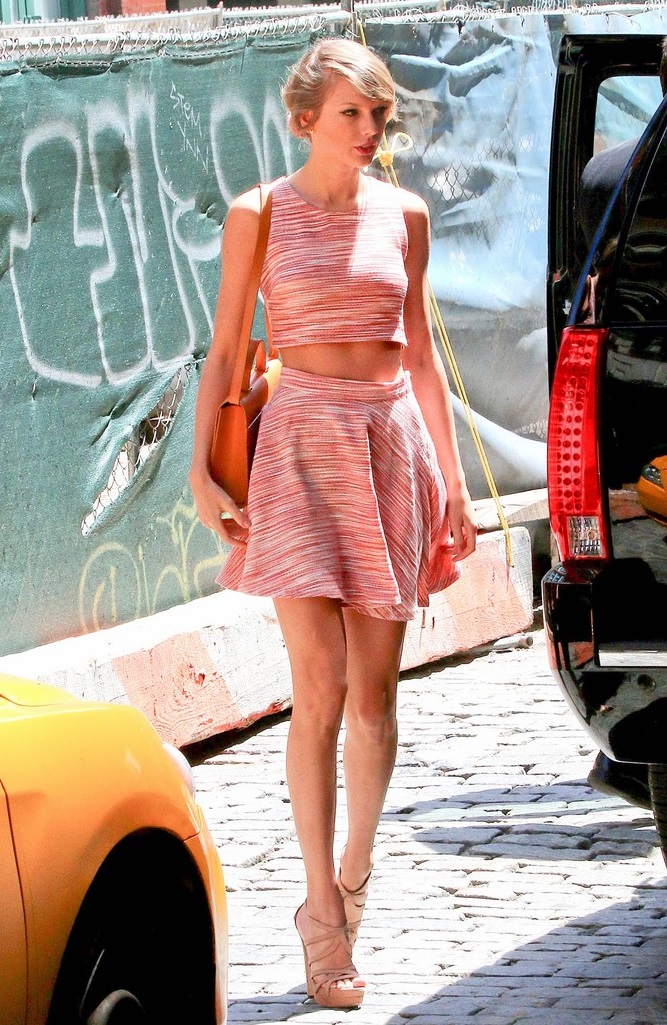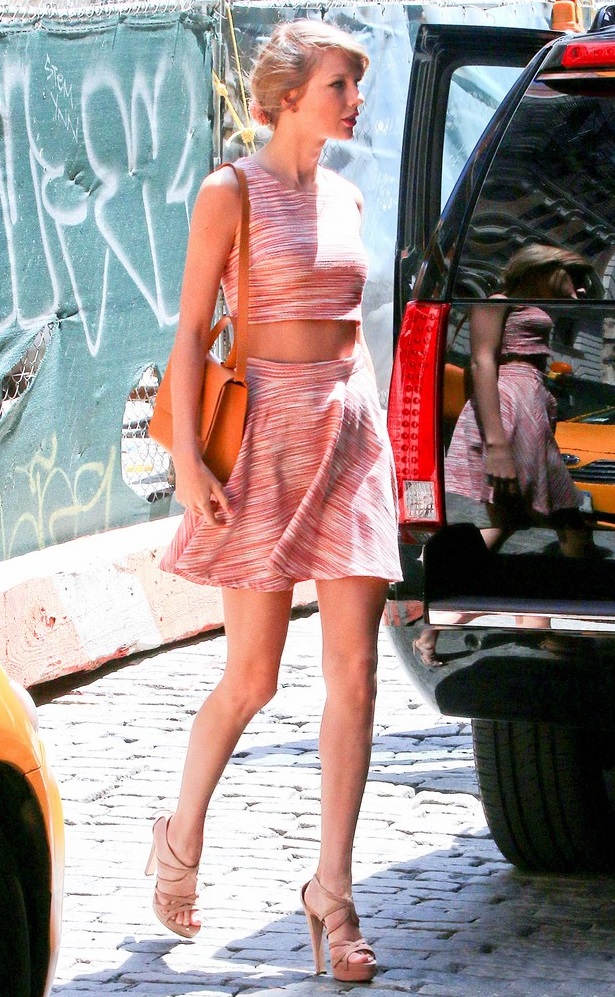 Taylor Swift arrives at her apartment in New York City, on June 18, 2014
You know, I can totally understand why so many girls envy her. She's rich, talented, skinny, tall, beautiful, and she actually has a sweet and kind heart. Who wouldn't want to have all that? Oh, and let's not forget, the girl's got style. She knows how to dress even without the help of a stylist.
A great case in point would be this latest look she has put together for a day about town. I love her textured top and skirt, and I like how she complemented the combo with nude strappy sandals and a camel-colored purse.
No doubt, she used the bag to add a pop of color to her muted look, but if you ask me, those sandals are what really pulled the whole outfit together. They dressed up the outfit and they made her legs look even longer. Would you agree?
According to sources, Taylor's lovely heels are from Miu Miu, and most likely, a style that is not yet available online. Judging from the platforms, I'm guessing they're at least 5 inches tall. Nonetheless, if you fancy grabbing a similar pair, you can try the DV by Dolce Vita Brielle sandals instead. These shoes are just as strappy, but a lot more "walkable" with their 4.5-inch-tall heels. They also come in almost the same blush color: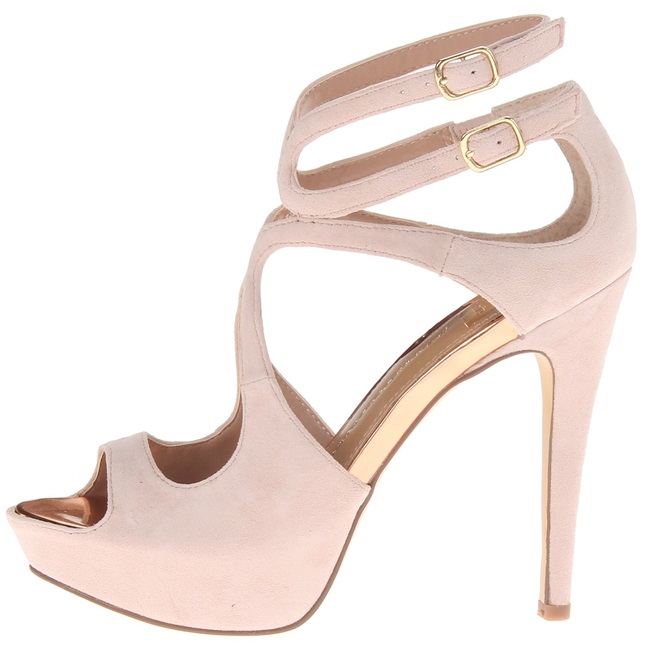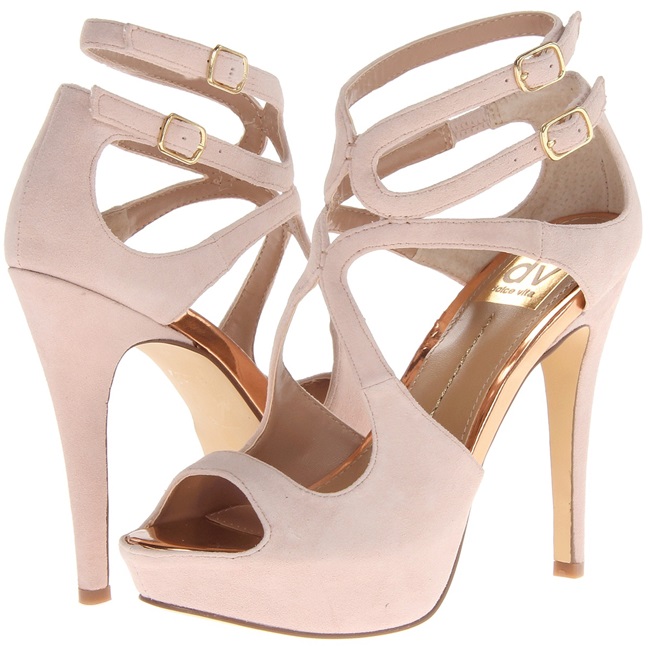 DV by Dolce Vita Brielle Sandals, $64 (was $89)
To steal Taylor's style, pair these sandals with a flared skirt, a cropped top, and a cute shoulder bag. Here's a mix I came up with that won't cost you a lot: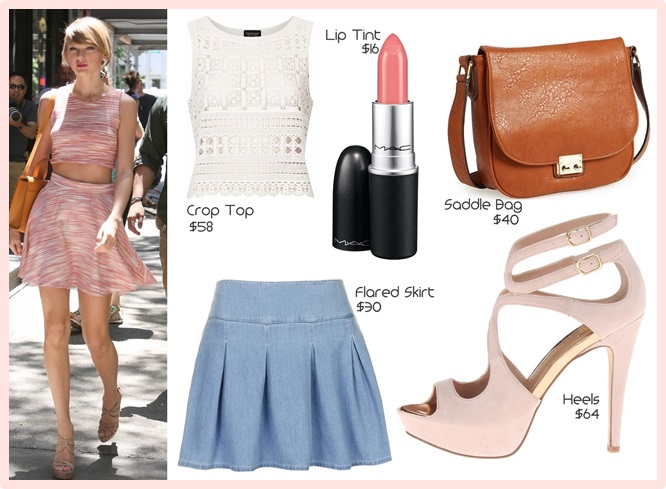 Topshop Crochet Tank / Topshop Moto Pleated Denim Skirt / M.A.C. Playland Lipstic in Red Balloon / Sole Society Sequioa Saddle Bag
By the way, just so you know, Taylor's top and skirt are from AQUA. They are currently on sale at the moment, so you may want to check them out as well:
AQUA Marled Crop Top and Skirt, $43.50 (was $50) and $54 (was $68)