Sienna has recently disclosed, er, confessed that she had a short-lived affair with Daniel Craig (yeah, James Bond) while dating Jude Law way way back. Now I can't help but wonder how Jude feels about that. Of course, I guess it shouldn't matter anymore considering Sienna has moved on and settled down with her musician fiancé, Tom Sturridge.
Speaking of Sienna, the former Brit "it" girl was spotted attending the Vanity Fair Oscar Party held in West Hollywood last Sunday. For the event, she wore a beautiful red Alexander McQueen gown, which she cinched at the waist with a leather belt, also from McQueen. Not content with the accessory, Sienna piled on several gold cuff bracelets on both arms for more drama. I mean, she seriously piled them on. She wore a total of several (7) cuff bracelets all at once.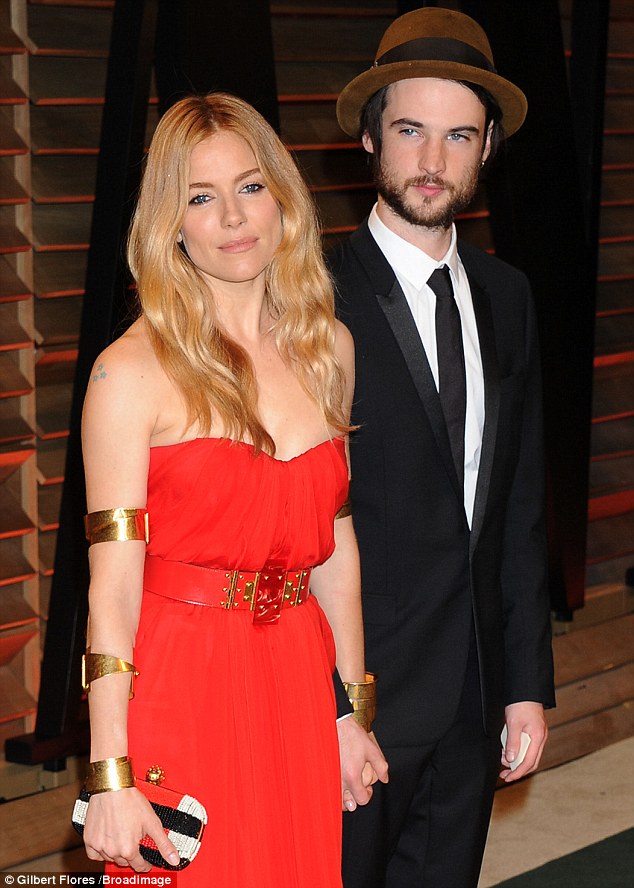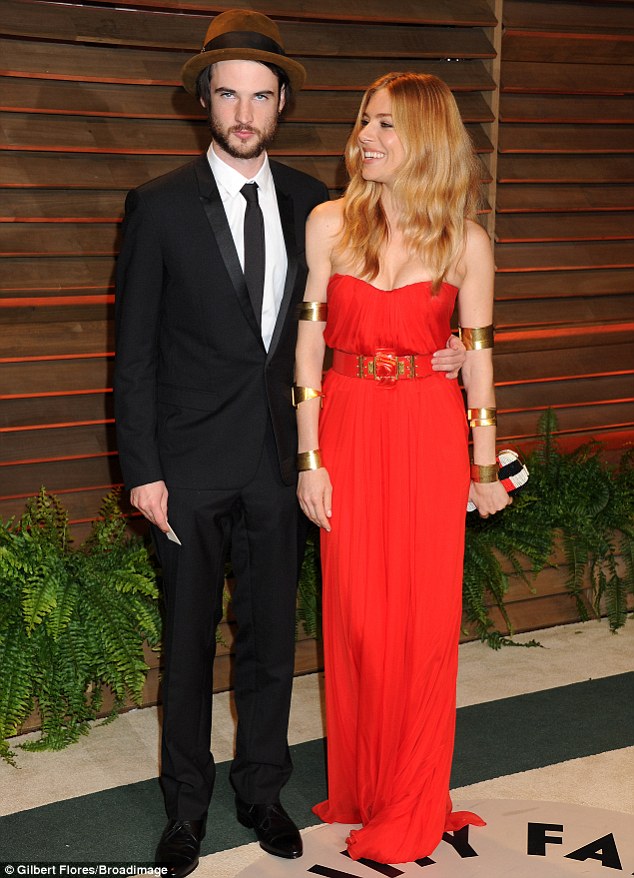 Sienna Miller attends the Vanity Fair Oscar Party with her partner, Tom Sturridge, in a red Alexander McQueen gown, on March 2, 2014
Despite the arm candy overload, however, Sienna still looked amazing. I also love how she paired the dress with a tri-tone clutch (also from McQueen) instead of a plain red one.
Sienna enjoyed a few drinks with her man while at the event. Thanks to the photographers, I was able to catch a glimpse of her poppy red sandals.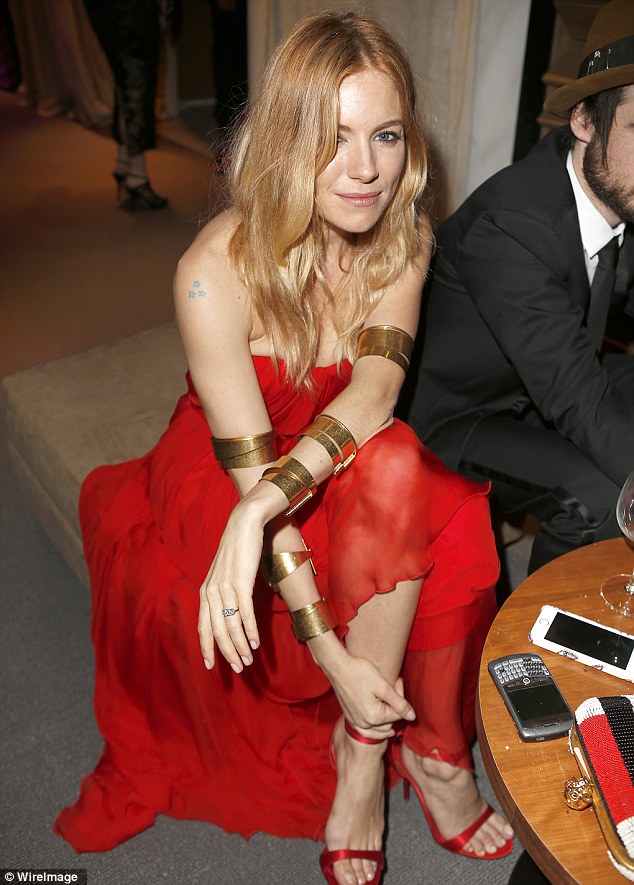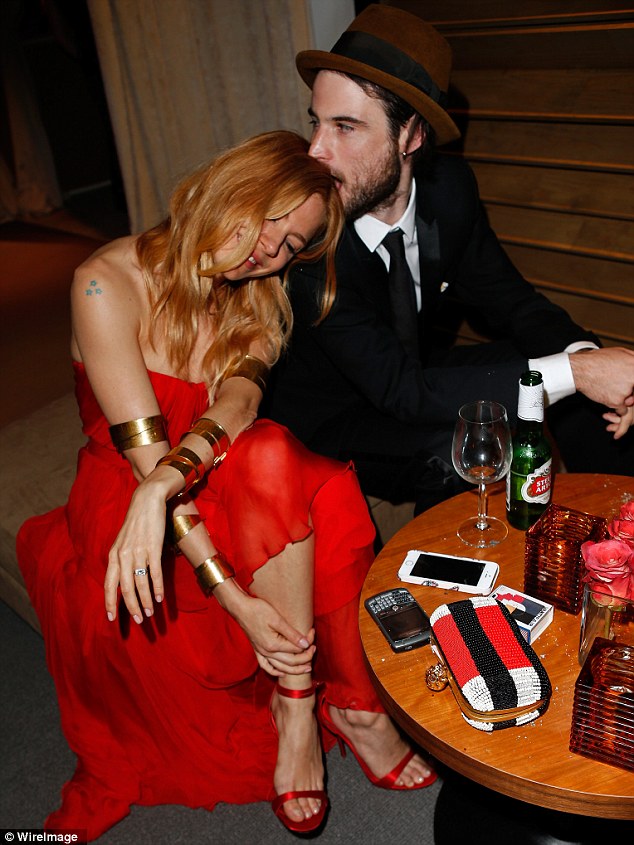 Sienna enjoys a few drinks with her partner, Tom, while at the party, on March 2, 2014
How sexy!
According to reports, Sienna's satin-wrapped heels are from Dolce & Gabbana. I tried searching for them online but had no luck so that's about as much information as I can give you. In any case, you can always grab something similar if you're looking to copy Sienna's red hot look. Here's an exquisite option from Badgley Mischka that's on sale right now.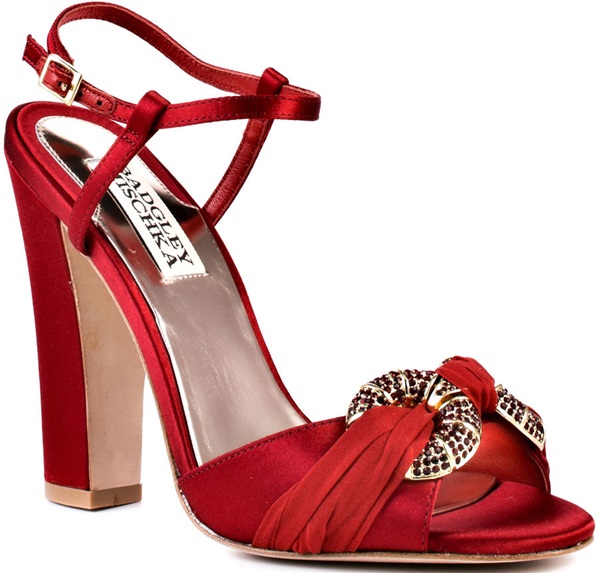 Badgley Mischka Jeweled Red Satin Sandals, $112 (was$220)
Wear these sandals with a flowy strapless gown like the one from Faviana below, and pair with a colorful clutch (like the Kate Spade Miss Penny Emanuelle) for added drama. If you want to jazz it up even further, add jewelry like Sienna's cuff bracelets. You can shop for the purse and the dress at Zappos.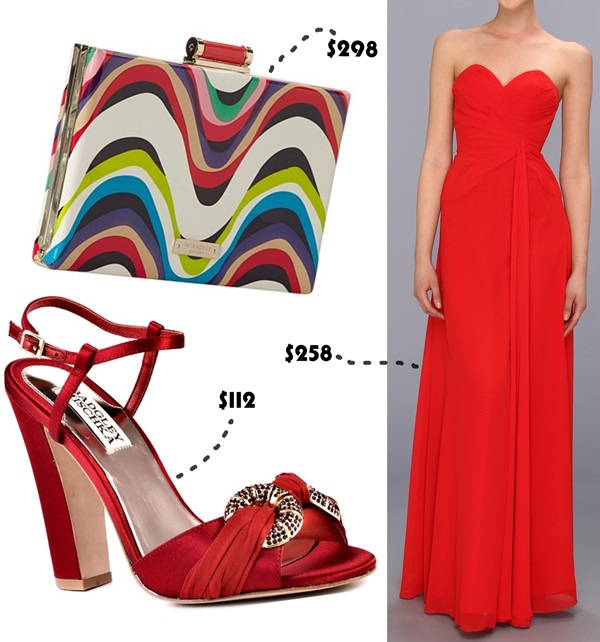 Clutch: Kate Spade Miss Penny Emanuelle Clutch, $298 / Gown: Faviana Strapless Sweetheart Dress, $258