Have you heard of the latest news on Selena Gomez?
After un-following her famous friends on Instagram, the former Disney cutie was spotted hanging out with Orlando Bloom. While I honestly don't think there's any truth to a budding romance between the two, I can't help but wonder what they were actually doing together. Or maybe they were simply just innocently smoking together?
Anyway, prior to this Orly rumor, Selena was spotted looking lovelier than ever while out and about in Los Angeles with some friends. She was beautiful in her short white floral romper and matching crocheted shrug. Capping off her outfit were some on-point extras such as a floppy hat, a silver pendant necklace, and a pair of grey lace-up booties. With her wavy locks and glowing skin, Selena painted quite a picture as she went about her business. Check out these pics: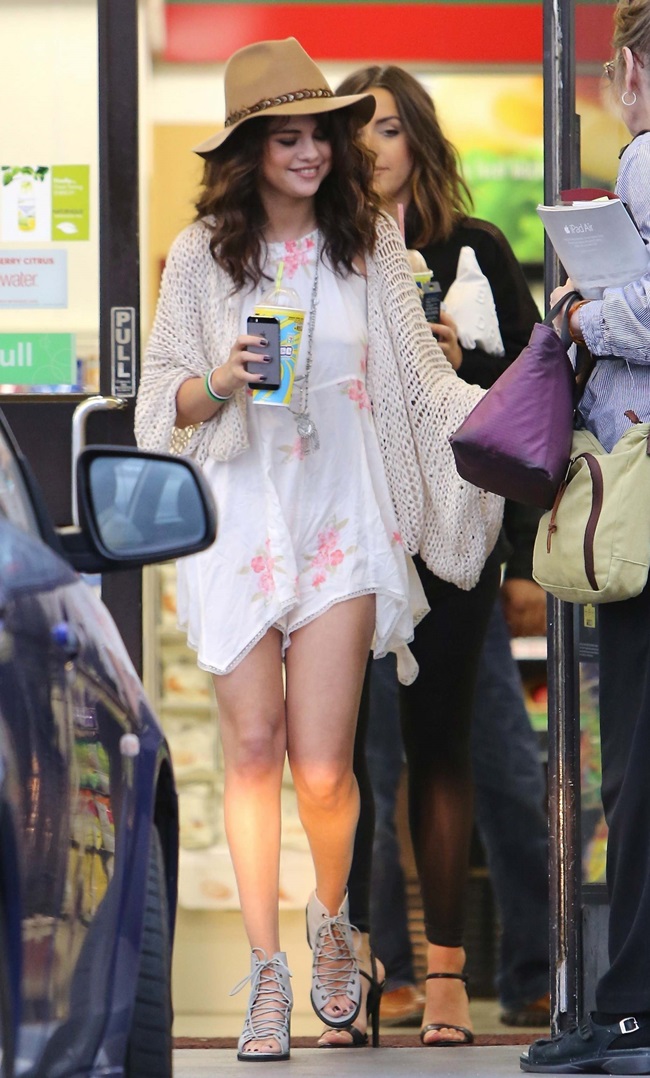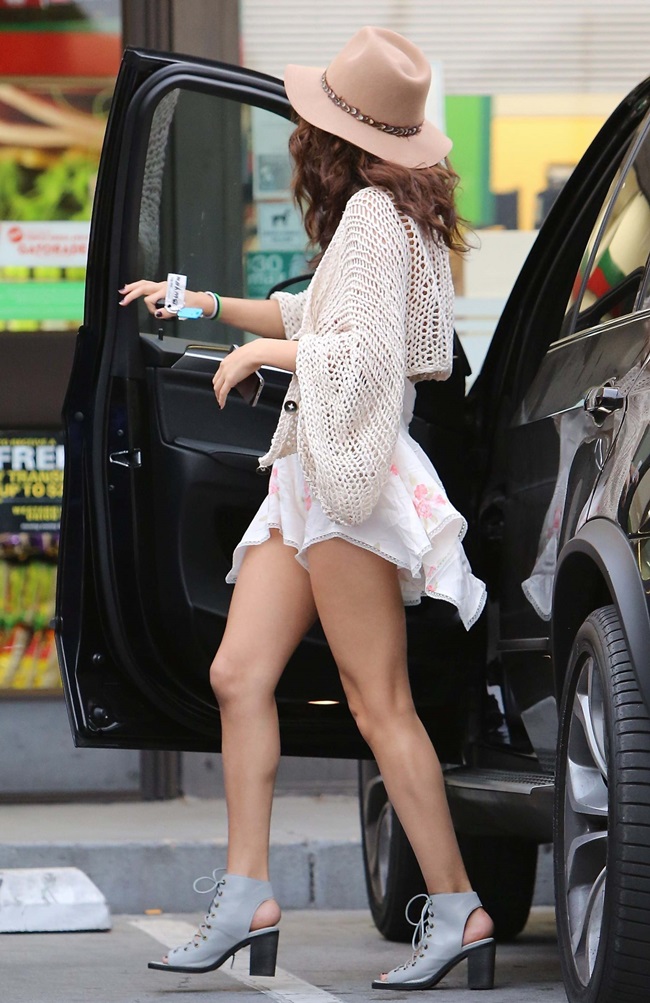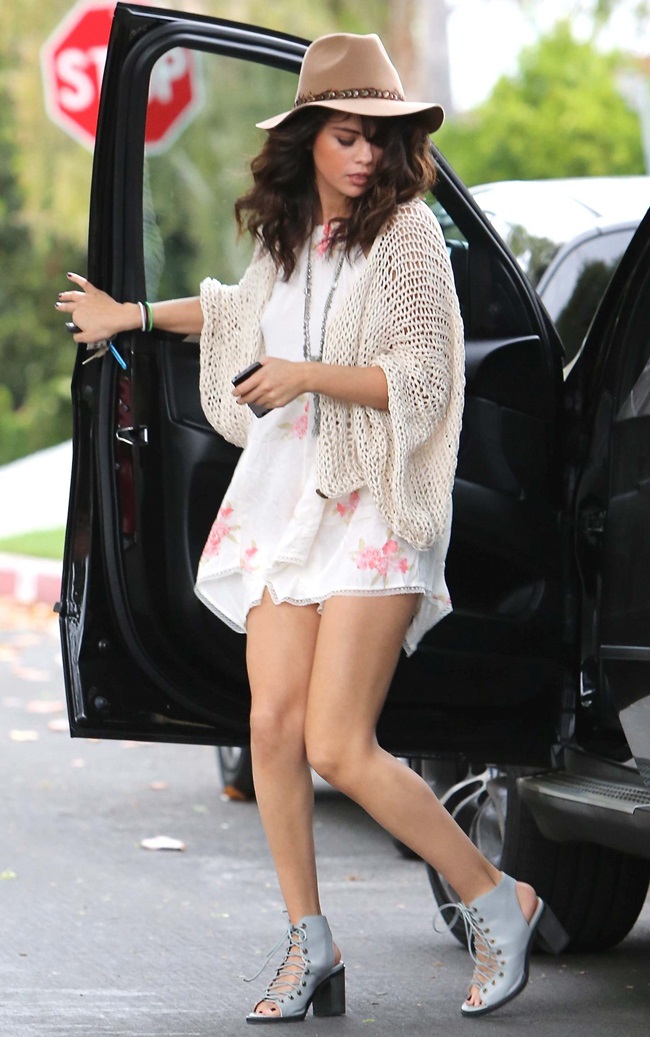 Selena Gomez out and about in Los Angeles, April 25, 2014
Doesn't she look amazing?
I like how feminine she looks here. The hat is a nice touch, but what I love about the whole combination she put together is how she infused a little bit of toughness into the outfit by wearing chunky lace-up booties. Do you like the mix she cooked up as well?
On Selena are a whole lot of pieces from Free People. If you're not familiar with the label (though I honestly find that impossible) simply Google the brand. Her romper, cover-up, and necklace are all from FP. I don't know where she scored her cute hat, but her lace-up shoes are from a collection that was developed by Free People in collaboration with funky shoe brand, Jeffrey Campbell. Here's a closer look at the pair in gray: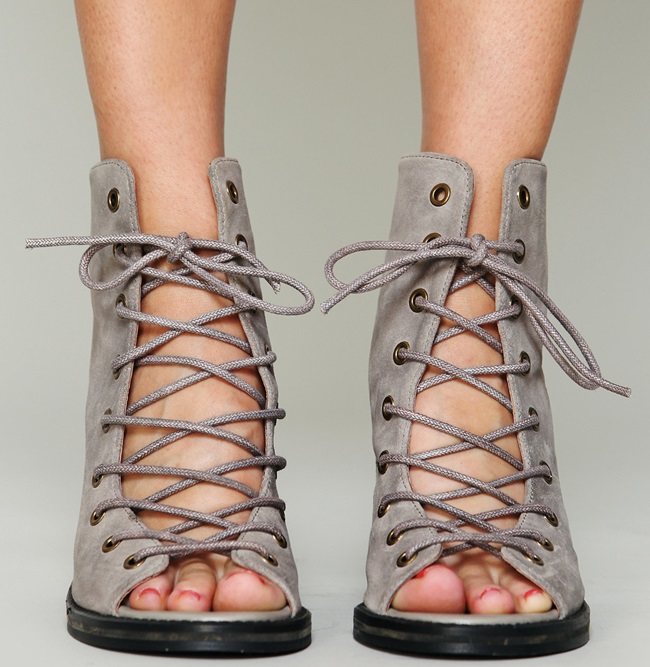 Jeffrey Campbell x Free People Minimal Lace Up Heels, $178
You like?
These "Minimal" lace-up bootie sandals are crafted from genuine leather materials and feature lace-up closures that run through the center of the vamps, The block heels are 3.5 inches tall so they are pretty comfy.
If you fancy them, you can score them over at the Free People website. They retail at $178. Other colors like cobalt, tan, berry, and the more classic black and brown are available so you have a lot to choose from.
If you want cheaper alternatives, I found this pair from ALDO called the "Trorecia". This doesn't come in blue or grey, though. You can only grab it in classic cognac, which I think is alright considering it's a color you can wear with practically anything:
ALDO Trorecia Lace Up Heels, $90 (was $100)