Looks like Selena Gomez has moved on from her break-up with Justin Bieber (thank goodness!). Seriously, I'm glad she's making an effort to go out and party these days because I honestly think she was too good for Justin.
After checking into rehab to address anxiety problems, it seems the former Wizards of Waverly Place star is back in her game. For starters, she was spotted hanging out with "One Direction" cutie, Niall Horan, late last week. We found this pic posted by a couple of fans who playfully posed with the two.
Selena Gomez and Niall Horan pose with a couple of fans while out and about in London, February 16, 2014
I don't know if there's a budding romance going on between the two, but if there is, I think they'd look cute together. Would you agree?
It also seems Selena had a blast touring London that night because she was spotted out and about again the evening after. I'm guessing she really wanted to party hard (and maybe attract some boys?), because she wore a super skimpy outfit that consisted of a cropped top and really short (can-see-your-butt) shorts. She paired the combo with black nylons, but unexpectedly finished the mix with pink shoes. Yea, no kidding, Selena chose poppy pink pointy pumps as her party heels for the night. Check out her night-out style in London and tell me what you think of it: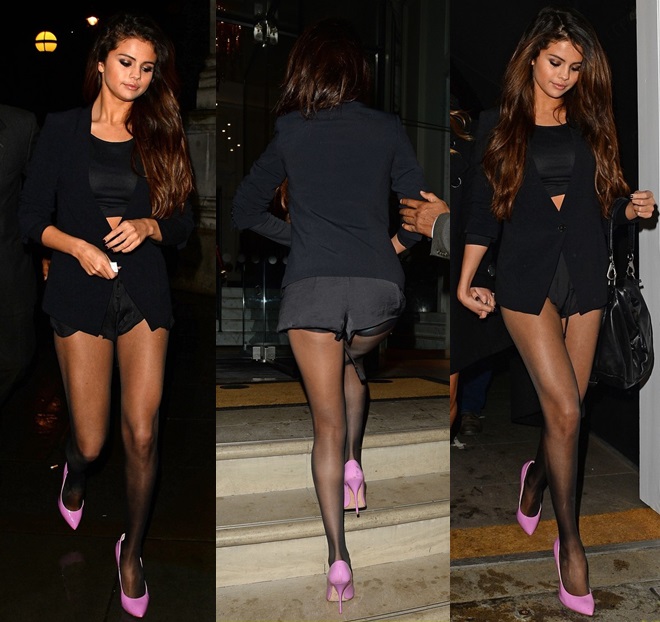 Selena Gomez hangs out with her friends in a super short outfit paired with pink pointy pumps, February 17, 2014
Ok, before you start thinking she went drinking. Don't. Despite the highly revealing outfit, Selena is a good girl at heart. And based on this picture she posted on her Instagram account, I would say there wasn't any alcohol involved.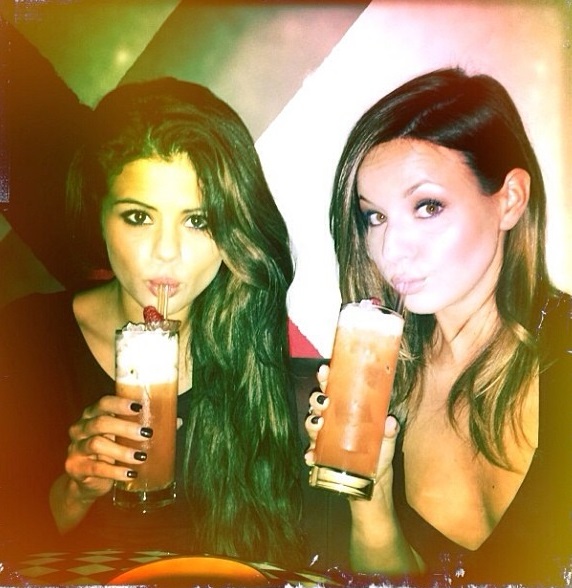 Selena Gomez enjoys some dessert before dinner with her close pal while in London, February 17, 2014
Anyhow, let's go back to the outfit. What do you think of it, fab or fail? Did she overdo on exposure? And more importantly, what are your thoughts on her pink pumps? Can you appreciate the contrast she wanted to achieve with her shoes?
I can't say I'm a fan of the outfit because I think she could have done better. As for the pink pumps, well, they're great statement accessories when worn with a black ensemble. However, wearing them with black stockings may have done her wrong. Of course, that's all a matter of opinion and you can have an entirely different one.
By the way, Selena's pumps are from Giuseppe Zanotti. They're a pair of court shoes that feature 110mm-tall heels (about 4.75 inches). I couldn't find them online, but here's a similar style that is slightly shorter (at 4 inches tall):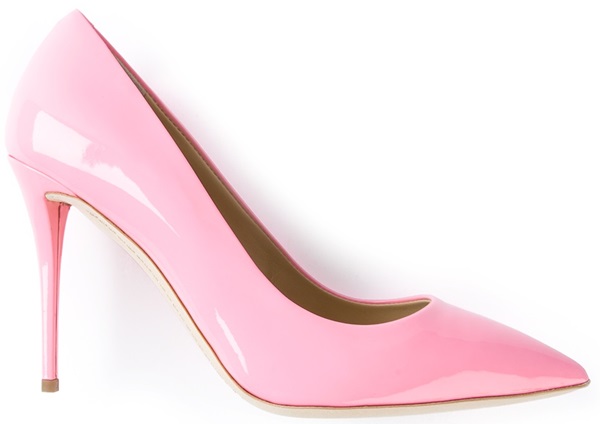 Giuseppe Zanotti Pointed Toe 100mm Pumps in Pink, $862
You like?
The color is very girly. Now if you want to get in on the trend of pastels that's going on this season, I suggest you grab a much lighter color, like these Yvette Pumps in shell suede, also from Zanotti: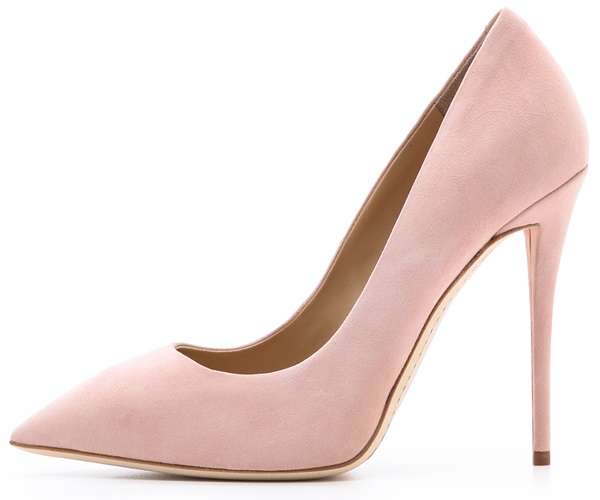 Giuseppe Zanotti Yvette Pumps in Shell Suede, $750 
Super gorgeous, right?
They're actually almost neutral, and you can wear them with practically anything. I actually prefer the Yvette (pumps) over Selena's heels. What about you?
If you want these shoes, they're yours for $750. I know. Pricey, right? But they're a pair of Zanottis, so they do come with a hefty tag. However, if you just want the color, I'm sure you can find a substitute from stores like Zappos, Heels, Amazon, and Nordstrom.