Here's an interesting news I heard today —  Selena Gomez, who was recently spotted partying at Coachella with the Jenner siblings (Kendall and Kylie), just unfollowed several famous friends on Instagram — including the Jenners. Hmmmm, I wonder why. Everyone knows Selena just finished rehab so I wonder if the "un-following" is her way of getting rid of peer pressure and bad vibes. I hope she hasn't gone bonkers, though, because the girl has so much potential.
Early this week, Selena was spotted grabbing some coffee at Starbucks in Studio City. Thankfully, she didn't look like someone who was going through some emotional issues. In fact, she looked mysterious and sexy in her cropped top and tight skinny jeans, both of which were dark in color. She accessorized the combo with a light blue denim jacket, a red purse from Emilio Pucci, and a pair of black lace-up sandals.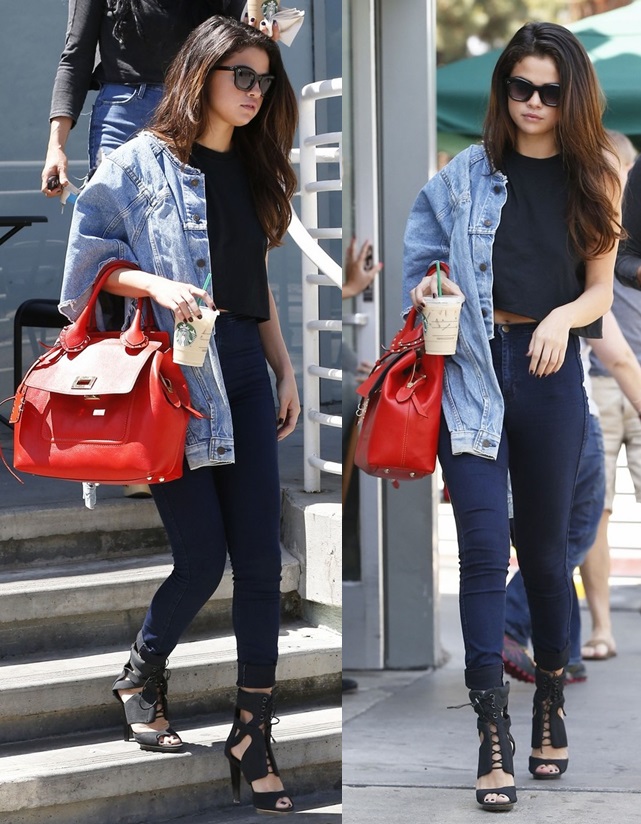 Selena Gomez grabs coffee at Starbucks in Studio City, California, April 21, 2014
How do you like Selena's post-Easter (and post-Jenner-sisters) style?
I think she looks cool here. The red purse from Pucci is stunning, but even more eye-catching are the black lace-up sandals on her feet. They're fierce, bold, and totally sexy.
Selena's black lace-up shoes are from B Brian Atwood. They're called the "Deliziosa", which is quite a fitting name given how compelling they look even from a distance. Here's a closer view of the pair in black and blush: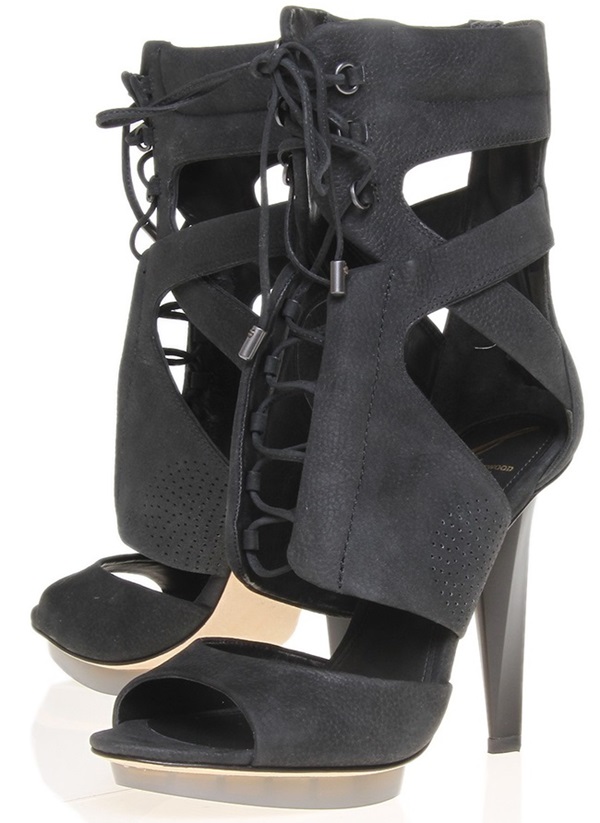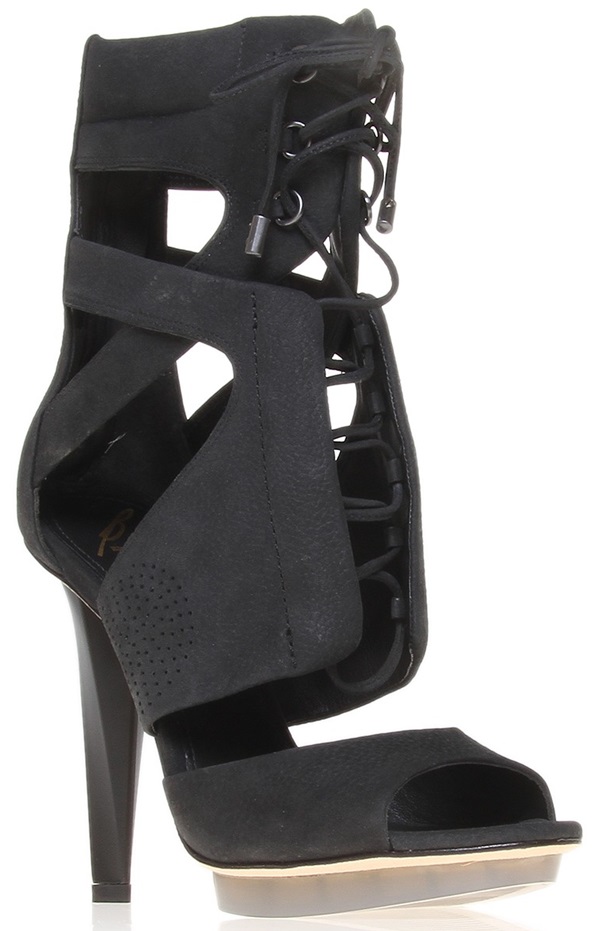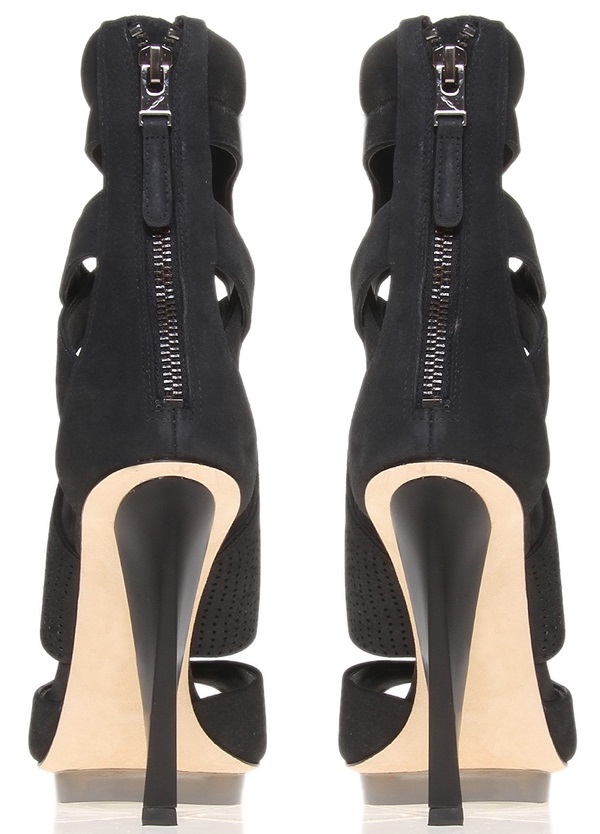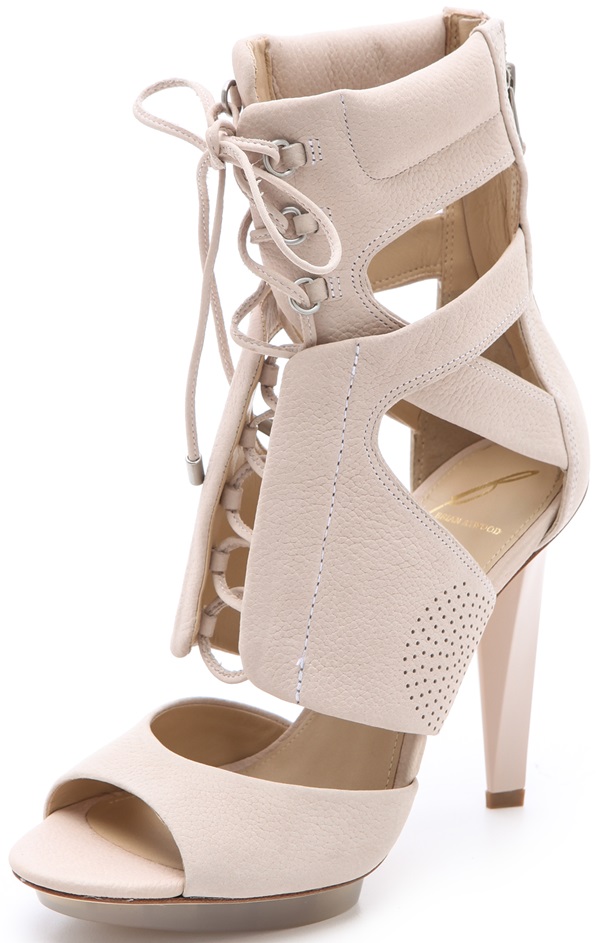 B Brian Atwood Deliziosa Lace Up Sandals in Black and Blush, $495 (sold out)
The Deliziosa feature inch-thick island platforms and 4.75-inch tall sculpted heels. The uppers on these shoes are also intricately detailed. A series of perforations accent the insteps, while the topline of the shoes are padded for comfort. The "shafts" (if you can call them that), are also layered and made up of two parts — both of which are fashioned with cutouts. Probably the most distinct detail would be the lace-up closures that run through the center of the shoes.
Would you like a pair?
Sadly, these sandals are already sold out. However, B Brian Atwood has a more updated style to offer in case you would be interested. Check out the "Lusia" sandals. These come with studs all over, as well as whipstitch detailing at the heel cups/counters and ankle straps. There are no platforms on these shoes so they are relatively steep to walk in with their 4.75-inch tall heels. Will you give the Lusia a go?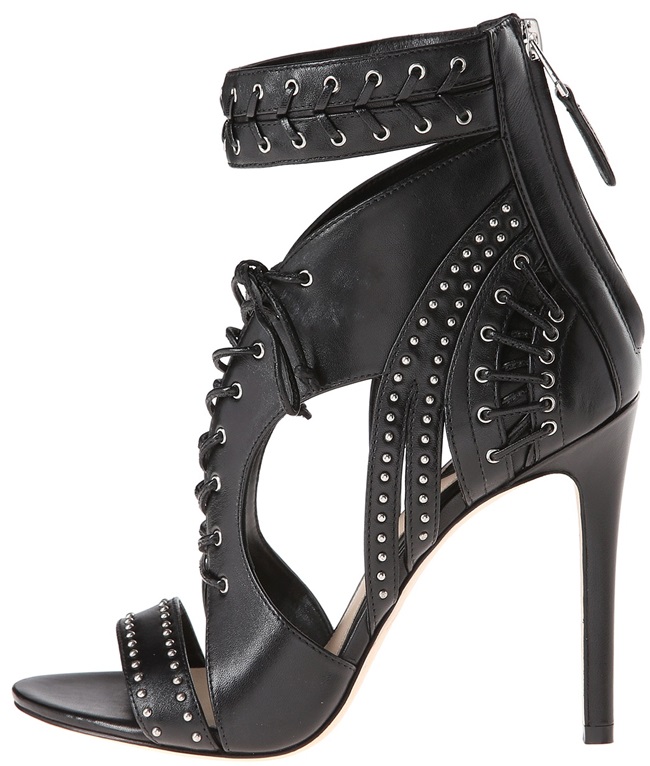 B Brian Atwood Lusia Lace Up Sandals, $446 (was $495)