Sarah Jessica Parker is 49 years old, but she shows no signs of looking like one. Sure, you see wrinkles on her face, but her style has remained modern, chic, and fabulous. I'm not saying she doesn't dress for her age. Because she does. However, her style is so unique that it's almost timeless and ageless. In fact, you can even picture a 20-year-old wearing her well-concocted outfits. The strange thing is that the same outfits look appropriate on her, even if she's pushing 50.
For example, only SJP can pull off wearing a striped t-shirt with a bold printed 80s-inspired skirt and get away with it. The actress wore the exact combination while leaving her apartment on Tuesday. She teamed the separates with uber cool eyewear, stacks of arm party, a neutral purse, and a pair of purple pumps. The look was casual but also very ladylike.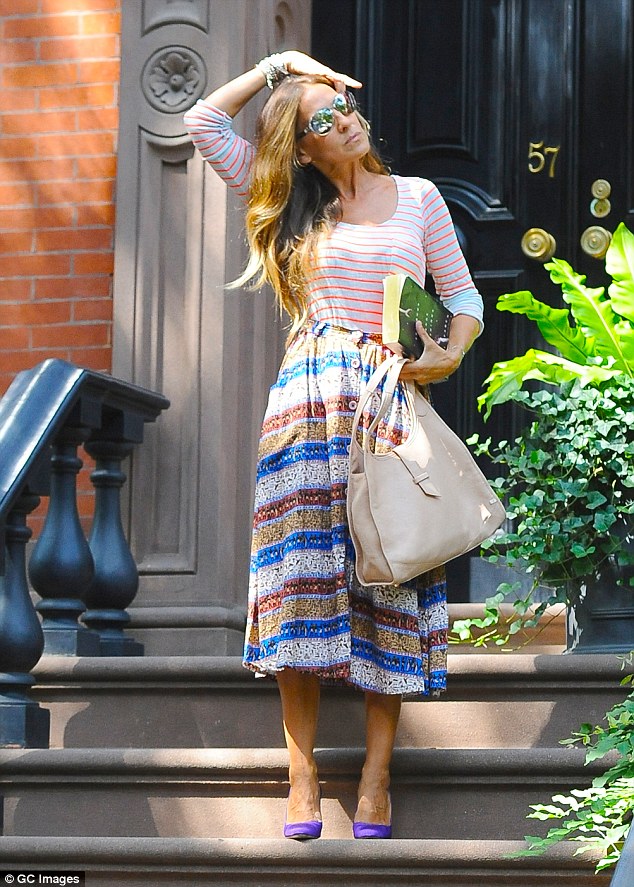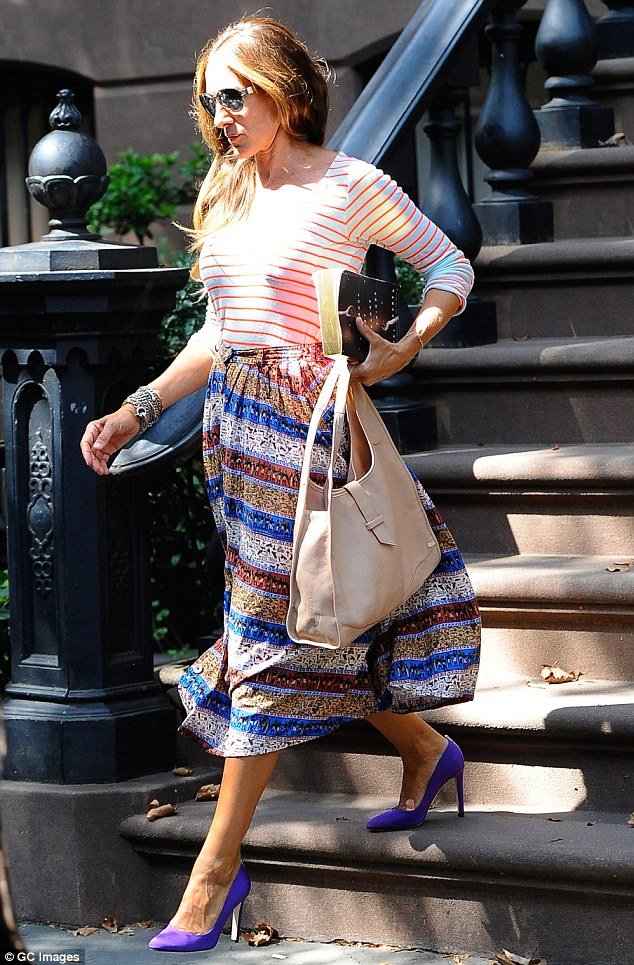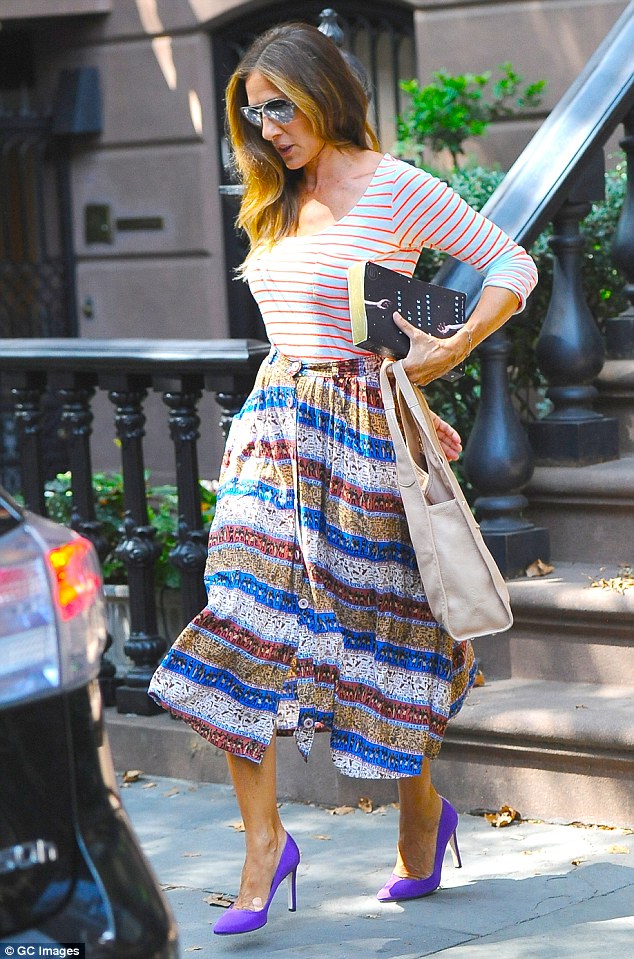 Sarah Jessica Parker leaves her apartment in New York City while  decked in a colorful outfit, September 2, 2014
How do you like SJPs latest street style? I'm down with it. What about you? Will you wear such a pairing.
I actually love how she played with colors and prints here. It's unexpected, a little off-beat, but oh-so fabulously Carrie Bradshaw-esque. Now I can understand why the producers chose her for the iconic part.
That said, would you consider stealing her look today?
I've yet to get the details on Sarah's top and skirt, but what I can tell you is that her pumps and purse are from her own fashion line, SJP. The shoes are called "Lady" pumps — a fitting name, in my opinion — and can only be purchased over at Nordstrom. The purse, on the other hand, is called the "New Yorker". You can also find it at Nordstrom, though in slightly darker color: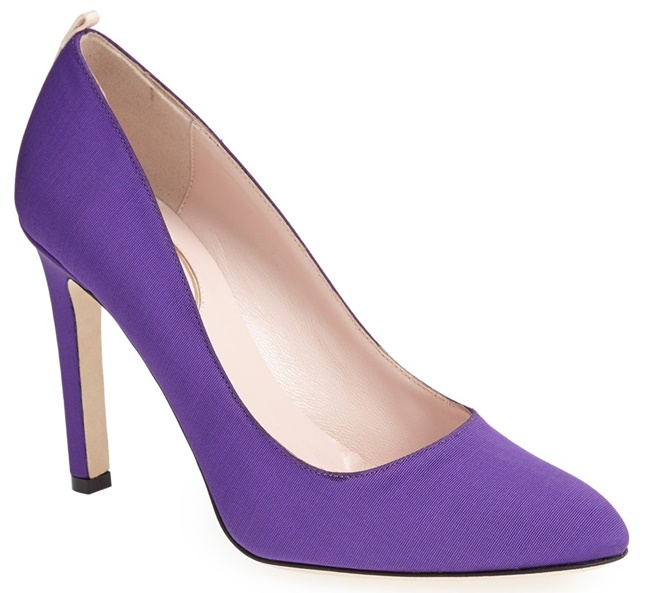 SJP Sarah Jessica Parker Lady Pumps in Purple, $350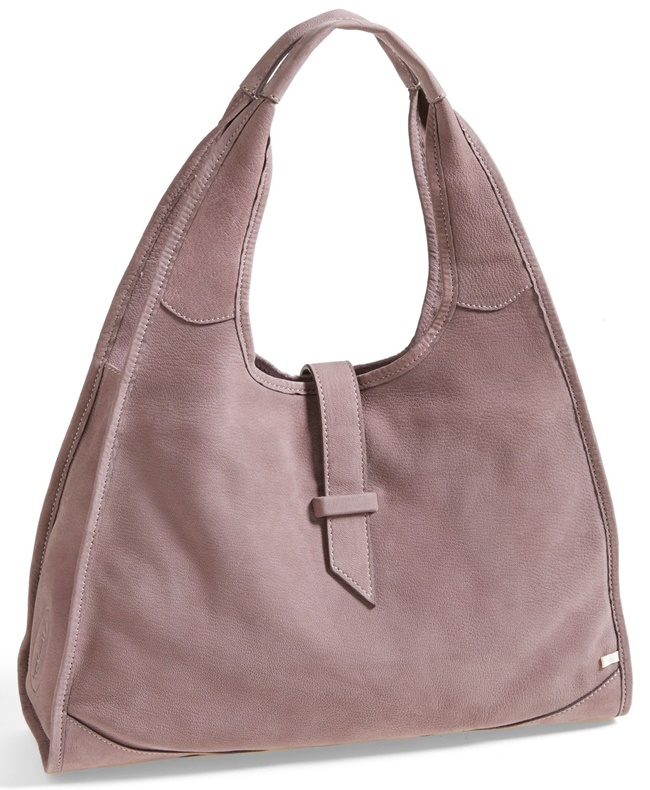 SJP Sarah Jessica Parker New Yorker Suede Hobo, $375
Of course, if you find the $300++ price tags of these accessories a tad over your budget, you're free to replace them with anything similar that's not as expensive. Once you have the shoes and purse in order, grab a striped red and white top and pair the piece with a printed midi skirt. Try these suggestions from Tory Burch and Topshop: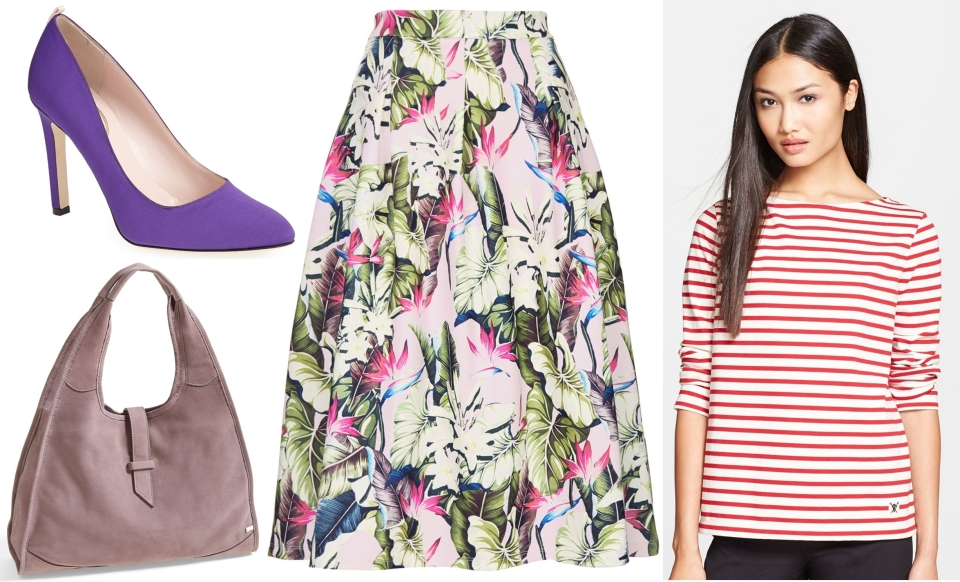 Topshop Tropical Print Scuba Midi Skirt, $96 / Tory Burch Striped Cotton Tee, $195