Rosie Huntington Whiteley just turned 27 years old last Good Friday (April 18). Happy Birthday Rosie!
It's amazing how young these supermodels are; though 27 isn't exactly considered "young" in the modeling industry. Rosie is at her prime, but she is one of the older ones. Forget Naomi Campbell or Christy Turlington because those ladies are already considered "dinosaurs". Not that I wouldn't want to switch places with them if I could. Because, no one can deny that Naomi and Christy still look hot even though they are past their modeling prime.
Speaking of Rosie, the Victoria Secret stunner was spotted leaving a hotel a couple of days ago and I couldn't help but love the outfit she wore. She looked like a million bucks while decked in a tuxedo jumpsuit. She wore the onesie with a long coat, a Givenchy purse, some sunnies, and a pair of stunning snakeskin sandals decorated with bows on them. The whole outfit was perfect and she looked like she just stepped out of a magazine editorial.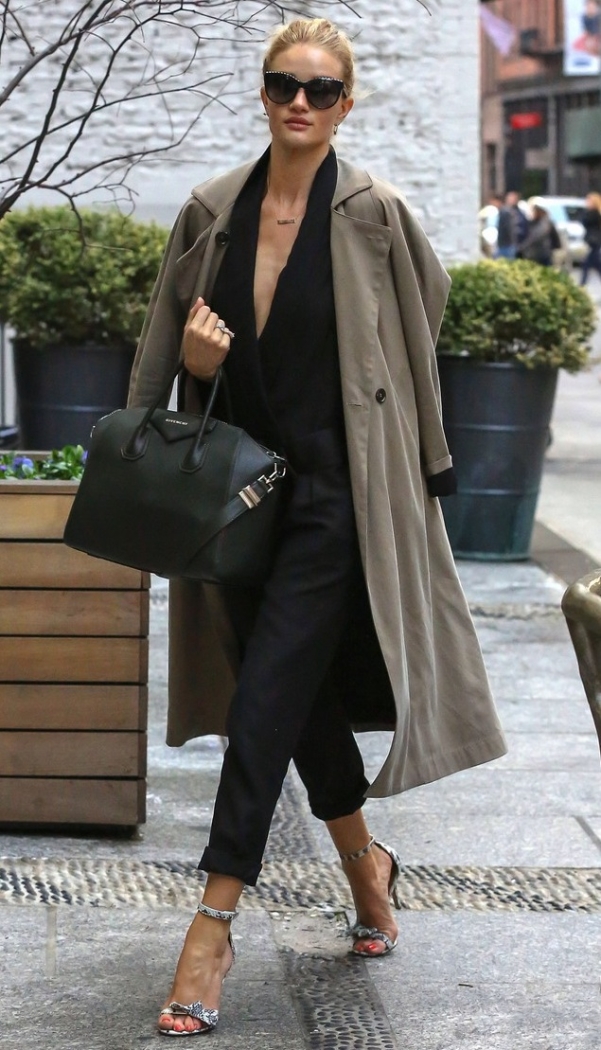 Rosie Huntington-Whiteley leaves her hotel in New York to catch an appointment, April 17, 2014
Wow. I wish I could look like that on any given day.
I'm not sure if I can pull off a tuxedo jumpsuit, but I would like to give it a try. Rosie'se black satin-trimmed onesie is from Isabel Marant. I can't afford that so I may have to look for an alternative. I don't know where she scored the coat, but a similar piece would be easy to find. As for her accessories, well, let's just say they're all quite expensive too. The sunnies are from Chanel, bag is from Givenchy (as mentioned earlier), while the bow-detailed sandals are from Isabel Marant.
I love exotic prints so I really find the sandals exquisite. Sadly that particular variant is sold out online, but here's a closer look at the shoes for you in classic black: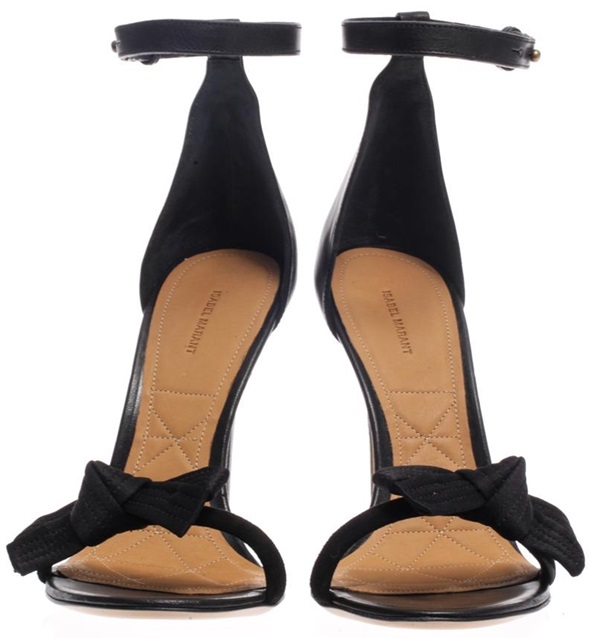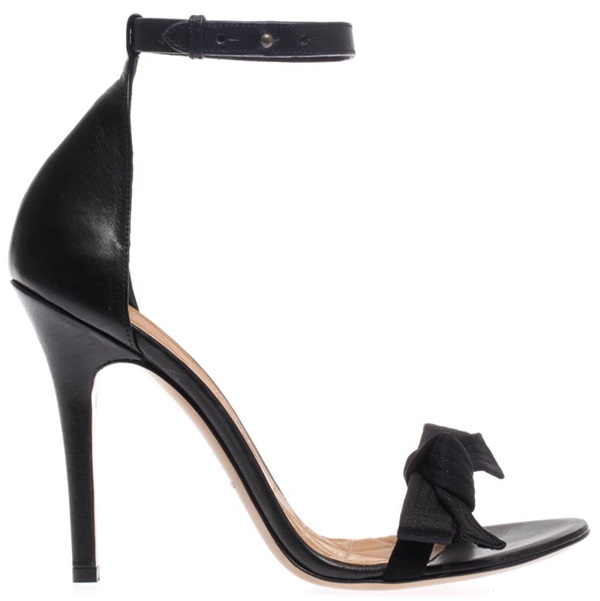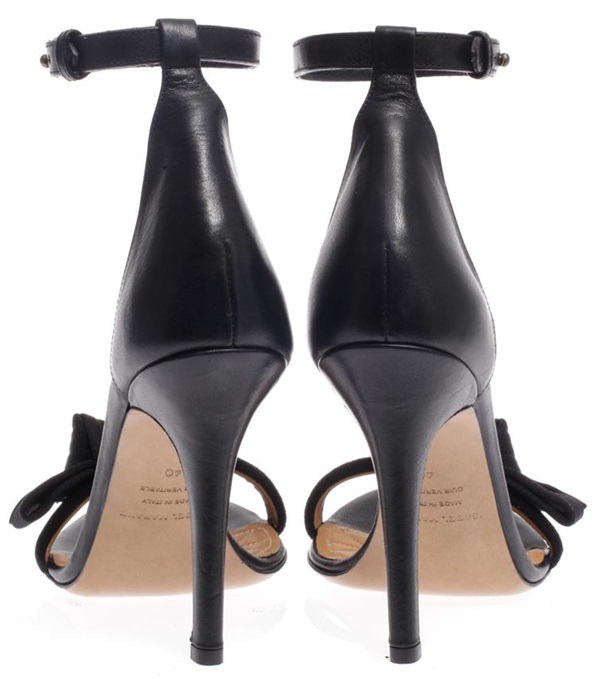 Isabel Marant Play Leather Sandals, $790
They're called the "Play" leather sandals. Much like Marant's "Poppy" pumps, these shoes feature stitched bow details on the sides of the straps. The add-ons create a unique and playful flavor to an otherwise classic silhouette. The heels on these shoe are about 4 inches tall so they are relatively high, but not difficult to walk in. If you fancy them, you can score them online at stores like FarFetch. Feel free to check out Barneys as well, since they sell a lot of Isabel Marant merchandise.
For those of you looking for cheaper versions, sorry I wasn't able to find one. But if it's the exotic print that you fancy (like I do), you can try these ankle-cuff sandals from Rachel Zoe instead:
Rachel Zoe Medina Sandals, $325
The "Medina" sandals from Rachel Zoe are crafted from snake-print leather uppers that come in that nude-grayish color that is oh-so flattering to wear. They have 4-inch tall heels and feature thick buckled cuffs at the ankles. For half the amount you will be spending on those Marants, I say these shoes are definitely worth considering. Would you agree?