Rosie Huntington Whiteley is one of those supermodels I enjoy style stalking. She has that effortlessness about her that makes her quite fascinating to watch, whether on or off the runway (or red carpet). Recently the leggy blond was spotted making her way through LAX to catch a flight to London. For the plane ride, she kept things comfortable yet fabulously stylish by slipping into a jeweled peep-shoulder sweatshirt from Christopher Kane over her blue skinny jeans, and capping off the combo with a cute hat and some smoking slippers.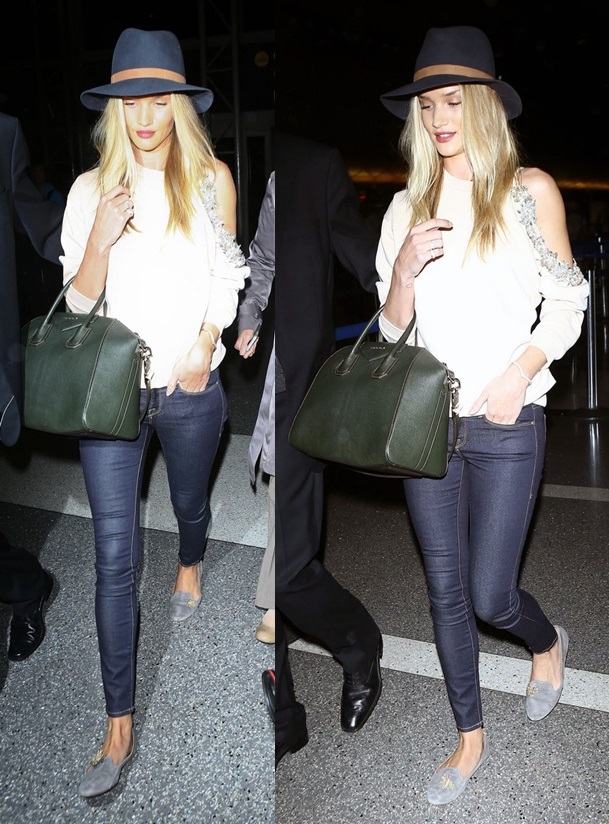 Rosie Huntington-Whiteley arrives at LAX to catch a flight to London, March 28, 2014 
I really love the mix she put together here. It's easy and comfortable, and yet, still elegant and sophisticated. The sweatshirt from Chris Kane is gorgeous. I want it. Though, chances are, I probably won't be able to afford it. Overall, I love how she accessorized the outfit. The blue hat added a touch of coolness while the grey flats kept things laid back and chic.
Speaking of Rosie's slip-ons, those are from Aquazzura — the Corsini. They're crafted from rich suede leather and decorated with chain-detailed tassels at the front of each shoe. Below is a closer look at the pair for you: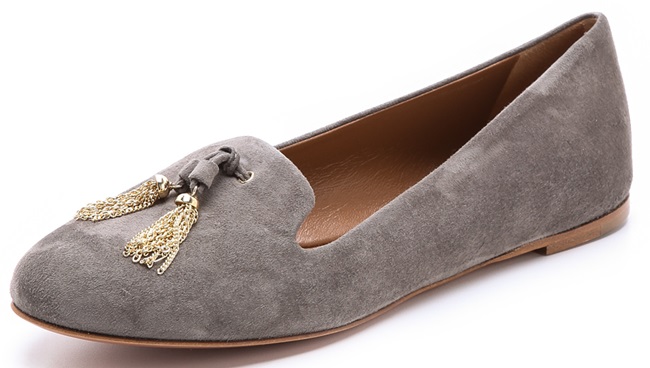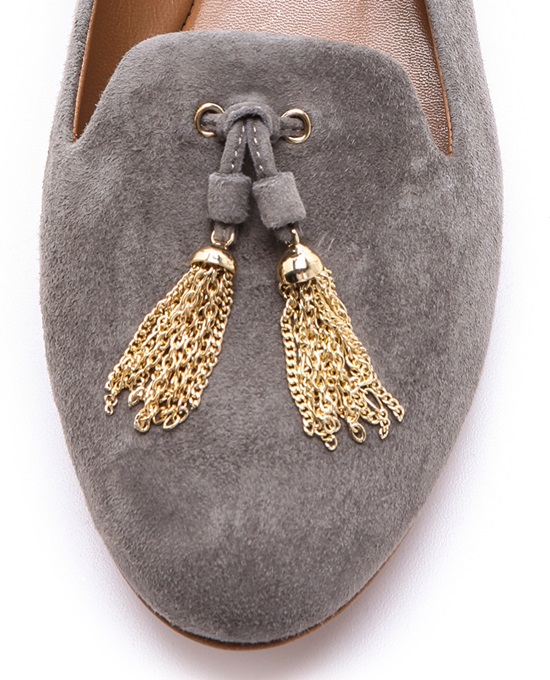 Aquazzura Corsini Suede Flats in Grey, $325
What do you think? Can you picture yourself in Rosie's Corsini flats?
I can. I like the chain-detailed tassels, in particular. They're unlike other tasseled loafers that you see in the market — most of which are crafted from metallic leather or gold strings.  Sadly, these flats are sold out online so if you're thinking of grabbing a pair, you may need to head to the nearest department store in your city to find it.
Smoking slippers are great alternatives to the usual flats. They give any outfit a refreshing twist, a preppier flavor that's classic yet current at the same time. Allow me to leave you with a pair from Cole Haan that is worth considering if you're thinking of grabbing some smoking slippers. These don't come with gold chains on them, but they're pretty neat.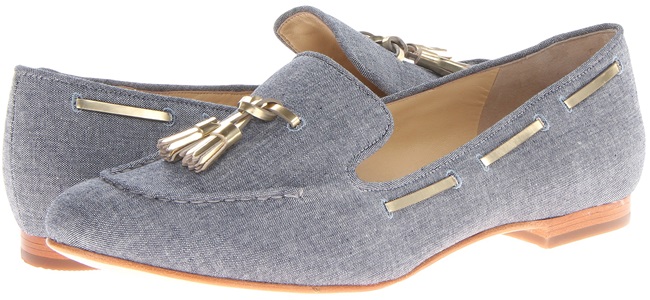 Cole Haan Sabrina Laced Loafers, $198