After baring her boobies twice in Paris (first, at the Balmain show after-party, then at the Jean Paul Gaultier presentation), Rihanna decided to cover up quite a bit for the Miu Miu presentation held last Wednesday (March 5). For her front-row appearance, Ri-Ri slipped into a chunky fur-trimmed leather jacket (from Miu Miu) and finished the topper with a pair of thigh-high socks and some ankle strap sandals.
Yes, she was literally covered from head to toe. Honestly, the jacket was so huge so it was hard to figure out the micro-mini dress she wore underneath. Of course, ever the sex bomb that we know her for, Rihanna still flaunted snippets of skin — a cleavage here and a peek at her thighs there. All in all, I think it was another stunning ensemble from the popstar. Though admittedly, I couldn't help but wonder why she chose to wear hosiery and sandals instead of just slipping into a pair of over-the-knee boots to cap off the attire.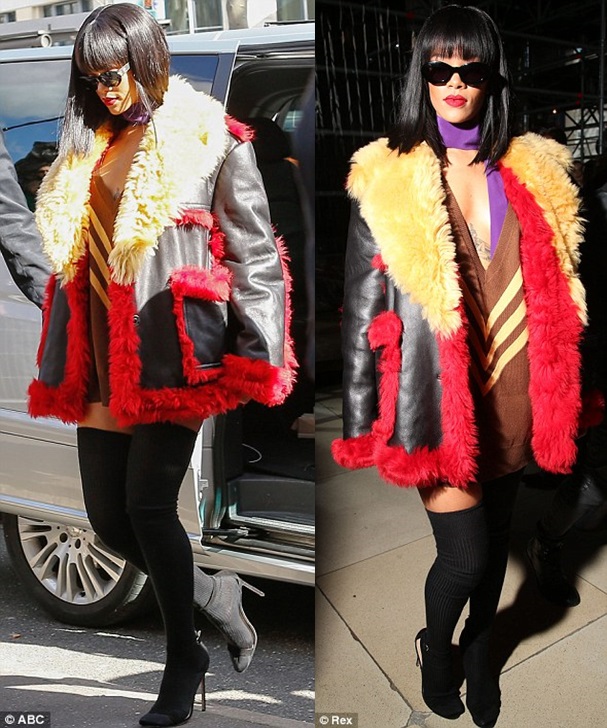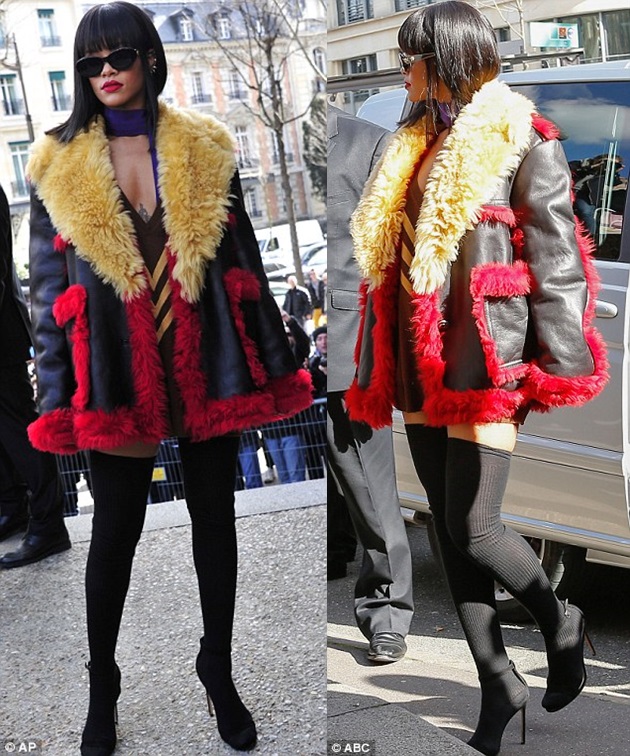 Rihanna attends the fall 2014 Miu Miu presentation during Paris Fashion Week, March 5, 2014
So what do you think of Rihanna's outfit for the Miu Miu show, hot or not? Do you like the sandals-and-socks combo she put together? Are you a fan? Or would you have preferred that she wore thigh-high boots instead?
I am leaning towards the latter. To be honest, I'm not a fan of the socks-and-sandals trend. I probably won't see the day in this lifetime of mine that I'd wear the combo myself. It just doesn't look right, noh? Thankfully, Rihanna went monochromatic with the pairing so it wasn't as obvious as, say, if the socks were in another color.
If you must know, Rihanna's strappies are the Manolo Blahnik Chaos — her favorites, I hear. The Chaos sandals come in varying heels heights, from 3.5 inches tall to 4.5 inches tall.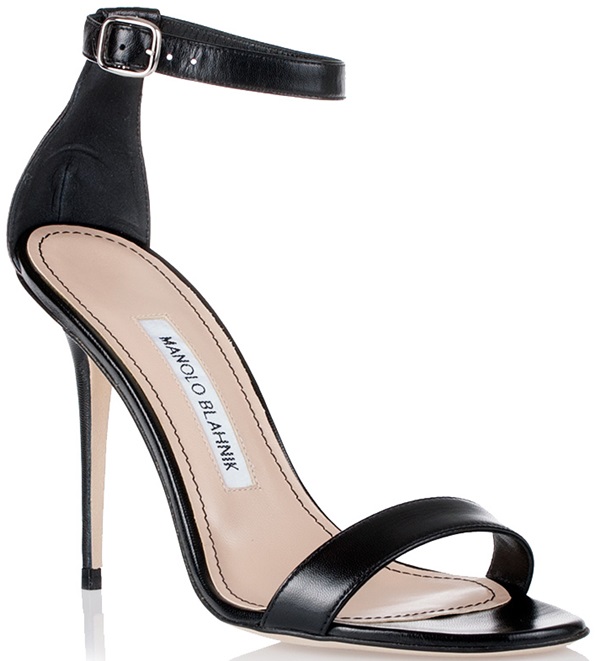 Manolo Blahnik Chaos Ankle Strap Sandals 105mm, $725
The silhouette is actually very simple, but it's what makes these sandals really sexy. I am a big fan of the Chaos, though I'm not exactly a fan of the price ($725). I also don't think you should wear them with socks.
You can score the Chaos at Bergdorf Goodman or Neiman Marcus if you want a pair. The style isn't hard to come by either. There are other brands that offer similar silhouettes, so if you're on a budget (like moi), you have a lot of alternatives to choose from.  Here's one worth considering, and it will only cost you a fraction of the price: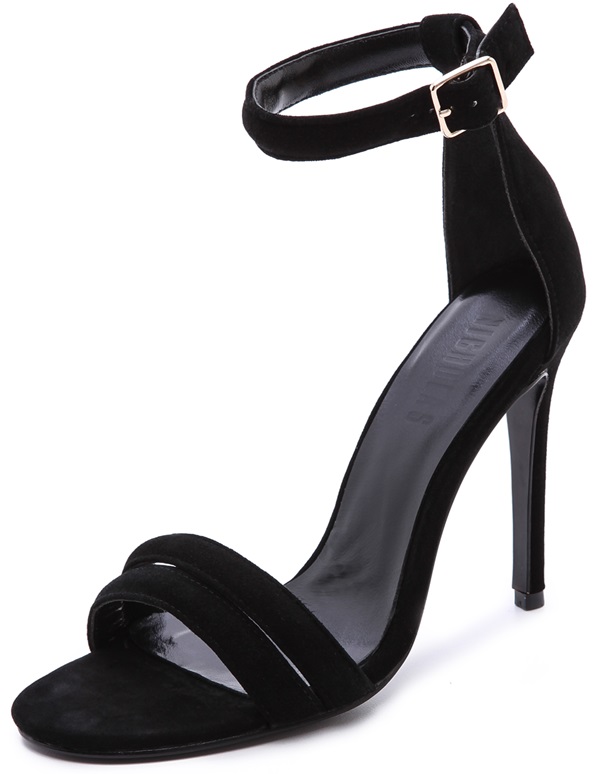 Nicholas Jocelyn Suede Ankle Strap Sandals, $260