There's practically nothing Rihanna can't pull off. On Tuesday, the singer stepped out in New York City in a rather unusual ensemble of long button-down shirt worn underneath a short denim skirt. The tail of her shirt peeked out of the hem of her skirt, but that was obviously the look she was going for. She capped off the combination with an even more interesting pair of boots crafted from shiny blue velvet and patent leather. Complementing the mix were a gold Rolex watch, a gold collar necklace, and a tiny Louis Vuitton handbag.
On anyone else, the outfit would have looked like a mess, but not on Ri-Ri, as she effortlessly pulled off the mixology with no issues.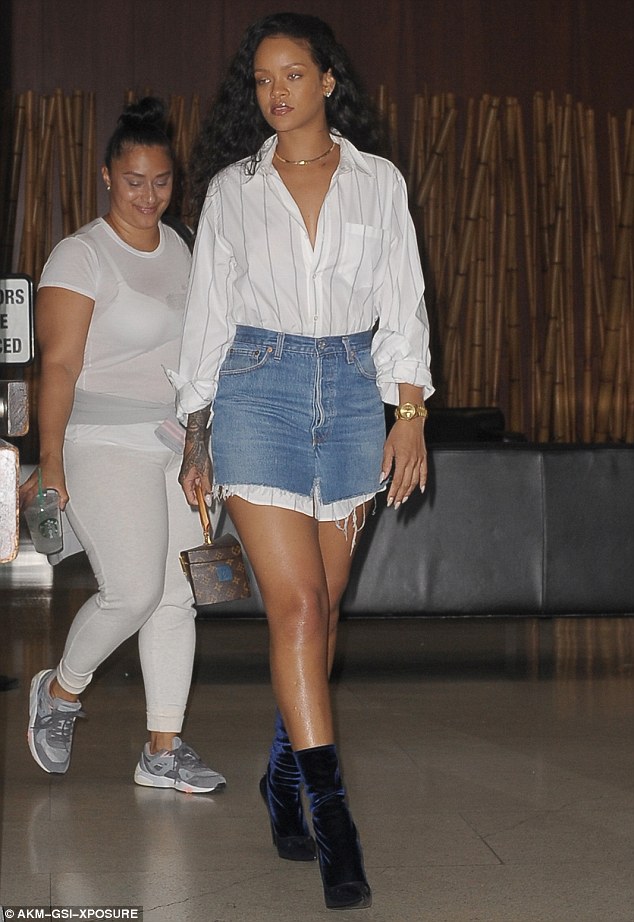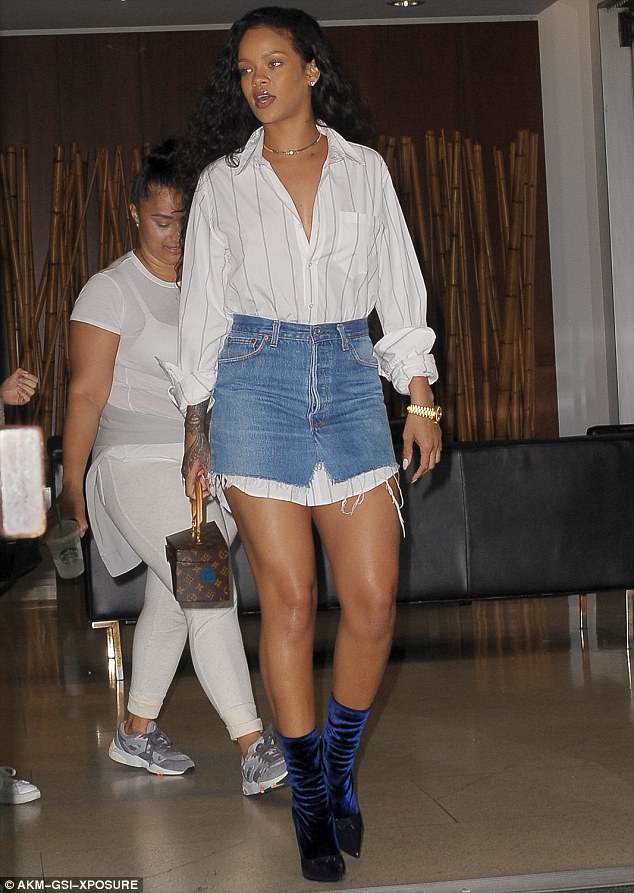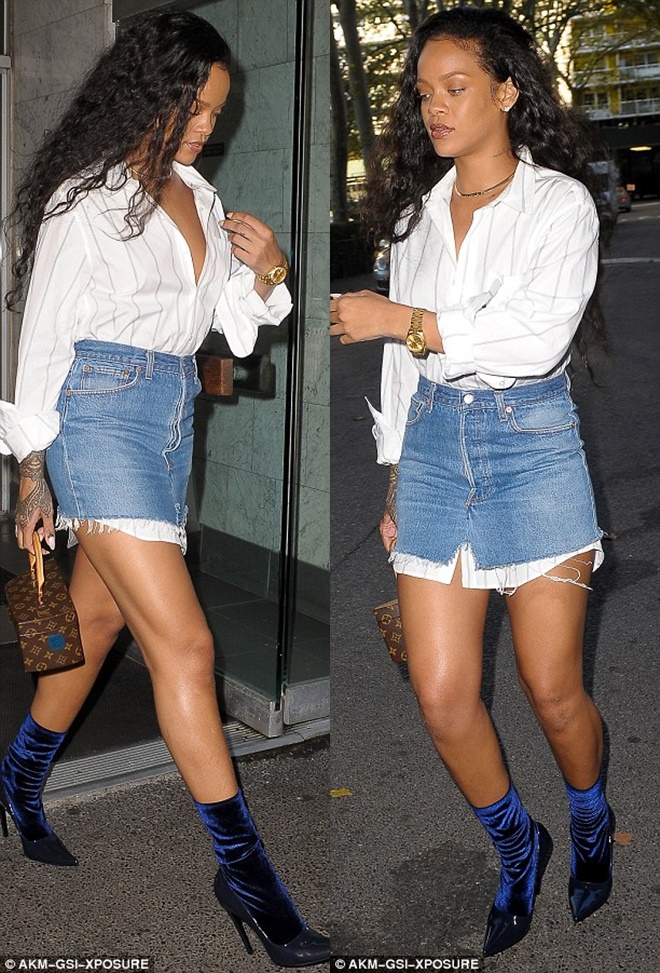 Rihanna steps out in New York City wearing velvet-patent boots and an extra long shirt under her skirt, October 18, 2016
So do you think you can rock Rihanna's denim skirt style and work it? Will you be able to pull it off?
The shirt and skirt are by Vetements. The skirt is no longer available online, but you can still find the men's pinstriped shirt over at SSENSE. It is quite pricey at $610.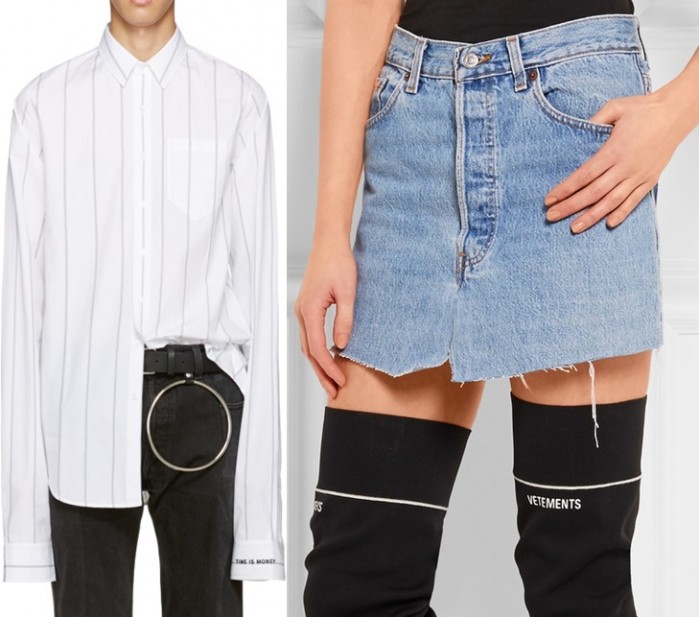 Vetements White Stripe Shirt, $610 / Vetements Denim Mini Skirt, $812 (sold out)
As for Rihanna's hybrid-looking boots, they're by Balenciaga. They are called "Sock Booties", a name that is quite apt considering the appearance. With the pair, you will literally look like you're wearing socks with patent leather pumps. It's not my kind of style, but if you think you can pull them off, you can grab the boots at Nordstrom.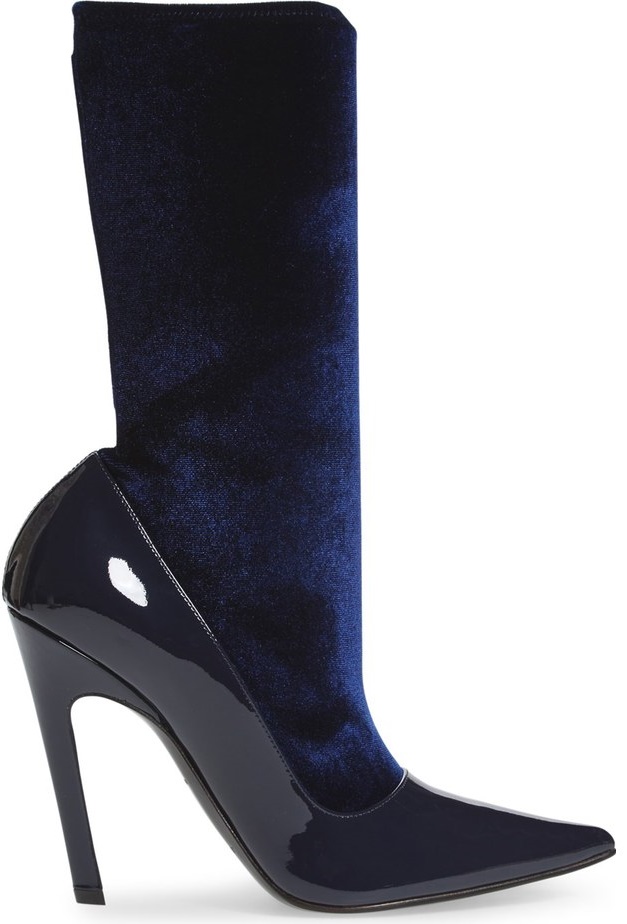 Balenciaga Velvet Sock Boots, $795
Like what you see?
The boots are crafted from stretch velour fabric while the paneling at the bottom is crafted from patent leather. You can have them for a pricey $795, which is essentially a ridiculous amount considering how you can easily replicate the "look" with a pair of velvet blue socks and patent blue pumps.