I think Paris Hilton will always and forever be, irreplaceable. She was the first socialite to cross over to Hollywood. She's the original party princess. And well, let's not forget the many firsts (both commendable and shocking) she has done in the past.
At the end of the day, I think there's a smart girl hiding behind that Barbie façade of hers, because she has managed to make millions of money out of all sorts of things — shoes, handbags, perfume, a book, modeling, magazine covers, singing (complete with an album), reality tv, real estate (international developers partner with her and use her name), and even her infamous sex tape (I hear she received royalties from the sales).
This year, Paris has added one more title to her long list of, er, accolades — DJ. Yep, Paris is officially, also a DJ. She talks about this new "job" on the latest issue of V Magazine.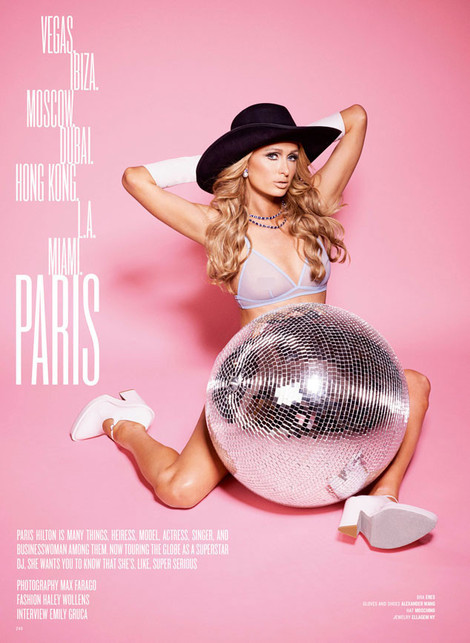 And in case you haven't seen it yet, the heiress also covers the issue, complete with an editorial spread showcasing the gorgeous blond in sexy outfits that flaunt her breasts, her booty, and her legs. Among the pictures, this one caught my eye: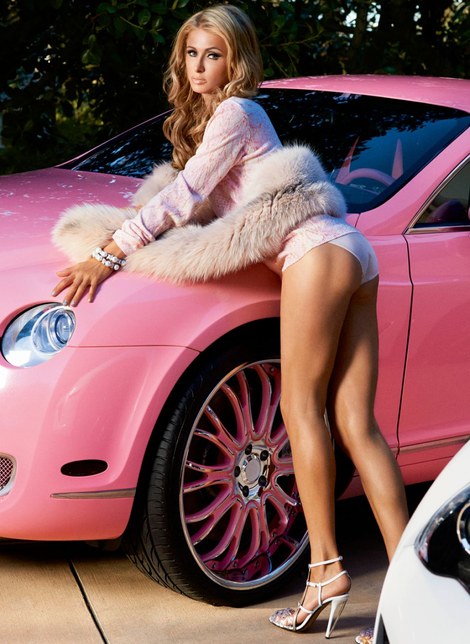 Paris Hilton on the March 2014 issue of V Magazine
Yes, her tush looks cute and tiny, but that's not why I took a second glance at this picture.
I couldn't take my eyes off her shoes. Those strappy sandals look really interesting, don't you think? I'm a sucker for unique details and Paris' heels look like they're completely one of a kind. I wanted to take a closer look so I had to do my research. Turns out, they're from Fendi's Spring 2014 collection. Here's a purple rendition of the same shoe style: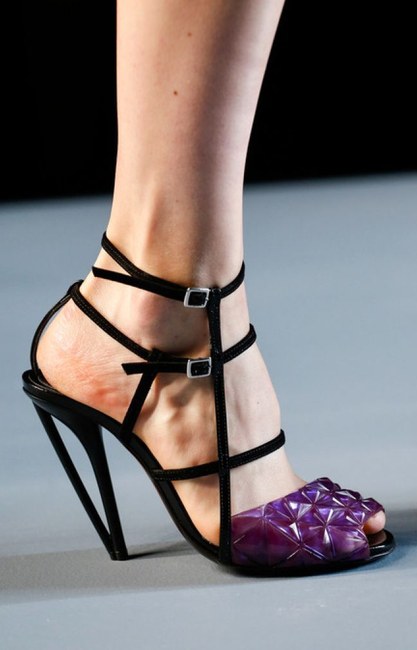 Textured Sandals, Fendi Spring 2014 Runway 
Oh my. They look even more beautiful up close, noh?
I'm in lust, so to speak. I wish I could touch them and find out what they're made of because they look so tactile. Thankfully, the people over at Nordstrom offer these shoes on their site, so I was quickly able to get an idea.
The glossy and textured vamps at the front are actually made of embossed pyramid-patterned PVC set on metallic or patent leather. These sandals also feature several horizontal straps that wrap around the feet and ankles to keep them secure. A few other notable details are the curved and artfully constructed 4-inch tall heels. They're actually self-covered and lacquered for added shine.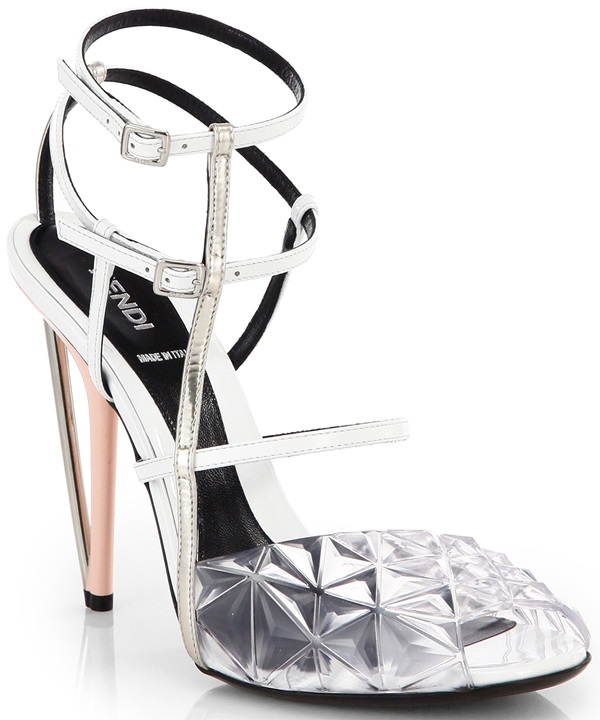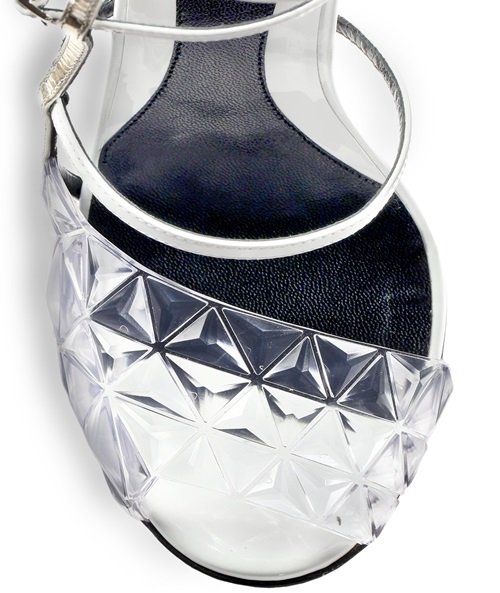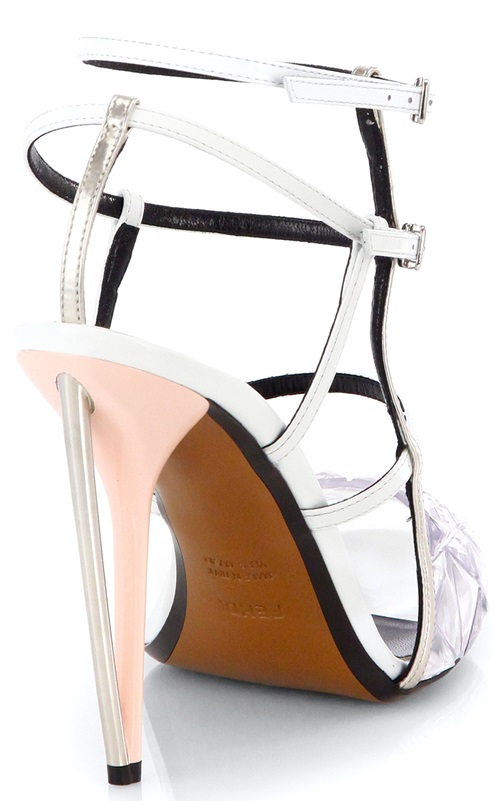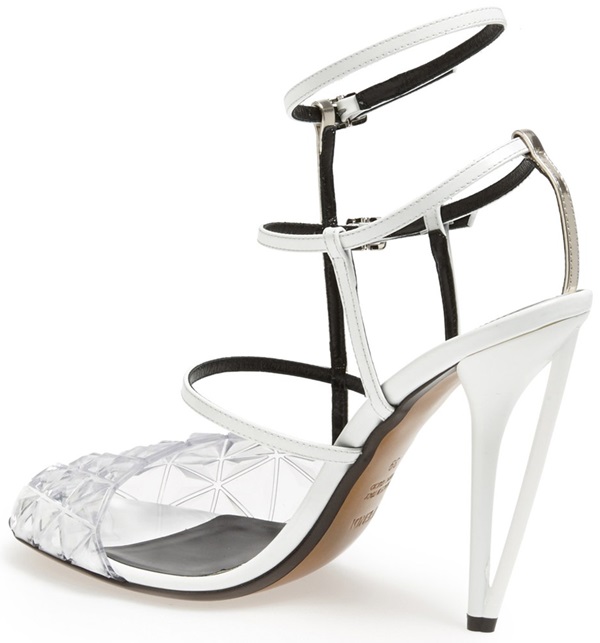 Fendi Iridia Sandals in White, $995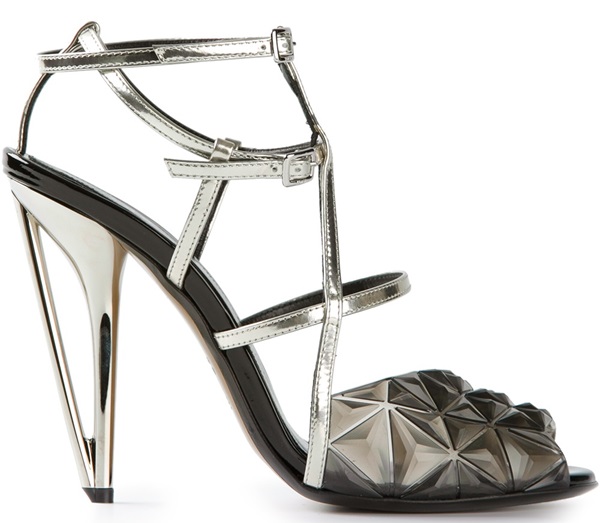 Fendi Iridia Sandals in Asphalt, $995
Sigh. I wish I can afford a pair. But $995 just sounds like a silly amount to spend for a pair of shoes (well, maybe not, if you're a celebrity like Paris).
In any case, for those of you who can afford designer heels, go grab these Fendi babies while you can. These are fresh off the grill, though I have a feeling they won't stay available for long. Paris' pair is in white. You can grab them over at Nordstrom.