Being friends with a former lover or boyfriend after you break up is one thing, but marrying your ex-husband after being divorced for several years is completely another. Would you agree? Such a reconciliation puts a whole new meaning to the phrase "wearing your dirty underwear".
Speaking of which, this is exactly what former Baywatch babe and Playboy Playmate, Pamela Anderson did recently. The bombshell, who chopped off her long blond locks in favor of a pixie cut, said "I do" for the second time to former husband, Rick Salomon. If you don't know him, well, let's just say he was the guy who leaked the Paris Hilton sex tape. I'm not sure what kind of future Pam wants with her on-again hubby, but she is no stranger to such "redundant" hook-ups. If I recall correctly, she had an on-again-and-off-again relationship with Tommy Lee as well.
The actress disclosed her latest status to the press while attending the 3rd annual Sean Penn & Friends HELP HAITI HOME Gala held over the weekend. For the event, she wore a pink ruffled maxi dress that was sadly, quite unflattering, and finished the outfit with bow-tip sandals. Yes, the look was very Playboy bunny-ish, but thankfully, her cropped hair gave the attire a little bit of extra and kept her from looking too ditsy.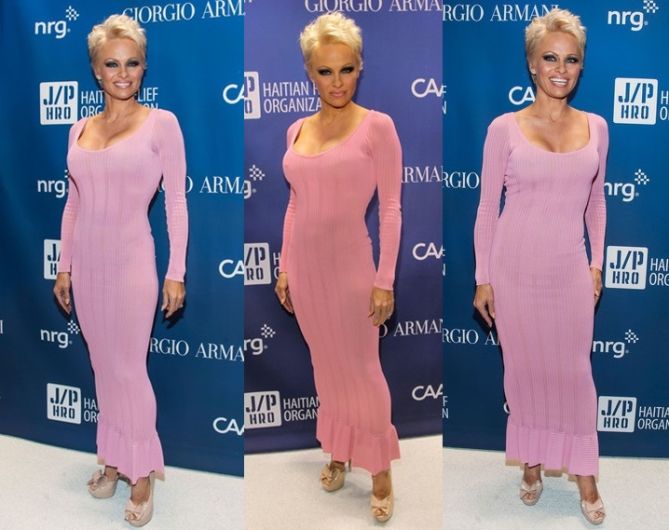 Pamela Anderson attends the  Sean Penn & Friends HELP HAITI HOME Gala in a pink ruffled maxi dress and nude bow-tip sandals, January 11, 2014
Do you like her outfit? I have to admit, I love the cropped do. She looks fierce with it, yes? I don't like the pink dress, though. The length is unflattering and it's too….well…er…pink.
That said, I can appreciate the heels underneath the frock. I initially thought they were from Valentino but once I got a closer look, I realized the bows were different.
What do you think, are Pam's heels from Valentino or not? They're definitely not from Fendi or Ferragamo. What's your guess?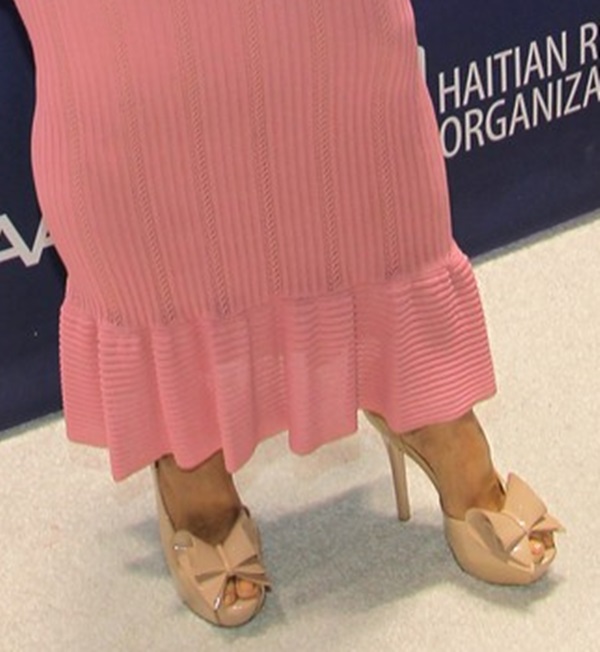 Pamela's bow-tip sandals
I did my homework on this one and actually managed to ID the pair after weeding through hundreds of shoes online. Pamela's heels are the Steven by Steve Madden "Rosale". They are from a previous collection so they are a little hard to find. You'll need to exert a little bit more effort if you want to get your hands on them — like search through discount stores and whatnot
The Rosale feature  4.5-inch tall heels, 1.5-inch-thick platforms, a d'Orsay silhouette at the inner sides of the shoes, and sassy structured bow details at the front. They retailed at $150 when they came out — very affordable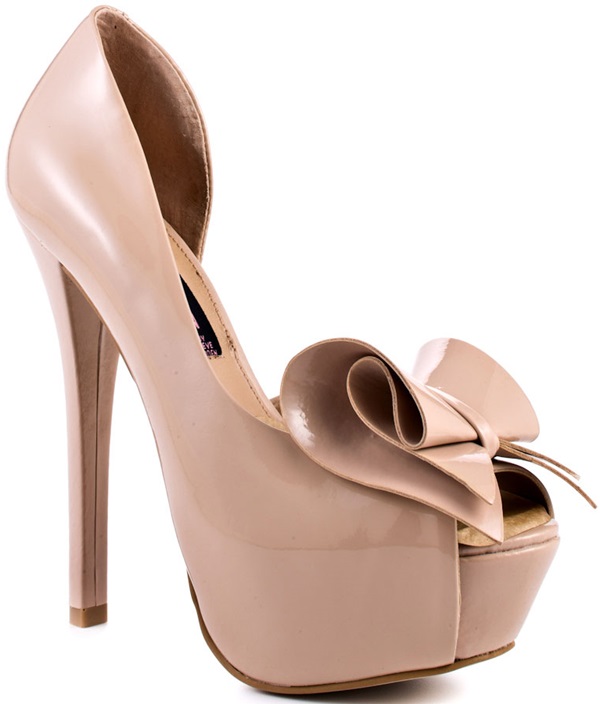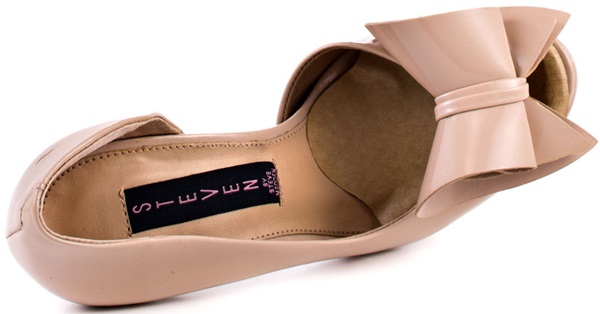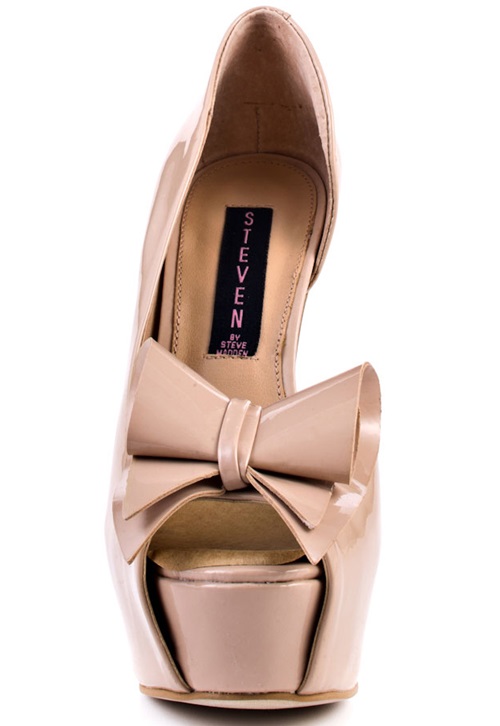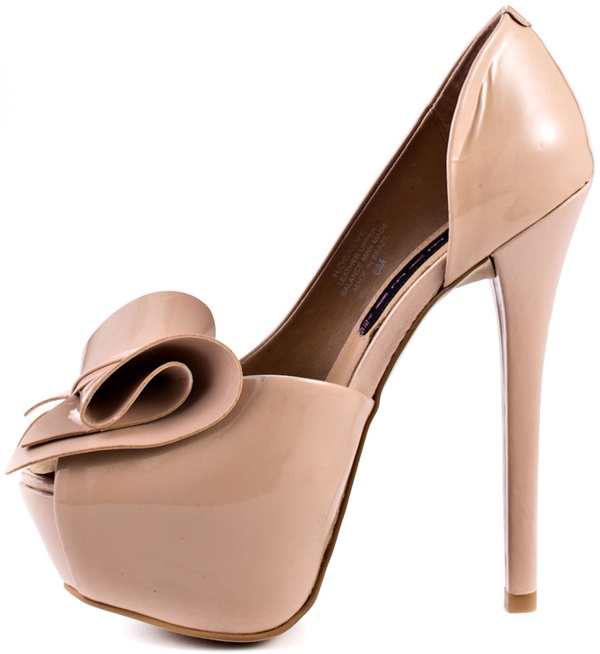 Steven by Steve Madden Rosale Pumps in Blush Patent, $150
But if you're a size 6 and you don't mind grabbing the Rosale in red, there's a merchant on Amazon that is selling the pair for half the price. Or, if you really want the neutral color, you can try the Steven by Steve Madden Ariall pumps instead. They have the same silhouette as the Rosale, with only the bow details that are different.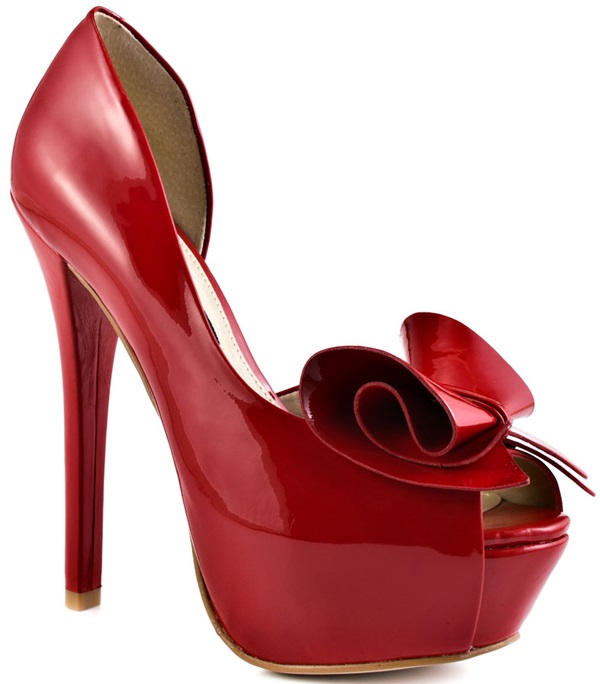 Steven by Steve Madden Rosale in Red, $75 (was $150)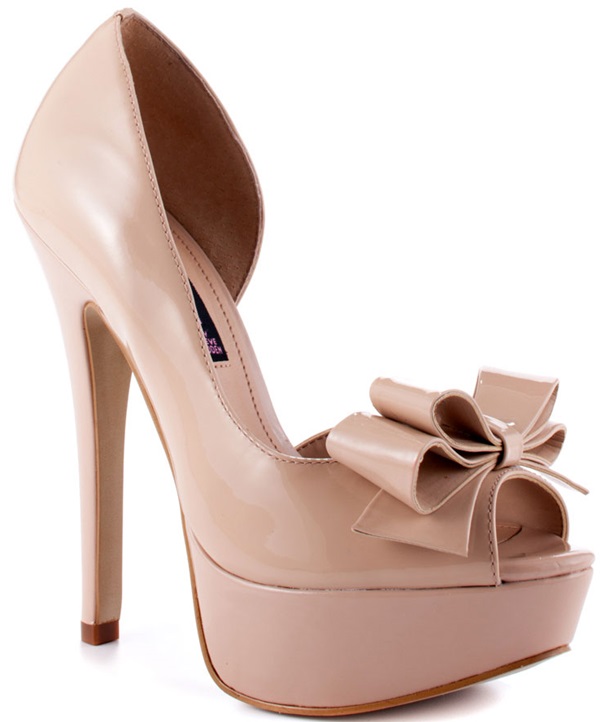 Steven by Steve Madden Ariall Pumps in Blush Patent,$126.75 (was $170)