I'm an Olivia Wilde fan, and I usually like what the actress wears on and off the red carpet, but I had to scratch my head yesterday after I found these pics of her sporting a very oddly-mixed ensemble while arriving at the Ed Sullivan Theatre in New York City. What what she thinking?!
Olivia wore a yellow-and-brown boldly-striped top over a printed long skirt, and cinched the combo at the waist with a wide belt that was also printed with colorful stripes. She then finished her outfit with matching blue ankle-strap sandals and a black PS1 satchel.
Granted, it was a festive and colorful attire, but the combination was off and I really didn't like it. I'm all for color play and mixing multiple prints, but somehow, this one just didn't do her any good. While the flowy skirt looked pretty, the drop-waist silhouette she was going for didn't flatter her figure at all. Check out Olivia below, then tell me if you agree: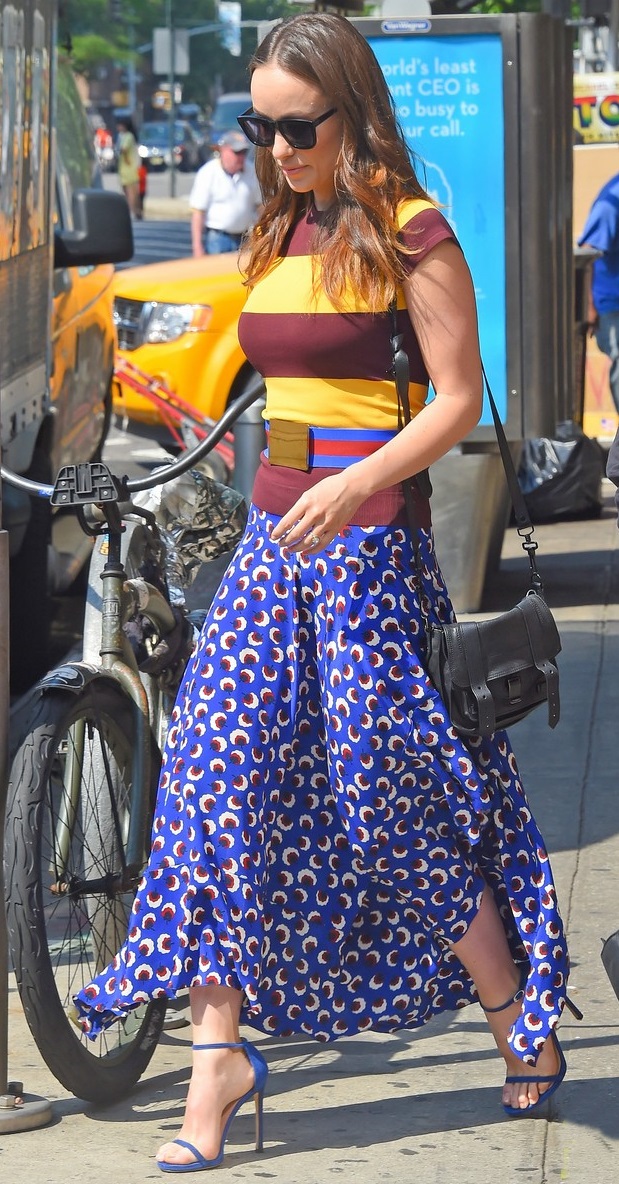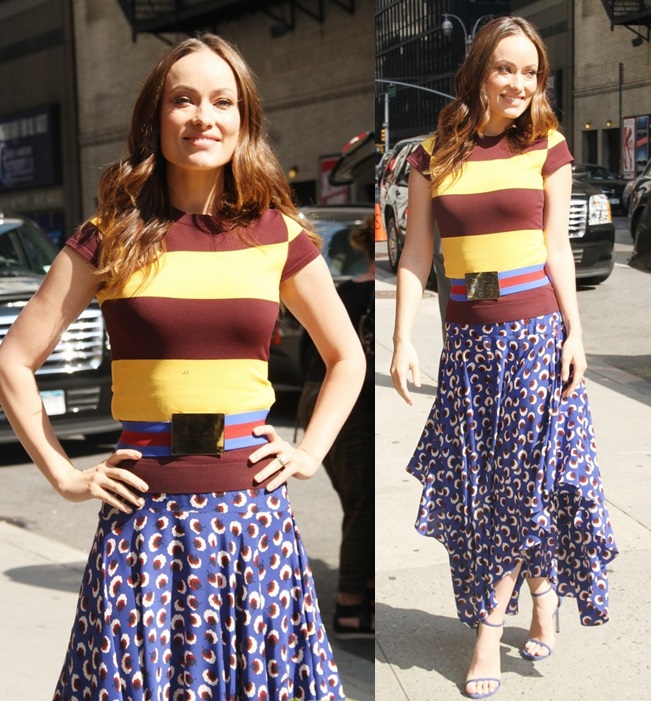 Olivia Wilde arrives at the Ed Sullivan Theatre for her appearance on The Late Show with David Letterman, on June 17, 2014
Well, what's the verdict, thumbs up or thumbs down? Yay or nay?
Unlike other celebrities who usually arrive in a different ensemble, Olivia opted not to change outfits. She appeared on The Late Show with David Letterman looking exactly like this. Interestingly, she didn't look so bad on camera — perhaps because she was seated on the couch. Would you agree?
That said, I do love the sandals she used to go with the outfit. They're simple and sexy, which is just the kind I go for. I was actually mildly surprised to find out that they're the Stuart Weitzman Nudist — not because of the design, but more because of the color.
I've seen the Nudist in nude, black, white, silver, gold, metallic, and even snake print. However, this is my first time to come across them in blue. Turns out, they're fresh off the grill. You can also now grab the Nudist in fuchsia and camou print. Check 'em out below: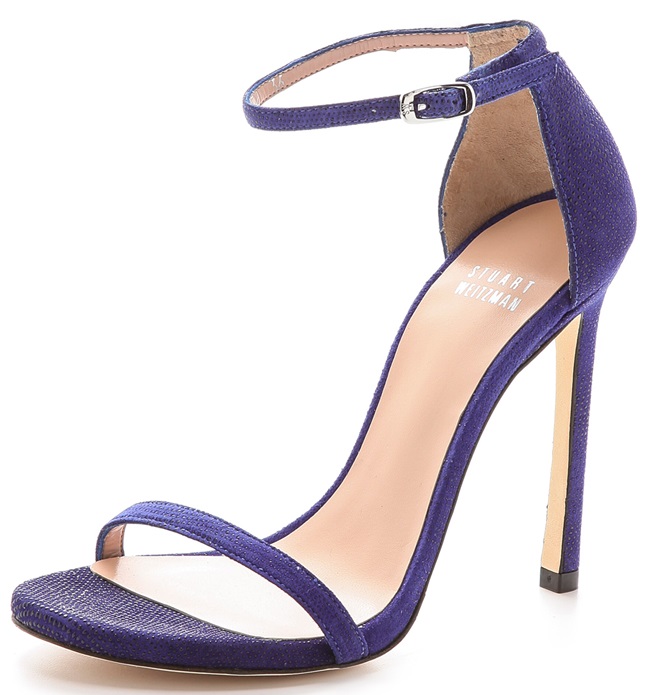 Stuart Weitzman Nudist Sandals in Ultramarine, $398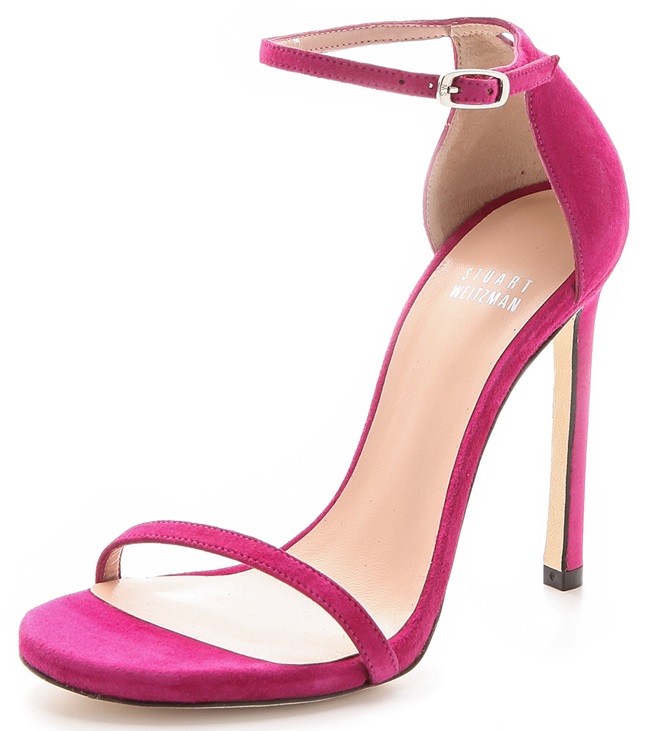 Stuart Weitzman Nudist Sandals in Geranium, $398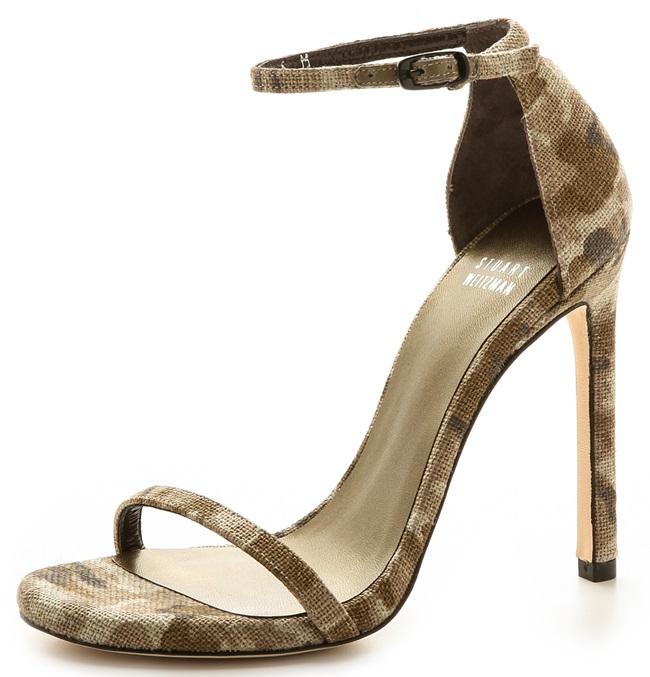 Stuart Weitzman Nudist Sandals in Camou Print, $398
You like? The blue is gorgeous, but I am loving the Camou. What about you?
All three are available for purchase over at Shopbop. A pair will set you back $398. While the poppy variants will work great as statement-making accessories, I think the camou version is the pair to grab if you want something neutral.