Olivia Palermo loves anything that has to do with feathers, fringes, and fur. That much I can say after stalking the very fashionable socialite for so long.
Yes, I'm a hard core Olivia Palermo fan, but who isn't?
She's gorgeous, always elegant and graceful, and constantly looks chic and fabulous. Who wouldn't want to be her, right?
Anyhow, like I said, Olivia loves anything that has to do with the three Fs, and for New York Fashion Week, she definitely did not disappoint. At the Peter Som presentation held last week, Olivia wore three doses of fur. Yes! You read that right — three.
Now you might think that sounds overkill, especially since anything fur related is usually considered a statement item. But Olivia is Olivia, and she pulled off the look with ease, class, and of course, with flair. Olivia channeled a little bit of masculine drama for the event by wearing cropped pleated trousers from Tibi, a black furry sweater worn over a white dotted Club Monaco button down, a black fur-collared coat from Agnona, and a pair of Fendi fur-trimmed booties as finishing touches. Altogether the look was bold yet classic, and very very polished.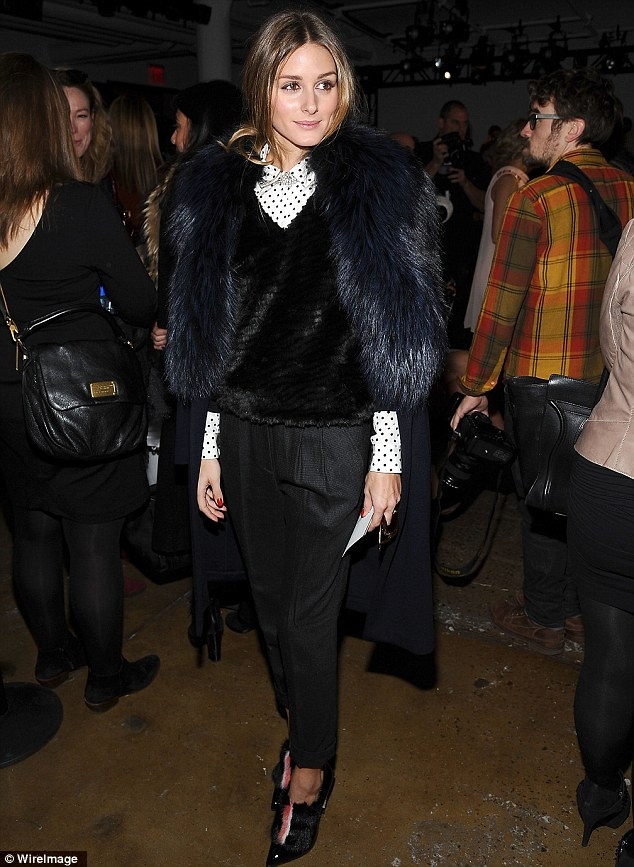 Olivia Palermo attends the Peter Som Fall/Winter 2014-2015 presentation during New York Fashion Week, February 7, 2014  
Do you like her outfit? Would you wear it? Seriously, can you actually handle wearing three doses of fur all at once?
I say why not?!
There's no harm in trying.  The trick always lies in picking the right pieces. Olivia chose dark classic colors for majority of her outfit, save for the pink fur on her booties. Speaking of booties, if you're loving her pointy fur-trimmed kicks, here they are up close for you.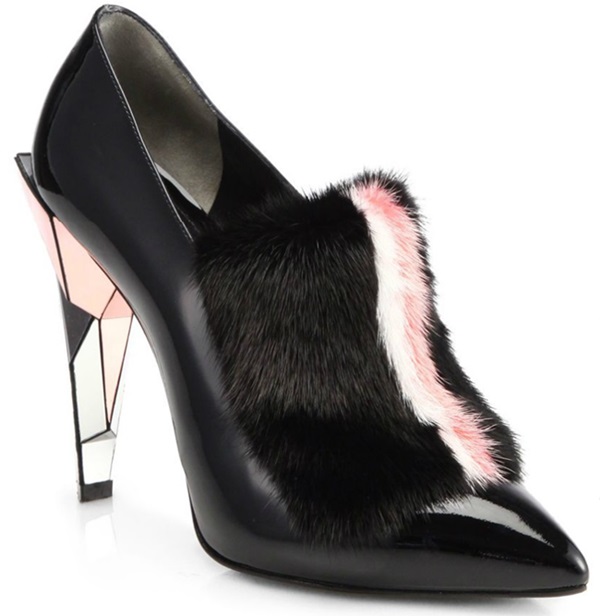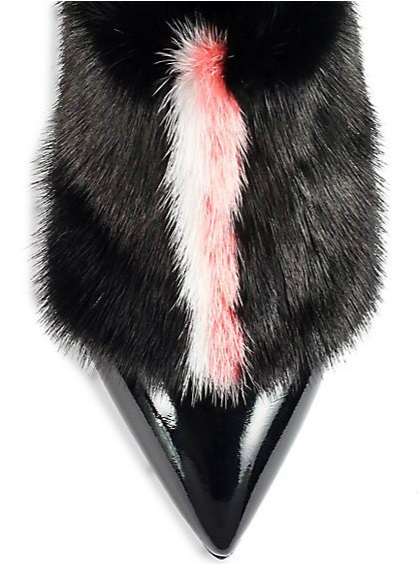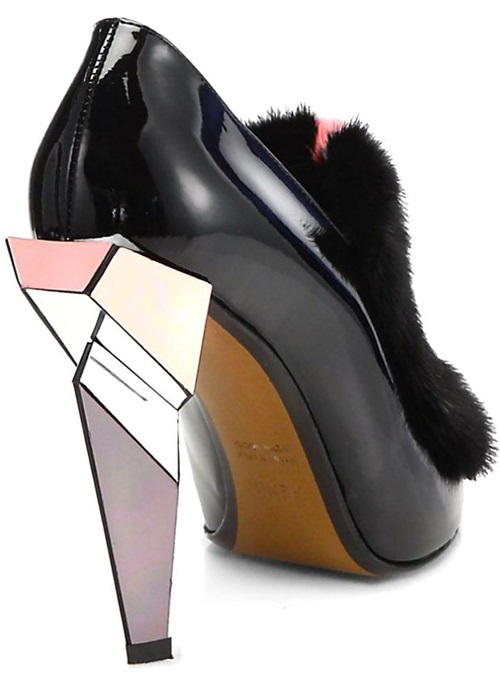 Fendi Fur Trimmed Mirror Heel Patent Ankle Boots, $756 (was $1890)  
They feature really futuristic mirror-plated heels that are 5 inches tall, half-an-inch thick hidden platforms, genuine leather uppers with patent finish, and colored rabbit fur trimmings at the vamps. They're the kind of boots that have a lot of "look-at-me" factor. Would you wear?
They're not for everyone, but I think you should consider giving them a try. If you love shopping for designer shoes, these are actually on sale right now, down to $756 from a high $1890. Grab 'em while you can!