Besides a slew of other young stars like Lucy Hale and Lea Michele, the main cast of TheVampire Diares, namely Nina Dobrev, Paul Wesley, and Ian Somerhalder were also in attendance at the 2014 Teen Choice Awards held over the weekend.
Of course, with Ian's recent hook-up with Twilight's Nikki Reed — who was also at the event — you could say there was a whole lot of awkward drama going on behind the glamorous red carpet highlights.
Nina, for one, looked like she was trying to show Ian what he's missing by arriving at the event in matching crop top and shorts painted with bright hues of pink and blue. The combo flaunted her figure and legs quite well. She then complemented the ensemble with nude pouty lips, bronzed skin, a Queen Elsa braid (yes, I'm referring to the Disney character), smoky eye-makeup, and hot pink pointy stilettos. It was a different look — unexpected, unusual, but stunning nonetheless.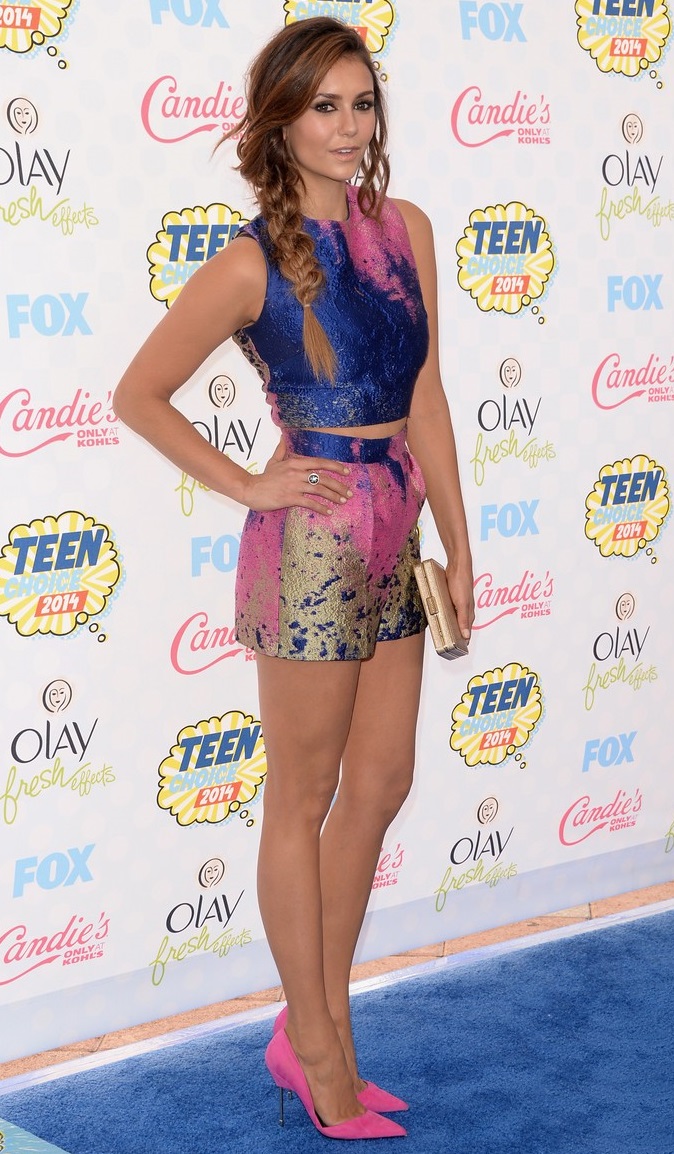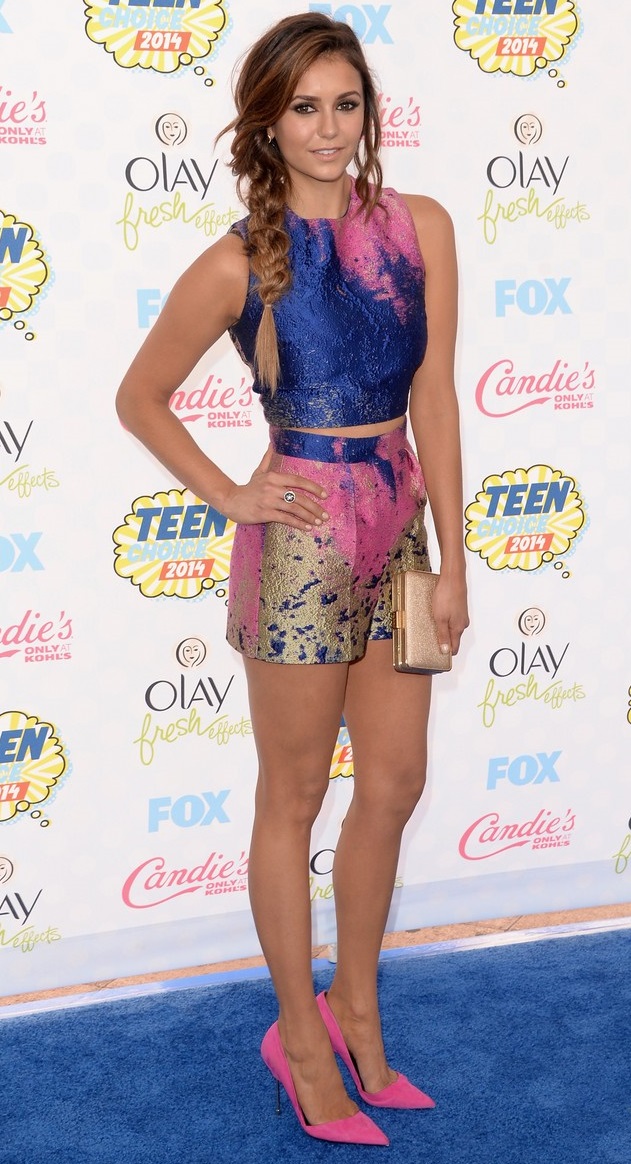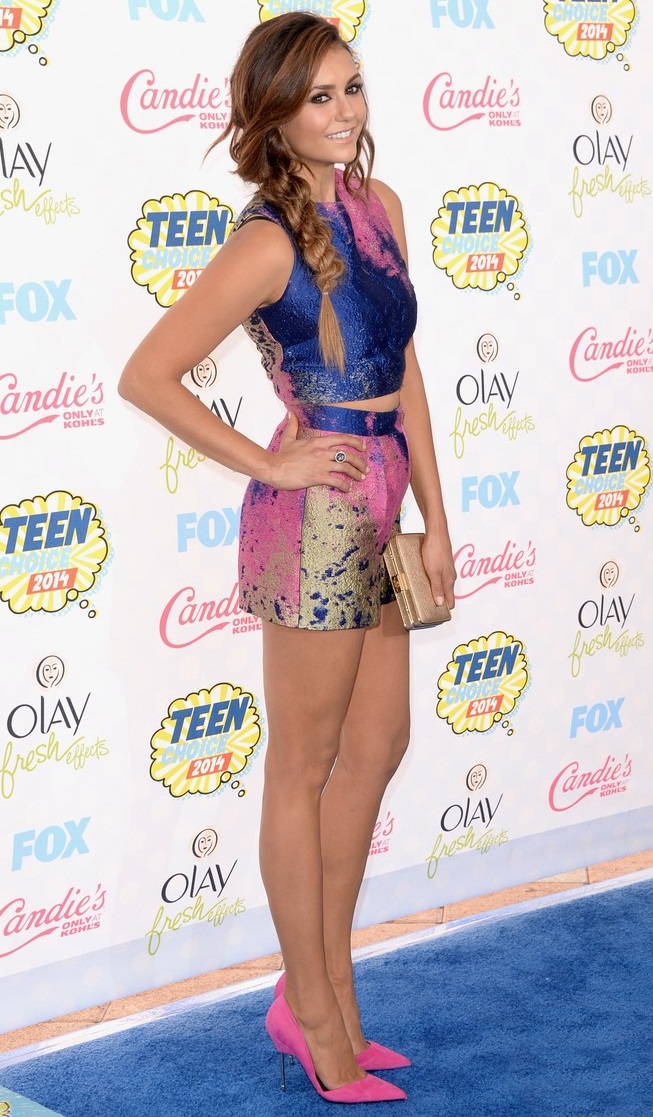 Nina Dobrev attends the 2014 Teen Choice Awards held at the Shrine Auditorium in Los Angeles on August 10,2014
Do you approve of Nina's style choice for the TCA?
I like it. It's fun. It's fresh. And she looks amazing. I love how bronzed her skin looks, especially against her brightly colored outfit and shoes.
Speaking of shoes, don't you find Nina's pumps intriguing? With cigarette-thin heels like that, who can not take a second glance?
Nina's pointy stilettos are from Kurt Geiger. Dubbed as the "Bond", these shoes feature a slight d'Orsay silhouette, as well as lowered pointy vamps for a flattering and sexy fit. And as initially described, what makes these pumps distinct are the 4-inch-tall cigarette-thin metal heels. Below is a similar pair done in pale pink for your reference: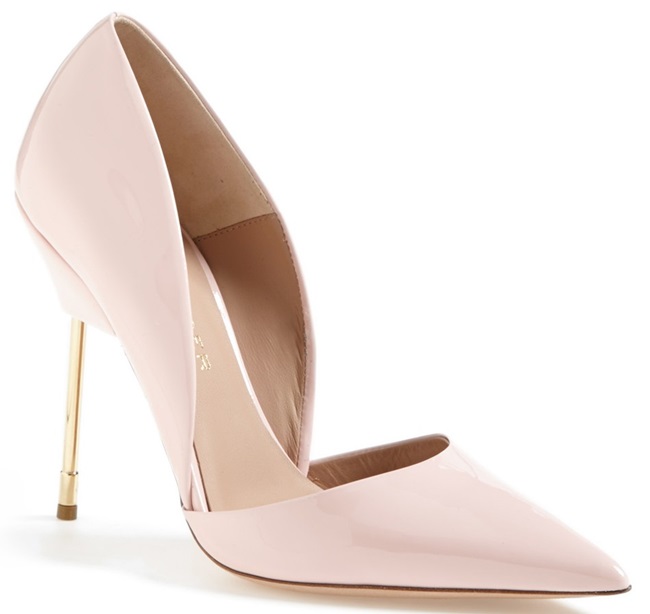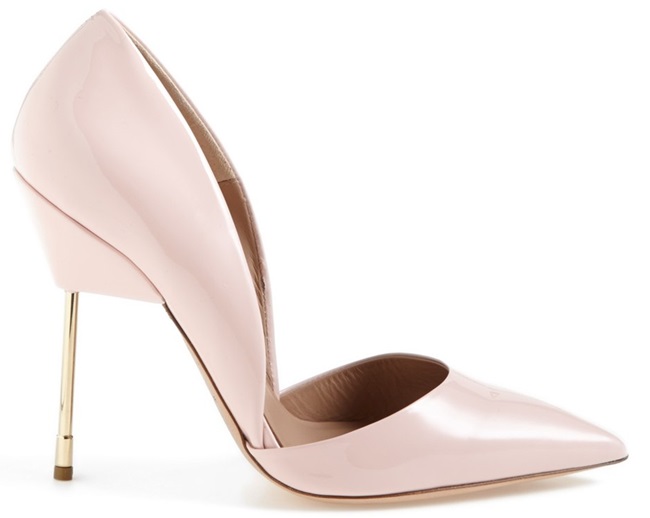 Kurt Geiger Bond Pumps in Pale Pink,$450
If you fancy the Bond pumps from KG, feel free to shop for them online. They come in a plethora of renditions, from snakeskin to metallic, and from suede to leopard print. Price for a pair is $450.