It's Fashion Week season once again, and with it comes a slew of celebs putting their most stylish foot forward for every front row appearance. For the Spring 2015 Alexander Wang presentation held at Pier 94 in New York over the weekend, rapper Nicki Minaj decked herself in colorblock separates made up of a crop top and a form fitting mini skirt. She then teamed the mix with a fashionably kinky do, cat-eye makeup, and some embellished ankle-strap heels. It was a simple look, but also quite spicy given her choice of color and accessories.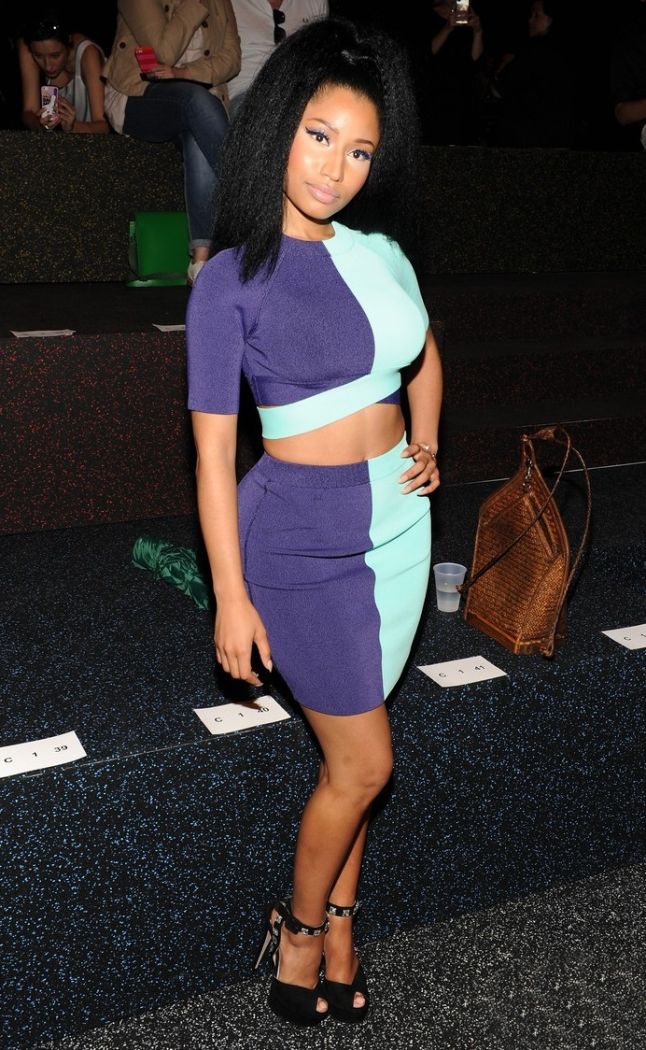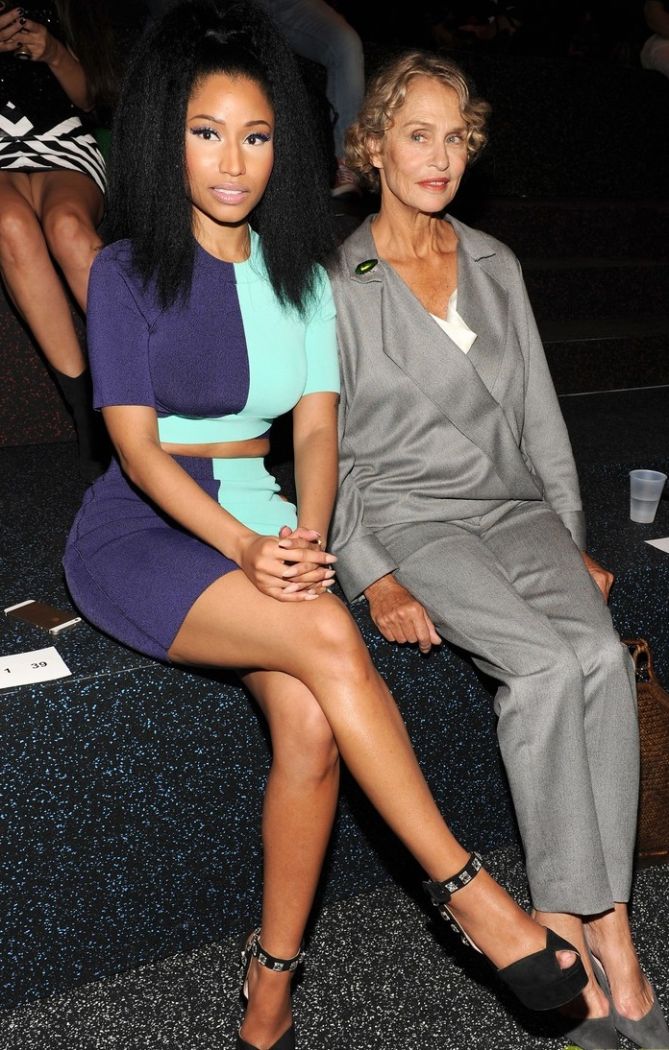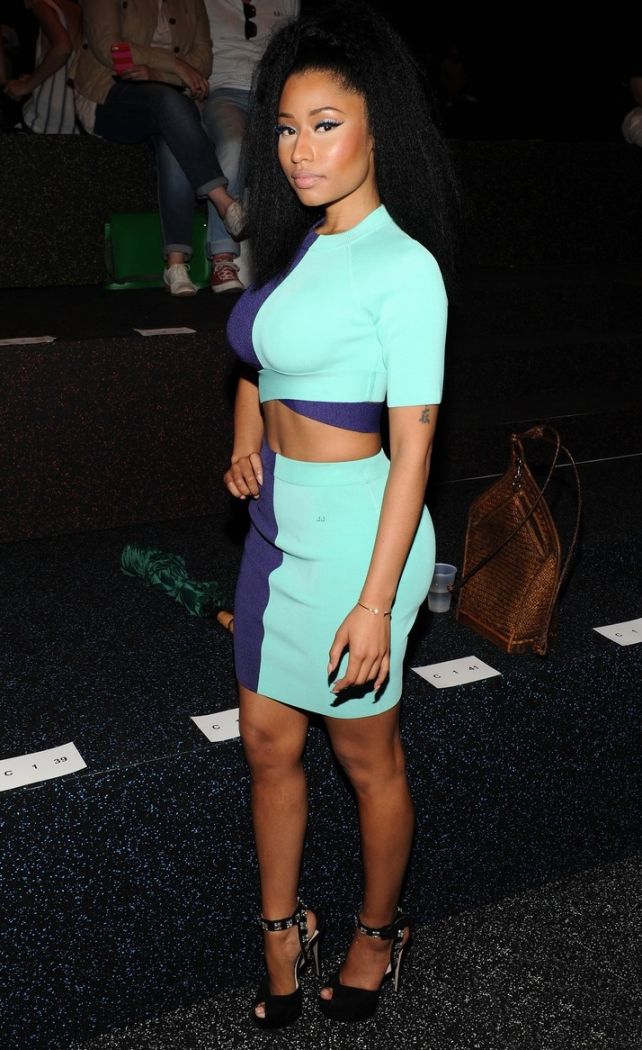 Nicki Minaj sits front row with Lauren Hutton at the Spring 2015 Alexander Wang presentation during New York Fashion Week, September 6, 2014
How do you like Nicki's front-row style, do you approve?
I like it. I prefer her this way than, say, the spectacle-making Nicki we all used to know. Nicki loves color, and I'm glad she expressed her love of bright hues through a decently cut outfit. I'm not too fond of the kinky do, but I do like how she kept it in its natural color, which is brown black.
I don't have the deets on Nicki's whole getup at the moment, but I'm guessing the top and skirt are from Alexander Wang's current or soon-to-be released collection (Resort 2015, perhaps?). What do you think?
That said, I'm actually more interested in her embellished ankle-strap heels. Those jeweled platforms look very interesting. Any idea where she scored the pair? Could they be from Giuseppe Zanotti? Or perhaps Brian Atwood? Or could the shoes be from Wang's collection? I had a difficult time finding information on the pair, so I may actually have to wait it out until someone ID's Nicki's sandals.
That said, in case you fancy the heels and would like a similar pair for yourself, why not do a little DIY instead? I'm sure doing so will cost you far less than what you will spend on Nicki's designer shoes. Simply grab any of these suede platform sandals and decorate the straps with Swarovski crystals or rhinestones (if your budget is super tight). Are you in the mood to get crafty?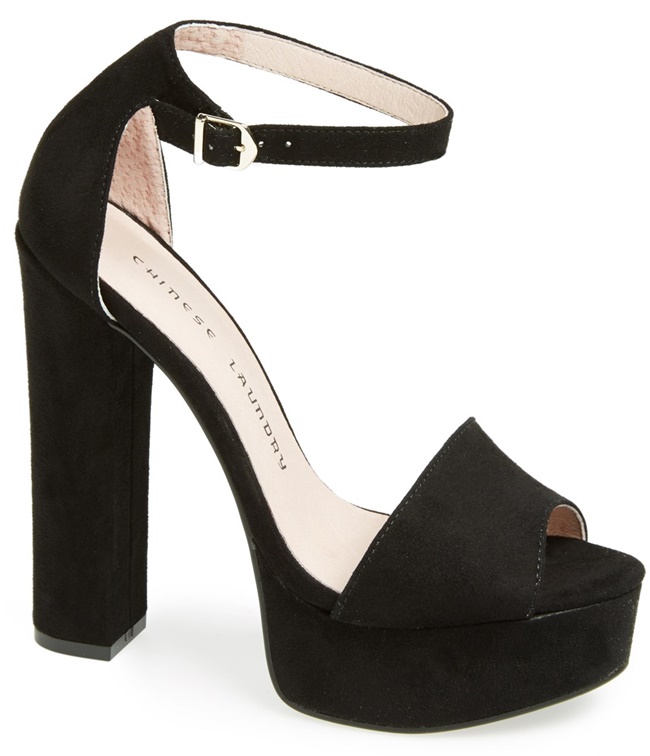 Chinese Laundry Avenue Sandals, $43 (was $70)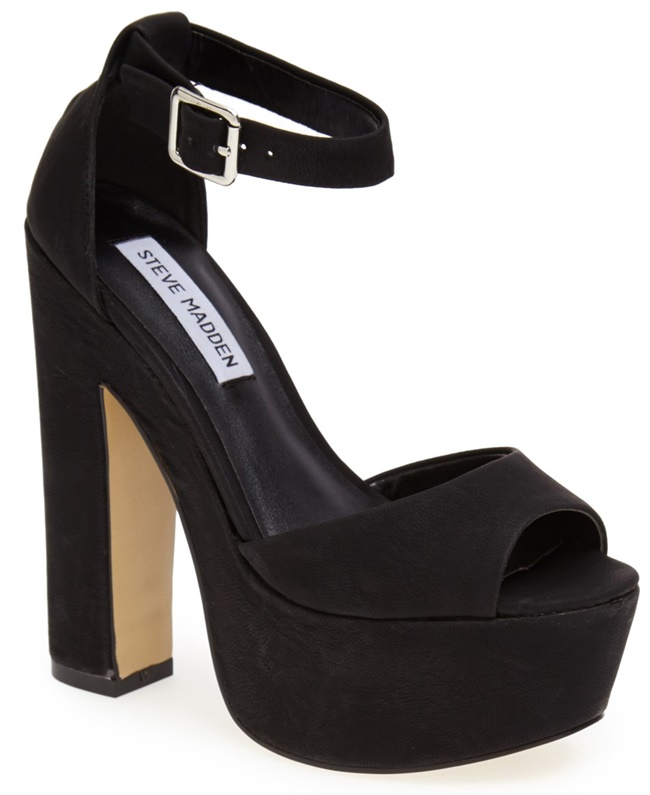 Steve Madden Whitman Sandals, $45 (was $90)