12 Years a Slave actress Lupita Nyong'o is turning out  to be one of our fave fashion inspirations for 2014. The actress has not had a single fashion misstep since she came into prominence last year.
Every red carpet look, every awards show outfit, every off-duty look the actress has worn in the past year has been special. She has a very toned physique and skin the glows so she's able to pull off a lot of sexy and modern looks.
Lupita is also very confident about wearing mixed prints and colors, and those kinds of outfits really suit her well.
When she attended the Maui Film Festival 2014 in Wailea, Hawaii, Lupita wore a Fausto Puglisi mini dress with palm tree designs rendered in gold beading.
The 31-year-old actress received a Rainmaker Award from the Maui Film Festival 2014.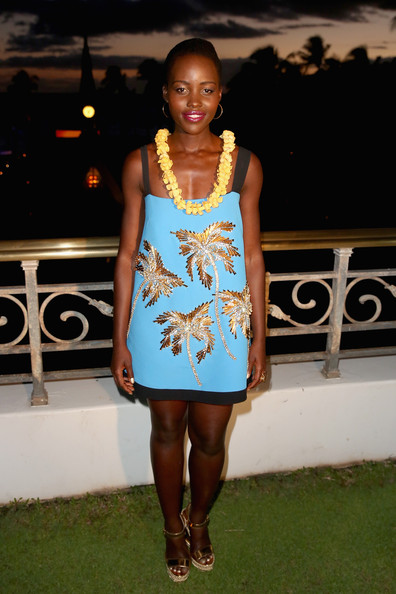 Lupita's gold sandals were by Christian Louboutin. A pair of the beautiful sandals will set you back almost $700.
Thankfully, there are many alternatives available online for those who have a tighter budget that they need to stick to. Check out heels.com for a wide range of wedge sandals. That's where we found the Jessica Simpson Jerrimo sandals: