Some of Lady Gaga's looks seem more inspired than others. Some of her looks can be gorgeous (over the top but gorgeous) while some of her looks are just downright horrendous.
When she arrived at the Roseland Ballroom in New York City on March 27 for prep work for her concert at the venue, she looked ridiculous. It wasn't one of her ridiculous-but-interesting looks. She looked like a hot mess. She had on a black shirt, jazzed up boyfriend jeans, and a pair of creepers. She looked like she was stuck in the 80s.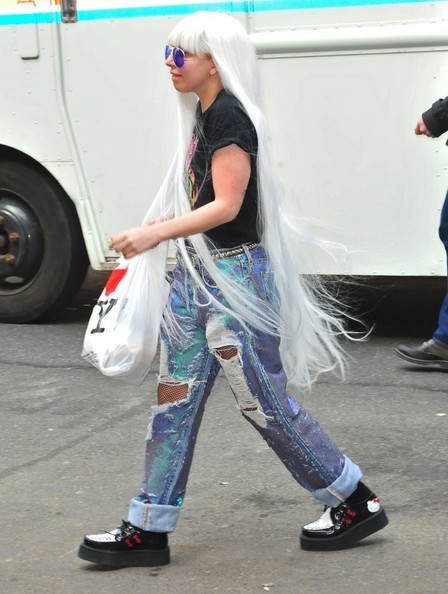 Not even her cute Hello Kitty Creepers could save the outfit.
The shoes, made by TUK, are authentic creepers with a cute touch of Hello Kitty bows and a hello kitty icon at the back. The shoes, according to the pop star, are her fave pair of shoes ever. (read about her love for her creepers here: http://www.prweb.com/releases/2014/03/prweb11678489.htm)
The online store Journey's carries the collection, in case you're interested in getting a pair. Sadly the exact same shoes seem to be sold out already.