Now that Kim Kardashian is in her 30s, has become a mom, and has relatively matured (to a certain degree), she is now keeping a more low-key profile. Unlike before, she no longer attends events left and right (though she still goes to a handful of them). It's probably because of this that the media's attention has shifted to her little sisters — younger siblings Kylie and Kendall Jenner. Well, that, plus the fact that the two girls are no longer kids. Both have grown into beautiful young women worthy of being followed.
Speaking of which, Kylie, the youngest, was actually spotted hanging out in LA yesterday. She was there with Kim and Khloe, shooting scenes for their reality TV show. As expected, the older sisters were in their usual skintight outfits, but Kylie chose the opposite. She wore a shapeless little white dress (or top and skirt?) and paired it with extra chunky black boots. Even the papz couldn't help but notice the way she looked so they clicked their cameras away for these shots: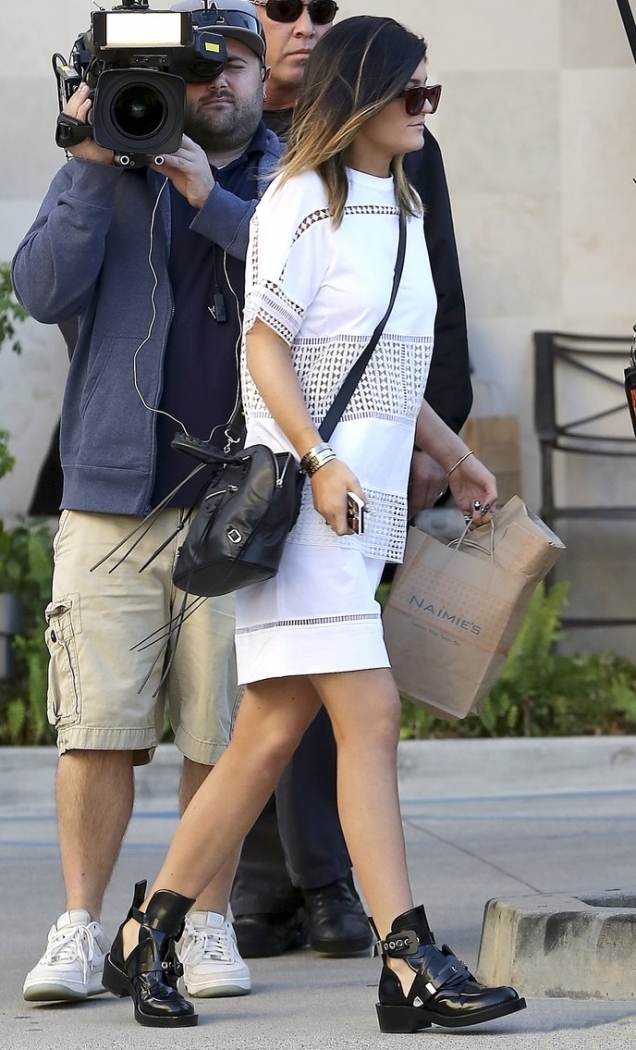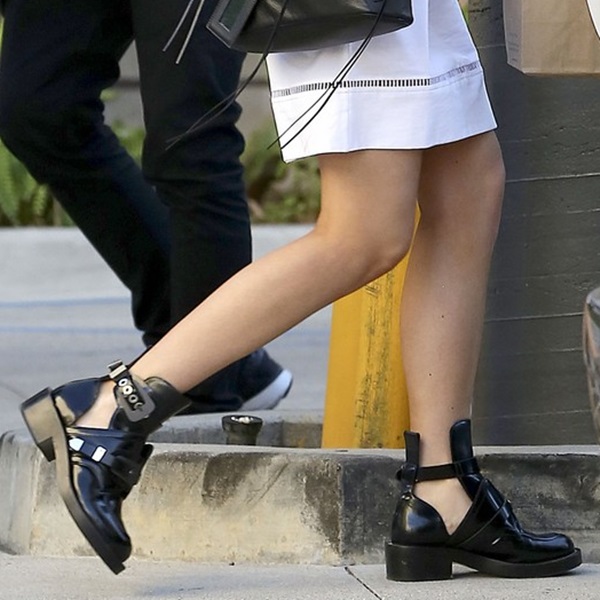 Kylie Jenner goes grunge for the day in a white shift dress and chunky black boots, February 1, 2014
Interesting outfit, wouldn't you say? What do you think of it? Better yet, what are your thoughts on her chunky black boots? Those look seriously punk, yes?
The look is very un-Kardashian-like, that much I can say. However, Kylie is a Jenner (she is Kim's half sister), so I guess I shouldn't have expected the same type of (Kardashian) style from her.
In any case, I actually think she looks kinda cool. I don't dig the boots, but they do look good on her. If you're curious where she got them, that would be Balanciaga. They're called the "Ceinture" Cutout Ankle Boots. Here's a closer look at the pair, then tell me if you can appreciate:
Balenciaga Ceinture Cutout Ankle Boots, $1275
Well, do you like the shoes?
They retail at a whopping $1275 online — wowza! If you dig them and you think you can rock them with flair, then order away. But before you do, I want you to take a moment to consider a much more pocket-friendly alternative from Jeffrey Campbell. Check out the "Roscoe" boots. These look a LOT like Kylie's Balenciagas, only, much cheaper. Not bad for a substitute, right?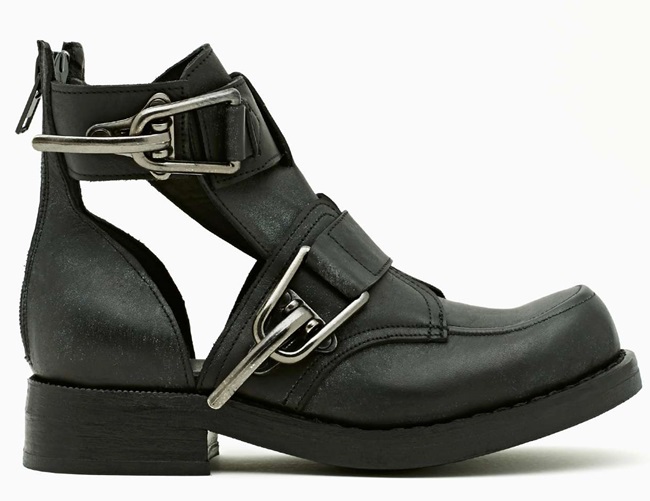 Jeffrey Campbell Roscoe Cutout Ankle Boots, $248