I have a confession to make — I'm a huge fan of Disney's latest animated flick, Frozen. Well, who isn't, anyway? I swear, practically anyone and everyone who watched that movie fell in love with it.
Also, I'm sure you've heard that Frozen is now the number one grossing animated film of all time. It surpassed Toy Story 3! Of course, I'm really not surprised that the movie, which stars Kristen Bell as Princess Anna, and Idina Menzel as Queen Elsa, managed to exceed Disney's and everyone else's expections. You can tell a lot of work was put into creating it, most especially the songs.
Queen Elsa's "Let It Go" won the Oscars, but personally, I kind of wish it was Princess Anna's "Do You Want to Build a Snowman" that got the award — which brings me to the actress who played the role and sang the song — Kristen Bell.
Seriously, I had no clue the actress could sing. I wanted to see it for myself so I checked YouTube for a live performance. Check out this video of Kristen singing "Do You Want to Build a Snowman" while appearing at a Disney-sponsored event where the whole cast was invited.
See. The girl can sing.
Over the weekend, Kristen was also invited to present at the 2014 Kids' Choice Awards alongside Captain America, Chris Evans. For the event, Kristen chose a printed dress from Camilla and Marc plus a pair of peep toe heels from Christian Louboutin. The look was simple, but it was also fresh, sexy, and completely appropriate for the occasion.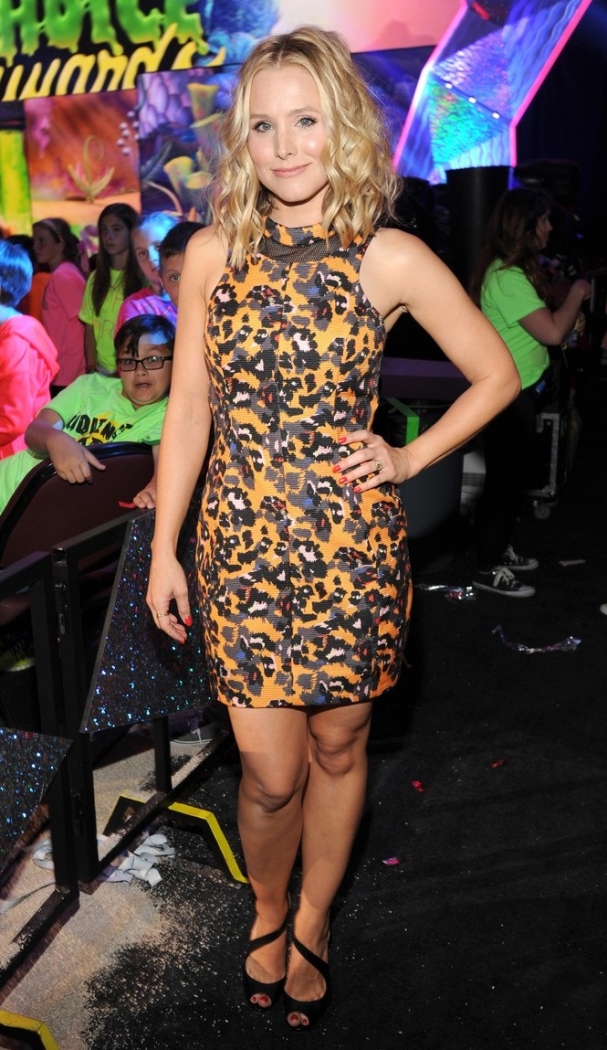 Kristen Bell attends the 2014 Kids Choice Awards, March 29, 2014 
What do you think of Kristen's KCA style?
I like it. Although, if I had to nitpick, I'd have preferred a sleeker hairstyle, like a pony. Other than that,  however, I think she looked fabulous.
As for Kristen's sandals, those are the "Viveka". Below is a closer look for you. They feature diagonal straps, an open-back design, and 4.75-inch tall heels. The platforms on these shoes are rather slim at 0.25 inch thick. If you do the math, you'll actually be walking in 4.5 inches. Think you can handle that?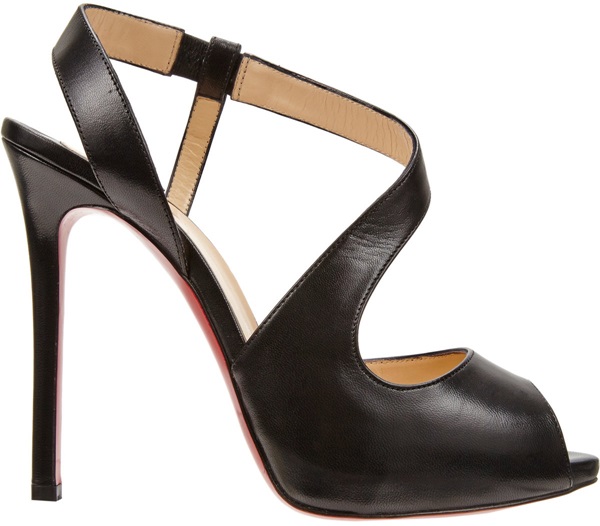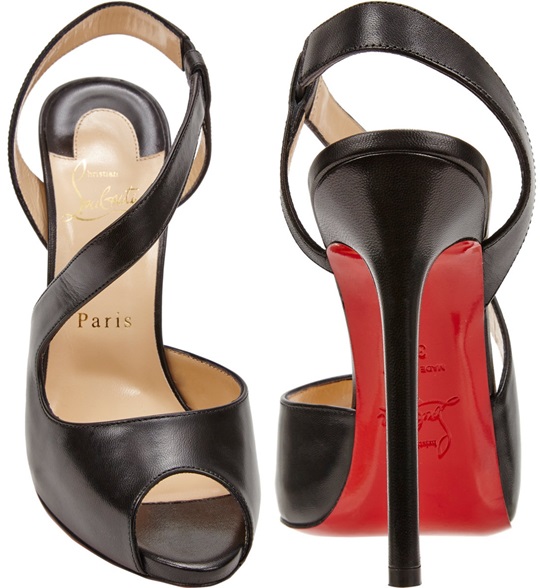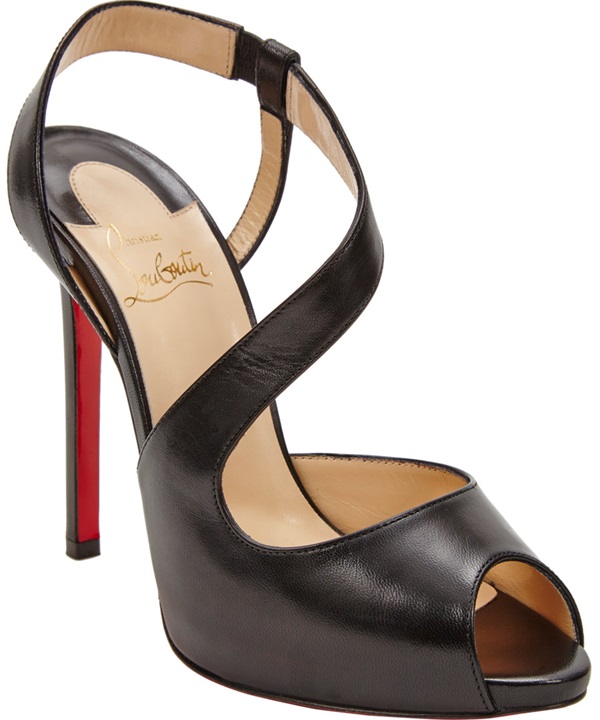 Christian Louboutin Viveka Sandals, $895
These shoes would go perfectly with practically anything, from LBDs to jeans. Also, what I like about the Viveka's silhouette is that it's very versatile. It can work for both formal and party-casual outfits.
Of course,  like any other pair of designer shoes, these sandals are quite expensive. A pair will cost $895, so unless you get a fat paycheck each month, I really don't think it would be wise to spend for them. Luckily, I found a great alternative from Nine West. Check out the Carlacay sandals: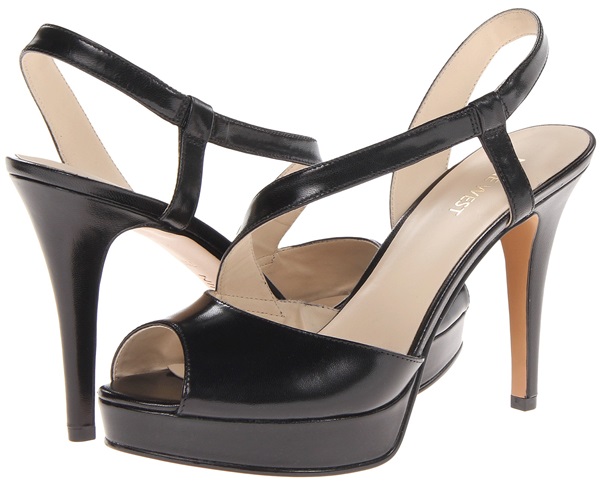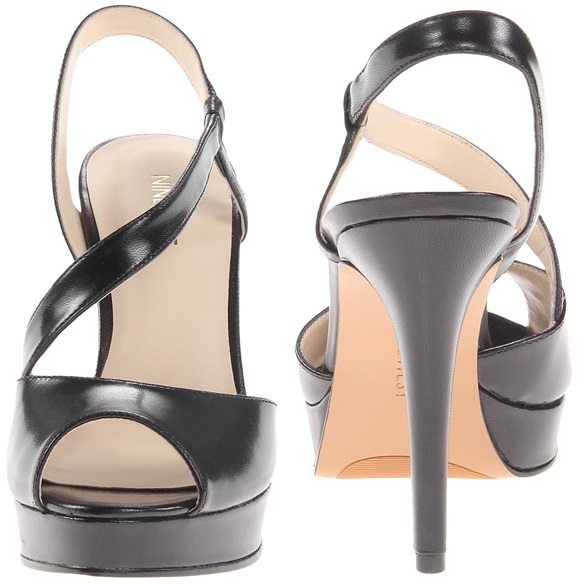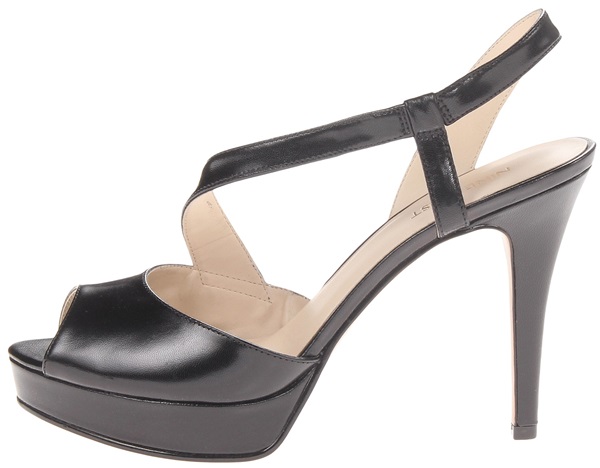 Nine West Carlacay Sandals, $89 
Not bad for a pair of substitutes, would you agree?
In fact, they're very similar to Kristen's CL sandals. Of course, the best part is that they'll only set you back an easy $89. The Carlacay also have thicker platforms at 0.75 inches, while the heels are slightly shorter at 4-inches tall, so technically, they're more comfortable to walk in. Will you grab, or do you prefer those Louboutins?