Kim Kardashian may be the most popular of all her sisters, but there's no denying that her much younger half-siblings, Kendall and Kylie Jenner, are slowly stealing her spotlight. They're fresh, fashionable, and they have a growing following. Whether on the red carpet or via a harmless Instagram post, older-sis Kim has occasionally been upstaged by either one of the two.
Of course, with Kim being, well, Kim, she tries her best to draw the attention back to her. Remember the time Kylie shared a hot bikini shot of herself on IG, after which Kim stole the two-piece swimsuit and posted a pic of herself wearing it?
Speaking of Kim and Kylie, it seems the youngest beauty once again managed to outshine Kim at the 2014 Teen Choice Awards last Sunday.
Kim's outfit for the occasion consisted of a black crop leather top worn over a patterned black-and-white skirt and some Balenciaga mesh pumps. It was a simple yet bold combination; and no doubt, Kim looked amazing.
Kim Kardashian wears a Balmain top and skirt, and a pair of mesh pumps from Balenciaga for the 2014 Teen Choice Awards held in Los Angeles, August 10, 2014
However, even more stunning was Kylie, who somehow bloomed in her yellow patterned asymmetric skirt and black sleeveless top. She also teamed the outfit with fancy lace-up heels, which was a plus because it gave her attire a dose of drama. Simply put, Kylie looked amazing from head to toe that evening.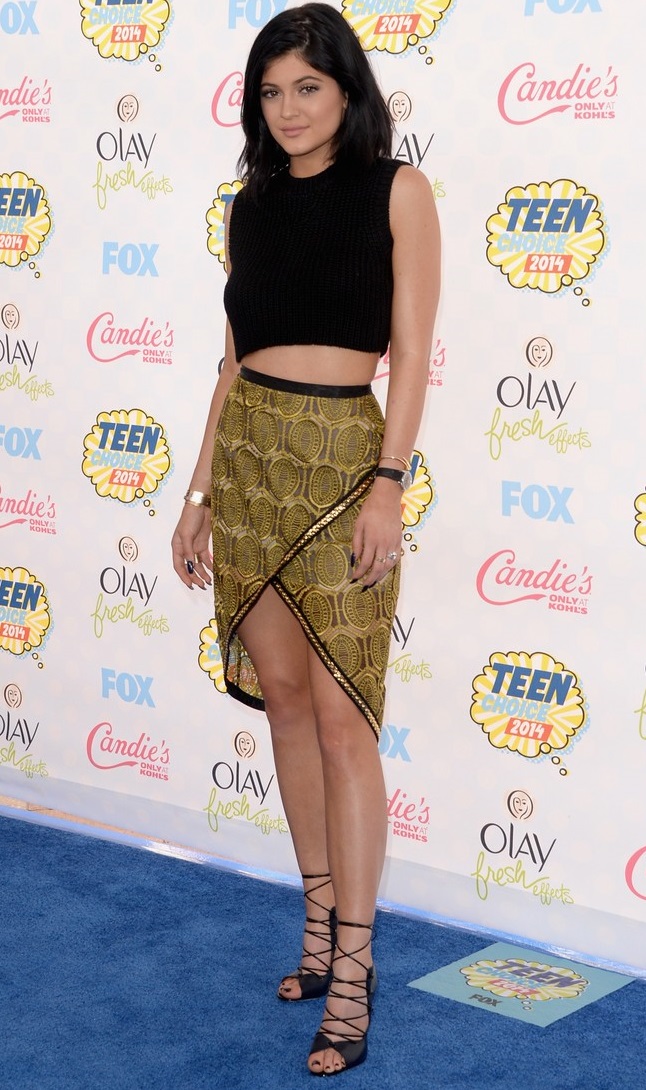 Kylie Jenner wears sequined wrap-around asymmetric skirt, black crop top, and lace-up heels for the 2014 Teen Choice Awards held in Los Angeles on August 10, 2014
Of course, this is my personal opinion and you could have an entirely different one. Come to think of it, why don't you pick between the two?
Between Kim and Kylie, who looks hotter in these photos? And while we're at it, whose shoes do you fancy, Kim's pumps or Kylie's lace-up heels?
You can score Kim's Balenciaga mesh pumps online if you fancy the unique silhouette. I don't have the tidbits on Kylie lace-up heels at the moment, but if you wish to recreate the outfit she put together for the TCA, try working with these sandals from Carvela Kurt Geiger to complete the look: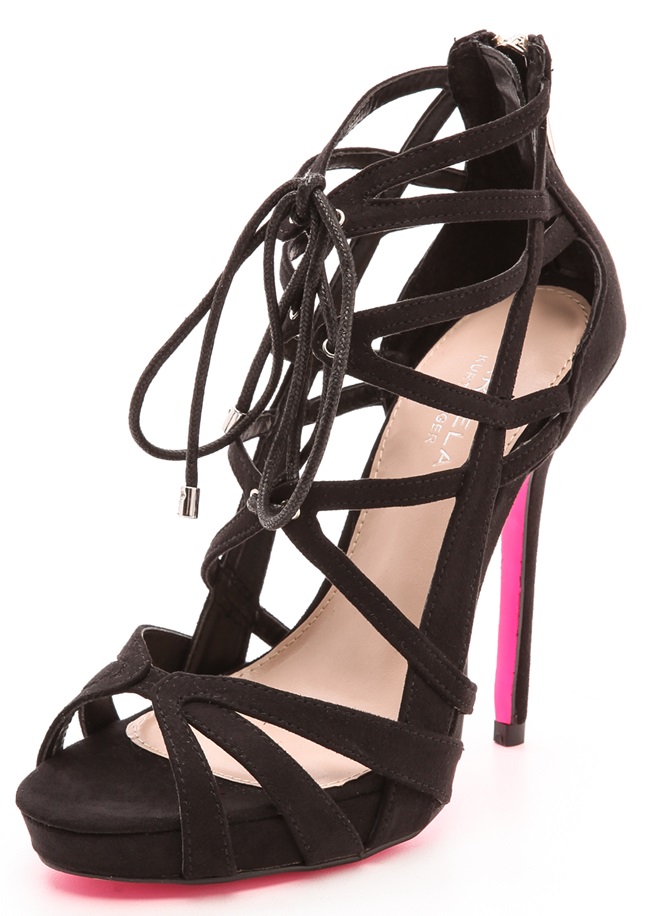 Carvela Kurt Geiger Guard Lace-Up Sandals,$230