It's official! Kim and Kanye are now married.
The couple got hitched yesterday in Florence, Italy. No photos have been released yet so we'll have to wait and see what Kim wore for the wedding. What I've managed to unearth is that her gown was created by Riccardo Tisci for Givenchy. She probably slipped into another outfit after the ceremony too. According to reports, some of the guests included John Legend, Chrissy Teigen, Jaden Smith, and Big Sean.
The day before, Kim was spotted out and about with Kanye in a silk white gown that showcased major cleavage. The dress looked like a silk robe with a cape attached to it. It also came fashioned with a slit that exposed a lot of leg. Kim channeled a little bit of Japanese by wearing the frock with an interesting Geisha-inspired hairdo. She then capped off the look with gold chain t-strap sandals. It was a very daring ensemble that turned a lot of heads.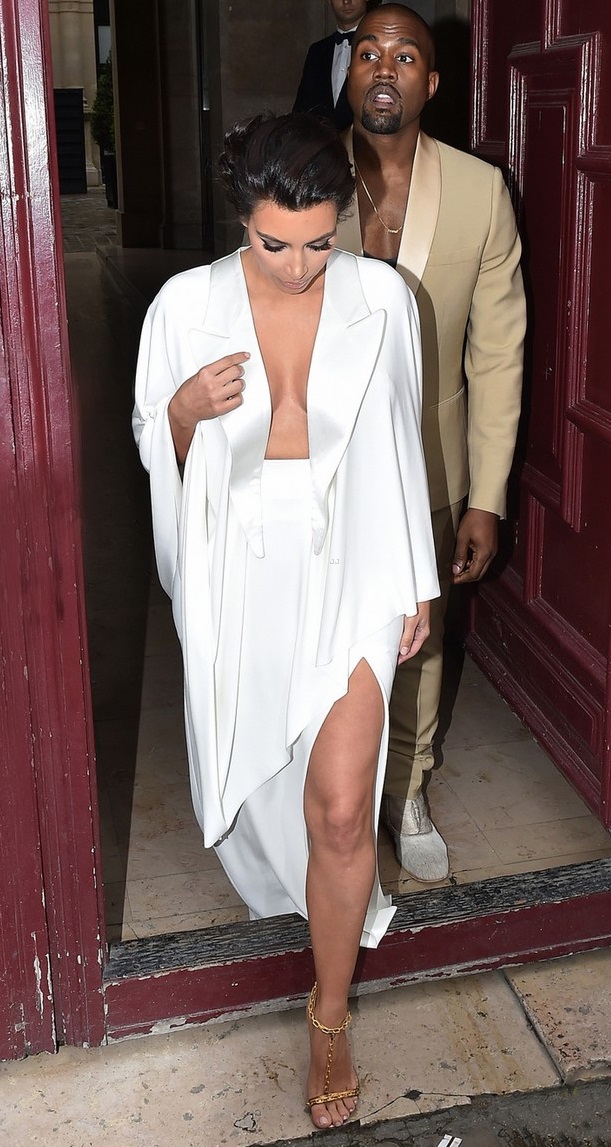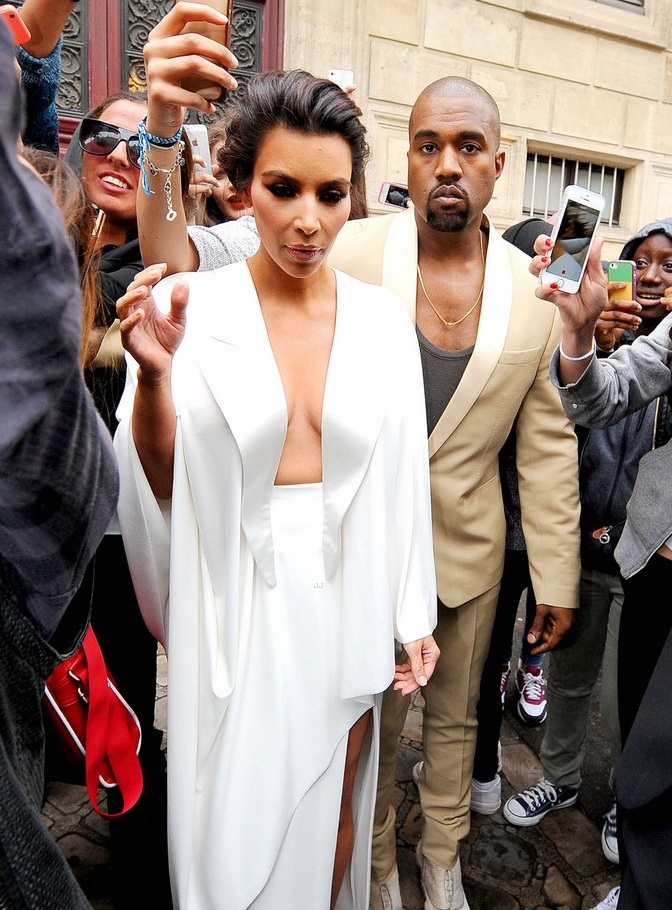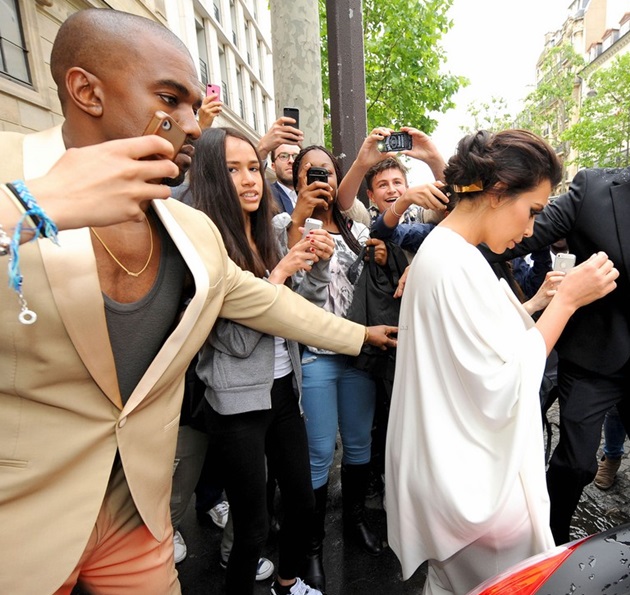 Kim Kardashian wears a silk white outfit that flaunts her cleavage while out and about with Kanye in Paris on the day before her wedding, May 23, 2014
What do you think of Kim's pre-wedding style, hit or miss? Very revealing?
Perhaps. But you know, she didn't look that bad. In fact, I think she pulled off the whole geisha thing pretty well. I am even amazed by how the dress managed to stay in place. I mean, with a neckline like that, a nip-slip would have been very inevitable.
What I love most about her look here is actually the footwear. Those gold chain t-strap sandals are simply gorgeous. They're from Tom Ford's spring 2012 collection so good luck finding a pair. In any case, here they are up close for you: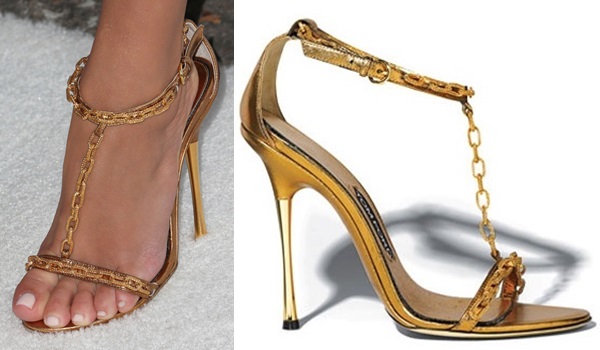 Tom Ford Chain T-Strap Sandals, Spring 2012 Collection
Fancy, right?
Finding a copy was hard. These Tom Ford heels are pretty dainty and feminine, and for some reason, no other label was able to produce anything even remotely similar. Giuseppe Zanotti has his own rendition of chain t-strap heels but it's more fierce and glam rather than anything else. His pair is also quite expensive: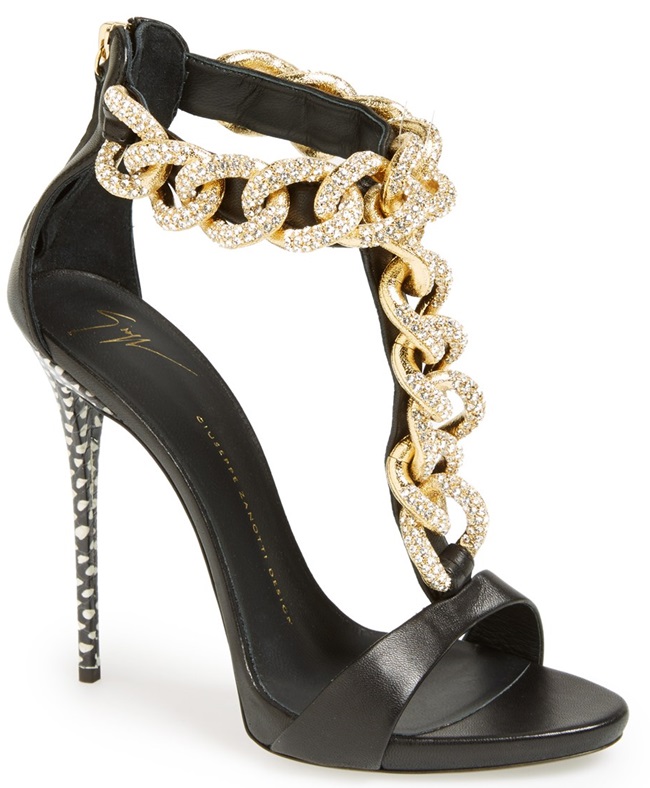 Giuseppe Zanotti Chain Sandals, $2350
If you don't mind spending a whole lot of dough on a single pair, feel free to grab the pair from Zanotti above. For those looking to steal Kim's gilded white pre-wedding style for less, go with these gem-detailed t-strap sandals from Badgley Mischka instead. They're not exactly as exquisite but they're certainly more practical: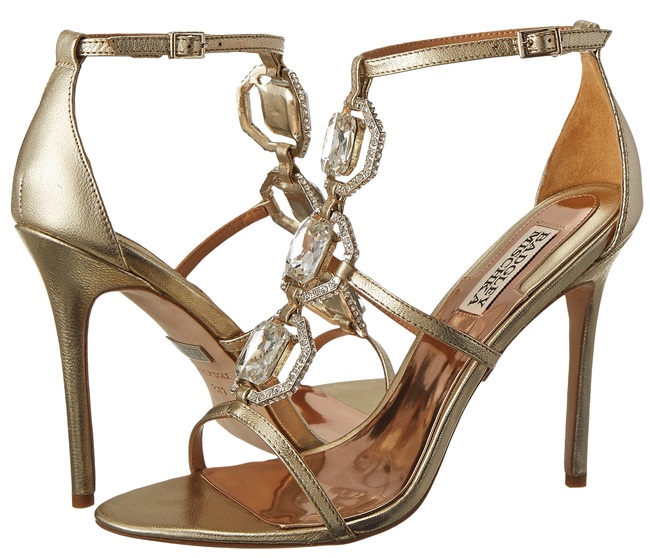 Badgley Mischka Harvey II T-Strap Sandals, $235