Khloe Kardashian is looking better than ever these days. It must be because of her newfound love with French Montana. While they haven't confirmed that they're are dating, the two have not exactly denied it either. Besides, if you need more proof that something is going on between the love birds, the fact that they flew to Las Vegas together for Khloe's 30th birthday celebration yesterday is more than enough evidence that they are hooking up and getting cozy.
For the plane ride, the reality TV star made sure all eyes were on her by slipping into a sexy skintight asymmetric outfit that flaunted her legs. She then completed the attire with a blue Birkin bag and a pair of uber fierce lace-up booties.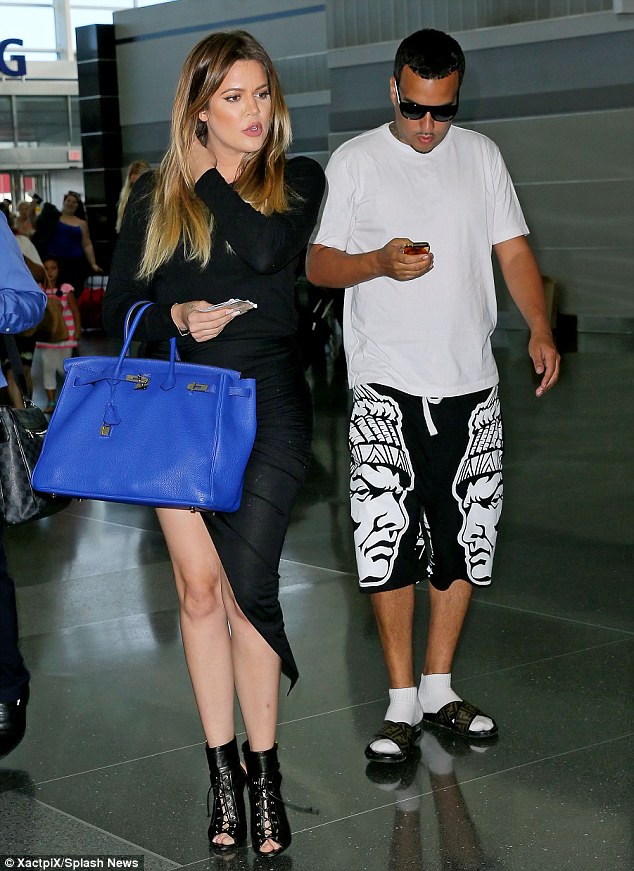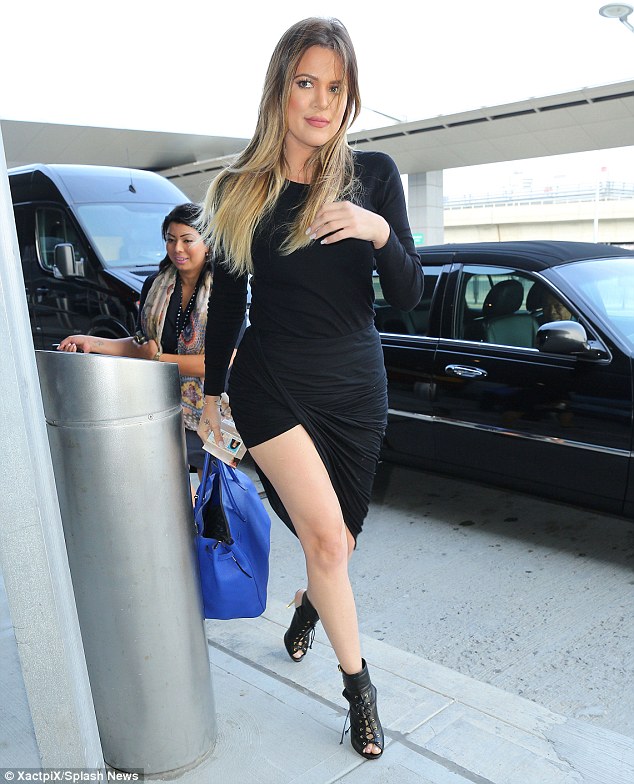 Khloe Kardashian flaunts her legs in an asymmetric outfit while arriving at JFK to catch a flight to Las Vegas with her new boyfriend, French Montana, July 3, 2014
Admittedly, while I'm not a huge fan of the tallest Kardashian sibling, her impeccable airport style definitely deserves a nod.
That said, I am also always amazed by how these Hollywood celebrities are able to travel in sinfully high heels. Those lace-up booties on her feet look sensational. They're edgy, sexy, and very much worth a second glance. But they also look very tall. If I were to wear a pair while making my way through a busy airport, I will probably miss my flight.
Khloe's stunning shoes are from Tom Ford. They're crafted from rich supple leather and feature double-buckled straps at the ankles. The shoes are open at the toes, feature exposed heel counters at the rear, and comes in classic lace-up design. Below is a closer look at the style in stretch canvas material: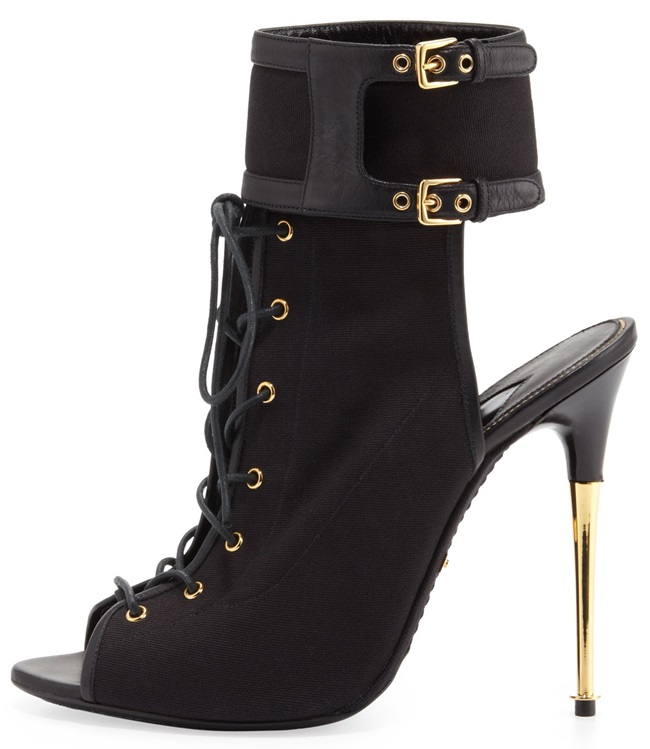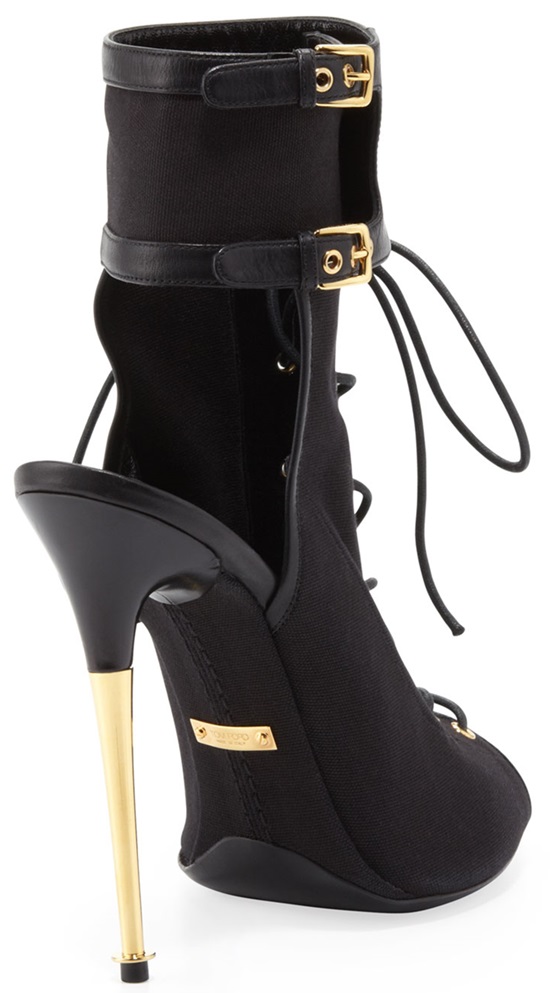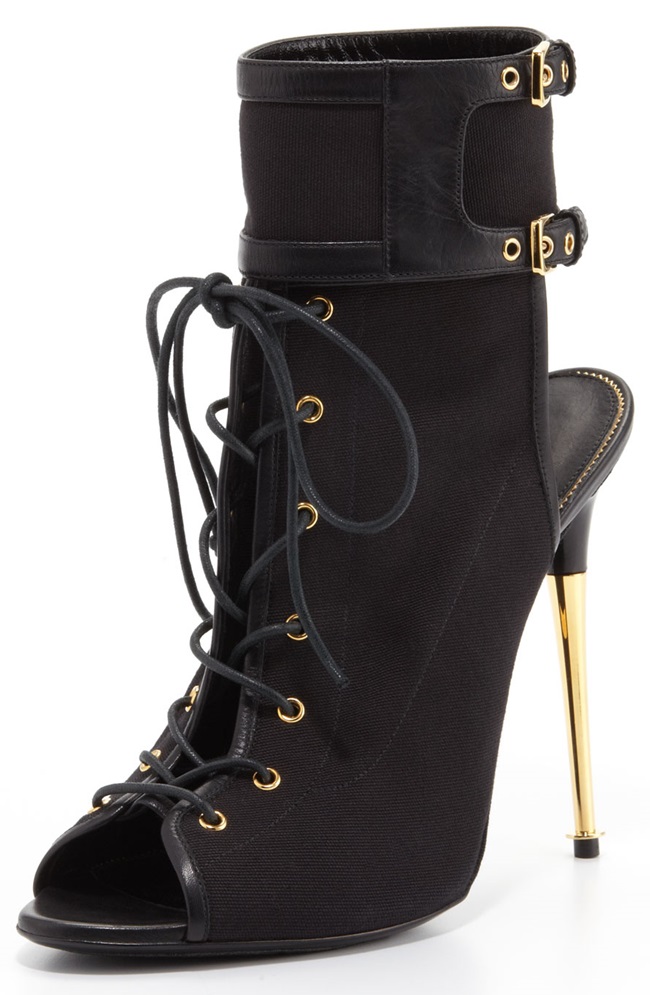 Tom Ford Stretch Canvas Lace Up Booties, $1590
The gold painted super-slim heels on these lace-ups are about 4.25 inches tall, so if you're not very "well-heeled" walking in them may be a problem. Of course, if you're used to strutting your stuff in sky-high shoes, then you'll probably just breeze through an airport without feeling any pain — like Khloe here.
If you fancy Khloe's Tom Ford booties, you can either shop for them online, or head to your favorite high-end store. For the ladies looking for a more pocket-friendly option to consider, here's a style from Luxury Rebel that just might do the trick. The "Cara" open toe booties feature 3-inch-tall heels so they're much more comfortable too: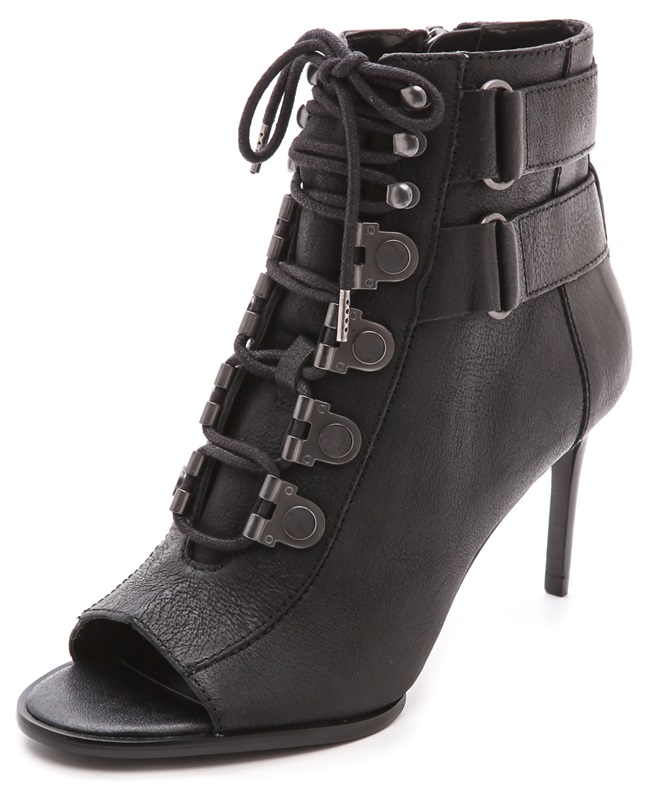 Luxury Rebel Cara Open Toe Booties, $175