Khloe Kardashian is looking really gorgeous these days. Is it the hair? Could it be the divorce from Lamar? Perhaps. Most likely. It's like she's telling Lamar what he's missing now. Simply put, Lamar is missing a whole lot, because Khloe has been killing it on and off the red carpet.
Recently, the reality TV star was spotted looking extra fabulous in a super sexy skintight maxi dress that showcased her legs and accentuated her curves. She wore the outfit to a party hosted by P. Diddy. The long black frock was quite simple, but it really complemented Khloe's ombre tresses. Suffice it to say that she looked exceptionally perfect for the occasion, and made it even more so when she capped off the dress with a pair of lace-up sandals that were very familiar. Check out Khloe's heels and tell me if you can ID them: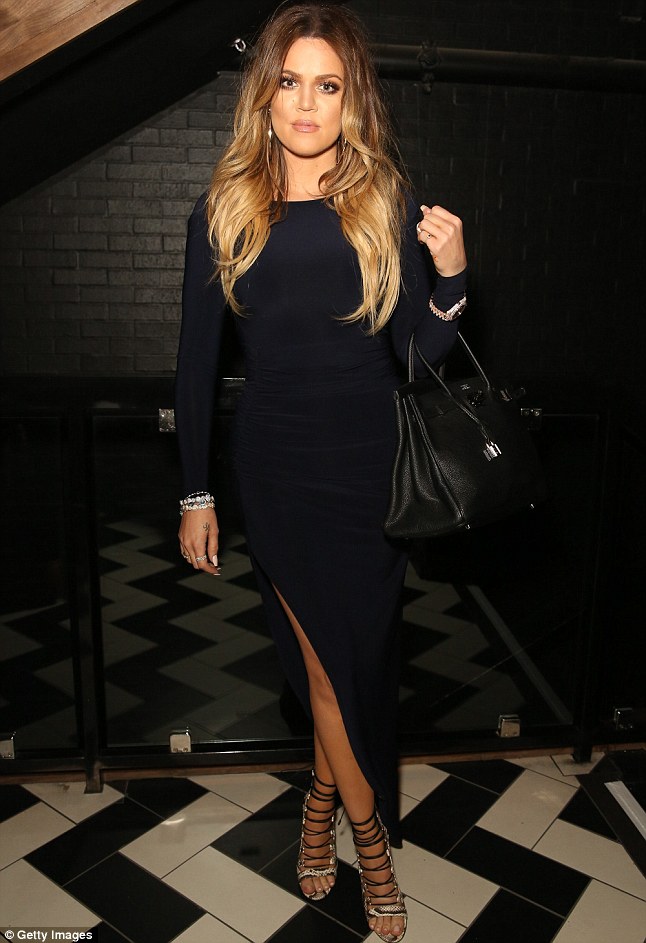 Khloe Kardashian looks stunning in a figure hugging dress and lace-up sandals as she attends a party in Hollywood, April 4, 2014
Do Khloe's sandals look very familiar?
That's probably because we spotted the same pair on her sister, Kylie, a few weeks ago. They're the Aquazzura Amazon Lace-Up Sandals. While it's common for sisters to share clothes and shoes, I highly doubt Khloe borrowed these shoes from Kylie. I'm pretty sure her shoe size is bigger than all of her sisters' sizes so the sandals must be her very own set.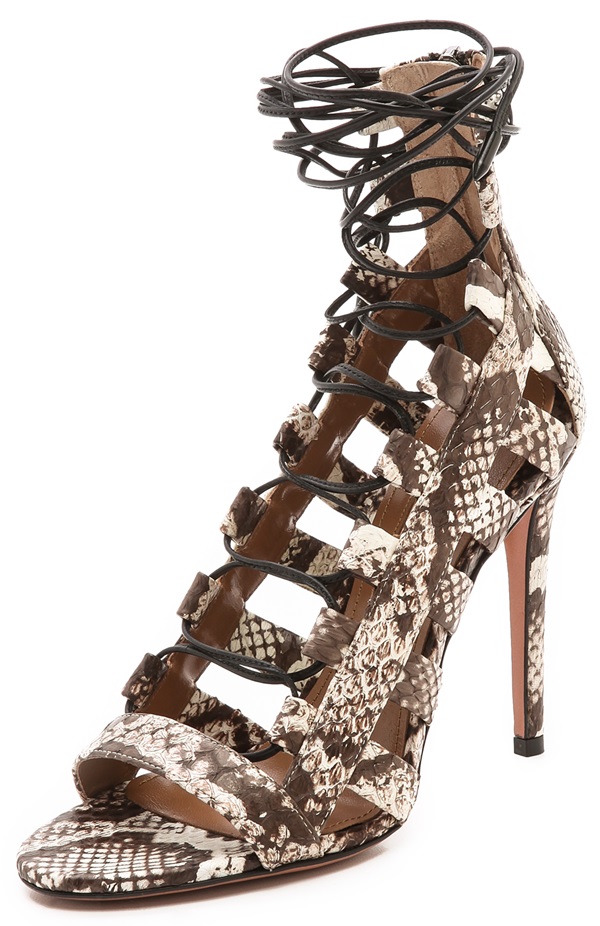 Aquazzura Amazon Lace Up Sandals, $795
The Amazon from Aquazzura feature snakeskin leather straps and very distinct lace-up closures that wrap around the ankles. They stand at 4 inches tall, and are actually quite pricey at $795 a pair. While the amount isn't exorbitant, I would say it still falls under the high end of the spectrum. If you're on a budget and you're willing to compromise, you can actually try other lace-up sandals from more accessible labels. Here's one option to consider from GUESS:
GUESS Legari Lace Up Sandals, $110
And if you don't fancy the "Legari" from GUESS, you can go with this pair from Obsession Rules. The "Lily" sandals feature very comfortable 3-inch tall heels and genuine leather uppers stamped with snakeskin pattern. They actually look very similar to Khloe's Aquazzura sandals, only a lot cheaper at $95.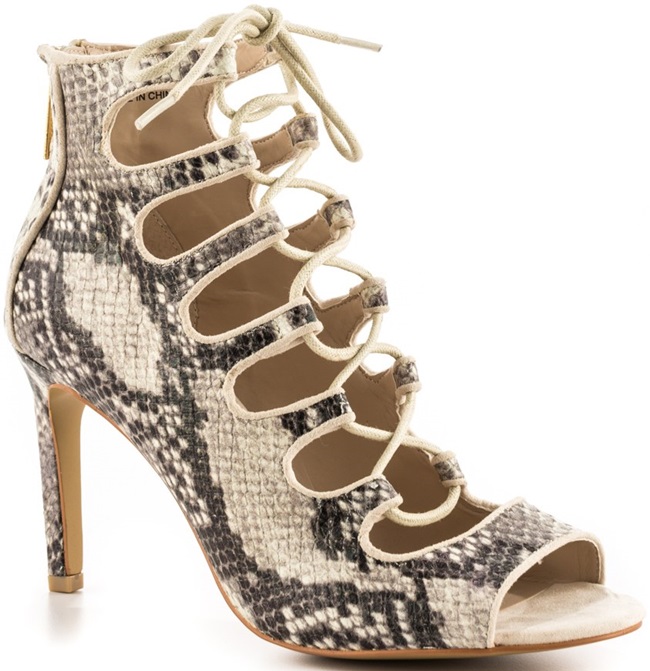 Obsession Rules Lily Sandals, $95
Note that a lot of mass-market labels are coming out with lace-up sandals for spring, so your choices are practically limitless. Check out Zappos and Nordstrom for more styles.