Do you travel in heels?
If you're a heel-lover, I guess that's normal. But I'd like to call myself a shoe-lover than a heel-lover, simply because I like all kinds of shoes, and I prefer to wear comfy flats, boots, or sneakers whenever I travel. I'm more practical when it comes to things like that. Of course, this is personal preference. I am actually constantly amazed by people who dare to wear heels when they go on plane rides. I don't know how they manage it.
Khloe Kardashian is one such person. The reality TV star was spotted wearing a new pair of striking stilettos while arriving at LAX with her family the other day. It was hard not to notice the shoes because they were very festive and colorful, and they really brightened up her simple (and colorless) jeans-and sweater outfit.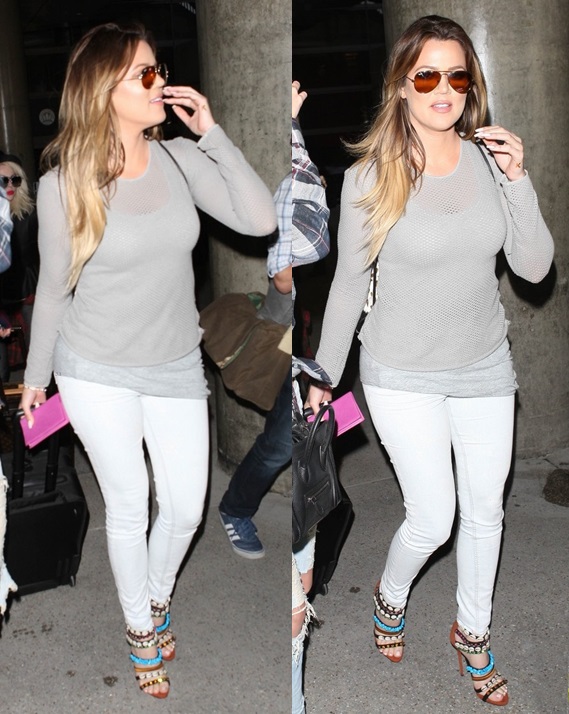 Khloe Kardashian arrives at LAX with her family on April 2, 2014  
What do you think of Khloe's sandals?
While some may view the shoes as over the top, I think they look fantastic. They're what you call statement footwear, and they work best with very classic ensembles like what she's wearing in the pictures.
Khloe's sandals are these highly decorated Giuseppe Zanotti strappies. These shoes feature suede paneling on the back and embellishments made up of crystals, stones, and shells on the straps. They're very exotic and tropical. Can you appreciate?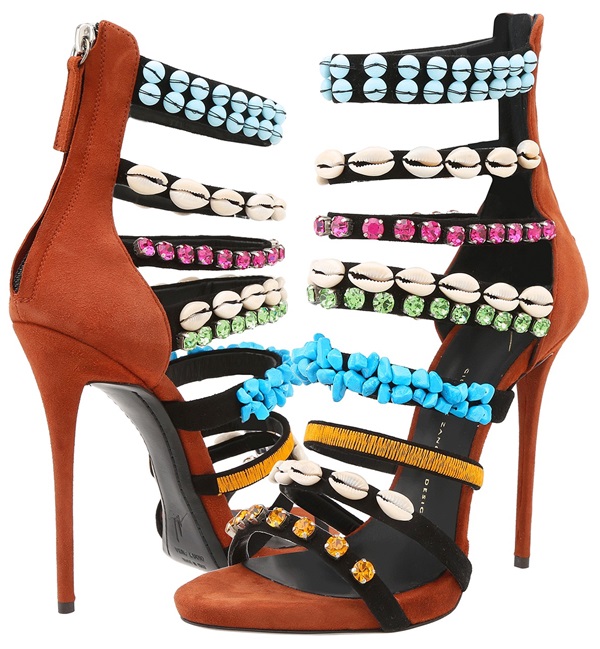 Giuseppe Zanotti Tropical Embellished Sandals, $1995
I'm actually quite amazed at how Khloe was able to pull her luggage and still look poised while walking in the pair, because the heels on these shoes are quite steep — a good 5 inches tall. The platforms are only 0.5 inches thick so they are somewhat negligible.
In any case, if you fancy Khloe's Giuseppe Zanotti sandals and you dare spend away $2000 on a pair of shoes, then simply click the buy button below and splurge away.