Looks like Kendall has officially made a name for herself. She has been modeling for some time now, but her gig during New York Fashion Week cemented her as a legit model in the biz.
In case you've been living under a rock, Kendall walked the runway of Marc Jacobs' fall 2014 presentation recently. Why is it a big deal? Well, because all she wore for the show was a see-through v-neck sweater paired with paneled trousers and quilted boots. Yeah, Kendall showed her boobies!
I know. So what, right? But here's the thing. How often do you come across a reality TV star who models for a big-time designer half-naked during Fashion Week? Correct me if I'm wrong, but I think it's never happened before. That's pretty much the reason why it's newsworthy. In case you missed the show, you can check it out on YouTube. Also, here's a snapshot from Style.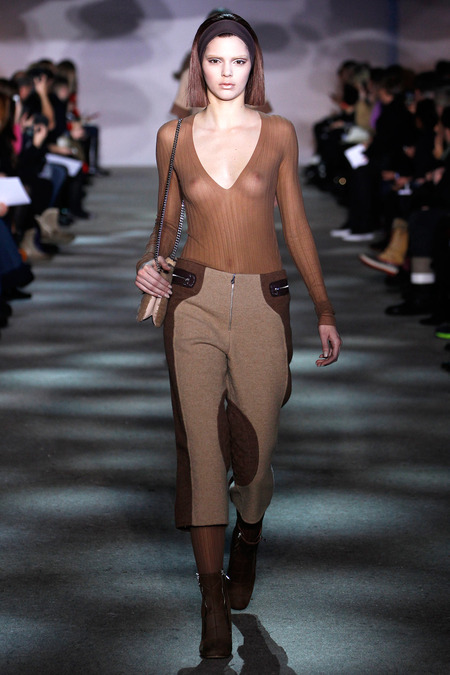 Kendall Jenner bares her nipples on the Marc Jacobs runway during New York Fashion Week, February 13, 2014
She's hardly recognizable. In fact, she looks like the real-deal. Not just some famous chick who got the gig because her sister is always on TV or because her mom has connections. I'm honestly happy for Kendall, and I really want to see her star fly.
On a much more, er, conservative note, I thought I'd share with you this look from the brunette beauty. She's currently attending London Fashion Week not just to model, but to watch some of the shows as well. One of the collections she previewed (as a guest) was the one from Topshop Unique.
For the occasion, Kendall wore a really dark, sexy, and edgy all-black outfit. She slipped into leather skinnies, pointy leather boots, and a black leather-sleeved coat. Everything was well appointed, and I must say, I was mighty impressed by what she put together: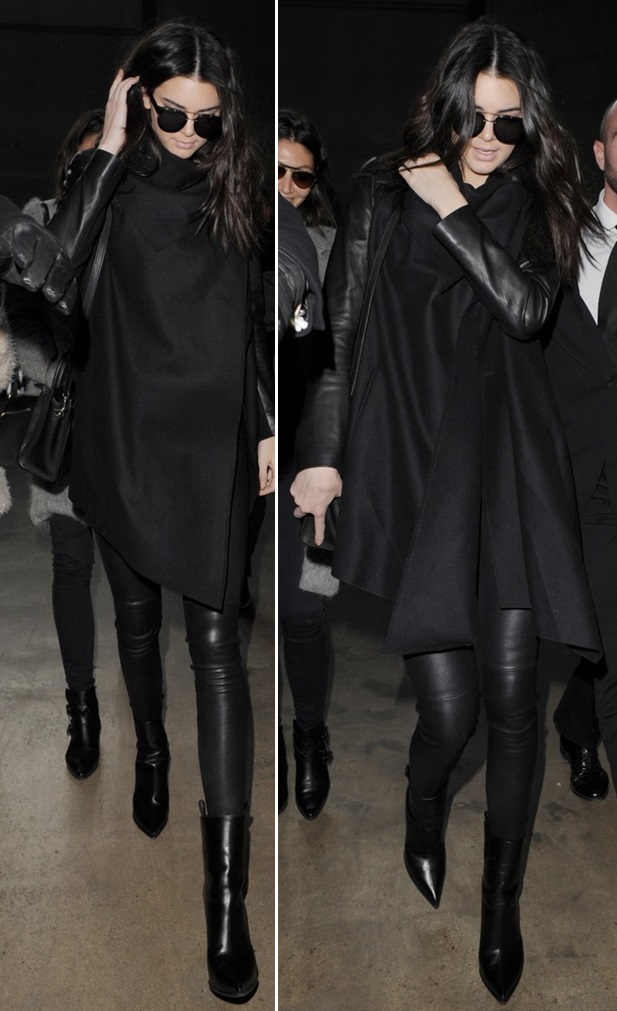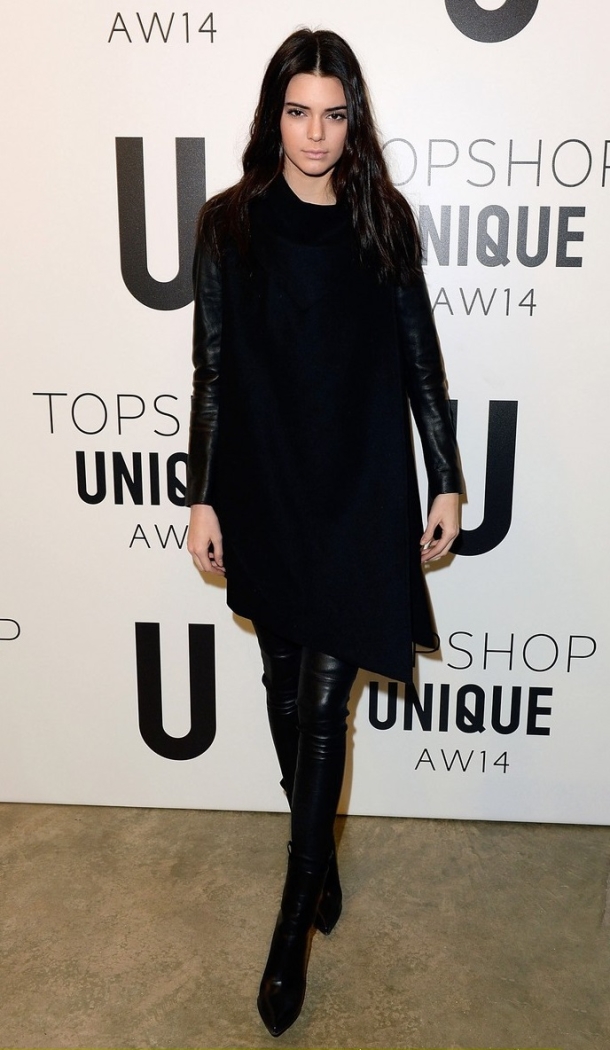 Kendall Jenner heads to the Topshop Unique presentation during London Fashion Week, February 16, 2014
Ok, I admit, she looked a little too pale for the occasion, but I think that was because she was in black. Besides, the paleness of her skin actually complemented her somewhat "gothic" ensemble. I know her coat is from AllSaints and the leather skinnies are from Balanciaga. The boots, on the other hand, I had to look up. Turns out, they're from Celine. Here's a close up shot of the pair in green: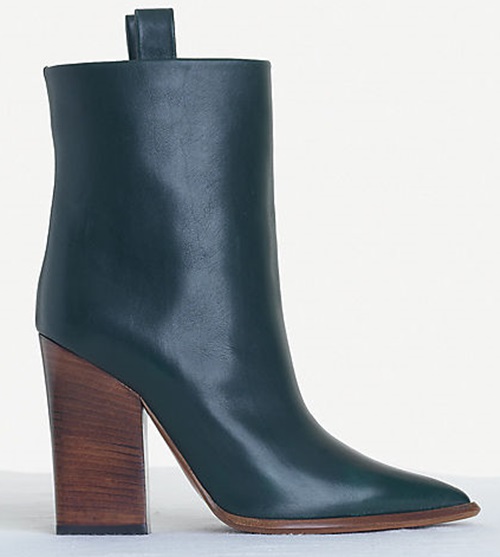 Celine Angular Chunky Ankle Boots 
Lovely. Simply lovely. Would you agree?
They're a lot like your ordinary ankle boots, except they feature chunky stacked heels and really sleek pointed toes. I'm sure they're ultra flattering on the legs too. I have no idea how much they cost at the moment, but I have no doubt they're very pricey. If you want them, then check out the Celine store in your city.
Personally, I think these boots from Madison Harding would be great substitutes. They have stacked wedge heels and they're also crafted from genuine leather. The toes are also just as pointed, and the silhouette just as sophisticated. The best part is, of course, the price. A pair of these Madison Harding boots will only set you back $240: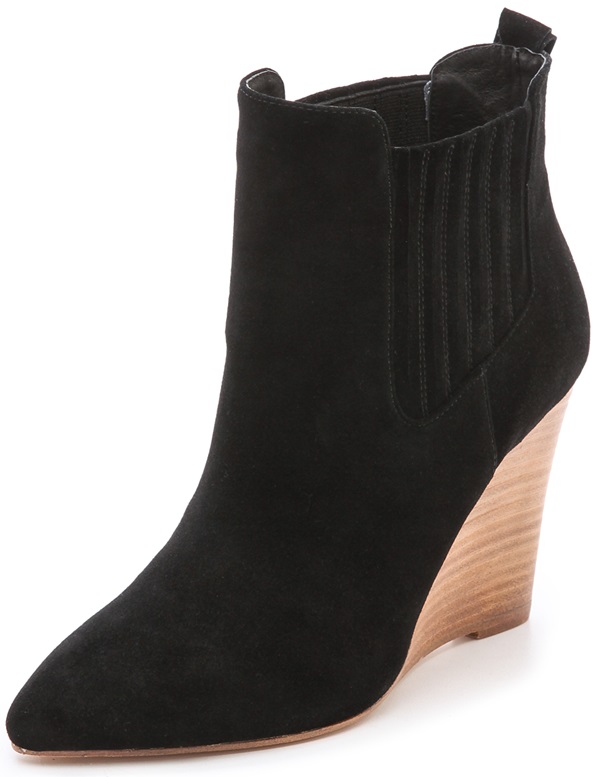 Madison Harding Nero Chelsea Ankle Booties, $240