Just Jared and Revolve Clothing hosted a celebrity-packed dinner held at the Revolve Beach House in Malibu, California over the weekend. Familiar faces like Jaime King, Jesse Metcalfe, Alice Eve, Jamie Chung, and Jessica Szohr were in attendance, but it was American Idol alum, Katharine McPhee, who caught my eye.
The singer and Scorpion actress graced the occasion in a short white tuxedo dress that she paired with a bright blue clutch and some ankle strap sandals. Her shoes were unlike anything I've ever seen before. They were detailed with thin ankle ties and tassels at the (ankle) straps. Check out Katharine's heels below, then tell me if you can ID them: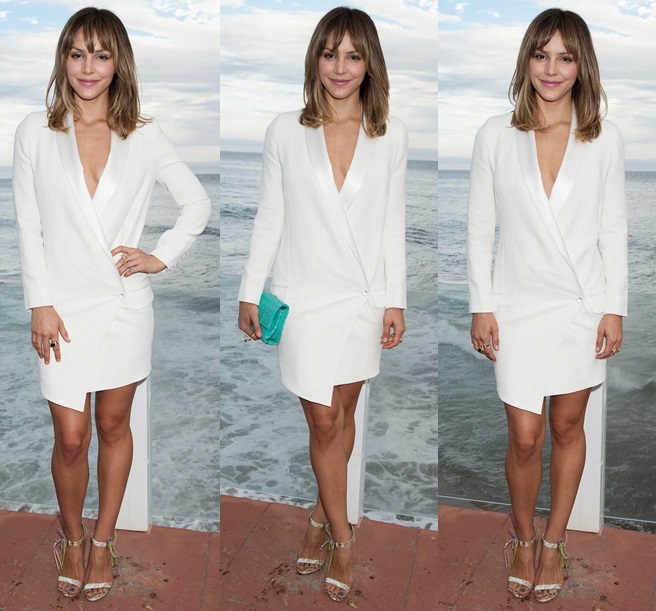 Katharine McPhee attends the Just Jared x Revolve Clothing Dinner at the Revolve Beach House in Malibu, California, July 19, 2014
Any idea where Katharine scored her strappy sandals?
I like how simple and elegant she looks here. I also love her new hairstyle. More than that, however, is that I find her strappy heels quite intriguing. According to Jared, Katharine's sandals are from Alejandra G., an L.A.-based designer who also happens to be a musician and former Telemundo personality. If you go to the Alejandra G. website, you'll notice that most of the pieces in the collection come in rich colors and feature flamboyant details.
Sadly, I could not find Katharine's sandals on the site so I'm guessing it's from a previous collection. I did manage to unearth a similar style done in two different color treatments, along with other offerings from the Alejandra G. line. Check out the heels below: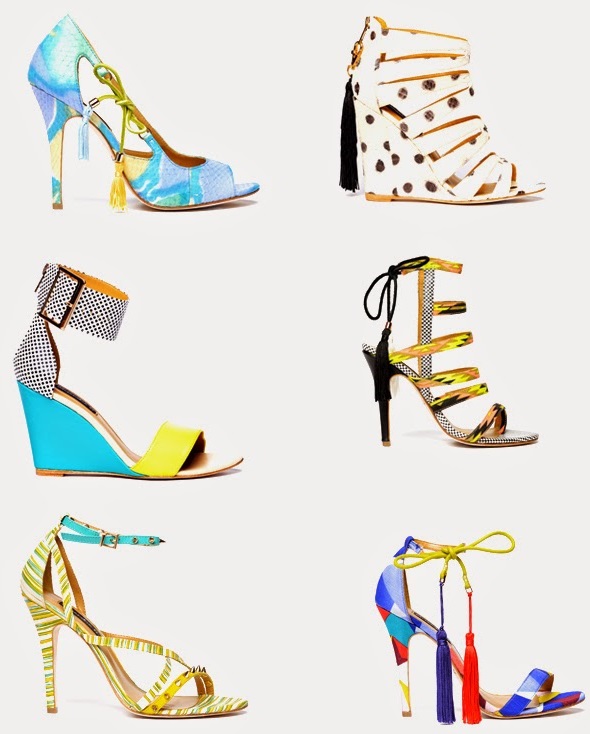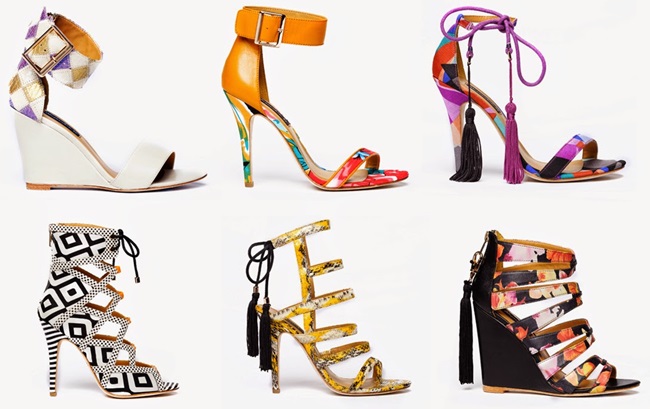 Alejandra G. High Heels
Do you fancy them?
Alejandra G. shoes retail between $200 to $350. In fact, a more subdued pair detailed with tassels can be found over at Shopbop at the moment. That is, if you're interested.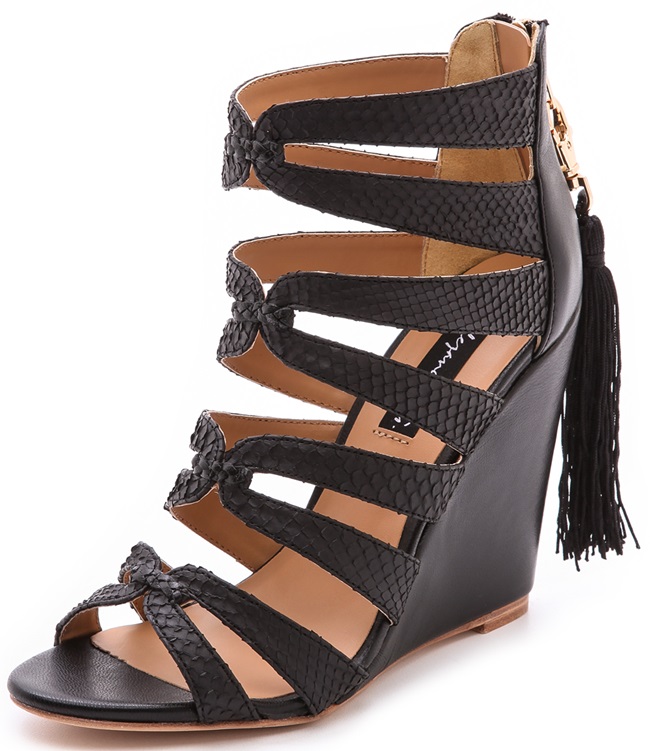 Alejandra G. Racquel Strappy Wedge Sandals, $261
For those who want Katharine's sexy ankle strap sandals complete with tassel details, you may consider the more expensive and elaborate Sophia Webster Solange sandals instead. I'm not sure if you should call these heels "substitutes" because they are far more fantastic — even better than Katharine's Alegandra G. sandals.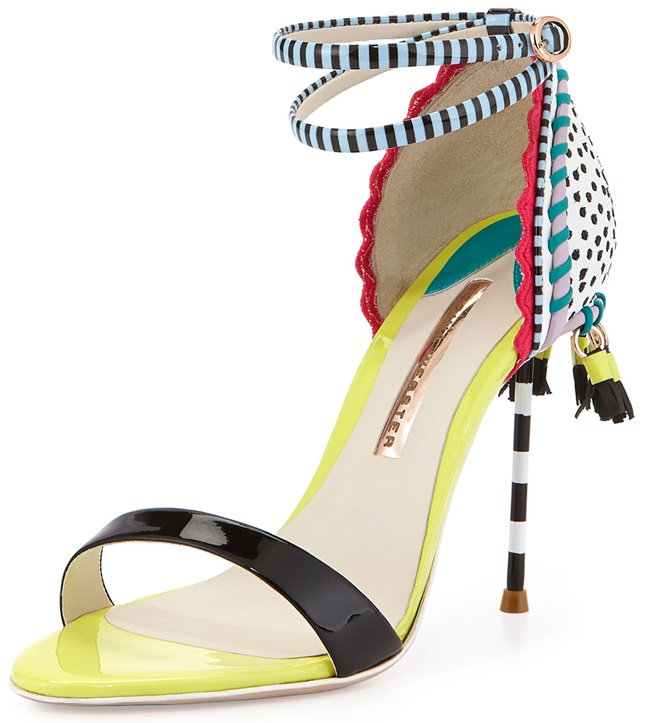 Sophia Webster Solange Tassel Fringe Sandals, $595
By the way, for those of you interested, here's Katharine's tuxedo dress. It's an Haute Hippie creation that features a plunging neckline, an asymmetric hemline, and an expensive price tag of $595.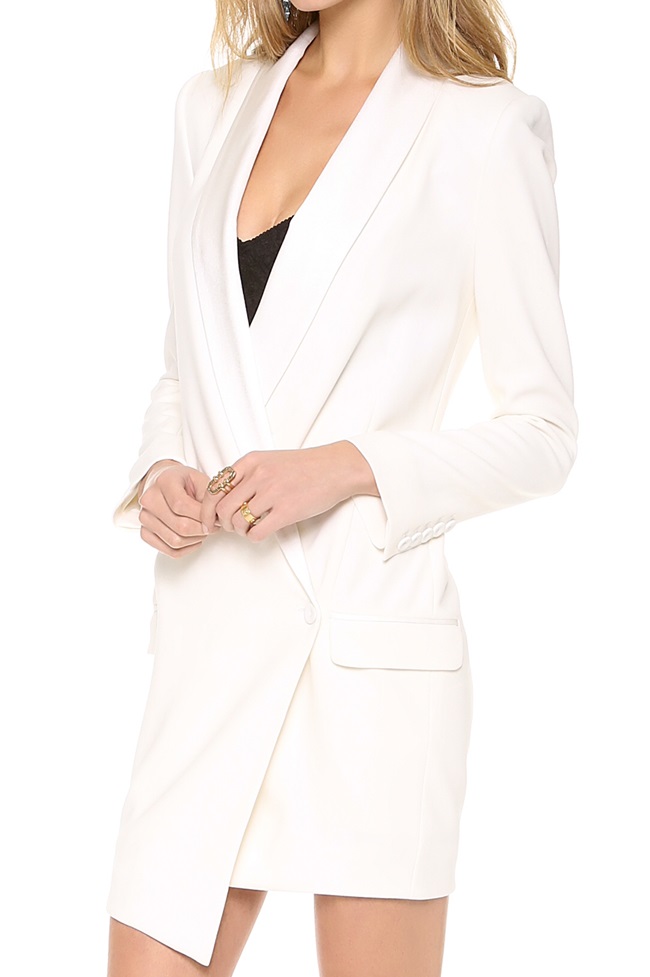 Haute Hippie Oversized Blazer Dress, $595