I hear Kate Upton said she wish she had smaller boobs. Or did she really say that? You know, considering all the rumors that go on in Hollywood, I honestly can't say if it's true. After all, she wouldn't go parading her body on Sports Illustrated if she weren't proud of her assets, right?
Speaking of Kate, the buxom beauty, along with her The Other Woman co-stars, Cameron and Leslie, appeared on Good Morning America recently. Both Kate and Cam wore pants for the occasion while Lesie kept it feminine in a white lace frock and strappy heels. Between Kate and Cameron, however, it was Kate's lovely sandals that really stood out. Cameron's nude pointy pumps were just too classic to garner attention.
Kate's sandals had really interesting details on them. They weren't just your typical pair because the criss cross straps on the shoes were cut in such an intricate manner. She used the heels to finish an outfit that consisted of black leather skinnies and a white blazer. I'm a sucker for black and white so her whole ensemble really called out to me.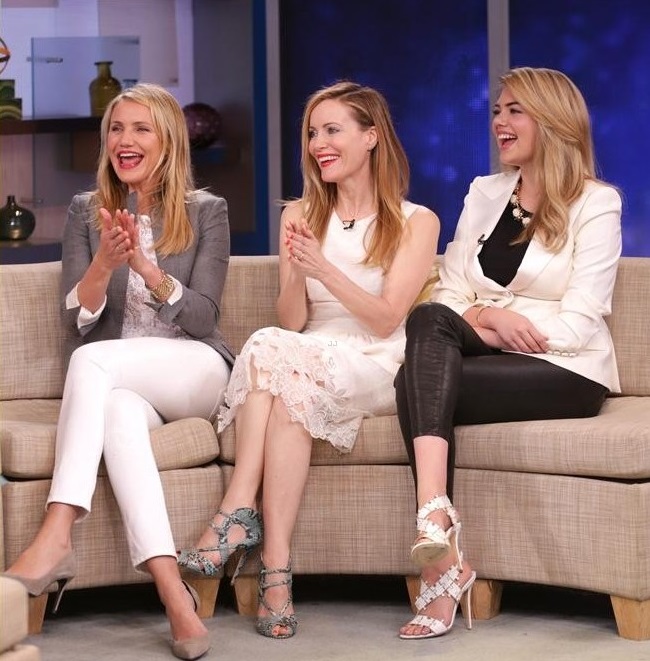 Cameron Diaz, Leslie Mann, and Kate Upton appear on "Good Morning America", April 23, 2014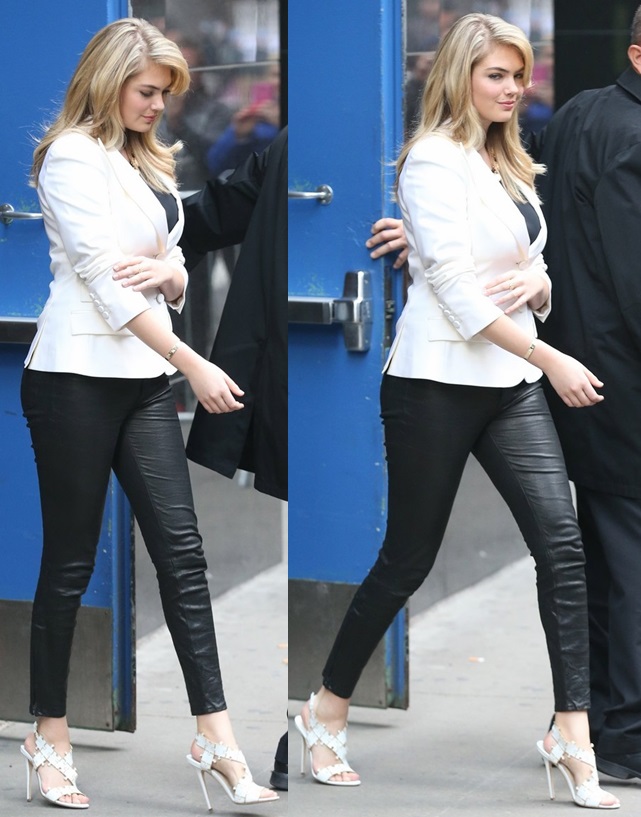 Kate Upton exits the "Good Morning America" studio in New York City on April, 23, 2014
Whose outfit do you like best, Kate's, Leslie's, or Cameron's?
While Leslie looks fabulous, it's hard to compare her with the two because she's in a fancy dress. It's like she's on a whole different plane. But just in case you're wondering, Leslie's dress is from Oscar de la Renta, while her shoes are from Monique Lhuillier.
Kate's attire — which is made up of J Brand pants, Dolce & Gabbana blazer, Sandro top, and Jennifer Meyer necklace — is simple, but I like how she paired it with those unique sandals. I looked them up and found out they're from Brian Atwood. They're called the "Sommer Puzzle" sandals and they are even more gorgeous up close: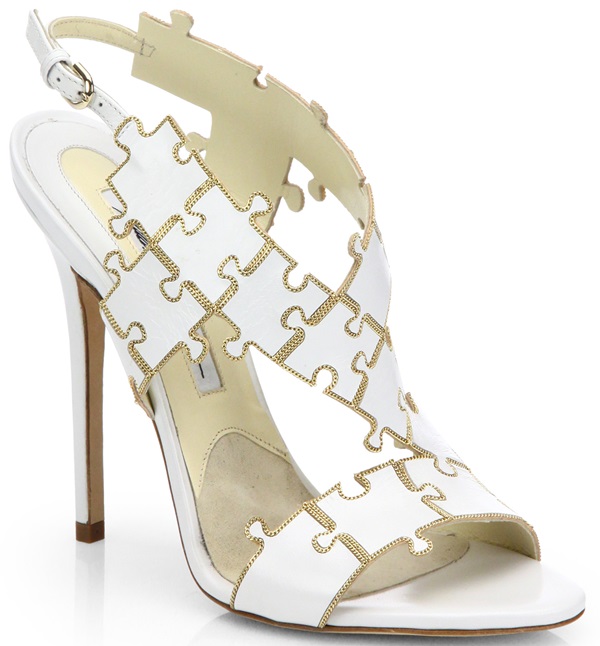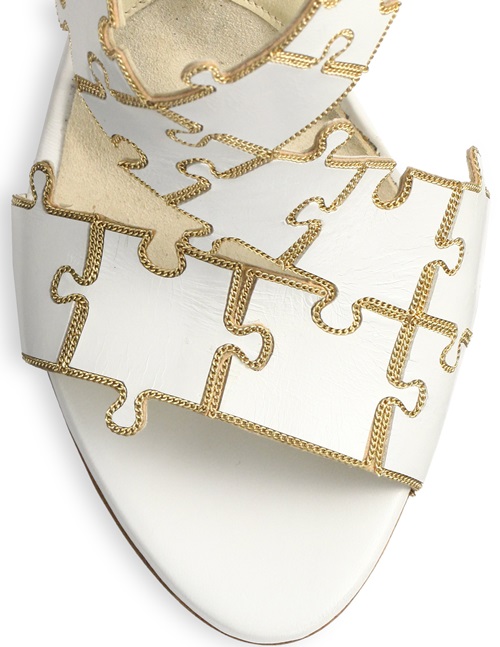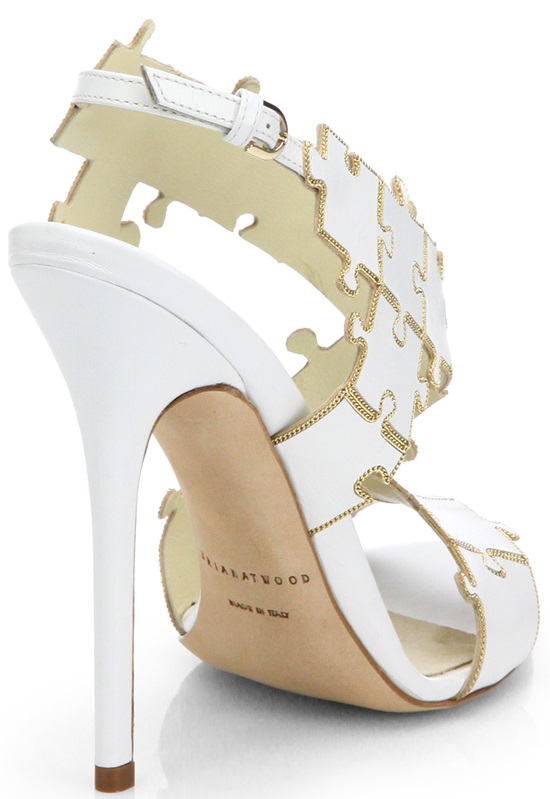 Brian Atwood Sommer Puzzle Leather Sandals, $1795
Wow, right?
The Sommer feature criss-cross straps at the vamp and a slingback design for easy of use. What's very distinct about these shoes is that the straps are shaped like puzzles framed with delicate gold chain embellishments. These sandals are literally one of a kind. They are also immensely tall because the heels are a good 5 inches (with no platforms). If you fancy them, you can grab a pair in your size over at SAKS. They retail at a hefty $1795
Too pricey? Here are cheaper alternatives (though, still expensive) from Rupert Sanderson that may do the trick. These sandals don't come with puzzle straps, but they're cut in a scalloped manner so you get the same intricate effect. And like I said, these are still expensive at $745, but at least you'll be able to save $1000. In my vocabulary, that's pretty significant: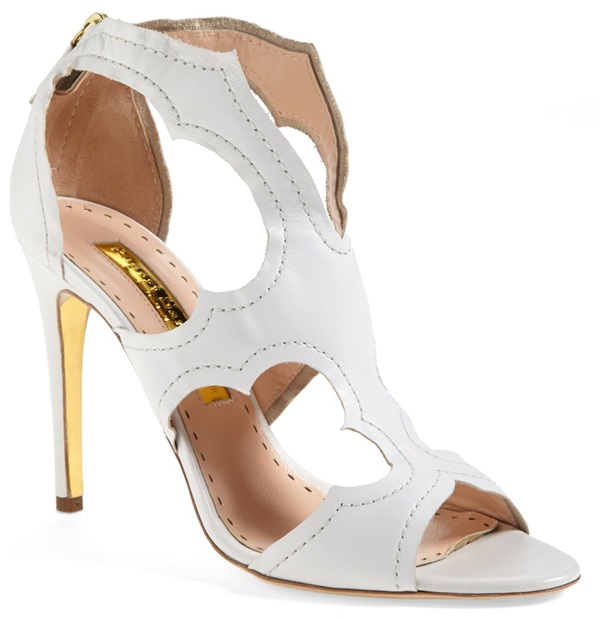 Rupert Sanderson Estelle Sandals, $745
So will you give the Estelle a go?  By the way, you can watch the video below if you didn't catch their appearance when it aired.