Have you met Prince George? 
I'm talking about the royal offspring of Prince William and Catherine, the Duchess of Cambridge. The press just released some official photos of the little tot this week, and I must say, he is completely adorbs. I think he's going to be a heartbreaker when he grows up because he has acquired his parents' good looks. Check out this photo and fall in love with the tiny prince: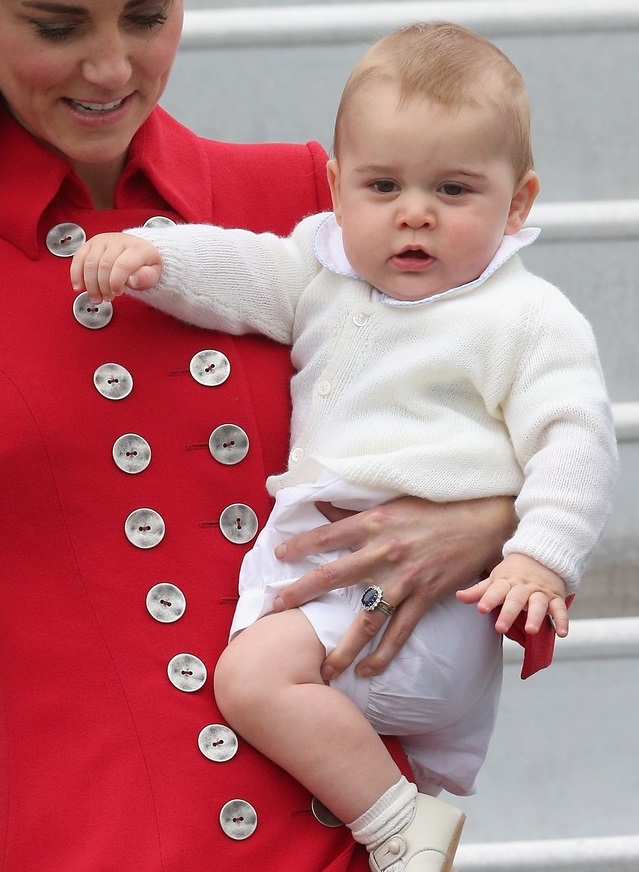 An official photo of Prince George and his mother, Catherine, the Duchess of Cambridge arriving in New Zealand, April 7, 2014
Awwww. He's so so cute!
Of course, I'm really not just going to talk about little George today. You see, I couldn't help but notice that mommy Kate was dressed in high heels while she carried her little one off the plane. It may not be that big of a deal to most of you, but I think any mom who can run around with her baby while decked in stilettos deserve some applause. Would you agree?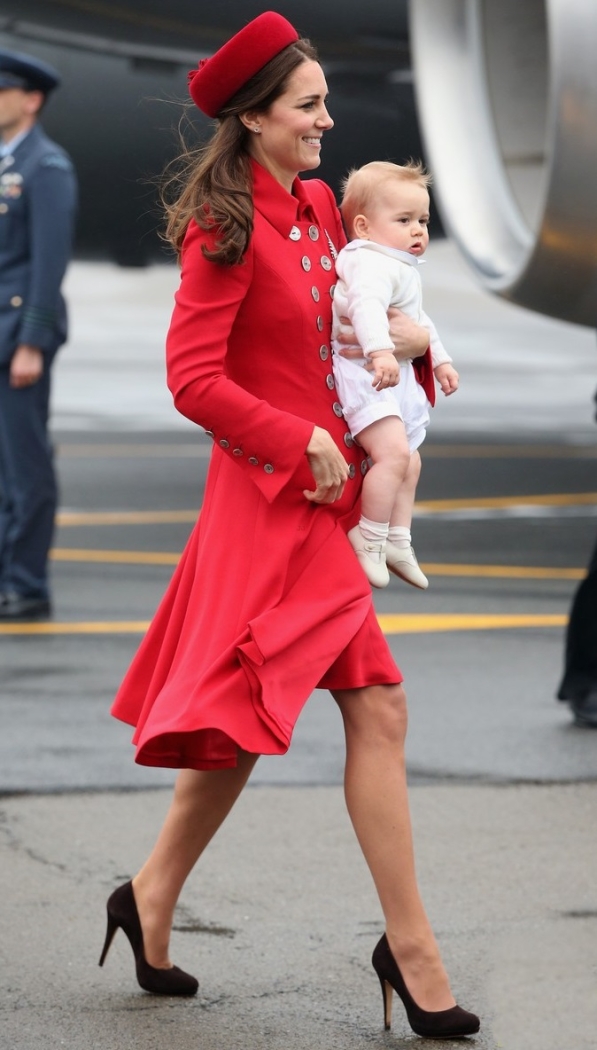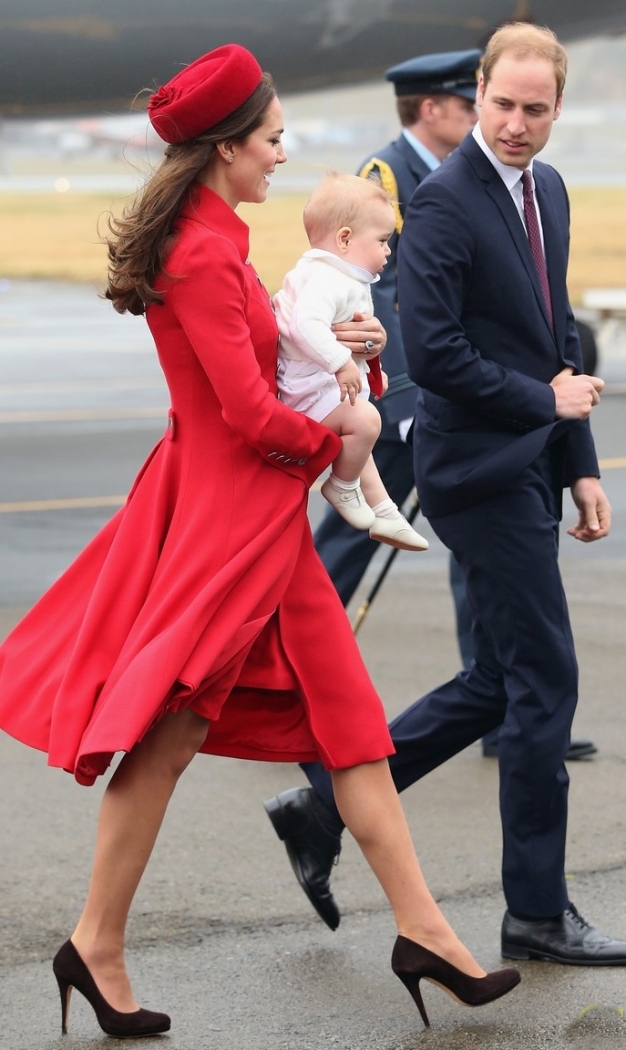 Kate Middleton carries Prince George while decked in a pair of high heeled pumps, April 7, 2014
We all know how painful walking in high heels can be, so just imagine the kind of effort it will take to still look poised when you carry a baby while in heels. Celebrities like Victoria Beckham, Kourtney Kardashian, and Rachel Zoe make it seem so easy, but I'm willing to bet they exerted a drop of sweat or two to be able to pull it off.
I did my research in an effort to ID Kate's black pumps but had no luck. She has worn several black suede shoes similar to this one in the past — a couple from Jimmy Choo, as well as from a British label called Emmy that specializes in bespoke footwear. However, if my hunch is correct, I think her pumps are from L.K. Bennett. Check out the "Sledge" below.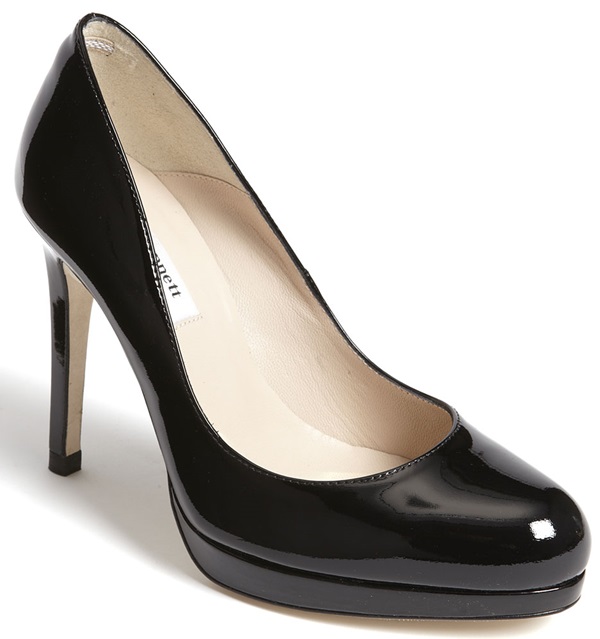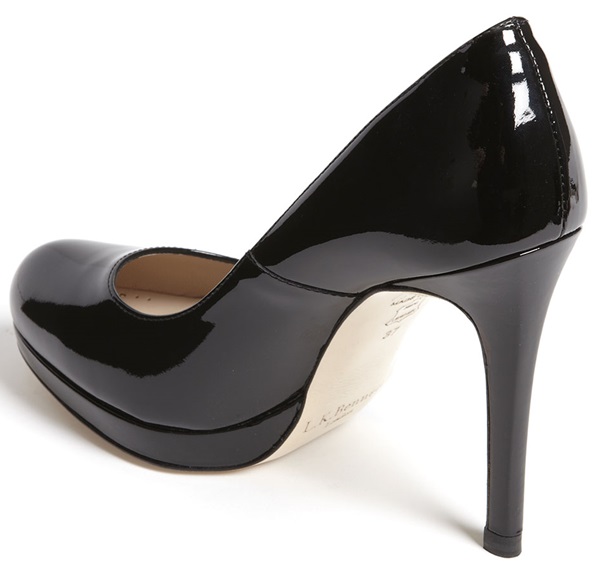 L.K. Bennett Sledge Pumps in Black Patent, $345
These patent heels have a silhouette that is very similar to Kate's pumps. They also feature slim 4 inch tall stilettos and half-an-inch-thick platforms. There is a nude version of these shoes that she has worn in the past, that is why I'm willing to bet the black ones on Kate are of the same style. I say it's a dead ringer save for the material. What do you think?