Jessica Simpson has come a long way from looking on the heavy side. The mom-of-two has definitely stepped up and lost all the baby weight plus more. Now, her body is toned and well-formed. In fact, the fashion entrepreneur was spotted flaunting her super toned gams at LAX early this week. She arrived from a flight looking as glam as can be in short shorts, a cozy black slouchy sweater, and some sky-high platform sandals.
Again, I don't know how these celebrities manage traveling in towering heels, but they seem to do it with ease. Jessica finished her ensemble with oversized peepers and a crossbody purse from Givenchy.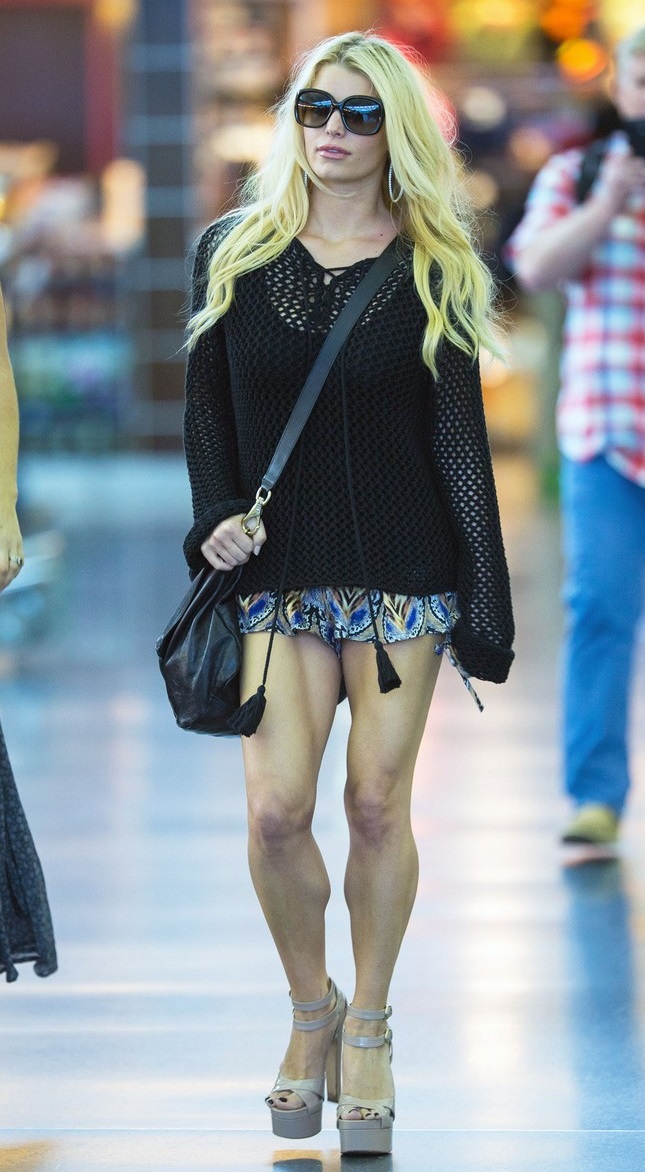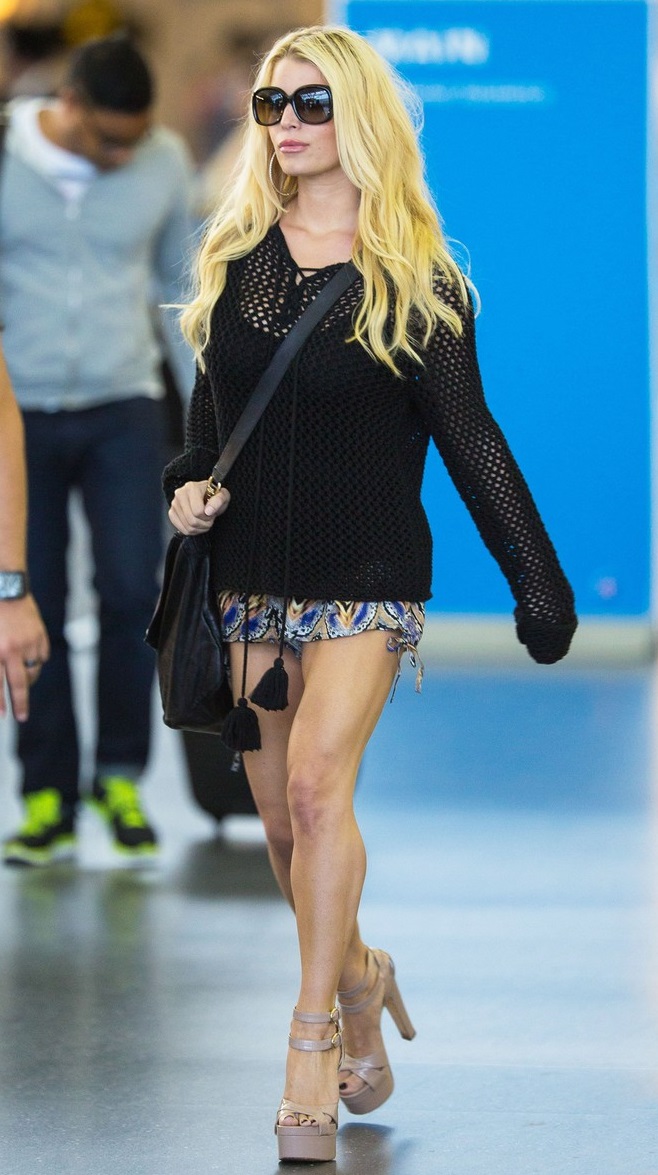 Jessica Simpson arrives at LAX in a super short outfit that showcases her legs, on June 10, 2014
Yep. She looks good, alright.
Kudos to her for working hard to lose all the weight and keep healthy. And again, kudos to her for traveling in sky-high heels. I mean, check out those shoes. They're insanely high. They're quite pretty too. Would you agree?
For those curious, Jessica's sandals are from Brian Atwood. They're from a previous collection and are already sold out everywhere. Here's a closer look: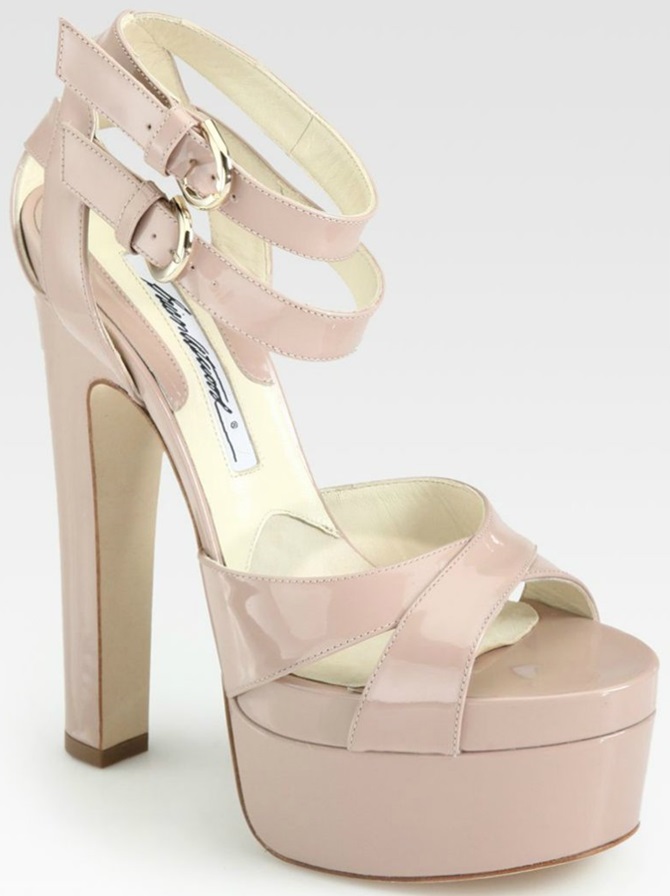 Brian Atwood Lattice Patent Platform Sandals, sold out
Do you fancy them?
The sandals feature 6-inch-tall heels and 2-inch-thick platforms. I'm not into thick chunky shoes, but strangely, these sandals don't look that bad. However, I don't think I can bring myself to walk in a pair. What about you?
If you're fond of chunky sandals, here's a pair from Chinese Laundry that may work as an alternative if you fancy Jessica's airport sandals. These aren't as high, but I think the 5.25-inch-tall heels are more than enough to give you the lift. Besides, they retail at an easy $70, so grabbing a pair should be no problem.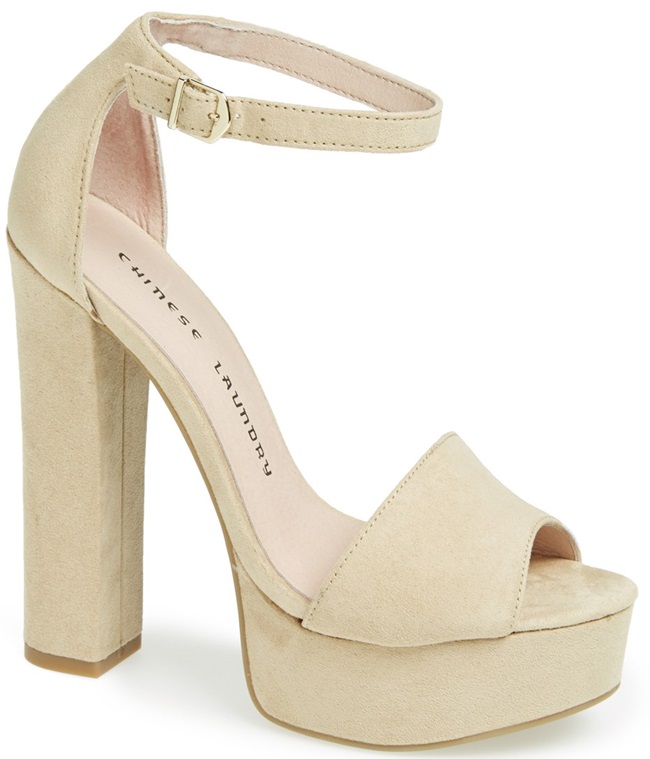 Chinese Laundry Avenue Platform Sandals, $70