The great thing about Jessica Alba is that she's actually very relatable. I'm not saying she's just like us. After all, she wouldn't be the Jessica Alba if she was. But you can actually relate to the actress. She's a hands-on mother who loves tagging her kids along when she runs errands. She takes family outings seriously; and she actually dresses like a normal person — not that she doesn't know how to step it up for red carpet occasions — because she does when the occasion calls for it.
The actress also has a big heart and lives for a cause — as evidenced by the company she founded, The Honest Company, which sells home products that are safe for children and the environment.
The other day, the hot momma was also spotted hosting a generous baby shower for over 30 expectant and new U.S. Navy families in San Diego, California. For the gig, Jess wore the flag's colors by sporting a navy cropped blazer over a striped romper with red bottoms. She complemented the outfit with red lip color, wavy locks, and a pair of platform sandals, also in the shade of navy.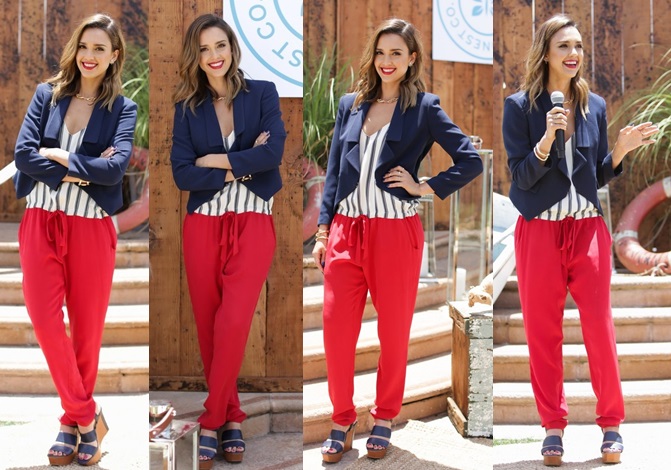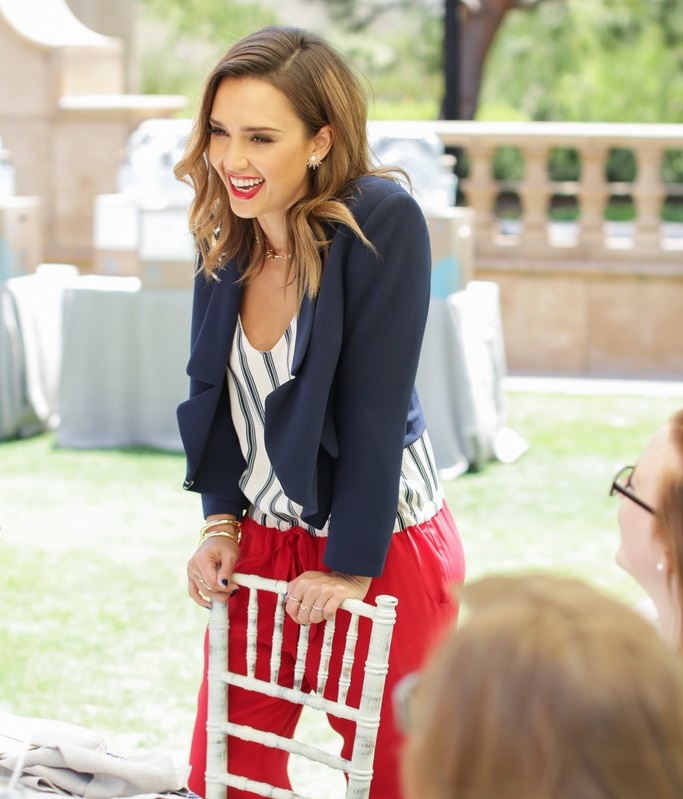 Jessica Alba hosts a generous baby shower for expectant and new mothers of U.S. Navy families in San Diego, California, on June 3, 2014
Doesn't she look fabulous in the outfit?
There's an unmistakable glow about her. Or it could just be the make-up. Whatever it is, I love the whole look she put on for the hosting event. It's easy, effortlessly chic, and elegant.
By the way, just so you know, on Jessica's feet are actually a pair of can-afford $55 sandals. Yep, the actress doesn't mind mixing high and low pieces. The wedges are from Vince Camuto. They're called the "Niskera" and they come in black, brown, and navy (as seen on the actress). The shoes feature wide leather straps at the vamps, 4.25-inch-tall wedge heels, and 1.5-inch-thick platforms. If you want the sandals, simply search for them online or click the button below.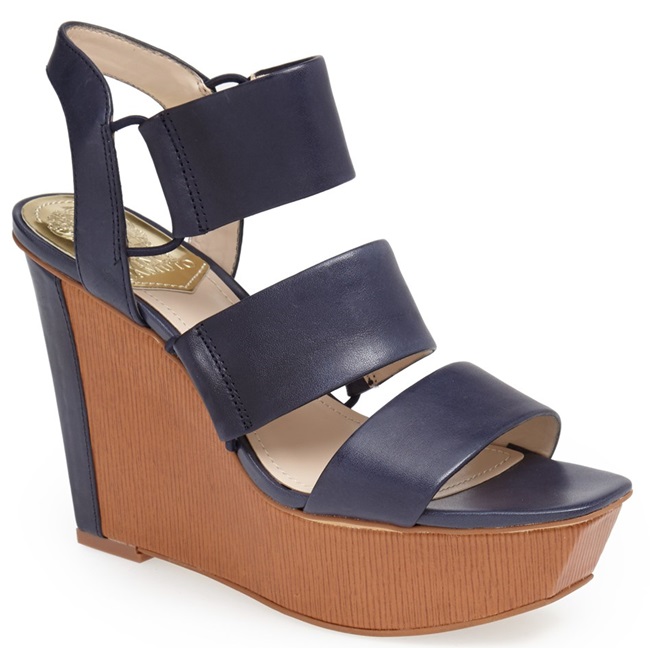 Vince Camuto Niskera Wedge Sandals, $55 ($110)