JLo's definition of chic and casual deserves two thumbs up. You see,  the American Idol judge was spotted looking absolutely fantastic in a pair of loose low-waist trousers and a white top while out and about in New York yesterday. Never mind that she frowned a little too much, because her outfit was the perfect example of smart-but-laid-back dressing infused with a touch of edgy glam thanks to the oversized leather bracelet and studded t-strap flats she wore with the mix.
I am a big fan of Valentino's Rockstud line, so I was immediately sold on Jennifer's whole getup the moment she stepped out of a coffee shop with a cold beverage in her hand.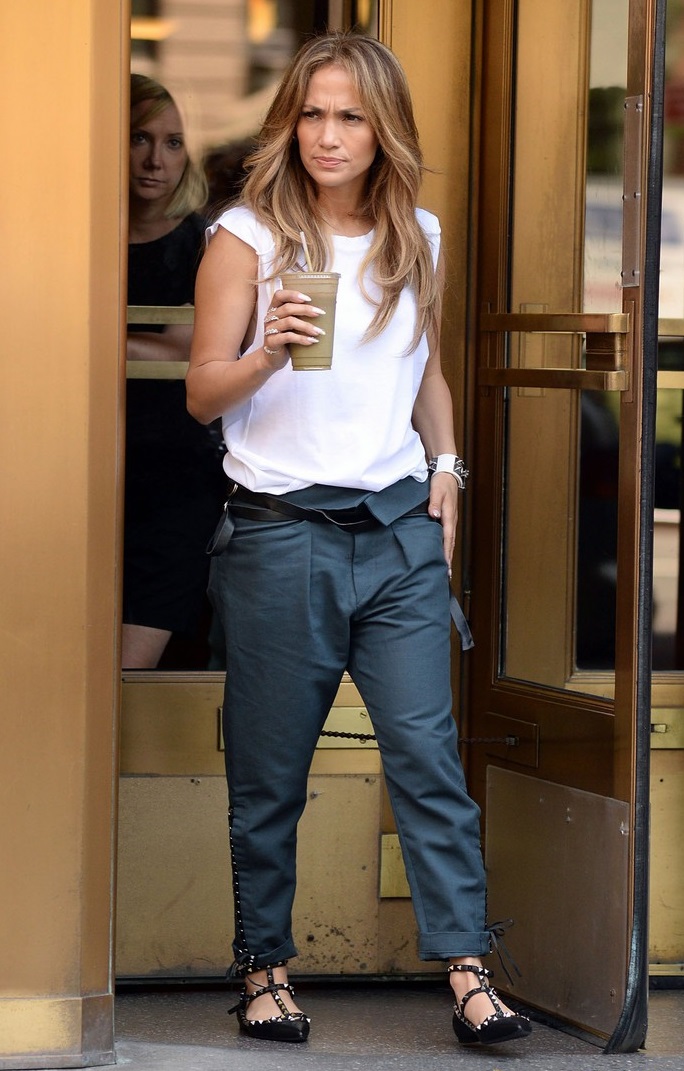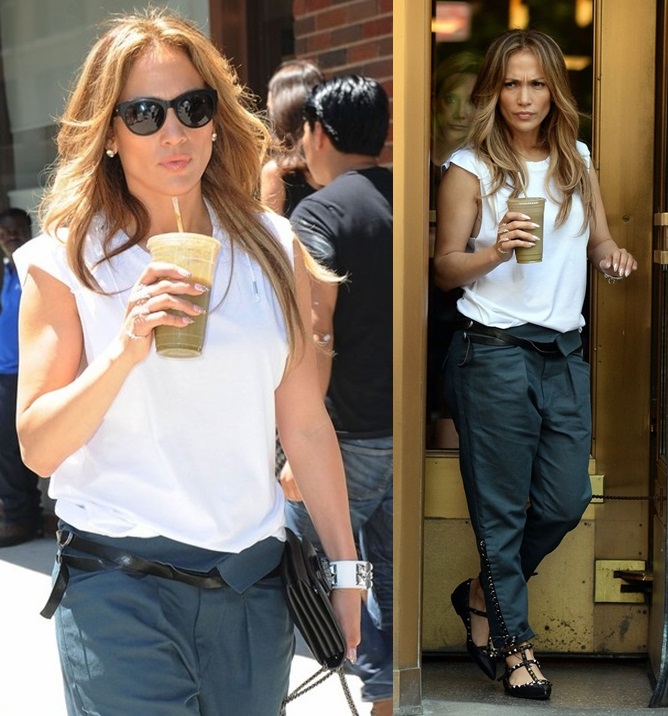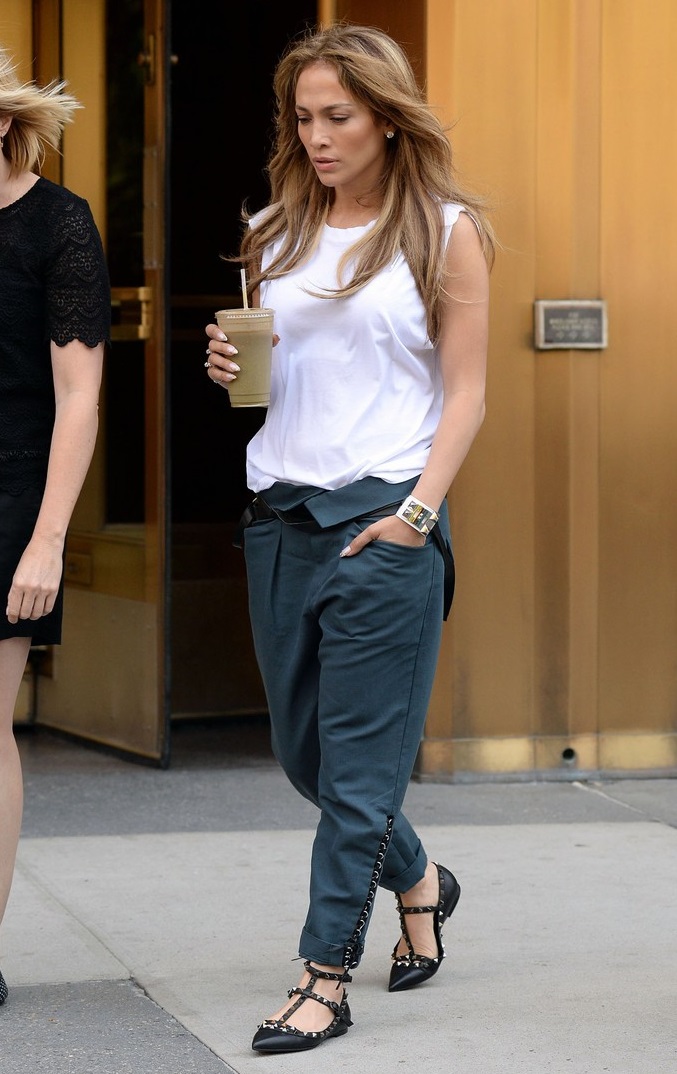 Jennifer Lopez grabs some cold beverage while out and about in New York City with her mother, on June 18, 2014
Do you like Jennifer's latest street style as much as I do?
I love her pants. They seem really unique. But I love the shoes even more. They're feminine, sweet, ladylike, but tough and rocker-chic-worthy too. I wish I could afford a pair, but the $995 price tag of those Valentino Rockstud flats is just a bit too much for me.
Jennifer's Valentino Rockstud flats feature double ankle straps, pointy toes, and decorative studs around the shoes, as well as all over the straps. Here's a closer look at the pair in black patent: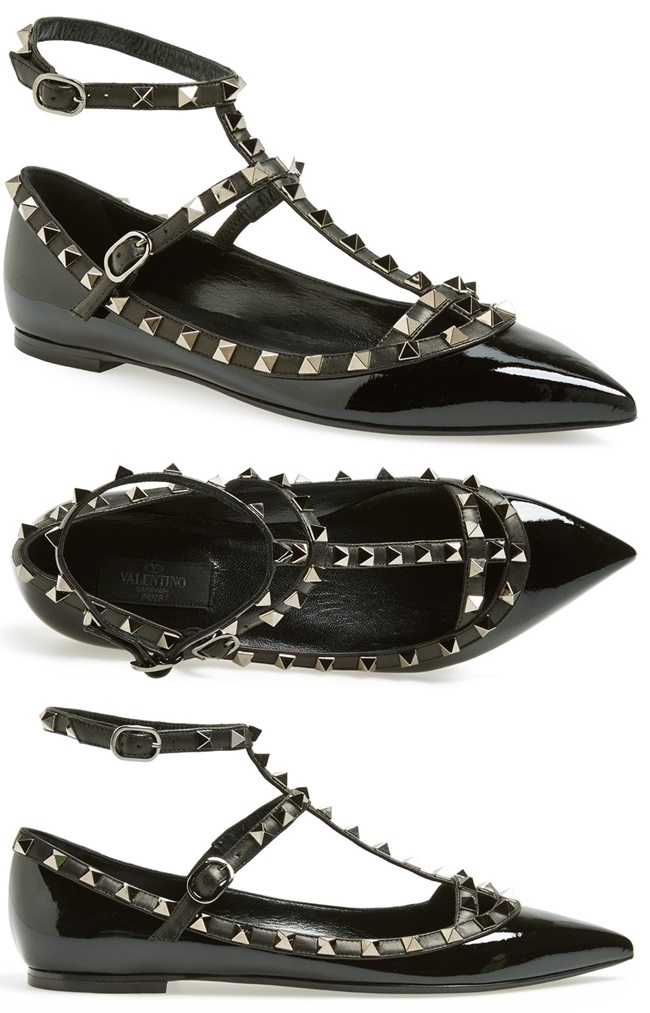 Valentino Rockstud Flats in Black Patent, $995
Want?
Feel free to order them in your size if you don't mind splurging almost $1000 on shoes. These Rockstud flats also come in other colors like red and white.
For those looking to grab the "look" minus the hefty price tag, why not do a little D.I.Y. instead? Purfhase these ALDO t-strap flats and some hotfix pyramid studs, then stick on the extras. Will you give this project a try?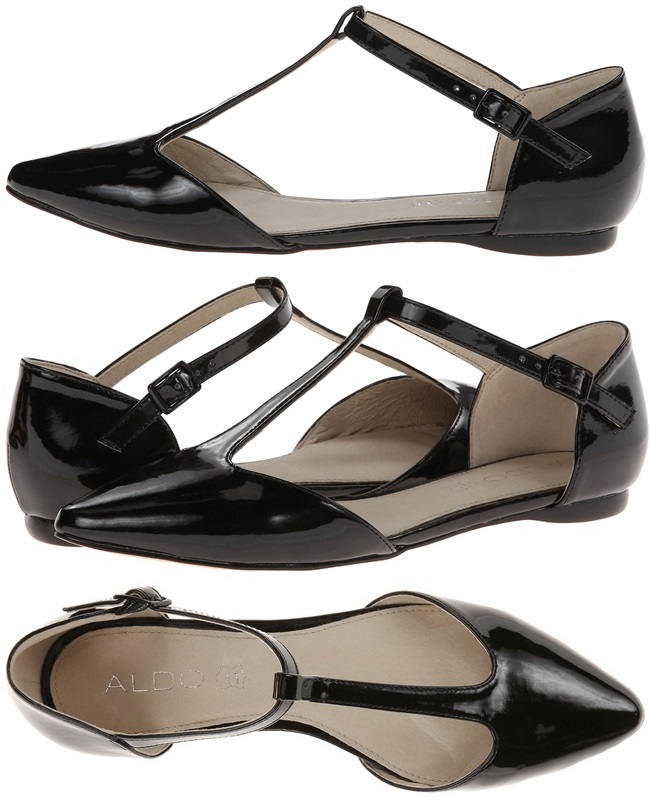 ALDO Lythgoe T-Strap Flats, $50