Did you watch the Oscar Awards last week? How did you like the dresses? Who was your favorite?
There were so many well-dressed women walking the red carpet last Sunday, but one lady stood out, and it wasn't because of her gown — Jennifer Lawrence. The actress tripped for the second time around. Whether or not she did it on purpose, I really don't know. But what I do know is she just made (Oscar) history for letting it happen to her twice in a row. Check out the video below to see the whole scene unfold:
Jennifer wore a red Dior strapless dress with a peplum detail for the occasion. Honestly, while I loved the color, I didn't like the frock so much because it didn't flatter her frame so well. And then there's the hair. I can't, for the life of me, understand why her stylist decided to fix her hair that way. She looked a bit granny-ish. Check out the photos below and tell me if you disagree: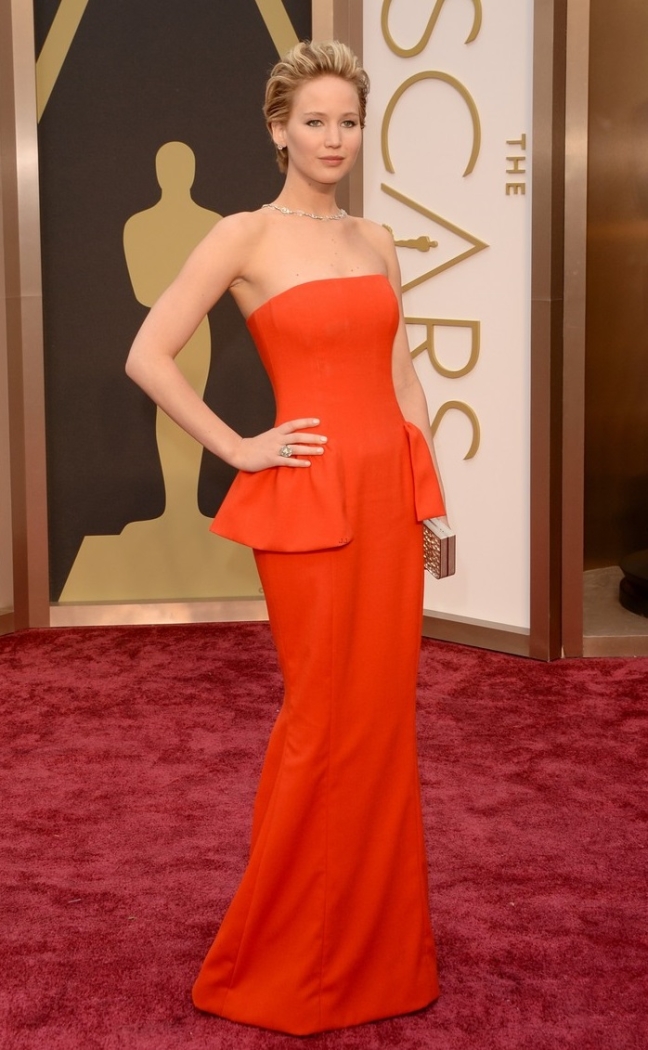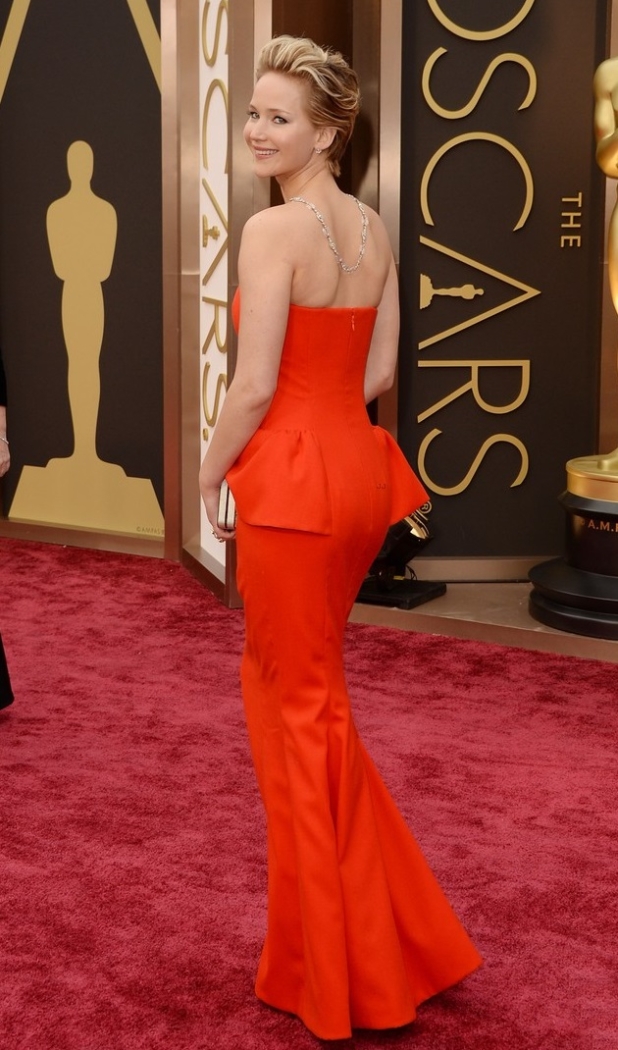 Jennifer Lawrence attends the 2014 Oscar Awards, on March 2, 2014
Well, any thoughts?
Thankfully, she looked so much better once she hit the Vanity Fair Oscar Party. Can you guess what she wore?
It was a Tom Ford dress from the designer's Spring 2014 collection. The piece was decorated with mirror shards (or what seemed like shards) and it featured sheer (and I mean see-through) panels at the sides and back.
Yeah. Jennifer went commando for the party and she looked stunning. She finished the dress with smoky-eye makeup and a pair of sexy ankle strap sandals, also from Tom Ford. The amazing thing was she made the very risqué dress look normal — like it was just another party frock.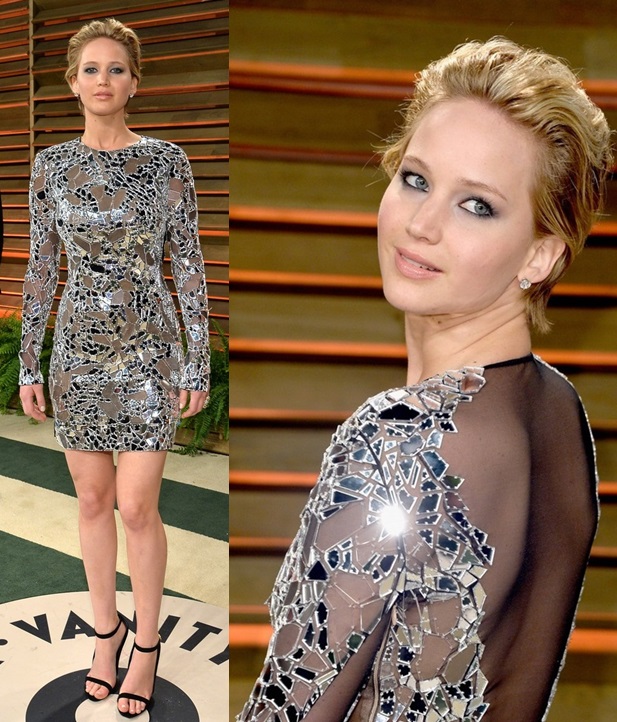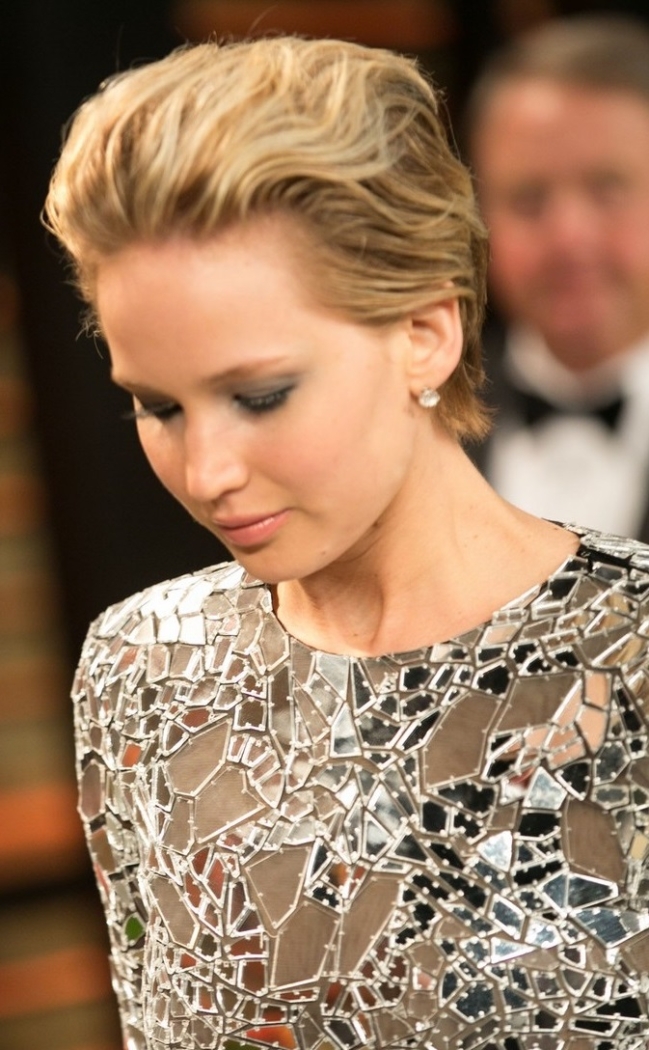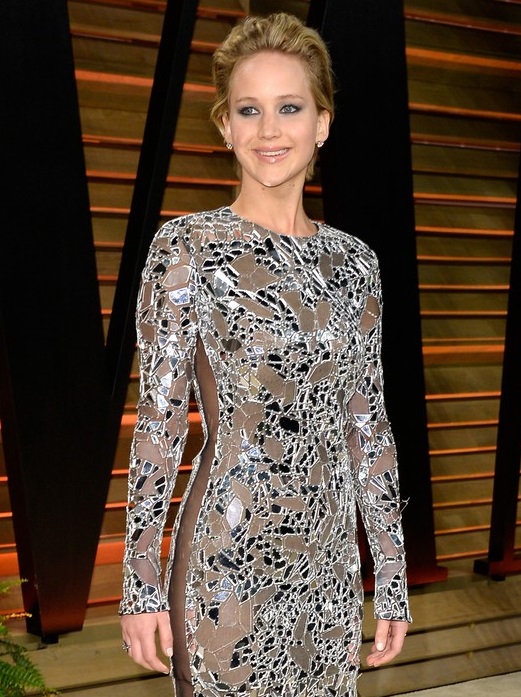 Jennifer Lawrence skips her underwear as she wears a sexy see-through dress from Tom Ford at the Vanity Fair Oscar Party, on March 2, 2014
Well, at least she didn't look trashy with all the see through going, right? 
She looked really good in the dress. And I love how she styled it with simple black suede sandals. Here's a closer view of Jen's shoes. These stilettos feature a unique silhouette that partially covers the sides of the feet — quite unlike other classic ankle strap sandals. They are also equipped with slim and high angular metal-mirror heels.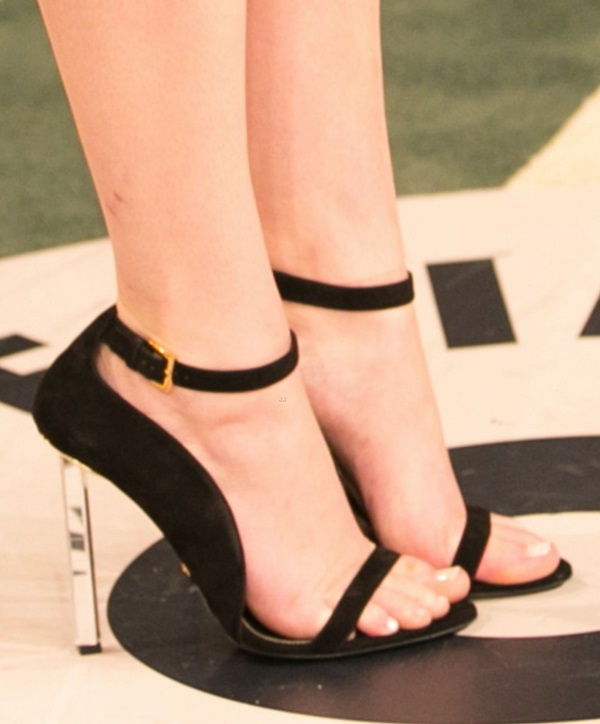 A closer look at Jennifer's sandals 
You like?
The pair belongs to Tom Ford's spring 2014 collection (same as the dress). It's not available online yet, but I have a strong feeling this style will hit the stores pretty soon. Other designs from the same collection are already available for pre-order at Neiman Marcus.
If you're on a budget but you like the "look" of these sandals, I suggest you grab the Joe's Jeans Macee sandals instead. They have a slightly different silhouette, but the raised sides are there:
Joe's Jeans Macee Sandals, $115