Like the rest of young Hollywood stars, actress Jamie Chung made sure she wouldn't miss a session of Coachella this year. The Asian cutie attended a party held during Day 2 of the festival, which was last Sunday.
For the occasion, Jamie kept things casual and breezy by wearing a white lightweight wrap shirt paired with some patterned shorts. She then spiced things up by styling the combo with some standout sunnies, a fedora hat, and the most gorgeous pair of lace-up flat sandals I've ever laid eyes on. The shoes were in that light neutral color that was so flattering to the legs so even though the ribbon ties went all the way up to her ankles, they didn't look bad on Jamie. Check out Jamie's outfit below then tell me if you like it too: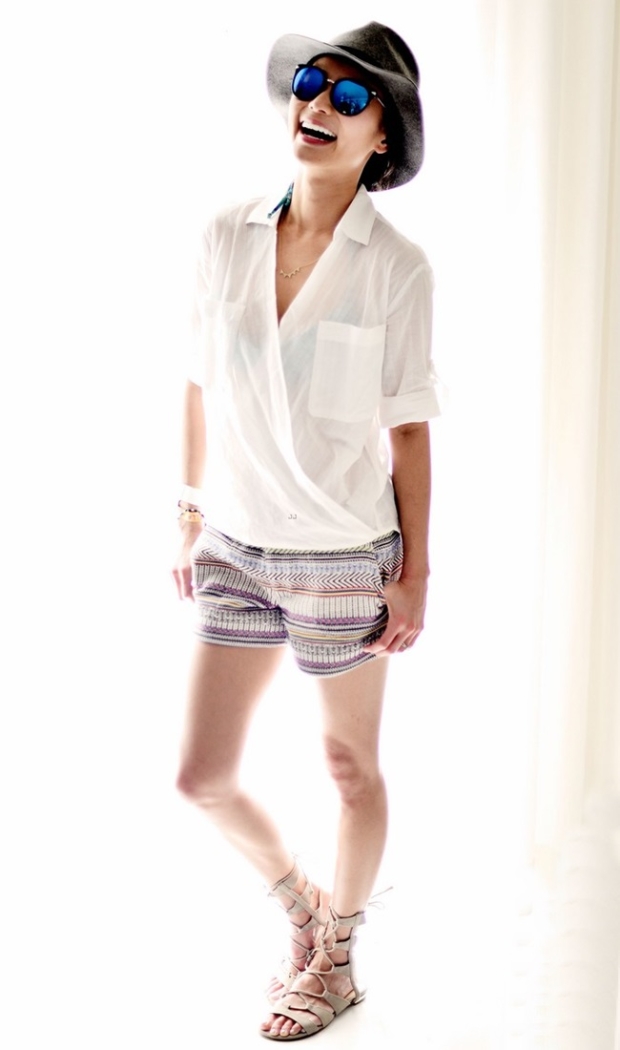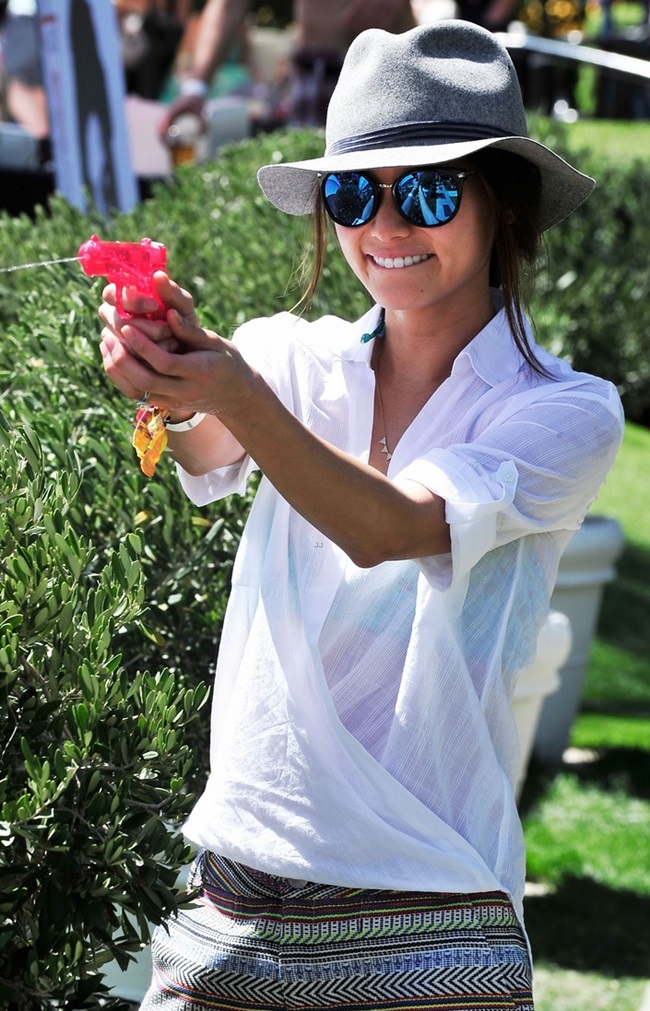 Jamie Chung attends a party held during Day 2 of the Coachella Music Festival, April 13, 2014
Well, what do you think of the mix she put together? Perfectly on point, right?
It's an outfit I would wear myself. I love the accessories she used to keep the look interesting. Blue lense sunnies are not my thing, but I just might go grab a pair after seeing how fabulous they looked on the actress. Adding the hat to the whole ensemble also did wonders. It gave her that laid-back cool vibe that's simply irresistible.
Of course, let's not forget the shoes. Those lace-up sandals look really fancy, yes? They'd go well with a lot of spring and summer outfits. I looked them up and found out that they're actually from Schutz. They're called the "Erlina" flat lace-up sandals. Here's a tan version for you to peruse: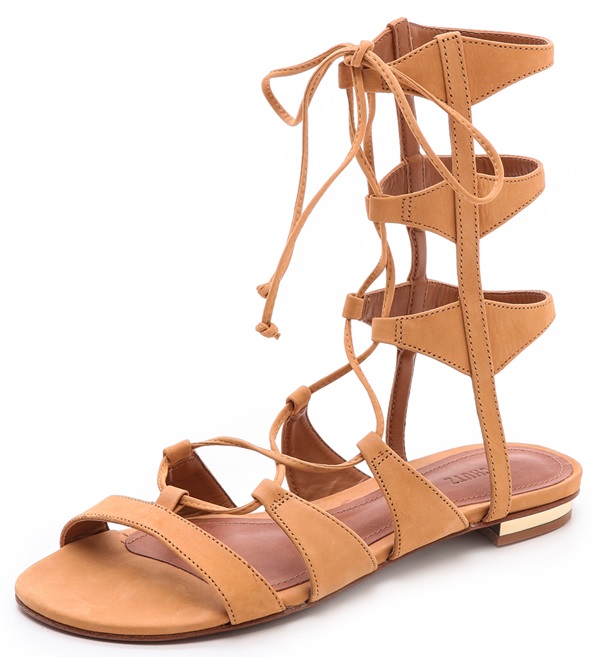 Schutz Erlina Flat Lace Up Sandals in Tan, $200 (sold out)
These open-toe flats feature slim gold-detailed heels and sexy lace-up closures that you can wrap around your ankles. Sadly, the taupe variant is already sold out online so you may have to look for it elsewhere if you want a pair (like I do). There are actually heeled versions of the Erlina available over at Shopbop, but I don't really want those, especially since they don't come in that nice light neutral shade that I love.
For those of you who don't mind grabbing these shoes in black, you're in luck because they are still available online. Simply visit Revolve Clothing to order away: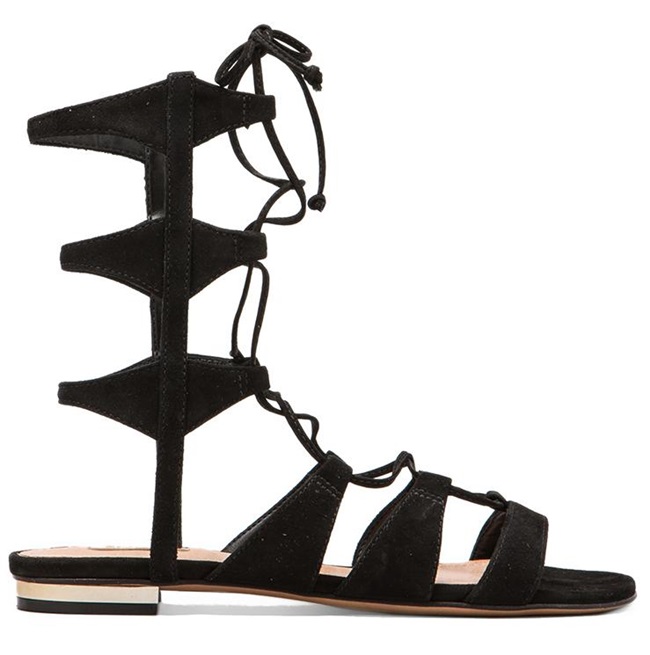 Schutz Erlina Flat Lace Up Sandals in Black, $200
In any case, why don't we take a cue from Jamie here and wear our flat lace-up sandals the way she did? Key pieces will include some colored eyewear, a white button down or wrap shirt, a fedora hat, and some short patterned shorts. Of course, do take note that your lace-up sandals have to be in a flattering color like nude, light taupe, or beige to keep your legs from looking short.
Since I couldn't find the taupe Erlina sandals online, I may have to go with these alternatives from Nordstrom instead. These Ancient Greek Sandals look really promising. Would you agree?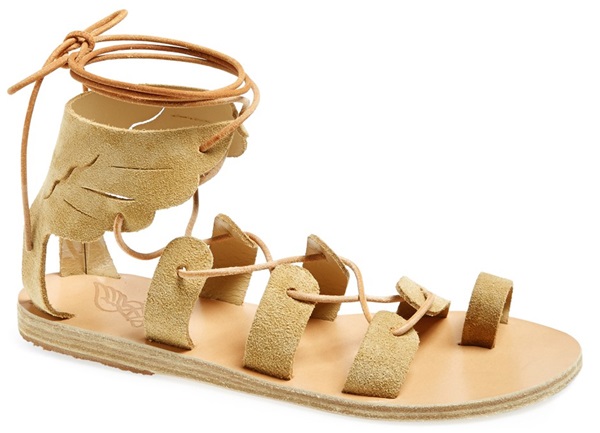 Ancient Greek Sandals Fteroti Lace-Up Sandals, $250