What's the perfect outfit to wear to a fun film premiere? A fun outfit consisting of clashing bold colors! Not everyone can pull off this look. The queen of wearing colors and prints is Solange. We have to say Jamie Chung is the princess.
The 31-year-old actress attended the premiere of Godzilla held at the Dolby Theatre in Hollywood wearing a bright yellow dress. Instead of going for the safe choice of wearing black pumps or nude sandals, Jamie decided to go the opposite direction by wearing purple pumps. Even her purse did not totally match the color of her dress, she carried a purse that was predominantly pink. The result: a cute clash of colors and it totally works! Jamie looked absolutely lovely at the premiere.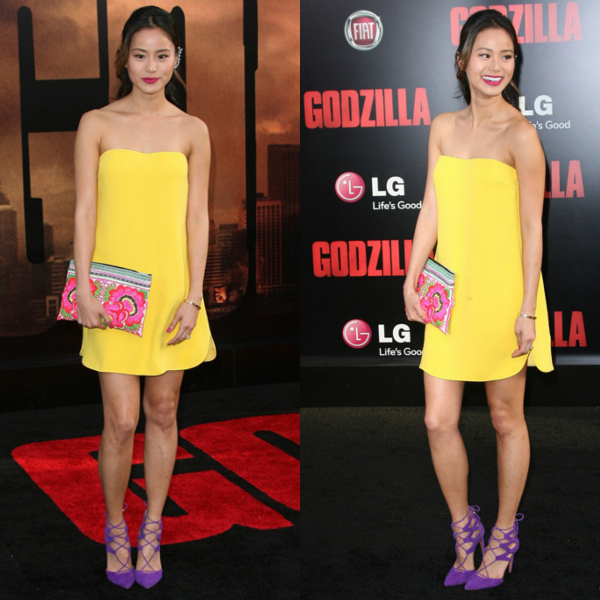 Jamie's shoes were easy to identify. They're the Aquazzura Belgravia Suede Pumps. Here's the thing, the purple shoes seem to have been a huge deal with shoe lovers because they are currently sold out. We may not be able to copy Jamie's cute color combination after all. Boo.
But, we can still buy her pretty shoes. They are still available online and we found them in 2 different colors!