A few months ago, Isabel Marant commented on the proliferation of knock-offs of the sneaker wedges that she made very popular a few years ago. With her statements, it seems what bother her the most is how ugly the knock-offs are. We can't blame her for voicing her distaste for the knock-offs, since there really are too many labels making their own version of the sneakers.
Isabel Marant may not like to wear her own creation anymore but celebrities still like Isabel Marant sneaker wedges for their practicality. Running errands and want to be comfortable and yet still look put together? The sneaker wedge comes to the rescue during such moments.
First, they're sneakers so you feel like you're not wearing some ridiculous footwear to run errands or when you're just chilling with the people you love. But, they have hidden wedges so they give you a boost in height so you feel good wearing them. Then they come in clean colors that make them look classy.
On Saturday (April 19) , right after she spent time with her fiancé at the Coachella Art and Music Festival, Emma Roberts ran errands wearing a short blue eyelet dress and her beige Isabel Marant Sneakers.
The young actress' outfit was just the right mix of comfort and style. Now, let's discuss her sneakers; at more than $400 a pair, it's only natural for fashion loving women to look for more affordable alternatives to the Isabel Marant sneakers, hence the knock-offs.
One of the brands that came out with sneaker wedges soon after they became popular was Ash.
From the brand, we found a great alternative to the sneakers that Emma Roberts was wearing on Saturday. Check out the Dean wedge: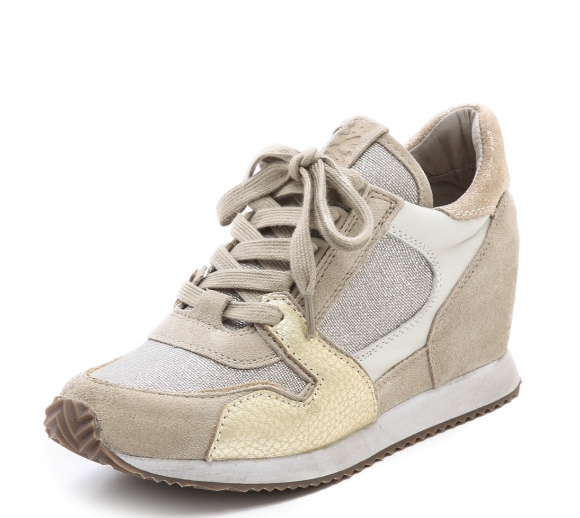 At only $225, you got to admit it's a lot more tempting to get a pair of the Ash Dean wedges than it is to buy a new pair of Isabel Marants.