On May 1, Hilary Duff attended the annual iHeart Radio event in Los Angeles.
When Hilary was on the red carpet showing of the threads she was wearing, she was interviewed by Giuliana Rancic about the status of her relationship with Mike Comrie.
The actress did not confirm that a reconciliation is in the works. But she was candid enough to say that they do make plans and spend a lot of time together.
"We're constantly seen together and people are like, 'What are they doing? Are they back together? Are they not?' We're really good friends and we have so much respect for each other and obviously Luca is our No. 1 priority," she told E! News.
The actress also said they do not know what the future looks like for them but they do work on their happiness.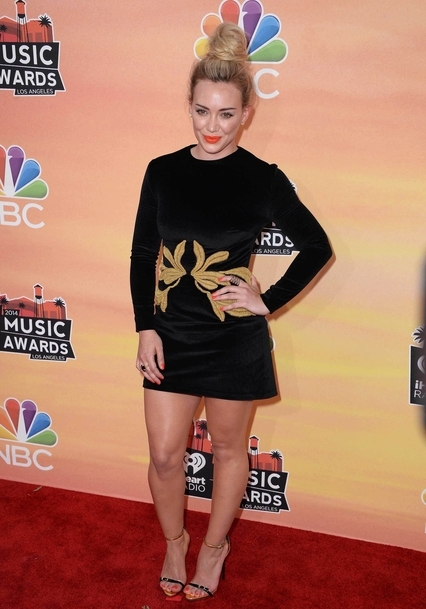 Based on how Hilary looked on the red carpet, she does seem happy. She also looked fit. The actress showed off her legs in a short dress.
Hilary Duff's shoes that day, as you may have guessed, are from a designer label. The sandals with slim straps are by Giuseppe Zanotti. They're the perfect partner to Hilary's Maria Lucia Hohan dress. The long-sleeved dress is black and gold and the shoes' colorway perfectly complements the dress.
There is no lack of strappy sandals online. They're very popular because they really go well with a lot of outfits and styles. They make women's feet and legs sexy.
The shoes below definitely won't set you back hundreds of dollars like a pair of Giuseppes. Check them out: