Heidi Klum, in my opinion, is the perfect example of a woman who is totally in control. She knows what she wants (or doesn't want, in the case of her divorce with Seal), she wears whatever she feels like it (even when everyone else thinks the outfit is too risqué), and she pretty much does whatever she likes to do without really caring what other people will say — a trait that I actually find admirable to a certain extent.
As you know, she dated her bodyguard after her divorce with Seal. And now, she's snuggling with someone new. Meet Heidi's new boy toy, Vito Schnabel (check him out below). The former supermodel was spotted hanging out with her new man in Paris early this week (March 17). I say boy toy because the guy is only 27 years old; and he dresses like a teenager, by the way.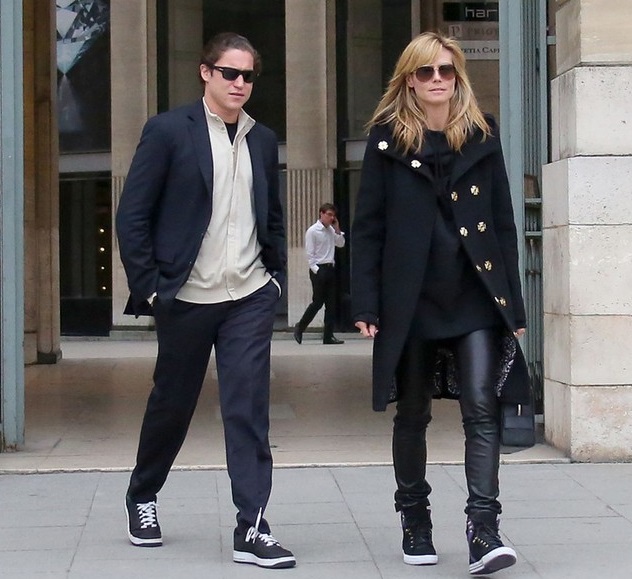 Heidi Klum and her new boyfriend, Vito Schnabel, out and about in Paris, March 17, 2014
Of course, Heidi isn't here today just so we can talk about her young boyfriend. I thought we'd cover the sneakers she wore while out and about in Paris. She used the sporty kicks to cap off an outfit that consisted of leather-like skinnies, a black tee, and a really stunning coat (I'm crushing on the coat!). I actually loved the combo she put together. It was casual, but chic and effortless. Check out Heidi's sneakers and tell me if you can ID the pair.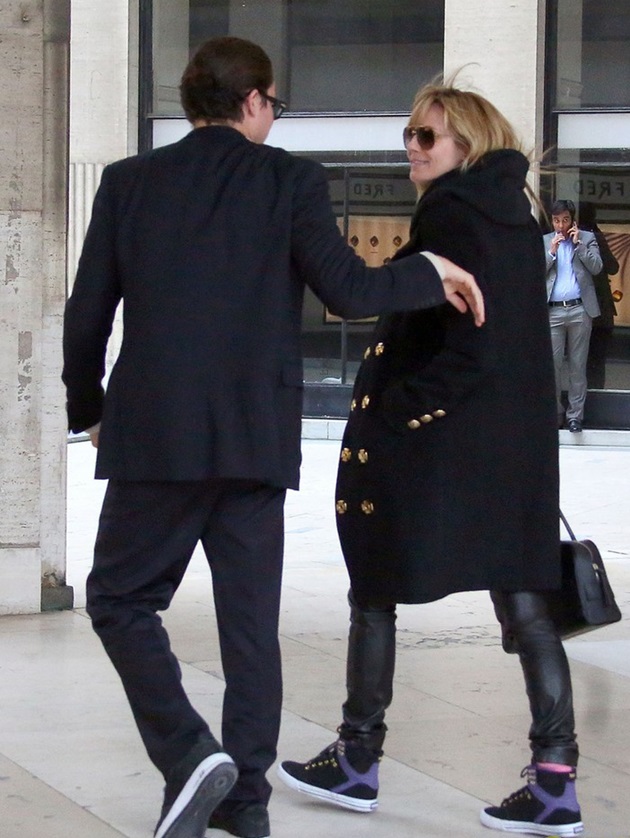 A side view of Heidi's sneakers
Well, can you name names?
I couldn't figure them out as well, so I decided to check the WWW for leads. She has collaborated with New Balance for a line of athletic wear, but those shoes don't look like they're from New Balance, do they?
My hunch is they're from Jimmy Choo (though, I could be very wrong too). The shape of the panels on the back, as well as the logo plate on the back of the soles remind me a lot of the Jimmy Choo Tokyo High-Top sneakers. Here's a look at a pair in black and white.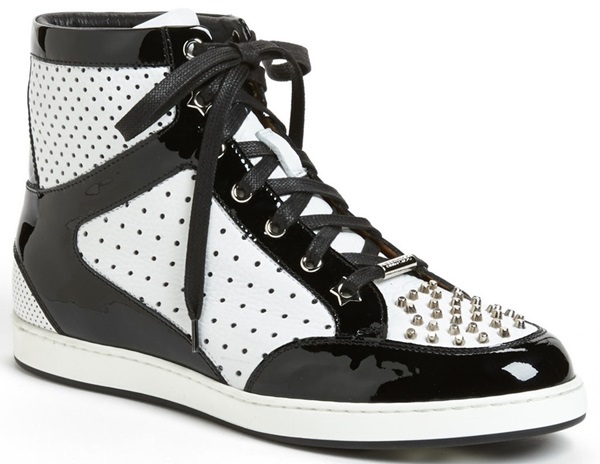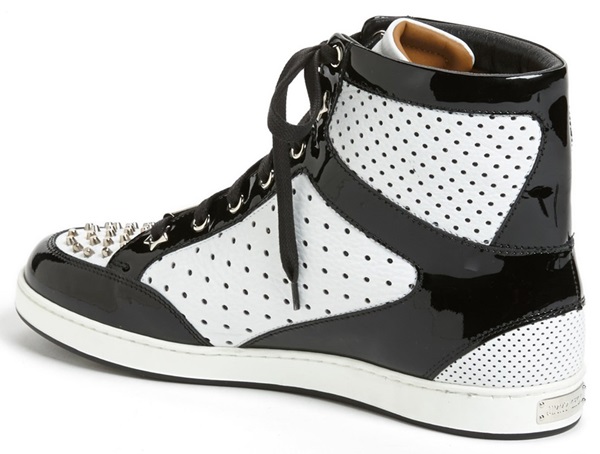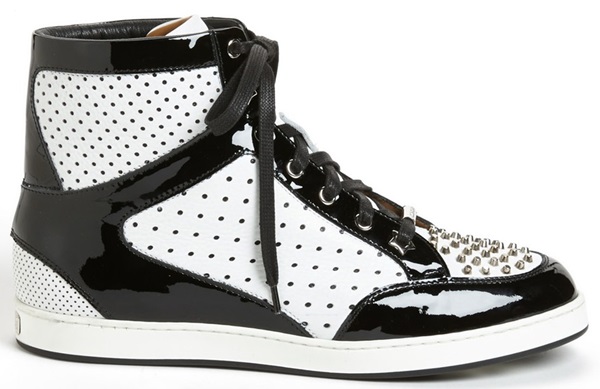 Jimmy Choo Tokyo Studded High-Top Sneakers, $1095
What do you think? Could these shoes be it?
Perhaps. And perhaps not. But they look pretty cool, noh? I love the studs, and I love the oil-slick patent trim. If only these sneakers don't cost $1095, I would be on my way to Nordstrom to snag them in my size. If you're lucky enough to afford, I suggest you get these while they're fresh off the grill. These sneakers will look perfect with black skinnies, or even a black mini dress.