One of the very few celebrities in Hollywood with that really unique sense of style is Gwen Stefani. She really holds her own. And whenever she puts together an outfit, it's always one of a kind; always very Gwen. Now that she's preggers (yep, third child on the way), I am even more impressed because she makes looking and being pregnant seem fun, cool, and chic.
Speaking of chic, check out the picture I posted above. That was taken last week, while the fashion designer and singer was spotted out and about at Sherman Oaks with her hubby (Gavin Rossdale).
I'm lovin' the mix she put together. I like how she used a light and billowy printed shirtdress to camouflage the baby bump and tone down the edginess of her leather bottoms. The patterned Deauville coat is a wonderful addition too. It added the perfect polish.
And then of course, once you look further down, you'll notice her super cool boots. Nope, those are not Dr. Martens, honey. Those booties are actually from her own (fashion) line, L.A.M.B.. They're called the "Nichol". Here, have a closer look: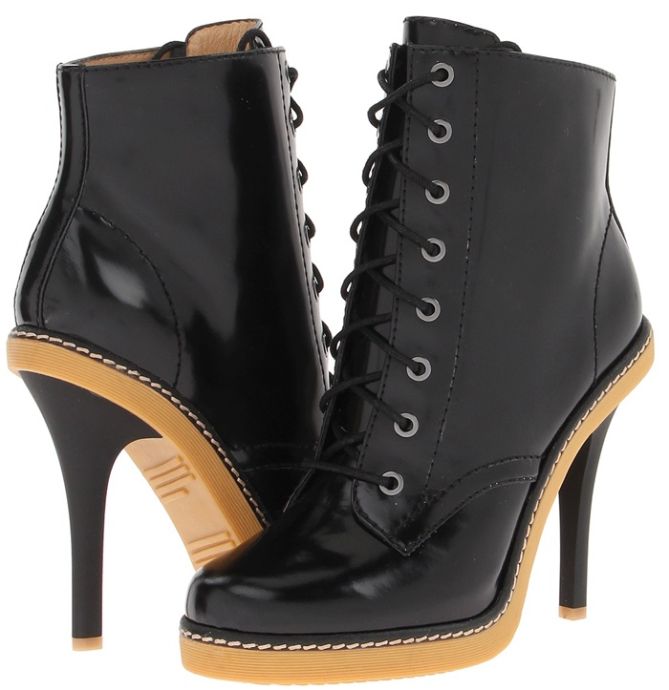 L.A.M.B. Nichol Booties, $237 (was $395)
Like?
I know, right? They're awesome!
The boots have thick rubber soles and heel tips so you can actually wear them on wet ground (Yehey! No more slipping!) Sounds cool? Yes, most definitely. If you want these booties, they're currently on discount over at Zappos — down to $237 from a high $395. I suggest you hurry, or you might not find them in your size.