Have you heard?
Gal Gadot will play the role of Wonder Woman in the new Batman vs. Superman movie (opposite Ben Afleck as Batman, and the hunky Henry Cavill reprising his role as Superman).
I know. I've never heard of her either. Apparently, this beauty (yes, she is quite stunning), is a former Miss Israel (2004) and even represented the country in the Miss Universe pageant in the same year. She's probably best known for her role as Gisele in the first installment of Fast & Furious (2009), Fast Five (2011), as well as the latest one that came out early this year, which is Fast & Furious 6 (rest in peace, Paul Walker).
Here's a look at Gal Gadot next to the iconic Wonder Woman. Tell me, do you think she's worthy of the role? Do you approve of this casting?
Honestly, I'm not sure. What about you?
On a side note, I do think she looks amazing on the red carpet. Her outfits are elegant, and I actually like some of her shoe choices. Those leopard-print mary janes (with the blue dress) look really interesting. And my personal favorite are the black strappy pumps she wore with the peek-a-boo LBD in the rightmost picture. Those look really sexy. Would you agree?
I don't have the details on her shoes at the moment, but I'm willing to bet I can find a similar pair that's easy on the pocket. In fact, I actually currently have several options from brands like Alice+Olivia and Joe's Jeans. However, my favorite would have to be these pumps from Jessica Simpson.
The ankle cuffs on the Avalyn are detailed with mesh insets so you will look like you're wearing a pair that features multiple straps like Gal's. These also look very manageable to walk in, with heels that run at 4.5 inches tall and just a teeny tiny bit of platform that are half-an-inch thick. Would you rock these?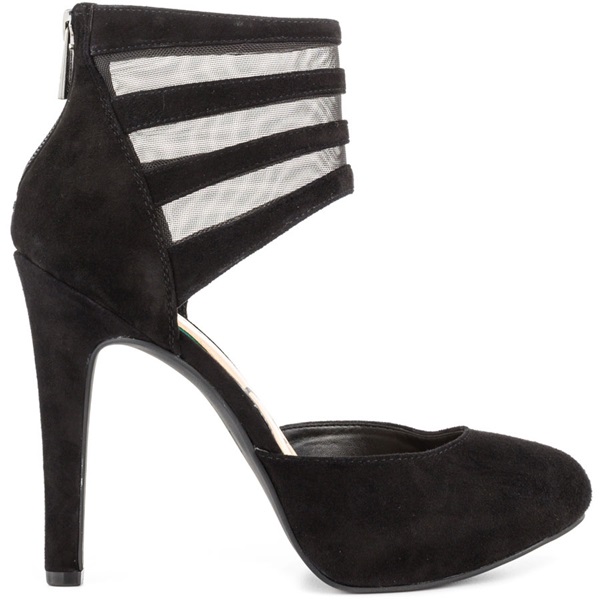 Jessica Simpson Avalyn Pumps in Black, $70 (was $98)